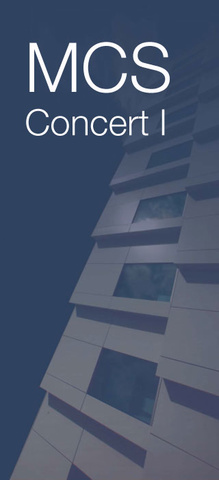 Center for New Music Season 51 Concert Series, Concert Events V - VIII  
 
UI hosting composers from the
Universities of Iowa, Michigan, Indiana and CCM
The University of Iowa, School of Music Concert Hall
Concert I: Friday, November 4, 7:30pm
Kantorei, Timothy Stalter, director
Percussion Ensemble, Dan Moore, director
Wind Ensemble, Mark Heidel, director
Center for New Music Ensemble, David Gompper, director
University of Iowa Symphony Orchestra, William LaRue Jones, director
|| download program ||
Program
Branch
Carlos COTALLO SOLARES (Iowa)
Percussion Ensemble
Craig Hatter, Andrew McDonald, Shelby Tracy and Kelvin Tran
Hot Potato
Corey RUBIN (Indiana)
        I. Hot Potato
        II. Flying Colors
        III. Sine Qua Non
CNM Ensemble
Laura Cohen Canelo, flute
Christine Burke, clarinet
Ethan Brozka, horn
John Kenneth Gorder, trumpet
Robert Parker, trombone
Christine Augspurger, percussion
Nicha Pimthong, piano
Leonardo Perez, violin
Elizabeth Upson, viola
Matthew Laughlin, violoncello
Nicholas Bowes, double bass
Reigniere
Zachery MEIER (Iowa)
University of Iowa Symphony Band
Maeve McGonigal, piccolo
Anya Egense, Elizabeth Salerno, Chun-Ya Pien & Cristina Bates, flute
Matt Goulding & Dan Ellis, oboe
Dan Ellis, english horn
Keegan Hockett, bassoon
Thiago Ancelmo, Devan Cummings, Joe Valenti,
Sydney Coloff, Michael Leyden & Julia Poska, clarinet
Adam Himmel & Olivia Petersen, bass clarinet
Matthew Kobberstad & David Nicholson, alto saxophone
Eric Rierson, tenor saxophone
Dennis Kwok, baritone saxophone
Anna Marshall, Nick Westphal, Michael Kegel & Drew Horning, horn
Leah Ledtje, Jarrid Jaynes, Aunna Marzen, Joseph Arch,
Lee Stickney & Jared Thompson, trumpet
Noah Perkins, Eriq Vazquez. Matt Johnson & Teddy Van Winkle, trombone
Jasen Smith, bass trombone
Will Emrich & Joe Cernuto, euphonium
Wiatt Cariveau & Jakson Cole, tuba
Shelby Carney, Paul Downing, Katie Franzen, Peter Grubisich,
Mary Kate Naughton, Shelby Tracy & Kelvin Tran, percussion
Joseph Stiefel, piano
— Interval —
How Beautiful is Night
Jung Yoon WIE (Michigan)
Four Excerpts from Ten Short Poems by Emily Dickinson
Nathan THATCHER (Michigan)
Kantorei
Sopranos
Rachel Barloon   
Aurora DePaul   
Caitlin Lyon   
Mackenzie Uhlenhopp   
Tenors
Ryan Deignan   
Kevin Dibble   
Dan Laaveg   
Taylor Mayne   
Christopher Nakielski   
Nathan Swartzendruber   
 
Altos
   Lindsey Bruner Woodcock
   Katie Knight
   Kylie Toomer
   Anna Zittergruen
Bases
   Paul Duffy
   Joshua Edmond
   Ben Ross
   Jordan Pohlmann
 
 
Eva Variations
Michael LANCI (CCM)
University of Iowa Symphony Orchestra
Jenna Ferdon, Joshua Palazzolo, Ho-Yin Kwok, Yixue Zhang, Samuel Stapleton,
Philip Rudd, Maryanne Kirsh, Andrew Willette, Maia Hove & Amalia Helmkamp, violin 1
Can Balcik Moretti, Catherine Rinderknecht, Kethry Hunter, Joanna Held, Mila Kaut,
Erika Klabunde, Anna Bonder, Luke Kottemann, Daniel Thompson, Arielle Soemadi,
Guillermo Najarro, Patrick Hiatt, Montana Crawford, Nicholas Hardy & Haemin Han, violin 2
Varinia Oyola-Rebaza, Elizabeth Upson Perez, Alyssa Adamec, Mary Otto, Dana Mietus,Gregory Bowen,
Margaret Allen, Kaitlyn Voss, William Narhi, Kate Will, Alyena Zerkel & Kathryn Adams, viola
Ghyas Zeidieh, Hannah McGarvey, Tonio Meade, Caleb Fruhling, Rachel Gibbons,
Fox Henson, Nathan Golden, Grace Coleman, Mousa Abuissa, cello
Nicholas Bowes, Austin Vawter, Rebeca Furtado, Derek Barnes, Haviland Gilbert,
Dalton Hinz, Benjamin Alston, Greta Tesdahl & Anthony Soberanis Fern, bass
Anya Egeense, piccolo
Laura Canelo Cohen & Elizabeth Salerno, flute
Jonathan DeBoer & Elizabeth Fleissner, oboe
Matt Goulding, english horn
Olivia Petersen & Joe Valenti, clarinet
Thaigo Ancelmo de Souza, bass clarinet
Patrick O'Brien & Cesar Torres, bassoon
Keegan Hockett, contrabassoon
Ethan Brozka, Komsun Dilokkunanant, Anna Marshall & Nick Westphal, horn
Evan Fowler, Kenken Gorder & Matthew McCan, trumpet
Caleb Lambert & Matthew Reiland, trombone
Robert Parker, bass trombone
Wiatt Cariveau, tuba
Christine Augspurger, timpani
Michal Sue Brauhn, Shelby Carney & Peter Naughton, percussion
SungZin Kim, keyboard
Program Notes
Carlos Cotallo Solares
Branch mainly concentrates on the subjects of polyphony and synchronicity. Throughout the piece, the four percussionists go from behaving like a single musician to becoming more and more independent from each other, playing together the same rhythm at first, then different parts of a single gesture, and finally performing the same process uncoordinately, resulting in four individual tempi coexisting at the same time.
Carlos Cotallo Solares was born in Vitoria, Spain, in 1989. He is currently pursuing a PhD in Composition at the University of Iowa. He previously completed a Master's degree at the Universität der Künste in Berlin and a Bachelor's degree at the Hochschule für Musik Freiburg. He has studied composition with Cornelius Schwehr, Iris ter Schiphorst, Daniel Ott, Lawrence Fritts, Josh Levine, Nomi Epstein, and David Gompper. His pieces have been performed in Germany, Poland, Spain, and the United States, by ensembles such as Ensemble Alarm, Ensemble Chronophonie, Ensemble handwerk, and Ensemble Kuraia. Carlos currently works as a teaching assistant in music theory and composition and is one of the curators of the concert series IHearIC.
---
Corey K. Rubin
Hot Potato
Hot Potato offers three different perspectives on the simple idea of sharing of material between instruments in an ensemble. The first movement (also titled "Hot Potato") is a study in hocket—in which a single melody is shared between two or more voices, such that one voice sounds while the others rest. Nearly every note in the movement is woven, via hocket, into a larger melody or texture involving multiple instruments. Melodies and chord progressions are tossed back and forth rapidly, not unlike the "hot potato" in the children's game of the same name. The second movement ("Flying Colors"), by contrast, allows instruments to share the same melodic and rhythmic material, but with a constantly-changing timbre, as the voices stagger their entrances and exits as parts of a single unison line.
    The final movement ("Sine Qua Non") is about the way different thematic elements combine to occupy the same musical space. It contains four principal themes: an opening melody (heard at the outset in the bass instruments), a running sixteenth-note texture built from stacked thirds, a quasi-baroque fanfare with trills, and a chord progression borrowed from the first movement. Each is developed on its own and then combined with the themes that have come before; the climactic moment, therefore, occurs just after the introduction of the fourth and final theme, when all four motives are heard simultaneously. That four contrasting ideas would fit together seamlessly cannot happen by coincidence, of course—the climactic section had to have been composed first. It is the sine qua non of the entire movement: without it, the preceding sections could not have existed.
    The first movement of Hot Potato was written in 2011 and first performed in a workshop at Cleveland State University in Cleveland, Ohio by the Slee Sinfonietta with conductor James Baker. It was heavily revised in 2015. The second and third movements were added in 2016.
The music of composer Corey K. Rubin (b. 1983) has been presented across the United States and Europe. Rubin has composed a large number of choral works, which have been premiered by such ensembles as The Crossing, The Princeton Singers, the Isthmus Vocal Ensemble, Choral Chameleon, the Cleveland Chamber Choir, and C4: the Choral Composer/Conductor Collective. An avid chorister himself, he is a member of NOTUS: the IU Contemporary Vocal Ensemble; before that, he was a longtime member of the Cleveland Orchestra Chorus. Rubin's instrumental works have been performed by such artists as the Momenta String Quartet, Ensemble Dal Niente, the Slee Sinfonietta, the Meridian Arts Ensemble, violinist Rolf Schulte, pianist Geoffrey Burleson, clarinetist Pat O'Keefe, and cellist David Russell. Currently pursuing a Doctor of Music degree in composition at the Jacobs School of Music at Indiana University, Rubin's teachers have included David Dzubay, P.Q. Phan, Claude Baker, Don Freund, Sven-David Sandström, and Andrew Rindfleisch. He is also an occasional contributor of crossword puzzles to The New York Times and Los Angeles Times. He resides in Bloomington, Indiana. For more information, visit www.ckrubin.com.
---
Zachery S. Meier
Reigniere
(pronounced: Rainier) is a programmatic work depicting a traveler's experience of discovering Mount Rainier located outside of Tacoma, Washington. As a three section work, the exploration takes the listener from the thick forest that surrounds the mountain into a majestic, open field that reveals the mountain in all of its spectacular color and size. Sparking with bright orange, purple, and pink outlined with white lines of snow, the listener takes in the beauty as they continue through the clearing and into the forest once more. The call of the mountain is presented in the Alto Flute both at the beginning and at the close of the piece, reflecting on the Native American heritage that surrounds this area.
    Reigniere was composed as a commissioned work from the Washington State University Symphonic Wind Ensemble's director, Dr. Danh Pham.
Zachery S. Meier (b. 1992), originally from Duluth, MN, is a composer currently living in Iowa City, Iowa. Prior to his arrival in Iowa, Meier has studied composition at Washington State University and the University of Minnesota. As a composer, Meier has written for a wide range of ensembles and soloists that have been featured internationally and locally. His music has been heard in numerous venues and festivals throughout the United States, Canada, and Vietnam, and has received a guest spotlight recognition for MPR's Regional Spotlight Showcase. He was named the 2015 Washington Idaho Symphony Composition Competition winner with his Chamber Orchestra work, "The Journey." Meier is currently pursuing a PhD at the University of Iowa as a graduate teaching assistant, where he is studying with Josh Levine. Along with his studies at the University of Iowa, his additional composition professors include Ryan Hare, Scott Blasco, Gregory Yasinitsky, and Justin Rubin.
---
Jung Yoon Wie
How Beautiful is Night
How Beautiful is Night
by Robert Southey (1774 – 1843)
 
How beautiful is night!
A dewy freshness fills the silent air;
No mist obscures, nor cloud, nor speck, nor stain,
Breaks the serene of heaven:
In full-orbed glory yonder moon divine
Rolls through the dark blue depths;
Beneath her steady ray
The desert circle spreads
Like the round ocean, girdled with
Born in Seoul, South Korea, Jung Yoon Wie's works have been performed by leading ensembles such as the New Jersey Symphony, Cleveland Chamber Symphony, and the Wooster Symphony. Recently, her chamber work, Whimsical Sketches for two clarinets, two percussion, and piano, received the Second Prize for the 2016 Robert Avalon International Competition, which will be premiered at the Museum of Fine Arts, Houston on this November. Avid as a performer, Wie performed her own piano concerto, Jindo Arirang Concerto, with the Wooster Symphony at the Symphony Space, New York City in April of 2016. Wie is pursuing the Doctor of Musical Arts in composition at the University of Michigan with Paul Schoenfeld.
---
Nathan Thatcher
Three excerpts from Ten Short Poems by Emily Dickinson
Emily Dickinson's poetry is one of the pillars of 19th-century American literature, but it is never monumental. It maintains a cordial self-control, often using the simplest of meters, but within this stricture Dickinson plays, reveling in ambiguity. She often deals with mystery and profundity with arrestingly commonplace imagery or a mismatched tone. Seldom is this more apparent than in her wealth of very short poetry. What could be more unexpected than a single couplet which ends in a slant rhyme? Here I have set a selection of texts, the longest of which is six lines. May the music not detract from their wit and power.
Nathan Thatcher (b. 1989) is a composer, performer, and arranger. He has received commissions from numerous soloists and ensembles, including New York's esteemed yMusic. His arrangements have been performed by the Kronos quartet and the Brooklyn Youth Chorus as well as Son Lux, Woodkid, Joshua Winstead, and Okkervil River. He is also the author of Paco, a memoir and musicological exposition of the discovery of the music of the recently retired Spanish composer Francisco Estévez. Having received a Bachelor of Arts in music composition from Brigham Young University, he is currently pursuing a master's degree at the University of Michigan.
---
Michael Lanci
Eva Variations
The title of this work comes from the two main ideas of this composition. "Eva," derived from the Hebrew name meaning "life" or "living one," refers to the bright, lively, energetic and almost "fanfare" like character of this work. The large majority of this composition is based off a single chord or collection of five pitches. The term "variations" refers to the variety of different ways in which this fundamental chord is developed throughout each section of this work
Michael Lanci (b. 1984) is an active composer, teacher, and performer residing in Cincinnati, Ohio. Michael's music has been performed throughout America and Europe, and he has worked with a variety of ensembles, including Klangpar2, Duo D'entre Deux, Tres Por Radio, the Erie Trio, the harp duo Beyond Pluck, the Decho Ensemble, the Azalea Quartet, the pierrot ensemble All of the Above, the Fredonia Saxophone Ensemble, Fredonia Brass Ensemble, and the Buffalo Chamber Players. From 2012 through 2014, Michael was an instructor at State University of New York at Fredonia, teaching courses in music theory and musicianship. Michael holds a Bachelor of Music degree in piano performance from SUNY Albany, where he also studied composition with Max Lifchitz, and a Master of Music degree in composition from SUNY Fredonia, where he studied with Rob Deemer and Karl Boelter. Michael is currently pursuing a Doctorate of Musical Arts in composition at the College-Conservatory of music at the University of Cincinnati where he is studying with Michael Fiday and teaching courses in music theory and composition as a graduate assistant. Michael has also received instruction in masterclasses and lessons from composers Julia Wolfe, Gabriella Lena Frank, Paola Prestini, Dan Welcher, Ulrich Kreppein, and Ana Sokolovic.