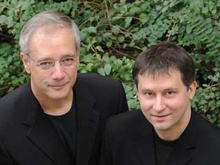 CONCERT III
Sunday, September 26, 2010, 2:00 p.m.
Old Capitol Museum Senate Chamber (map)
Wolfgang David, violin
David Gompper, piano
performed works by
Arnold Schoenberg, David Maki, David Gompper, Bruce Adolphe & Maurice Ravel
|| download program ||
Program
Phantasy for Violin with Piano Accompaniment (1949)
 
Arnold SCHOENBERG
(1874-1951)
Aamu (2010) — premiere
 
David MAKI
(b. 1966)
Star of the County Down (2005)
 
David GOMPPER
(b. 1954)
 
— Intermission —
 
And All is Always Now (1992)
 
Bruce ADOLPHE
(b. 1955)
Sonata for Violin and Piano in G Major (1923-27)
        1. Allegretto
        2. Blues: Moderato
        3. Perpetuum mobile: Allegro
 
Maurice RAVEL
(1875-1937)
Performers
Wolfgang David and David Gompper met the first time in 2000 when Wolfgang toured in the US. This was the start of a very fruitful collaboration. In the beginning they only worked together as a composer and performer, which so far inspired David Gompper to compose 11 works especially written for Wolfgang. But in 2002 both musicians were invited to perform together as a violin & piano duo in Moscow. Encouraged by this success, they continued to perform together. Since 2002 Wolfgang David and David Gompper have given around 100 concerts, touring throughout the United States and a number of countries in Europe. Although their repertoire includes traditional works, their main focus is a combination of late romantic, standard 20th century and contemporary compositions written especially for them. Three CDs of the duo are available: two on the Albany label, one on VDE-Gallo.
In the space of a few short years, Wolfgang David has ensconced himself on the international stage, both as a recitalist, and as a guest soloist with many leading orchestras such as the Royal Philharmonic Orchestra, Vienna Radio Symphony Orchestra, Johannesburg Philharmonic Orchestra, Berne Symphony Orchestra, New York Virtuosi etc. He has been well received by the press — the Washington Post wrote that he "scaled the heights of musicmaking" and The Strad described his playing "as emotionally wide-ranging as one could hope for".
Admitted to the University for Music in Vienna at the age of eight, David studied there for many years with Rainer Küchl, the concertmaster of the Vienna Philharmonic Orchestra. Later he continued his studies at the Musikhochschule in Cologne with Igor Ozim and with Yfrah Neaman at the Guildhall School of Music in London. The winner of many competitions and prizes, David has performed in major halls such as Konzerthaus and Musikverein Hall in Vienna, Carnegie Hall in New York, Cerritos Center in Los Angeles, the Wigmore Hall in London, Victoria Hall in Geneva, and Philharmonie in Cologne. Highlights of his career included concerts at the Great Assembly Hall of the United Nations in New York in the presence of Secretary General Kofi Annan, and a concert in Bangkok, given for the Queen of Thailand.
Wolfgang David performs on a violin built in 1715 by Carlo Bergonzi, Cremona, on exclusive loan to him from the Austrian National Bank. Wolfgang David has recorded a CD with the Royal Philharmonic Orchestra under the baton of Emmanuel Siffert and three albums with the American pianist David Gompper. In December 09 he has recorded another CD with the Royal Philharmonic Orchestra, which will be released on the NAXOS label in the beginning of 2011.
David Gompper (b. 1954) has lived and worked professionally as a pianist, a conductor, and a composer in New York, San Diego, London, Nigeria, Michigan, Texas and Iowa. He studied at the Royal College of Music in London with Jeremy Dale Roberts, Humphrey Searle and Phyllis Sellick. After teaching in Nigeria, he received his doctorate at the University of Michigan, taught at the University of Texas, Arlington, and since 1991 has been Professor of Composition and Director of the Center for New Music at the University of Iowa. In 2002 - 2003 Gompper was in Russia as a Fulbright Scholar, teaching, performing and conducting at the Moscow Conservatory. In 2009 he received an Academy Award from the American Academy of Arts and Letters in New York City.
Gompper's compositions are heard throughout the United States and Europe. In 1999 his Transitus (for wind ensemble) premiered at Carnegie Hall, and a number of his works have premiered in London's Wigmore Hall, including: Homage a W. A. (William Albright) for piano; and Shades of Love, a song cycle on the poetry of Constantin Cavafy. Subsequent returns to Moscow have included premieres and performances of Crossed, Music in the Glen, Six Love Poems, Star of the County Down, Butterfly Dance, Spirals, "pÿt" (the way), and Ikon.
He recently completed several new compositions including a 28' song cycle called The Animals on poetry of Marvin Bell written for Stephen Swanson. He is working on several new compositions including a piano solo in memory of William Albright, a piano concerto, clarinet concerto and a violin/cello double concerto.
For more information, consult the performers' websites at www.wolfgangdavid.com and www.davidgompper.com.
Program Notes
Arnold SCHOENBERG
Phantasy for Violin with Piano Accompaniment
Completed in 1949, Phantasy represents one of Schoenberg's last compositions, and was premiered by its dedicatee at a concert in celebration of the composer's 75th birthday. In its published version, the work pays homage to this British-born Canadian violinist via the inscription: "In memory of Adolph Koldofsky [1905 - 1951]."
Arnold Schoenberg (1874 - 1951) is in equal measure celebrated and criticized as the inventor of atonality and twelve-tone music. But to his own way of thinking, Schoenberg was at pains to position himself as one who continued—rather than rejected—the traditions of his German forebears reaching back at least as far as Beethoven. An intense and deep-thinking individual, iconoclastic even, Schoenberg was a philosopher, a pedagogue, and an accomplished painter. His connection with the Blaue Reiter group in the years leading up to World War I had lasting implications. Musically, it resulted in his life-long commitment to concision and hyper expressiveness that, sadly, is all too often regarded in disparaging terms. Today, some fifty plus years after his death, but a handful of Schoenberg's compositions (and at that, relatively early works such as Erwartung (1909), and Pierrot lunaire (1912)) receive the recognition that is their due.
---
David MAKI
Aamu
The first section of Aamu begins with a simple violin line supported by sparse piano, and gets darker and more chromatic. The central section is active and, at a dramatic arrival point, shifts to a lyric violin line over sustained chords in the piano. In the last section, the pitch material from the opening returns in a low register and builds to a climax before the two instruments cross registers to end the piece. While Aamu is not entirely programmatic, I originally conceived of the piece as a companion to my 2008 composition Ilta (aamu is the Finnish word for morning, while ilta means evening). Partly due to the order in which I wrote the two pieces, I began to think of evening and morning as bookends to night, rather than framing the day. Laurie Anderson says in her 2010 recording, Homeland, "What are days for? To wake us up. To put between the endless nights."
David Maki is a composer and pianist living and working in the Chicago area. His music has been performed widely at regional and national venues by ensembles such as the New York Miniaturist Ensemble, Contemporary Directions, the University of Iowa Center for New Music, Mosaic, Prime Directive, Indiana University Contemporary Vocal Ensemble, Kantorei, Due East, and Duo XXI. Recordings of his music are available on the Albany Records label. Maki also is active as a performer of new music as a soloist, as a duo-pianist with Ashlee Mack, and as a collaborator with other performers and ensembles. He has toured Scandinavia twice as pianist with Amerikan Laulajat, and served as pianist for the University of Iowa Philharmonic and the Cedar Rapids Symphony. Currently, Maki is working on a second piece for Duo XXI, and a second set of preludes for piano duo to be performed by the Maki-Mack Duo (David Maki and Ashlee Mack, pianos). He serves on the faculty of Northern Illinois University, where he is Assistant Professor of Music Composition and Theory. Maki holds degrees in composition from Northern Illinois University (B.M.), the University of Iowa (M.A.), and the University of Michigan (D.M.A.).
More information is available at www.davidmakimusic.com.
---
David GOMPPER
Star of the County Down
is the final offering of Three Irish Fiddle Tunes. The collection as a whole leads off with Finnegan's Wake and Music in the Glen. Star of the County Down is a fantasia, a genre that has a rich heritage of its own. The principal melody is present virtually from the initial to the final measures, and the rhythmic vamping and contrapuntal interplay between violin and piano in the opening strain is but a harbinger of things to come. The two instruments continually trade off portions of the melody and do so in a manner reminiscent of protracted figure/ground exchanges.
The harmonic palette throughout is richly chromatic, and introduces the modal and pentatonic underpinnings of the theme to an assortment of 21st-century considerations. And yet none of this is about "musing" in the casual sense of the word. Instead, the primary concern is to instill the traditional melody with the quality of an echo: allusions to past selves though they may well be, no echo ever stands as an exact replica either of the source or, indeed, of earlier reflections. And thus it is that the farther we move into Star of the County Down, the more tightly the piece comes to inscribe itself within its own closed borders. The conversational teaming of the violin and piano continues to increase in intensity until at its apex a veritable perpetual mobile emerges. Events unwind following the climax and gradual decrease is registered in rhythmic, chromatic, and textural terms. But again there is a transparent purpose behind the strategy: it is a preparation for the total transformation of the source material presented in the ensuing—and closing—meno mosso section. Here we encounter apotheosis and irony, for our exposure to the ultimate motivic framework is unimaginable without the very past that is practically no longer recognizable in it.     Greg Marion
---
Bruce ADOLPHE
And All is Always Now
a work written for Mark Steinberg and Marija Stroke, borrows its title from T.S. Eliot. It refers to the fact that our memories, hopes, obsessions, dreams, plans all exist now in the mind, in a kind of constant counterpoint, conscious and unconscious. I have been influenced by Antonio Damasio's phrase "memories of a possible future". B. Adolphe
Bruce Adolphe (b. 1955) - A renowned composer whose music is performed throughout the world, Bruce Adolphe is also the author of several books on music, an innovative educator, and a versatile performer. His multifaceted career in music is obvious from the positions he holds concurrently: resident lecturer and director of family concerts for the Chamber Music Society of Lincoln Center, founding creative director of The Learning Maestros, and comic keyboard quiz-master of Performance Today's weekly radio program Piano Puzzlers.
Formerly on the faculties of the Juilliard School and New York University and a Visiting Lecturer at Yale, Adolphe has been the lecturer of the Chamber Music Society of Lincoln Center since 1992, and has been featured in nationally broadcast Live from Lincoln Center television programs. Adolphe has written three books on music: The Mind's Ear: Exercises for Improving the Musical Imagination; What to Listen for in the World; and Of Mozart, Parrots and Cherry Blossoms in the Wind: A Composer Explores Mysteries of the Musical Mind. His books are used in college and conservatories throughout the United States, and excerpts have been read as short features on National Public Radio.
Adolphe's recent composition Self Comes to Mind (2008), a work written in collaboration with neuroscientist Antonio Damasio, was premiered by cellist Yo-Yo Ma on May 3rd, 2009, at the American Museum of Natural History in New York. Also in May, 2009, a concert of chamber music by Bruce Adolphe was presented at The Kennedy Center and his Violin Concerto was premiered by Eugene Drucker with the Idylwild Academy Orchestra conducted by Peter Askim at the Redcat Theater of Disney Hall, Los Angeles.
Adolphe's music has been recorded on the Telarc, Naxos, CRI, Delos, Koch, Summit and PollyRhythm labels.
Bruce Adolphe's full biography is at http://www.bruceadolphe.com/about.htm.
---
Maurice RAVEL
Sonata for Violin and Piano
was written between the years 1923 and 1927. The first movement opens with a single line in the piano reminiscent of the opening of L'enfant et les sortilèges, and alternating with the violin to present the main musical ideas. The second movement takes its inspiration from the American Blues, and the final movement, a Perpetuum mobile, tests the limits of the violinist's virtuosity.
Ravel dedicated the Sonata to Hélène Jourdan-Morhange, a violinist of great merit. Georges Enescu gave the premiere in Paris in May 1927, with Ravel himself at the piano.
The French composer Maurice Ravel, who took his training at the Paris Conservatoire, was one of the most original and sophisticated musicians of the early 20th century. His instrumental writing explored new sonorities, which he developed at the same time as his great contemporary Debussy, and his fascination with the past and with the exotic resulted in music of a distinctively French sensibility and refinement.