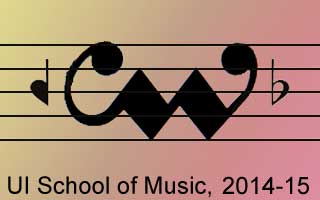 Concert XVI
Composers Workshop
Sunday, April 12, 2015, 7:30pm
Riverside Recital Hall (map)
|| download program ||
Program
 La Guitarra
 
 Joshua MARQUEZ
 
Hannah Weeks, dancer
Alvon Reed, narrator/choreographer
Joshua Marquez, guitar
 
 Warm Summer Sun
      on a text by Mark Twain
 
 Joseph ADAMS
 
Hannah Green, soprano
Alice Chang, piano
 
Ives in a Glass House (2015)
 
 Joseph MATTINGLY
 
Andrew Gentzsch, violin
Alice Chang, piano
 
Archipelago
 
 Luke KOTTEMANN
 
Andrew Thierauf, percussion
 
Change
 
Bernard SHORT
 
Emily Duncan, flute
 
 Who wants to mule malice and all to prove roof?
      on a text by Patrick Haas
 
Daniel HOUGLUM
 
Chris Sande, percussion
 
Daddy
 
Christine BURKE
 
 Wannapha Yannavut and Andrew Viet, percussion
 Asami Hagiwara, piano
 
Sorry, Audrey
 
Carlos COTALLO SOLARES
 
Chris Sande and Carlos Cotallo Solares, clapping
 
Regeneration
 
Jonathan WILSON
 
John Cummins, soprano saxophone
Matthew Mahaffey, alto saxophone
Elena Pedersen, tenor saxophone
James Skretta, baritone saxophone
 
Notes
Joshua MARQUEZ
La Guitarra
Based on Federico García Lorca's La Guitarra, this work is the result of the collaborative efforts of Marquez, Reed, and Weeks.
Joshua Marquez (b. 1990) is a Filipino American composer, classical guitarist, and BioMusic researcher currently pursuing a PhD in composition at the University of Iowa. Joshua holds degrees from the University of North Carolina at Greensboro (MM in composition '13), and Campbell University (BA in composition '11 and BA in classical guitar '11). Marquez's music has been performed by ensembles such as the JACK Quartet, Stony Brook Contemporary Chamber Players, University of Iowa Center for New Music, Akropolis Reed Quintet, Gate City Camerata, Quintet Sirocco, and the Cape Fear Wind Symphony along with performances at the New York City Electroacoustic Music Festival (NYCEMF 2014), the National Student Electronic Music Event (N_SEME 2014), Birmingham New Music Festival, Circuit Bridges, and the Vox Novus Composer's Voice Concert Series. His music has been heard in venues such as Symphony Space, Abron Arts Center, Gallery MC, Jan Hus Presbyterian Church, Weatherspoon Art Museum, Hulsey Recital Hall, Georgia Southern University, McIntosh Theatre, as well as other universities and institutions. Joshua's music for film has also been featured at the Canada International Film Festival and the Utopia Film Festival.

Joshua currently resides in Iowa City where he teaches composition, guitar, and is the director of the Young Composers Program at Rosazza Lesson Studios. He also teaches the Certificate Program at the Preucil School of Music. Marquez is a Teaching Assistant at the University of Iowa where he works with the Center for New Music and teaches undergraduate composition lessons. He is also a founder, director, and conductor of Ensemble 319.
---
Joseph ADAMS
Warm Summer Sun
Warm Summer Sun" was Mark Twain's eulogy to his daughter Olivia Susan Clemens, who died in 1896 at the age of 24. Adapted from "Annette" by Robert Richardson, "Warm Summer Sun" is engraved on Olivia's headstone. The piece opens with a polychordal section utilizing the extreme registers of the piano, representative of Olivia only existing in memory. As her memory comes to life in Twain's mind, the text is set to a lyrical melody.
Joseph Z. Adams is a second year doctoral student at UI, were he studies with Dr. David Gompper. He earned his Bachelor's Degree at New York University, his Masters Degree at the Hartt School of Music, and has received numerous performances of his orchestral music by regional orchestras throughout the Upper Midwest. In the Fall of 2014, 'Space Jumping' was premiered at UI by the JACK String Quartet. He recently provided original music for 'Below the Pacific', a play premiering on May 8th at the 2015 New Iowa Playwright Festival.
---
Joseph MATTINGLY
Ives in a Glass House
grew out of research into David Huron's theories of expectation and surprise undertaken for a post tonal class. Originally a three-minute work blending isometric rhythms with minimalism, the work has since evolved into a larger worker combining the original nucleus with octatonic systems and a larger "aba" formal structure.
Joseph Mattingly is a composer living and working in Iowa City. His sacred liturgical music has been played throughout the world. He has studied with David Gompper, Jon Schwabe, Alan Schmitz, and Allen Koepke.
---
Luke KOTTEMANN
Archipelago
While an archipelago is often considered to be a stretch of water containing many islands, it can also be thought of as a group or scattering of similar things, which is the main idea in this work for solo percussion. Small ideas are spread to create clusters of musical elements that contrast each other. The musical ideas are dispersed and collected in a way that is similar to a Pollock painting, where yellow spots could be sprinkled around clusters of blue, or vice versa. This becomes less apparent at the end of the piece, as the ideas begin to mix and influence each other and the defining properties of the musical elements begin to blur. This can be thought of as two colors on a painting being mixed - yellow and blue combined into green. Because of this blending, many phrases toward the end can be heard as a composite of two or more of the previously contrasting archipelagos.
Iowa City native Luke Kottemann is a composer and violinist who is currently pursuing a BM in Music Composition and a BSE in Electrical Engineering at the University of Iowa. Luke's music has been performed throughout the Midwest. He has studied composition with David Gompper and Joshua Marquez.
---
Bernard SHORT
Change
is a piece that reflects the unsettling changes that has come about within the composer's life. The fluid use of aggregate pitch collections is meant to provide a feeling of instability and constant change, reflecting the experience of a composer moving from full-time teacher to student, a new city and state, and transitioning from having a father in one moment healthy to being severely ill. Change comes in many ways, just as this piece will suggest many different thought processes.
Bernard Short is a PhD in Music Composition student at the University of Iowa. Born in Harlem, NY and raised in Far Rockaway Queens, NY, he earned a BA in Music with a Composition focus at Morehouse College in 2007, and a Masters in Music Education at The University of Georgia in 2012. From 2008-2014 he was the Director of Bands and Orchestra Director at Cross Keys High School in Atlanta, GA. To Mr. Short, music is the expression of a person's soul that is best used as a way to communicate with someone without allowing words to obliterate the message.
---
Daniel HOUGLUM
Who wants to mule malice and all to prove roof?
is the musical product of a collaboration with percussionist Chris Sande and University of Iowa Writers' Workshop graduate Patrick Haas. The instrumentation went though many iterations before the final version and Sande built a number of the instruments himself. The original Latin text is an excerpt by 6th century poet Venantius Fortunatus and was supplied by poet Michael Schorsch. Without knowing the meaning of the Latin, Haas wrote three homophonic translations (sound-based translations) of the Fortunatus poem, essentially creating three new variations.
Daniel Houglum is an American composer, pianist, and music educator currently living in Hawaii. He was raised in Soldotna, Alaska and has completed music degrees at Gonzaga University and Northern Illinois University. Houglum is a Ph.D. Candidate in Music Composition at the University of Iowa (dissertation: Sola Fides Sufficit: Concerto for Violin and Ensemble). His composition teachers include Kevin Waters, Robert Fleisher, David Maki, John Eaton and David Gompper. Please visit www.houglum-music.com for recordings and more information.
---
Christine BURKE
Daddy
explores various types of resonances, textures, and the spaces between them. Certain gestural and rhythmic material is based off of Sylvia Plath's poem of the same name.
Christine Burke recently graduated with a B.M. in Clarinet Performance from Duquesne University. A composer as well, her music has been performed by the NOW Ensemble, Reed III Trio, the Eclectic Laboratory Chamber Orchestra, and at the New Music on the Point and soundSCAPE festivals. She is currently pursuing her master's degree in clarinet with Dr. Maurita Murphy Marx.
---
Carlos COTALLO SOLARES
Sorry, Audrey
In "Sorry, Audrey", two performers build an uninterrupted pulse, clapping either alternatively or together (as an accent). Throughout the piece, different processes change the pulse's speed and the ratio of accentuated to non accentuated beats.
Carlos Cotallo Solares was born in Vitoria, Spain, in 1989. He started his composition studies with Cornelius Schwehr at the Hochschule für Musik Freiburg, where he completed a Bachelor's degree. He reecntly finished a Master's degree in Berlin at the Universität der Künste, studying with Iris ter Schiphorst and Daniel Ott, and next year will begin his PhD at the University of Iowa. His pieces have been performed in Freiburg, Cologne, Berlin, Hamburg, Heidelberg, Krakow, San Sebastian, and Iowa City, by ensembles such as Ensemble Alarm, Ensemble Chronophonie, hand werk, and Ensemble Kuraia. His music is characterized by simplicity and reduction, both in the selection of material and the compositional techniques used. Rhythm plays a strong role in most of his pieces.
---
Jonathan WILSON
Regeneration
"Regeneration" is derived from the biological term for "renewal, restoration, and growth" to form resilience to any harm inflicted upon a cell, genome, or organism. I alter the meaning of this term in this quartet to refer to the renewal, restoration, and growth of motivic material. The relationship between this composition and "regeneration" can be apprehended particularly under two conditions: when a motive returns at a given point in time and how much of that motive returns. This idea can also be connected in a broad sense to the theological definition of "regeneration" in that, when a motive returns, it is, in essence, reborn.
Jonathan Wilson Jonathan Wilson is a second-year doctoral student studying music composition with David Gompper at the University of Iowa, with Masters and Bachelors degrees from Western Illinois University. He is a member of Society of Composers Inc., SEAMUS, Iowa Composers Forum, and the American Composers Forum.