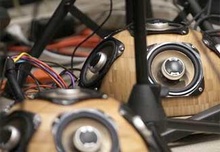 Concert XIV
LOUi Concert
Friday, April 10, 2015, 7:30pm
UCC Recital Hall
|| download program ||
Program
| | |
| --- | --- |
|  Duet for Prepared Piano & MIDI Keyboard |  Paul DUFFY |
Elise Duvall, piano
Paul Duffy, piano
Leonid Iogansen, violin
Joseph Norman, laptop
 I See Shapes in Bells
 
 
David GOMPPER
Andrew THIERAUF
Michael GIBISSER
For prepared piano, percussion and video
| | |
| --- | --- |
| For prepared piano, percussion and video |  Jonathan WILSON |
Jeiran Hasan, flute
Jonathan Wilson, narrator
| | |
| --- | --- |
|  American Corners |  Jake SIMMONS |
Kelly Simmons, soprano
Jake Simmons, laptop
 m@rg!n of err0r
 
 Jason PALAMARA
 Courtney PAULSEN
Courtney Paulsen, dancer
Jason Palamara, laptop and violin
LOUi ensemble
Emily Duncan, flute
Justin Comer, saxophone
Sean Thomas Boyt & Taylor Gillhouse, dancers
Two laptops
Contempexpletive
 
Chris YON
Alberto MILLER
| | |
| --- | --- |
|  Making Contact |  Justin COMER |
Notes
Paul DUFFY
Duet for Prepared Piano & MIDI Keyboard
John Cage's conception of the prepared piano was sparked not by a desire to try something new, but rather by practicality. Working as a dance accompanist in 1940, he was tasked with scoring an African-themed piece for a solo dance. He originally wanted to write for a large percussion orchestra; unfortunately, the performance venue did not have space for so many large instruments. Instead, he began manipulating the strings of a piano with mundane materials in order to produce a variety of sounds with differing timbres and sound envelopes.

This piece expands on John Cage's prepared piano by adding an electronic dimension. The piano is recorded live, and those sounds are then manipulated in several ways (e.g. time shifting, filtering, etc.) by the laptop into numerous variations accessible by the press of a key on the MIDI keyboard. Thus, the prepared piano itself becomes the raw material that is then "prepared" further for activation by the MIDI keyboard.
Elise Duvall graduated from Wartburg College in 2012 with a degree in music education. Her studies in piano during college inspired her to continue to refine her skills, and she spent a year long-term substituting and preparing for auditions. In 2013, after being accepted at the University of Iowa, she began her studies with Dr. Alan Huckleberry, pursuing a Master's Degree in Piano Pedagogy and Performance. Currently, she serves as a teaching assistant at Iowa, where she teaches group piano and applied piano for undergraduate students. She also maintains an active private studio of beginning students and is a teacher for the University's Pre-College Piano Conservatory (PCPC). In addition to her teaching, she has had many performing opportunities, including: The University of Iowa Rzewski Project, a collaborative, multimedia performance of a twentieth-century piece; a selected soloist for the Iowa Composers' Forum; and accompanying numerous recitals and recordings for instrumentalists and vocalists. In May, she will graduate and plans to move to the Des Moines area to teach.
Paul Duffy (b. 1989) is a graduate student of composition at the University of Iowa. He has taken lessons with Lawrence Fritts, Craig Weston, David Gompper, Louis Karchin, Josh Levine, Augusta Read Thomas, and Michael Fiday. His recent works, in addition to his Duet for Prepared Piano & MIDI Keyboard, include a solo piece for contrabass and electronics, a choir piece selected for performance at the 2014 Midwest Composers Symposium in Cincinnati, and a trio for bass and marimbas that was choreographed for the 2015 University of Iowa Department of Dance Faculty/Grad Concert. His current compositional interests include fixed media and the incorporation of algorithmic techniques into his personal language.
---
Joseph NORMAN
Cascades
comprises swaths of sound that coalesce from a live performer (a violinist) and a computer that is engaged in live processing. While all audible sounds that occur during this piece are originated from the live performer, they undergo a series of electronic transformations to become, at the most rudimentary level, a counterpoint, and at the most complex level, a cloud. The title, Cascades, simultaneously describes surface detail such as motivic shape and gestural content, and the structural development wherein layers of sonic complexity are developed and added incrementally over time.
Joseph Norman is currently in the process of completing his PhD in composition at the University of Iowa while studying with Dr. Lawrence Fritts. Previously, he completed his Master's Degree in composition at University of Maryland under the instruction of Dr. Thomas Delio and Dr. Lawrence Moss. Prior to that he earned is Bachelor's Degree in composition and classical guitar performance at St. Mary's College of Maryland where he was instructed in composition by Dr. David Froom and Dr. John Leupold, and in guitar by Dr. Orlando Roman.
---
David GOMPPER, Andrew THIERAUF & Michael GIBISSER
I See Shapes in Bells
A short call and response for prepared piano, percussion and video.
Mike Gibisser filmmaker and artist interested in navigating the indefinite lines between essay, narrative, experimental, and documentary work, often drawing together disparate subjects or time periods. He has presented work at galleries and festivals around the world, including the International Oberhausen Film Festival, the Harvard Film Archive, Tony Wight Gallery, Sundance, the European Media Arts Festival, and the New York Film Festival.
---
Jonathan WILSON
Vibrant by Windy Storm
In this work the narrator reads from several excerpts to paint in poetic form the Callivirgin (meaning "beautiful virgin"). The flutist serves as an extension of the narrator's voice, and the electronics gradually add new details to her character in the way each section of narration adds a new attribute or particular observation to her character. The Callivirgin is a young independent aristocratic suffragette, socialite, and beauty of great intelligence, yet she has exacting standards of herself and men that make her unattainable. She is a protagonist from one of my works in progress called The Tales of the Callivirgin, a story set mostly in Manhattan in the early 20th century.
Jonathan Wilson is a second-year doctoral student studying music composition with David Gompper at the University of Iowa, with Masters and Bachelors degrees from Western Illinois University. He is a member of Society of Composers Inc., SEAMUS, Iowa Composers Forum, and the American Compos
---
Jake SIMMONS
American Corners
is an art song based on the cut-up poems "From San Diego Up to Maine", and "'San Diego Up to Main' cut up", by William S. Burroughs. The former poem was created by cutting up and reassembling excerpts and phrases from articles on juvenile delinquency. The latter poem applies the same process to the original poem. The text used for this piece revisits this process once more. Written for Soprano and Laptop, the form of the piece revolves around excerpts that are recorded in live time, which are looped, transposed, and filtered in a variety of ways by the laptop. The deconstructive nature of the text is emphasized through this process and through the musical ideas.
       Solemn Accountants are jumping ship, sir...
       All of them, sir...
       In the last skimp sirplus, sir...
       Seventh Teen Age Future Molotov Cocktails
       Valiant Crowns drew a short 22 and Heavy Commitments...
       Stale streets of yesterday police men back from shadows...
       pretty familiar...
       ...ice food... Dietary delusion of death
       this should have been obvious
       Unimaginable disaster
       Secure it firmly with steak sized chucks of cripple drug
       The Words included assault murder stratosphere
       and his feet devoid of reality
       Royal Knights Teen Age Future time...
       Will Hollywood ever learn?
       Singing with teeth in the Sun won't change a story.
Jacob Simmons is a first year PhD student of composition at the University of Iowa. He is currently studying with Lawrence Fritts. He holds a Bachelors degree in composition from Cornerstone University (Grand Rapids, MI), and a Masters in composition from Belmont University (Nashville, TN). His former teachers include Bill Pursell, Mark Volker, and David Culross.
---
Jason PALAMARA & Courtney PAULSEN
m@rg!n of err0r
The margin of error is a statistic expressing the amount of unintended or unintentional sampling error. In this piece, the performers will begin with a very low margin for error (strict time, strict movement) and gradually let processes progress until the error is all you hear and see.
Jason Palamara is a fourth year PhD candidate in music composition at the University of Iowa. He is an active performer on the violin, guitar and laptop and is a founding member and Research Assistant of the Laptop Orchestra at the University of Iowa (LOUi). Jason also works as the in-house composer for the University Of Iowa Department Of Dance. Jason composes music for many dance department projects, specializing in electroacoustic music, collaboration and improvisation. His recent works have seen performances by the JACK Quartet, the Enid Trio, and several performances by the Baker-Tarpaga Dance Project in Burkina Faso, Africa. His piece Ragnarok, Baby, was recently released on Jeffrey Agrell's CD Soundings: Improvisations and Compositions for Horn and Electronica. In his spare time, he teaches songwriting and musicianship to the inmates at Oakdale Community Prison. You can find links to his music, events and more info at www.jasonpalamara.com.

Courtney Paulsen is an Industrial Engineering and Dance double major at the University of Iowa studying for a minor in Business as well. She is also pursuing University Honors in Engineering. She has just completed her second manufacturing engineering associate internship with General Mills and is currently in her final year of undergrad at the University of Iowa. Currently, Courtney is acting as the Institute of Industrial Engineering Iowa Chapter executive board director, teaching assistant for MEDP (Mechanical Engineering Design Project) & OSD (Operational Systems Design), and peer advisor for the College of Engineering. During college Courtney has performed on stage in 7 different main stage performances including a performance at ACDFA representing The University of Iowa. Courtney has also choreographed four different dance pieces performed on stage and has been casted to perform again this fall in University of Iowa's Dance Gala 2014.
---
Andrew THIERAUF
Quartet
is an experiment in motion capture and sound manipulation. Scored for two musicians and two dancers, the laptops mix the live sound with the motion of the dancers through various parameter mappings. In other words, speed, location, and distance of the dancers' hands control volume, pitch, and timbre. The choreographer, Sean Thomas Boyt, sent videos to the dancers with various movements and gestures to do throughout the work.
Andy Thierauf is a percussionist and composer who specializes in the creation and performance of contemporary music. He is particularly interested in the commingling of percussion with theater, dance, film and technology to create multi-media productions. He has performed in Boston, Philadelphia, Argentina and across the Midwest at festivals, symposiums, and conferences in addition to touring with stb x at, a percussion/dance duo. Andy also organizes and curates iHearIC, a concert series in Iowa City that features local performance artists. He has premiered many new works for percussion and has worked with composers such as Zach Zubow, David Gompper, and Paul Elwood. Andy is currently the adjunct professor of percussion at St. Ambrose University in Davenport, Iowa.
Andy is currently pursuing the D.M.A. degree in percussion performance and pedagogy at The University of Iowa under the direction of Dr. Dan Moore. A native of Cincinnati, OH, Andy received his B.M. from the University of Cincinnati College-Conservatory of Music and M.M. from The Ohio State University. He has studied percussion with Rusty Burge, Dr. Susan Powell and Joe Krygier, and composition with Tom Wells, Marc Ainger, Larry Fritts, and David Gompper. www.andythierauf.com
Emily Duncan is a junior at the University of Iowa pursuing a degree in flute performance. She performs in the University's Symphony Band, Symphony Orchestra, and Center for New Music. In 2014, she placed second at the Central Ohio Flute Association collegiate flute competition and was a winner of the Jacqueline Avent Concerto Competition. She has performed in masterclasses for many masters, including Jim Walker, Amy Porter, and Ransom Wilson. Emily is a student of Nicole Esposito.

Sean Thomas Boyt (Sean Laughead) is a dancer and choreographer newly-based in Philadelphia. He currently dances for The Naked Stark, Anne-Marie Mulgrew & Dancers Co, and Vervet Dance, and is a collaborator in stb x at, and SKI BALL. His work has been shown at concerts such as the InHale Performance Series, Ten Tiny Performances, Fertile Ground, Percussive Arts Soceity International Convention, ETC. Performance Series, and iHearIC as well as at various University of Iowa concerts and self-produced shows and tours. He enjoys collaboration and working with video, improvisation, and text to span a variety of topics and genres. Many of his works can be seen at www.stbdancing.com

Taylor Gillhouse, Quad City area native, is currently pursuing a BFA in Dance and minor in Theatre Arts at the University of Iowa. Professionally, she danced in Cedar Rapids Opera Theatre's "The Merry Widow" and Circa 21's productions of "The Sound of Music" and "Home for the Holidays." Choreographic credits include Belmond-Klemme's show choir "New Group" and Davenport Central's production of "In the Heights." In addition to the faculty at The University of Iowa, she has studied with the Twyla Tharp Dance Foundation, Common Thread Contemporary Dance Company, Ballet Quad Cities and the Imani Dancers. -->
---
Chris YON & Alberto MILLER
Contempexpletive
is a dance for laptop orchestra, best viewed with plugged ears and crossed eyes.
Chris Yon is pursuing an MFA in Choreography. Visit chrisyon.net.

Alberto Miller is an electronic musician who specializes in in timbral shaping, mixing, and improvisation-based composition. He is in his last semester of graduating from the University of Iowa with a B.S. in bioinformatics. He rules.
---
Justin COMER
Making Contact
The score for Making Contact is structured similarly to Terry Riley's In C. Any number of performers play rhythmic cells on objects attached to contact microphones. The objects are amplified through a Max/MSP patch, which also records a short excerpt of the performance to create an accompanying "cloud" of electronic noise. Due to the open form of the piece, the duration of a performance can be as long or short as the performer(s) desire.
Justin Comer (b. 1990) completed his MA in composition at the University of Iowa in 2014, where he studied with David Gompper. Before that, he graduated from Coe College with a BM in composition and saxophone performance. In addition to his work in composition, he also performs frequently with ensembles like the Comprovisers and LOUi on saxophone and laptop. For more info, please visit justinkcomer.com.