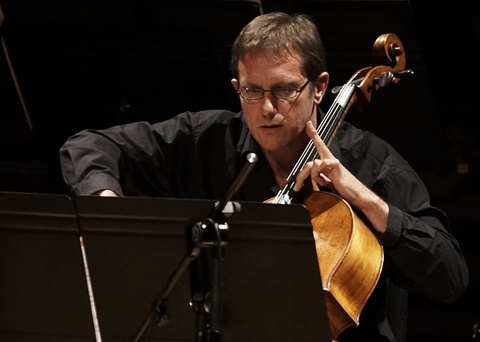 The Center for New Music hosts
 
Guest Cellist, Timothy Gill with
Pianist, David Gompper in concert
 
Wednesday, November 20, 2019 at 7:30p in the Concert Hall
 
Program
| | |
| --- | --- |
| Drei kleine Stücke, für Violoncello und Klavier, op. 11 | Anton WEBERN |
| | |
| --- | --- |
| Lieux retrouvés | Thomas ADÈS |
I. Les eaux
| | |
| --- | --- |
| Kottos (1977) | Iannis XENAKIS |
| | |
| --- | --- |
| Salat Babilya (2008) | Zoë MARTLEW |
| | |
| --- | --- |
| De Profundis for solo cello (2014) | Richard CAUSTON |
Part I
      1. Grave
      2. Minaccioso: ben misurato
      3. Grave
      4. Minaccioso: ben misurato
      5. Grave
Part II
      6. Liberamente
| | |
| --- | --- |
| By way of the roof (2019) première | Jeremy THURLOW |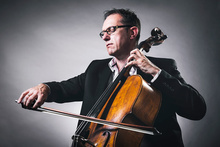 Timothy Gill
Timothy Gill studied in Paris, Cambridge University and the Royal Academy in London. In 1990 he won critical acclaim for his performances in the Park Lane Group series at London's Southbank and has since enjoyed a lifelong commitment to contemporary music. He is principal cellist in the London Sinfonietta, with whom he has appeared as soloist throughout the world, most recently at the MiTo international festival in Turin and at the BBC Proms. Last year he gave a recital of solo contemporary music as part of the Cello Unwrapped series at London's Kings Place. In addition, Tim has appeared as principal cellist with all the London orchestras. He held the post of principal cellist with the Royal Philharmonic Orchestra (RPO) for 15 years, touring the world and appearing frequently with them as a concerto soloist. He also enjoyed a shorter tenure as principal with English National Opera. In 2016 Tim left the RPO in order to focus more fully on his solo career
Program Notes
Anton Webern
Drei kleine Stücke, für Violoncello und Klavier, op. 11
"Three Little Pieces for cello and piano op. 11" follow the pattern set by op. 7, except that the second piece is very short (a peremptory duo in the manner of the abandoned sonata), the third is pared to the bone, and there is no fourth. Webern wrote at this time of the imperative he felt to end a composition when all twelve notes had sounded just once, and the third piece of op. 11 comes close to this disturbing near-muteness. –Paul Griffiths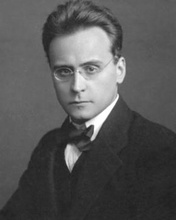 Anton (von) Webern was one of the key figures in the so-called Second Viennese School. A pupil of Schoenberg, he became known for his concise and highly individual atonal and serial compositions. In many ways he was more influential than his teacher: in the postwar years leading figures in the avant-garde like Boulez, Stockhausen, and Dallapiccola, found more substance in his music and forms than in those of Schoenberg. Hence, one often heard -- and still hears -- the term "post-Webern serialism." His mature style was relatively straightforward, featuring simple harmonies and transparent textures, silent pauses, and brevity of expression. While his influence and stature are acknowledged and his music often played, Webern has landed no work in the standard repertory. Much of his music is viewed as difficult and intellectual by the public, though it is in fact comparatively quite approachable, much less challenging than the works of Boulez, Cage, and others.
Thomas Adès
Lieux retrouvés
The 'rediscovered places' of Thomas Adès's work for cello and piano contrast the world of nature - water, mountains, fields - with a hectic cityscape. 'Les eaux' flow through varying degrees of turbulence: 'La montagne' suggests a strenuous ascent to rarefield heights: 'Les champs' embodies a serene evenness evocative of an expansive open space: and 'La ville' is a virtuosic 'cancan macabre', abrasively recreating a transgressive night-life that is dark and down to earth. That all four movements involve rediscovery could indicate connections with the composer's earlier evocation of French painters and composers - especially Couperin. But there is also a sense of renewing acquaintance with contemporary techniques, as set out in the flowing pattern-making at the start of 'Les eaux', from which a complex counterpoint with intense cross-rhythms emerges that reinforces the inseparability of dramatic and lyrical in Adès's style. Such imitative interaction between cello and piano is less impressionistically deployed in 'La montagne', and although the stressful exhilaration of this climb is cut short by an eerie depiction of an almost airless summit, the piece ends with a brusque fall to earth. By contrast, the gradual disappearance of 'Les Champs' into the highest registers of both instruments, without a sudden cadential cut-off, hints at the allusive, troubled idylls of Adès's earlier evocations of Arcadiana (Arcadiana for string quartet): and 'La ville' sits well alongside the manic dance routines of Arcadiana's 'tango mortale'. –Arnold Whittall © 2009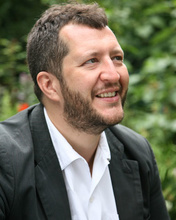 Born in London in 1971, Thomas Adès studied piano and composition with Paul Berkowitz and Erika Fox at the Guildhall School of Music and Drama. When he was 17, he spent a year studying chamber music with György Kurtág in Hungary and went on to read music at King's College, Cambridge. Between 1993 and 1995, Adés was Composer in Association with the Hallé Orchestra, and from 1999 to 2008 he was Artistic Director of the Aldeburgh Festival.
     Adès's first opera,
Powder Her Face
, was commissioned by Almeida Opera for the 1995 Cheltenham Festival, and his second opera,
The Tempest
, commissioned by the Royal Opera House, was premiered in 2004. One of Adès's largest-scale works,
Asyla
(1997), was commissioned for Sir Simon Rattle and the City of Birmingham Symphony Orchestra. The work won the Grawemeyer Award, of which the composer was the youngest-ever recipient, in 2000. In 2005, his violin concerto,
Concentric Paths
, written for Anthony Marwood, was premiered at the Berliner Festspiele and performed at the BBC Proms. His second orchestral work for Simon Rattle,
Tevot
(2007), was commissioned by the Berlin Philharmonic and Carnegie Hall. Other works include a "piano concerto with moving image" entitled
In Seven Days
(2008)—a collaboration with the video artist Tal Rosner—as well as
Totentanz
for mezzo-soprano, baritone and orchestra (2013),
Blanca Variations
(2015) for piano solo, and an orchestral arrangement of
Lieux retrouvés
premiered this year by Steven Isserlis.
     His many conducting engagements include an appearance at the 2008 BBC Proms with the City of Birmingham Symphony Orchestra, and productions of
The Rake's Progress
at the Royal Opera House in London and the Zurich Opera. He has regular conducting engagements with orchestras including the Boston Symphony and Royal Concertgebouw. Recent piano engagements include solo recitals at Carnegie Hall (Stern Auditorium) and the Barbican in London, and concerto appearances with the New York Philharmonic.
David Gompper
Cycles
Cycles, for violoncello and piano, is a duet that shares many of the pitch and harmonic relationships heard in Sunburst, Traceur and the Clarinet Concerto. Formally, the work is in three parts and in some sense, very traditional in its rhetorical language, one that explores both linear and vertical materials suggesting a lively conversation and shared lyrical experience between the two instruments.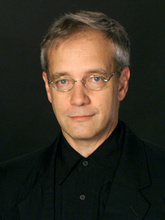 David Gompper has lived and worked professionally as a pianist, a conductor, and a composer in New York, San Diego, London, Nigeria, Michigan, Texas and Iowa. He studied at the Royal College of Music in London with Jeremy Dale Roberts and Humphrey Searle. After teaching in Nigeria, he received his doctorate at the University of Michigan and taught at the University of Texas, Arlington. Since 1991, he has been Professor of Composition and Director of the Center for New Music at the University of Iowa. In 2002-2003 Gompper was in Russia as a Fulbright Scholar, teaching, performing and conducting at the Moscow Conservatory. In 2009 he received an Academy Award from the American Academy of Arts and Letters in New York City, and a Fromm Commission in 2013.
     Gompper's compositions have been performed at Carnegie Hall, Lincoln Center and Merkin Halls (New York), Wigmore Hall (London), Konzerthaus (Vienna) and the Bolshoi and Rachmaninoff Halls (Moscow Conservatory). For the Naxos label, the Royal Philharmonic Orchestra (RPO) recorded his Violin Concerto with Wolfgang David, and two new discs of works that include four concerti (Double, Clarinet, Cello and Double Bass), as well as three compositions for orchestra. Tonight's Cello Concerto will be recorded by the RPO next month for his third all-Gompper disc on the Naxos label.
Iannis Xenakis
Kottos
Iannis Xenakis has always had a special affinity for the cello. He wrote a major solo work for the instrument, Nomos Alpha, in 1966, but it has remained the exclusive territory of only a handful of courageous performers. When asked to contribute a test piece to the Rostropovitch International Violoncello Competition in 1977, Xenakis was happy to oblige, knowing that the score would be played by a number of cellists over the course of the competition and beyond. Accordingly, Kottos, while challenging, is approachable rather than utopian (in contrast to the earlier solo).
     The title refers to the name for the hundred-armed titans that Zeus is said to have fought and conquered. Kottos has moments of fierceness, certainly, but contains much else besides. The opening launches the battle, so to speak, with a grating, grinding noise obtained by bowing strongly on the bridge of the instrument. It quickly shifts to a soft bird-like sound produced by the combination of harmonics and glissandi. As the music unfolds, a whole range of sonorities are introduced and developed, often shifting quickly from one to another.
     The image of a being with one hundred arms, capable of many actions at once, appears to be what Xenakis was trying to portray. There are clear melodic passages, particularly toward the end, but rhythm is by far the most important element in the piece. In the middle, for example, a lengthy toccata-like passage ticks along with a rapid pulse. The music leaps over widely spaced sets of notes and lays down progressions of double stops that alternate between the open sounds of perfect intervals and the harsher tones of dissonances. The performer's major challenge is to overcome the work's technical difficulties to an extent that allows the music's exuberant energy, both aggressive and celebratory, to come through. –James Harley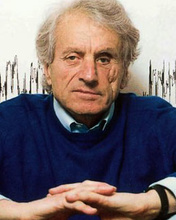 Iannis Xenakis (1922-2001) followed a relatively extraordinary path to composition, first entering the European music scene in his late twenties. He arrived in Paris from Greece shortly after WWII having fled his home as part of the increasingly persecuted Greek Resistance. He was sentenced to death in absentia for the crime of political terrorism. Amidst his underground political activity he studied architecture and engineering, and the influence of those subjects (in addition to his political experiences) characterized his musical output throughout his life. In addition to writing some of the most important and influential music of the percussion repertoire, Xenakis was able to unite music, science, and mathematical theories and apply them to the compositional process. Through his work, he also contributed considerably to electronic and computer music by using them as tools to realize his musical ideals.
Zoë Martlew
Salat Babilya
"Salat Babilya" was inspired by music from Iraq, in particular the beautiful sonorities of the oud, a variety of Middle Eastern lute dating back to antiquity. An oud-like resonance is evoked without the use of a bow via a combination of "Arabic" scales, open strings, ringing harmonics and ornamental inflections. The particular oud piece that inspired mine was written to help lull the children of Bagdad to sleep during bombing raids and bears the same title, which translates from the Arabic as "Babylonian Prayer".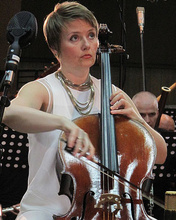 Cellist, performer, composer, educator, media commentator and writer, the increasingly un-categorisable Zoë Martlew travels the world as soloist and with some of the world's most renowned contemporary music ensembles, chamber groups, improvisation, film, electronica, multi-media, pop and rock artists, dance and theatre companies, and with her own one woman cabaret show Revue Z. She was a judge on BBC TV's Maestro and Young Musician of the Year; regular guest commentator/presenter for BBC Proms and Radio 3 and was on the UK panel for the 2009 Eurovision Song Contest.
     Zoë has had two US premieres this year: her funk piece
Shift Trip
with dancers at 92Y New York, and string trio
Völuspá
at Tanglewood Festival where she was also string coach and hosting composer panels/interviews. Upcoming commissions include a piece for Nicholas Daniels/ Britten oboe Quartet and clarinet/electronics piece for Mark Simpson. Schott publishes her music.
     She is much in demand for educational activities, including artistic director of the Saigon Chamber Music Festival in Vietnam, string tutor for the NYO and a regular jury member for international competitions. She studied at the Royal College of Music, Clare College, Cambridge, the Royal Academy of Music and the Chopin Academy in Warsaw.
Richard Causton
De Profundis for solo cello (2014)
De Profundis is built around the cello's attempts to 'ground' itself – but at the same time, an attempt to escape from the depths. It opens with music played high up on the lowest string of the instrument – a state of both disembodiment and potential energy (the enormous gap between the low open C and the high sounds that we actually hear). As the piece progresses through its various sections, the music becomes gradually more 'embodied' (lyrical, then faster and faster) as the energy latent in the opening is worked out until, towards the end of the piece, the low C finally appears like a tolling bell.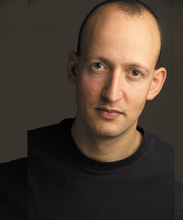 Richard Causton studied at the University of York, the Royal College of Music and the Scuola Civica in Milan. He has worked with ensembles such as​the BBC Symphony Orchestra, Philharmonia Orchestra, City of Birmingham​ Symphony Orchestra, Orchestra of the Age of Enlightenment,​Sinfonieorchester Basel, Rundfunk-Sinfonieorchester Saarbrücken, London​ Sinfonietta, Birmingham Contemporary Music Group, Britten Sinfonia and the​Nash Ensemble. His music has been recorded on Metier, Delphian, Prima Facie​ and NMC, whose disc
Millennium Scenes
(NMC D192) was listed as No.1 in​the
Sunday Times 100 Best Records of the Year 2014
(Contemporary​ section).
     In 1997 he was awarded the Mendelssohn Scholarship, which enabled him to​ study in Milan with Franco Donatoni. Other distinctions include First Prize​in the Third International 'Nuove Sincronie' Composition Competition, a British Composer Award and a Royal Philharmonic Society Award. Richard's works include
Twenty-Seven Heavens
for​ orchestra, commissioned as part of the London 2012 Cultural Olympiad​and premièred at the Amsterdam Concertgebouw under the direction of Gianandrea Noseda. More recently,
Ik zeg: NU
(I say: NOW) was premiered​by Sakari Oramo and the BBC Symphony Orchestra, and broadcast in​ twenty-seven countries worldwide.
     Richard Causton is currently Reader in Composition at the University of​ Cambridge and recently became an Honorary Patron of the Centre for Young​Musicians. See: www.richardcauston.com and www.cathynelson.co.uk.
Jeremy Thurlow
By way of the roof
If the doors of repose have been barred to you, come, let us go out by way of the roof and the ladder (Rumi, Ode 2180)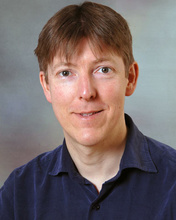 Jeremy Thurlow is a composer, writer and pianist. His music has been described as 'seductive, innovative, full of freshness' by Henri Dutilleux. It has been performed by the BBC Philharmonic, Rolf Hind, the BBC Singers, Endymion, the Kreutzer Quartet, the Aronowitz Ensemble, Matthew Schellhorn, the Fitzwilliam String Quartet, James Macmillan, Peter Sheppard Skaerved, Sequitur (New York), Lesley-Jane Rogers, Curious Chamber Players Stockholm, Mr McFall's Chamber, Zoe Martlew, Daniel Propper, Charles Mutter, Kevin Bowyer, Simon Smith and Adrian Bradbury among many others. In 2007 he won the George Butterworth Award for new composition.
     He has made a distinctive contribution to many different fields of contemporary music, from 'video-opera' (
A Sudden Cartography of Song
) for voices, video and electronics, with writer Alastair Appleton), to orchestral music (including
Search Engines
,
Tread Softly
, his trumpet concerto
Oracle
and his flute concerto
Upon height, upon hollow
); music for live performers and electronics; choral music for both professional groups (including a work the BBC Singers) and amateur singers; several contemporary dance scores; 'fables' (where the music both plays with and deconstructs the telling of the story; a rich catalogue of chamber music for traditional ensembles (including quartets for the Kreutzer Quartet, Schubert Ensemble and Fitzwilliam Quartet) and two piano trios) as well as various highly un-traditional groups; he has worked with instrumentalists from other cultural traditions including those of North India and Korea; he has made extensive explorations of the fertile territory where composition meets improvisation, working especially with Peter Sheppard Skaerved, and the Aronowitz Ensemble; he has set words in Mandarin by cult writer Louis Cha in a cantata premiered in Hong Kong with Niu Niu and Yang Peiyi and recently released by Universal on DVD and CD in China; settings of poetry both English and French (including the Keats setting
Unbidden Visions
, and
Plus avant que l'étoile
, a response to Yves Bonnefoy); and theatre work including
Vanessa & Virginia
(Riverside Studios), for which his score and performance was nominated for the Off-West End Awards 2013.
---