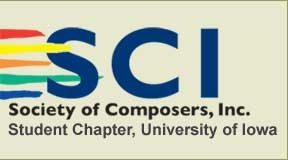 CONCERT I
Sunday, September 16, 2012, 7:30 p.m.
Music West Atrium
Iowa Chapter of the Society for Composers Inc
24-Hour Composition Project
pairing composers and performers
|| download program ||
Program
The 24-Hour Composition Project begins on Friday September 14 at 5:00pm. At 5:00pm on September 15, the performers receive their new compositions and begin practicing. The project culminates in a performance in the Atrium at the Music West Building at 7:30pm on September 16.
The composers are:
Matt Smart
Brian Penkrot
Jason Palamara
Will Huff
Daniel Franz
Jason Gregory
Justin Comer
Leonid Iogansen
Nima Hamidi
Joe Mattingly
They will be writing for:
Shelby Kifer - Contrabass Trombone
Jessie Ducharme Butler - Trombone
Lucy Lewis & Manuel Tabora Violin & Viola
Megan Gray - Viola
Andrew Uhe - Violin
Dee Bierschenk - Trumpet
Stephanie Patterson - Bassoon
Andy Thierauf - Percussion
Aaron and Janet Ziegler - Percussion and Soprano
Ryan Smith and Marjorie Shearer - Saxophones and Clarinets
We hope to see you there!