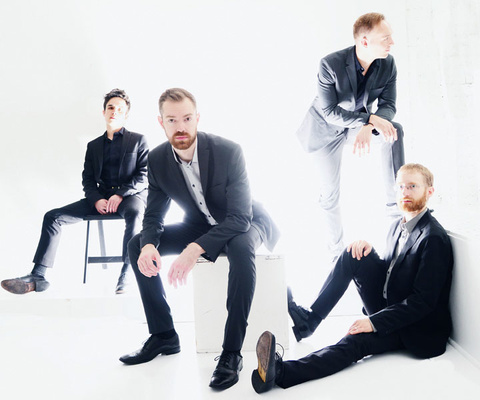 Premiering UI School of Music composers' string works
auditioned in the December 4th & 5th readings
JACK Quartet
Violinists Christopher Otto and Austin Wulliman
Violist John Pickford Richards, and Cellist Jay Campbell
Wednesday, March 11, 2020 at 7:30p in the Concert Hall

View: Post Concert Group Photo      
Program
String Quartet No. 1 (2019)                                                                                                                                 Trinton PRATER [BIO]
I. Ostinato
II. Espressivo
Note: This piece is dedicated to Coral Douglas and Lee Johnson, who taught me much of what I know about love, and everything I know about music.
Chrysopoeia (2019)                                                                                                                                        Stephan CARLSON [BIO]
for string quartet
In alchemy, the term chrysopoeia (Ancient Greek: χρυσοποιία, khrusopoiia) means transmutation into gold (from the Greek χρυσός, khrusos, "gold", and ποιεῖν, poiein, "to make"). It symbolically indicates the creation of the philosopher's stone and the completion of the Great Work.
     Now begins my humble art. I am not a sage, nor am I a chymist. Neither am I, in office, a priest. I have no wisdom, I have no mercury. But if I am poured out into the crucible, broken down and then remade, would the chords of my spirit resonate harmoniously? And would you be poured out? Could we become music, together?
Hamonshū (or the many ways of drawing water) (2018-2020)                                                   Gregory Rowland EVANS [BIO]
for string quartet
波紋集 (Hamonshū) is the title of a series of three volumes of artwork by 森雄山 (Mori Yuzan). The artwork consists of many drawings of waves and ripples, possibly as a catalogue of designs to be engraved on lacquerware boxes, among other items. The title of the books can be translated as "Book of Ripple Designs."
The Hope (2019)                                                                                                                                                     Geng ZHANG [BIO]
for string quartet
Living people will face, in addition to happy things that occur, a variety of challenges, difficulties, setbacks, and hurt, the blow of which can be demoralizing. But I believe that no matter how much hopefulness or hopelessness I feel right now, hope itself will always exist.
Irreversibility (2019)                                                                                                                                   Ramin ROSHANDEL [BIO]
for string quartet
An object is considered from a continuously-displaced vantage point. The eye fixates first on salient nodes, but virtual elements soon invade the field of perception, propelling a measured dissolution of the inert material into an unstable texture, within which ideas spawn, spin, and slip off of the gloss of transience. Yet the eye pauses—contemplates certain vertical configurations, prescribes a space for a substance to roil in the act of appraisal. Slowly, an image re-emerges out of this ponderous disassociation, and the eye drifts beyond the temporal boundary to admire its own act of reduction. –Alexander Nathan Toth
Shapes (2019)                                                                                                                                               Vahid JAHANDARI [BIO]
for string quartet
Shapes is an observation of an imaginary landscape that forms with an initial spark, and changes with slight vibrations that agitate the stretched strings and modulate their shades of color, the most variable quality in the piece.
Performer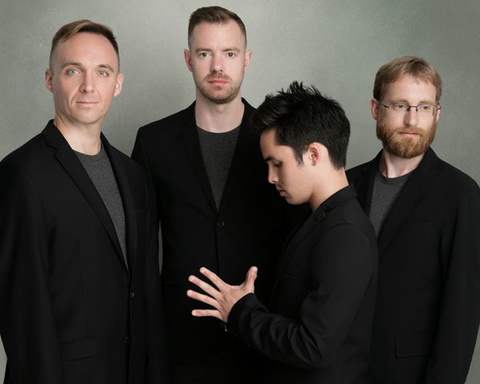 JACK Quartet
Deemed "superheroes of the new music world" (Boston Globe), the JACK Quartet is "the go-to quartet for contemporary music, tying impeccable musicianship to intellectual ferocity and a take-no-prisoners sense of commitment." (Washington Post) "They are a musical vehicle of choice to the next great composers who walk among us." (Toronto Star)
     The recipient of Lincoln Center's Martin E. Segal Award, New Music USA's Trailblazer Award, and the CMA/ASCAP Award for Adventurous Programming, JACK has performed to critical acclaim at Carnegie Hall (USA), Lincoln Center (USA), Miller Theatre (USA), Wigmore Hall (United Kingdom), Muziekgebouw aan 't IJ (Netherlands), IRCAM (France), Kölner Philharmonie (Germany), the Lucerne Festival (Switzerland), La Biennale di Venezia (Italy), Suntory Hall (Japan), Bali Arts Festival (Indonesia), Festival Internacional Cervatino (Mexico), and Teatro Colón (Argentina).
     Comprising violinists Christopher Otto and Austin Wulliman, violist John Pickford Richards, and cellist Jay Campbell, JACK is focused on new work, leading them to collaborate with composers John Luther Adams, Chaya Czernowin, Simon Steen-Andersen, Caroline Shaw, Helmut Lachenmann, Steve Reich, Matthias Pintscher, and John Zorn. Upcoming and recent premieres include works by Derek Bermel, Cenk Ergün, Roger Reynolds, Toby Twining, and Georg Friedrich Haas.
     JACK operates as a nonprofit organization dedicated to the performance, commissioning, and spread of new string quartet music. Dedicated to education, the quartet spends two weeks each summer teaching at New Music on the Point, a contemporary chamber music festival in Vermont for young performers and composers. JACK has a long-standing relationships with the University of Iowa String Quartet Residency Program, where they teach and collaborate with students each fall, and the Boston University Center for New Music, where they visit each semester. Additionally, the quartet makes regular visits to schools including Columbia University, Harvard University, New York University, Princeton University, Stanford University, and the University of Washington.
---