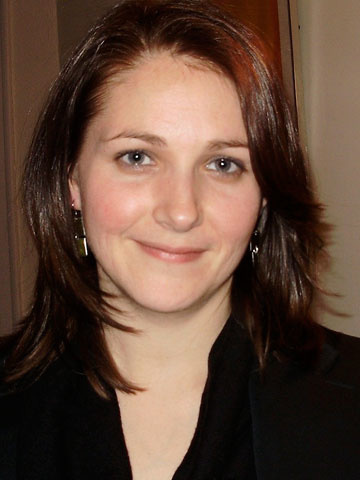 ​Nomi Epstein, D.M.A, is a Chicago-based composer, curator, performer and music educator. Her compositions center around her interest in sonic fragility, where structure arises out of textural subtleties. Her music has been performed throughout the US, Europe, and Asia by such artists as ICE, Ensemble SurPlus, Mivos Quartet, Wet Ink, Dal Niente, Noble Fowl Trio, Quince Vocal Ensemble, Rhymes With Opera, Seth Josel, and Eliza Garth, and at festivals such as Ostrava Days, Huddersfield Contemporary Music Festival, Darmstadt, Bang on a Can, and Akademie Schloss Solitude.  She has contributed works to Australian flutist Janet McKay's 2009 US tour "Those Vanished Hands," guitarist Aaron Larget-Caplan's "New Lullaby Project" and percussionist Joe Bergen's new vibraphone collection "For Semy." She was twice invited as an Artist-in-Residence at the Atlantic Center for the Arts, and has received grants from The Foundation of Contemporary Arts (Emergency Grant), Chicago's DCASE (Individual Artist Grant), and New Music USA (CAP Grant).  She was featured in the Chicago Tribune for her work as a composer, curator, teacher, and performer.
Epstein is an active and passionate curator and producer, founding and leading a.pe.ri.od.ic, the critically acclaimed experimental music performance collective devoted to notated, acoustic, post-Cagean experimental music.  In 2012, she curated and produced the 5-concert John Cage centennial festival in Chicago involving performers, sound artists, dancers, and multi-media artists from around the Midwest.  Her work with Cage's music and influence led her to present at numerous centennial events. She was invited to present at the Northwestern University Cage Symposium and serve as composer-in-residence at the Florida State University Cage Festival. 
In 2014, Epstein co-organized The Chicago Wandelweiser Festival which brought Jürg Frey, Eva-Maria Houben, and R. Andrew Lee to Chicago for the 4 festival events.  The festival featured a.pe.ri.od.ic's debut album release concert, a cd of ensemble works by Jürg Frey on which Epstein performs.
As a practitioner of experimental music, Epstein performs regularly with a.pe.ri.od.ic ensemble, her multimedia, experimental improvisation trio NbN, and Articular Facet.   She continues to research, lecture on, perform and program experimental music.
As an educator, she has served on the faculties of the University of Illinois at Chicago, Northwestern, Roosevelt, and DePaul Universities.  She is currently Visiting Assistant Professor of Composition at the University of Iowa, while also acting as head of theory at the British Music School. Epstein holds degrees from Columbia University, New England Conservatory, and Northwestern University where her principal teachers included Fred Lerdahl, Michael Gandolfi, Marti Epstein, Amy Williams, Jay Alan Yim, and Augusta Read Thomas.