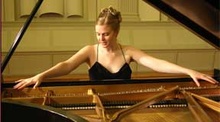 CONCERT VIII
Thursday, November 17, 2011, 7:30 p.m.
University Capitol Center Recital Hall (map)
The Body Electric
Oni Buchanan, piano
performed works by
Missy Mazzoli, Mei-Fang Lin, Carolyn Yarnell, Michel Gonneville, Keith Kirchoff, and Jacob Ter Veldhuis
Program
Isabelle Eberhardt Dreams of Pianos (2007)
      for amplified piano and pre-recorded soundtrack
 
Missy MAZZOLI
(b. 1980)
Interaction (2001)
      for piano and digital tape
 
Mei-Fang LIN
(b. 1973)
The Same Sky (2000)
      for piano, electronics, and video projection
 
Carolyn YARNELL
(b. 1961)
 
— Intermission —
 
Orizzonte (2004)
 
Missy MAZZOLI
(b. 1980)
from Hierosgamos: Studies in Harmony and Resonance (2003)
      III. Sonorous
       IV. Meditative, Still
        V. Playful, but driven
 
Cindy COX
(b. 1961)
The Body of Your Dreams (2003)
      for piano and boombox
 
Jacob TER VELDHUIS
(b. 1951)
Guest Performer

Concert pianist Oni Buchanan performs an incredible range of piano literature, with her focus and expertise running from the miniature keyboard works of Francois Couperin to the syncopations of Bach to the fire and brimstone of Beethoven to the moody cycles of Schumann to the lush expanses of Ravel to the sarcasm and lyricism of Prokofiev to the peasant dances of Bartok, and--bringing her into the most contemporary musical moment--to the exceptional works of women composers writing today.
Ms. Buchanan's concert programming is often interdisciplinary in nature, directly engaging the intimate connections between the arts, and frequently including adventurous contemporary works alongside established repertoire, bringing works from disparate centuries into fascinating and enlightening conversation. Ms. Buchanan has performed solo recitals in major cities throughout the U.S. and abroad, at such U.S. venues as the National Gallery of Art in Washington, D.C., the Dame Myra Hess Memorial Concerts in Chicago, the Center for New Music and Audio Technologies (CNMAT) in Berkeley, the Bechstein Piano Centre in NYC, the Lane Series in Burlington, the Baltimore Museum of Art, and the Harvard University Hall Concert Series, among many others. She has performed internationally at the Instituto Brasileiro de Administracao Municipal (IBAM) and the Centro Cultural Laurinda Santos Lobo in Rio de Janeiro, the Casa Thomas Jefferson in Brasilia, the Associacao Cultural Cachuera! in Sao Paulo, the William H. Buset Centre for Music and Visual Arts in Thunder Bay, and at the University of Guelph and Conrad Grebel University College in Guelph and Waterloo, respectively. In addition, Ms. Buchanan has given ensemble performances in New England Conservatory's Jordan Hall, at Harvard University, and at the New School of Music in Cambridge, MA, and has been a concerto soloist with the Waynesboro Community Orchestra (VA), conducted by Eric Stassen.
Oni Buchanan received her Master's degree in piano performance from the New England Conservatory of Music, her Bachelor's degree in music from the University of Virginia, and conducted three years of her music studies at the University of Iowa School of Music while pursuing an M.F.A. in poetry from the Iowa Writers' Workshop. Her teachers have included Russell Sherman, Stephen Drury, Daniel Epstein, Patricia Zander, Uriel Tsachor, and Mimi Tung. In addition, she studied at the Aspen Music Festival in the studios of Joseph Kalichstein and Gabriel Chodos, and has been an active participant and performer in the New England Conservatory Summer Institute for Contemporary Performance Practice (SICPP).
Ms. Buchanan is also an award-winning poet, and holds a B.A. in English from the University of Virginia and an M.F.A. in poetry from the Iowa Writers' Workshop. Her second book of poetry, Spring (University of Illinois Press, 2008), was selected by Mark Doty as a winner of the National Poetry Series, and also received the 2009 Massachusetts Book Award. Her first poetry book, What Animal (UGA Press, 2003), was chosen by Fanny Howe as winner of the University of Georgia Press Contemporary Poetry Series competition. Ms. Buchanan's poems are featured in many anthologies including The Best American Poetry 2004 and have been published in numerous journals across the country. Ms. Buchanan currently maintains a private piano studio in Boston. Her discography includes three solo piano CDs on the independent Velvet Ear Records label.
Program Notes
Missy MAZZOLI
Isabelle Eberhardt Dreams of Pianos
Isabelle Eberhardt was an explorer and writer who, at the beginning of the 20th century, abandoned a comfortable aristocratic life for a nomadic existence in North Africa. She was a liberated individual who rejected conventional European morality in favor of her own path. She died in a desert flash flood at the age of twenty-seven. Isabelle Eberhardt Dreams of Pianos imagines her riding on horseback through the desert, lost in thought, remembering sounds and sensations of her old life. Fragments of Schubert's A Major Sonata pierce her consciousness and are quickly suppressed. In her fatigue she dreams of a piano half-buried in sand, a flash flood of sheet music swirling around her. — Missy Mazzoli
Orizzonte
consists of gently overlapping sine waves that set the stage for a meditative and introspective piano melody. This piece was composed for Hills Not Skyscrapers, a band that Missy Mazzoli founded in the Netherlands in 2004. It was first performed on a piano that had been left out in the rain for a year, in a dilapidated squat hidden in the heart of Amsterdam.
Missy Mazzoli was recently deemed "one of the more consistently inventive, surprising composers now working in New York" by the New York Times. Her music has been performed all over the world by the Kronos Quartet, eighth blackbird, the Minnesota Orchestra, the South Carolina Philharmonic, NOW Ensemble and many others. Upcoming projects include a performance by the American Composers Orchestra, and performances of her chamber opera, Song from the Uproar, at Bard College and on the New York City Opera's VOX series. She is the recipient of three ASCAP Young Composer Awards, a Fulbright Grant, and grants from the Jerome Foundation and the Barlow Endowment. In 2006, Missy taught beginning composition at Yale University, and is now Executive Director of the MATA Festival in New York City.
---
Mei-Fang LIN
Interaction
Mei-Fang Lin aims to unite the piano and the electronic tape part without resorting to the use of actual piano sample sounds in the tape part. She achieves this mostly by means of establishing a close connection between the musical textures, the rhythmic gestures, and the timbre in the piano and tape part. These two seemingly opposing media are meant to give the impression that they not only complement each other, but they actually give birth to each other. Interaction was commissioned by the Experimental Music Studios at the University of Illinois at Urbana-Champaign for an EMS CD recording project.
Mei-Fang Lin is currently on the School of Music faculty at Texas Tech University. She received her Ph.D. from the University of California at Berkeley and her master's degree from the University of Illinois at Urbana-Champaign where she later returned to teach as Visiting Assistant Professor in Composition/Theory. Supported by the Frank Huntington Beebe Foundation in Boston and a George Ladd Paris Prize from UC Berkeley, she also spent three years in France studying composition with Philippe Leroux and participated in the one-year computer music course "Cursus de Composition" at IRCAM in Paris. Lin's major awards include those from the Seoul International Competition for Composers in Korea, Bourges Competition in France, American Music Center, Look & Listen Festival Prize in US, Pierre Schaeffer Competition in Italy, SCI/ASCAP Student Commission Competition in US, Luigi Russolo Competition in Italy, Prix SCRIME in France, National Association of Composers, USA Competition, 21st Century Piano Commission Competition in US, and Music Taipei Composition Competition in Taiwan. Lin's works have been played throughout the US and abroad in more than 20 countries.
---
Carolyn YARNELL
The Same Sky
is an epic of stasis and transformation, combining live virtuosic performance with a computer-generated piano part, while a video of the sky and its cloud fluctuations projects on the inside of the raised piano lid. Yarnell, who is also a painter and photographer, explains, "I was watching a movie one night, the setting was an amazing 14th-century Venetian Gothic Palazzo overlooking the Grand Canal. On the landing of a white marble staircase was a table with an enormous vase filled with flowers, a window beside. The place was amazing and I found myself wishing that I lived somewhere like that... could always have flowers so lovely. And then the picture panned across the ornate wall and out the open window into a stunningly beautiful sky... In that moment I realized that no matter what we may possess in this life, we all share the same sky."
Composer/visual artist Carolyn Yarnell holds degrees from the San Francisco Conservatory of Music and Yale University. She studied as a pianist under Mack McCray, percussion with Peggy Lucchesi, and composition with Elinor Armer, John Adams, Andrew Imbrie, Jacob Druckman, Withold Lutoslawski, Martin Bresnick, Nicholas Maw, Frederik Rzewski, Oliver Knussen, Lucas Foss, Poul Ruders and Thorkell Sigurbjörnsson. Yarnell's music encompasses a broad spectrum of style and media, ranging from orchestral works and electronic soundscapes, to solo and chamber music performed on both modern and early instruments; computer music, multi-disciplinary works, children's songs, and improvisatory space music with a metal tinge. Yarnell's works have been commissioned & performed by the best orchestras and performers around the world. Honors include the National Endowment for the Arts (for music and painting), the American Academy of Arts and Letters, the American Music Center, ASCAP, The Institute of International Education (Fulbright Fellowship to Iceland - for music inspired by landscape), the MacDowell Colony, Yaddo, Tanglewood Music Center, Meet the Composer, a Guggenheim Fellowship and the Rome Prize. Although her works are varied, they have the common thread of being distinctly evocative.
---
Cindy COX
from Hierosgamos: Studies in Harmony and Resonance
The title of Hierosgamos: Studies in Harmony and Resonance refers to the hierosgamos, an ancient principle which reveals the ultimate wholeness concealed among pairs of apparent opposites. Literally "sacred marriage", this mysterious union involves a simultaneous moment of creation and dissolution between the self and the other, a co-terminus spiritualization of matter and a materialization of spirit. In the language of alchemy, Carl Jung spoke of a "chemical wedding", where the "yang and yin" of things is purified back into an original unity. The three selected etudes in this performance are drawn from a larger work of seven, a cycle which attempts to show how opposing characteristics and materials ultimately derive from a single source. In this particular suite of three, the middle movement (IV. Meditative, Still) is the center post, and the overtone series from the middle of the piano, E4, and its inverse provide the pitch material. The opening etude of the set (III. Sonorous) is formed by a slowly moving series of chorale-like chords based on A-flat. Its middle section uses a variation on the chorale with rapidly descending scales. The third etude in this group (V. Playful, but driven) is composed of a forceful, motoric ascending line of scales topped with a repeating B-flat.
Radical, traditional, original, archetypal--neither modernist nor neo-tonal, Cindy Cox derives her "post-tonal" musical language from acoustics, innovations in technology, harmonic resonance, and poetic allusion. She has received awards and commissions from the American Academy of Arts and Letters, the Fromm Foundation, the National Endowment for the Arts, ASCAP, and Meet the Composer. Recent performances include [Four Studies of Light and Dark] for piano and percussion at the Festival di Musica Contemporanea at the American Academy in Rome, Hysteria, for trombone and four-channel tape at the Kosmos Frauenraum in Vienna, Münster Gesellschaft für Neue Musik, and the REDCAT/Cal Arts Theater in Los Angeles, The blackbird whistling/Or just after, for solo piano at Carnegie Hall, Into the Wild, by the Paul Dresher Ensemble at the Library of Congress, and Cathedral Spires by the National Symphony at the Kennedy Center in Washington DC. Her music is recorded on the Capstone, New World, Albany, Cantilena, Arpa Viva, Mark, and Valve-Hearts labels. Cox is a Professor at the University of California at Berkeley.
---
Jacob TER VELDHUIS
The Body of Your Dreams
is based on the speech melody technique: "Jacob TV turned once again to American television, using a cheesy advertisement for a weight-loss product. The presenters enthusiastically demonstrate an electronic slimming belt, a device whose fine-tuned wave transmissions will vibrate fat away: no sweat, no workout. 'It's one of the easiest ways ever to get your body in the shape you want it. It helps to tone and tighten your upper abs, lower abs, arms and legs with no sweat at all! It's one of the simplest, smallest, and most comfortable toning devices ever. You can use it while watching television, doing the dishes, mowing the lawn...you decide. It also works great as an abdominal toning device while you are working out on your elliptical trainer or your treadmill; or while you are out for your daily walk. It's easy and effective. And no sweat!'"
Dutch 'avant pop' composer JacobTV (Jacob Ter Veldhuis) started as a rock musician and studied composition and electronic music at the Groningen Conservatory, where he was awarded the Composition Prize of the Netherlands in 1980. He became a full-time composer and soon made a name for himself. The NRC called him the 'Jeff Koons of new music' and his 'coming-out' as a composer of ultra-tonal, mellifluous music reached its climax with the video oratorio Paradiso, premiered the day after 9-11 and released on CD and DVD by British record label Chandos. In the last decade JacobTV's boombox music, for live instruments with a grooving sound track based on speech melody, became internationally popular. Although JacobTV is one of the most performed European composers, he is still an outlaw in the established modern classical music scene, and was recently accused of 'musical terrorism' after a premiere at the World Harp Congress in Amsterdam. According to the Wall Street Journal his newest work 'makes many a hip-hop artist look sedate.'
In 2007 the 'box set trilogy, an anthology of his work with 12 hours of audio and video, was released by Basta and presented at a 3 day JacobTV mini festival at the Whitney Museum of American Art in New York City. JacobTV lives in the Dutch country side. Momentarily he is composing a video opera called 'The News' about the credit crunch and other world events, while touring with his JacobTV Band and the multi media show 'Cities Change The Songs Of Birds.'