Tuesday, February 7, 2017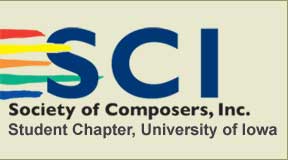 Concert XV
Society of Composers Inc.
University of Iowa Chapter
New Music Symposium 2017
Committee
Alexandros Spyrou, President
Christine Burke, Vice-President
Carlos Cotallo-Solares, Secretary
Zachery Scott Meier, Treasurer
 
New Music Concert
Featuring winners in the 2017 Call for Scores
Diogo Carvahlo, Nathan Corder and Tomás I. Gueglio Saccone
February 25, 2017, 7:30 pm
Recital Hall, Voxman Building, School of Music, The University of Iowa
|| download program ||
Program
Reveal
  for guitar and tape
Diogo CARVAHLO*
Diogo Carvalho, guitar
In Resonance
  for solo percussion
Christine Augspurger, percussion
Sonnet 60
  for cello and three female voices
  (text: William Shakespeare)
Abby Hudson, Nicole Belluomini, & Anna Zittergruen, voices
Hannah McGarvey, cello
A figure traced in the dark
  for snare drum, glockenspiel, voice, and glass
Nathan CORDER*
Christine Augspurger, percussion/voice
Horizon Deliquesce
  for bassoon and fixed media
Cesar Torres, bassoon
Addio a Trachis
Salvatore SCIARRINO
Ben Melsky, harp
After L'Addio / Felt
Tomás I. Gueglio SACCONE*
Ben Melsky, harp
* 2017 Call for Scores winners
Program Notes 
Diogo Carvalho
Reveal
Deconstructing an instrument is a revelation, because it unsettles the myth, causing a change in the listeners' perception. The guitar is the source for all the sounds presented in this piece, which emphasizes the ones that have been hidden by the instrument's technique and repertory, or unnoticed due to their low volume. The recorded part of this piece reveals guitar sounds that normally are not clearly audible in a concert room. The computer enables processing the recordings, in order to enhance or highlight parts of the spectrum, timbres, and percussive elements. The breakage may result in a complete dysfunctional instrument, when the main resources for producing sounds are prevented by this organized malfunction. Reveal is a noun and a verb, and the piece expresses both meanings, because it reveals the rich universe of resources denied by the traditional technique and provides a new possible listening to a guitar, when the listener might achieve a whole new comprehension of the instrument—the piece brings to light a sub-known universe of sounds that was present, but not understood.
 
Diogo Carvalho, born in São Paulo, Brazil, is a composer, scholar, performer, and professor with experience in electroacoustic, concert, popular, jazz, and Brazilian music. He is currently a doctoral composition student at the University of Florida. Carvalho stands out with his ample knowledge and musicality. In "Concerto for Guitar and Orchestra" (2011), the composer explores Brazilian musical gestures in classical form. In the electroacoustic piece "Cave of the Harmonic Beats" (2014), Carvalho merges guitar sonorities with computer processing, using the metaphor of a bat moving in the dark while hearing its movements from sound reflections on the walls. "Clarinetism" (2015) consists of an experiment with the idiomatic characteristics of a solo clarinet, focusing on articulation and timbre. As a scholar, Carvalho embraces the relationship between art and research. His studies on the compositional processes of Debussy and Ravel were linked to the realization of the transcriptions of the pieces for solo guitar, recorded in the CD "Impressionism – Acoustic Guitar Solo" (praised as highly recommended by Classical Guitar Magazine).
---
Christine Burke
In Resonance
Attacks generate sound/resonance that fades to silence, but – silence should never be noticeable until the piece has ended. 
---
Nathan Corder
A figure traced in the dark
trace 1 (trās/)
verb
    1. find or discover by investigation.
    2. copy (a drawing, map, or design) by drawing over its lines on a superimposed piece of transparent paper.
noun
    1. a mark, object, or other indication of the existence or passing of something: "remove all traces of the old adhesive"
synonyms: vestige, sign, mark, indication, evidence, clue;
    2. a very small quantity, especially one too small to be accurately measured: "his body contained traces of amphetamines"
 
Nathan Corder is a composer, sound artist, and improviser from Tampa, Florida. His works, ranging from full orchestra to interactive computer music, and installations have been performed/exhibited throughout North America, South America, and Europe. Nathan's music has been honored and recognized at events such as the International Symposium of New Music, NYC Electroacoustic Music Festival, Le festival International des Arts Sonores EXHIBITRONIC, MUSLAB, mise-en music festival, N_SEME, Root Signals, and SEAMUS conferences. In 2014, Nathan was awarded the Allen Strange Memorial award from SEAMUS. Currently, Nathan is pursuing an MFA in Electronic Music & Recording Media at Mills College, where he studies with Roscoe Mitchell, Maggi Payne, John Bischoff, Chris Brown, and James Fei. Nathan holds degrees in composition (BM) and philosophy (BA) from the University of South Florida, where he studied composition and theory with Paul Reller, Baljinder Sekhon, and Ciro Scotto.
---
Salvatore Sciarrino
Addio a Trachis
"In his Addio a Trachis, Salvatore Sciarrino abandons that very precise, virtuosistic character so typical of his solo writing and he lets a complementary tendency break through, which consists of the acceptance of the silences after so many glimmering figurations vortically projected in a period of great surprise, breaths, repeats, mystery, suspended and contrapuntal, with its short, rustling sequences of mild repeated deliriums, a kind of astral melody. His imagination tends to reach lyrical intimacy that borders on nothingness, but which gives truly poetic results". — Armando Gentilucci
 
Salvatore Sciarrino (Palermo, 1947) boasts of being born free and not in a music school.     He started composing when he was twelve as a self-taught person and held his first public concert in 1962. But Sciarrino considers all the works before 1966 as an developing apprenticeship because that is when his personal style began to reveal itself. There is something really particular that characterizes this music: it leads to a different way of listening, a global emotional realization, of reality as well as of one's self. And after forty years, the extensive catalogue of Sciarrino's compositions is still in a phase of surprising creative development. After his classical studies and a few years of university in his home city, the Sicilian composer moved to Rome in 1969 and in 1977 to Milan. Since 1983, he has lived in Città di Castello, in Umbria. He has composed for: Teatro alla Scala, RAI, Teatro del Maggio Musicale Fiorentino, Biennale di Venezia, Teatro La Fenice di Venezia, Teatro Carlo Felice di Genova, Fondazione Arena di Verona, Stuttgart Opera Theatre, Brussels La Monnaie, Frankfurt Opera Theatre, Amsterdam Concertgebouw, London Symphony Orchestra, Tokyo Suntory Hall. He has also composed for the following festivals: Schwetzinger Festspiele, Donaueschinger Musiktage, Witten, Salzburg, New York, Wien Modern, Wiener Festwochen, Berliner Festspiele Musik, Holland Festival, Alborough, Festival d'Automne (Paris), Ultima (Oslo). He was published by Ricordi from 1969 to 2004. Since 2005, Rai Trade has had exclusive rights for Sciarrino's works. Sciarrino's discography is pretty extensive and counts over 100 CDs, published by the best international record labels and very often awarded and noted. Apart from being author of most of his theatre opera's librettos, Sciarrino wrote a rich production of articles, essays and texts of various genres some of which have been chosen and collected in Carte da suono, CIDIM – Novecento, 2001. Particularly important is his interdisciplinary book about musical form: Le figure della musica, da Beethoven a oggi, Ricordi 1998. Sciarrino taught at the Music Academies of Milan (1974–83), Perugia (1983–87) and Florence (1987– 96). He also worked as a teacher in various specialization courses and master classes among which are those held in Città di Castello from 1979 to 2000. From 1978 to 1980, he was Artistic Director of Teatro Comunale di Bologna, Academic of Santa Cecilia (Roma), Academic of Fine Arts of Bavaria and Academic of the Arts (Berlin), Sciarrino has won many awards, among the most recent are: Prince Pierre de Monaco (2003) and the prestigious Feltrinelli International Award (Premio Internazionale Feltrinelli) (2003). He is also the first prizewinner of the newly created Salzburg Music Prize (2006), an International Composition Price established by the Salzburg Land.     In 2006 his new opera Da gelo a gelo, coproduced by Schwetzinger Festspiele, Opéra National de Paris and Grand Théâtre de Genève, was performed to great acclaim. In 2008 La Scala Philharmonic Orchestra performed his 4 Adagi and 12 Madrigali were premiered in the summer of the same year in a portrait series dedicated to him by the Salzburg Festival.
---
Tomás I. Gueglio Saccone
After L'Addio / Felt
After L'Addio / Felt is a two movement piece resulting from close collaboration with harpist Ben Melsky. The premiere of this work was planned for a recital in which a performance of Sciarrino's Addio a Trachis preceded. After… features varying levels of referentiality and filiation with its predecessor, from literal quoting to variation to more esoteric and personal connections. Generally speaking, and not like most Sciarrino, After… is a frantic and highly tactile piece where different levels of friction between hands and strings are syntactically relevant. Felt is the textural opposite of After… in that the contact between performer and instrument is dramatically reduced: the right hand plays with a felt pick for the entirety of the movement and the left hand features, for the most part, harmonics.
 
Tomás I. Gueglio Saccone is a composer of chamber, orchestral, and electronic music currently based in Chicago. He holds a Bachelors from the Facultad de Artes y Ciencias Musicales de la Universidad Católica, Argentina, a Masters from the Setnor School of Music in Syracuse University, and a doctorate from the University of Chicago. His music has been performed across the Americas and Europe by renowned ensembles and soloists like eighth blackbird, JACK and Pacifica quartets, Ensemble Dal Niente, Latitude 49, Marco Fusi and Ben Melsky among others. Born in Buenos Aires, a major influence in his musical upbringing was Gerardo Gandini whose workshop he attended between 2003 and 2007.