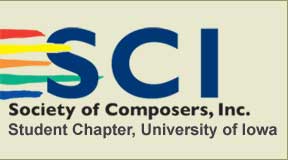 Concert XI
University of Iowa - School of Music
Society of Composers, Iowa Student Chapter
Nima Hamidi, President       Alexandros Spyrou, Vice-President
Jonathan Wilson, Treasurer       Jonah Elrod, Secretary
 
Annual SCI Student Chapter Concert
Sunday, February 28, 2016, 7:30 p.m.
Riverside Recital Hall (map)
 
Program
Power of the script
Zhaoyu ZHANG
for trombone and electronics
Robert Parker, trombone
Heterogeneous
Joungmin LEE
for fixed media, stereo
Visual Field
Christine BURKE
for solo bass clarinet
Unveiled
Carlos TORO-TOBON
for fixed media, stereo
 
Slough (2015)
Joshua MARQUEZ
for solo violin
Entanglement
Dongryul LEE
for alto saxophone and piano
John Cummins, alto saxophone
Ryan McNamara, piano
El Arzobispo de Constantinopla
Carlos COTALLO SOLARES
for fixed media, stereo
 
breaking the silence of an ancient pond
Jasper SCHMICH KINNEY
for soprano, cello and piano
Jacqueline Lang, soprano
Yoo J Chang, cello
Seong-sil Kim, piano
Program Notes
Zhaoyu ZHANG
Power of the script
is inspired by African art and script, which draws certain types of intriguing lines and shapes on the canvas, and presents a variety of colors and symbols. The work is about how strongly and inevitably life grows on the land no matter how difficult the environment is. Unlike the Arabs, Africans revere the environment with a great devotion, and they regard earth as a foundation of all life. I had visited the Krannert Museum of Art at the University of Illinois, and had a chance to see such an exhibition. The huge swirling lines display an admiration of the solemn, spiritual and historical land.
Zhaoyu Zhang
  (b. 1988) is a composer trying to incorporate experimental elements into his compositions by using simple and creative way that produce high quality sounds. Based in Mainland of China, he grew up in Inner Mongolia, where the rich cultural heritage of the Han-Mongolian border region influences much of his music.
    Awarded fellowships at universities, Zhaoyu has studied composition with Chen Danbu, Ye Xiaogang, Erik Lund and Sever Tipei. He has participated in composition master classes with Chen Yi, Robert Beaser, Fred Lerdhal, and in workshops with Vinko Globokar. Zhaoyu's music has been played throughout China as well as United States, including performances at Beijing Concert Hall (2012), and Krannert Center of Performing Arts, Illinois, (2014). Zhaoyu is the finalist of the 2nd Antonin Dvorak Composition Competition. His composition, Future Vision, was commissioned by Central Conservatory of Music Symphony Orchestra, premiered in May of 2012 and was chosen as finalist in 2014 ASCAP competition. His composition, Erguna Fantasy (2008), for violin and piano, was awarded first prize in 2008 Palatino Composition Competition. White Crane (2011), for piano solo, was prized in 2nd place in Golden Key Music Festival Competition. He has also won ISCM the 7th Sun River Prize (Chengdu), the 5th Shanghai TMSK Traditional Chinese Composition Competition, and 2nd ASEAN competition (Nanning). In 2015, his work Power of the script (Trombone and fix media), was selected in WOCMAT conference in Taiwan.
    Having received undergraduate degree in composition and theory from Central Conservatory of Music, China, Zhaoyu is currently a doctoral degree candidate in music composition at the University of Illinois at Urbana-Champaign, where he received his master degree and works as Teaching Assistant of Computer Music Project.
Joungmin LEE
Heterogeneous
This piece is an expression of the duality of human beings, torn between desire and solitude. The bigger the desire becomes, the tougher the solitary confinement of our minds becomes. The marble in a glass plate and a large closed door in the piece represent desire and solitude respectively. The marble slowly rolls towards the desire. It rolls faster and faster--and louder and louder--but cannot depart from the confines of the plate. The marble stands before solitude. When solitude vanishes, the marble rolls again. The closed door is human solitude. The door is attempted to be prized open but remains shut still. It is pushed against more strongly, to the point of being dented. The door groans in pain. It still remains shut as if being full from within. It defies any entrant. The marble and the door are unified in their isolation. Self-confined space is sad.
Joungmin Lee
 is an award-winning composer of 2016 Hong Kong New Music Ensemble Prague Concert and Recording for his string quartet
'Vexatious.'
ABLAZE Records, one of the best high quality recordings and productions, said "The piece has tremendous color, beautiful textures, evocative passages and most of all uses the ensemble brilliantly." Joungmin has composed for solo instruments, chamber ensembles, string quartet, films, documentaries, television, and online games as a vice director of Image Enterprise Inc. He taught music composition and computer music at Chang-Won College and Seoul Artist Music School in Korea. His music has been performed in symposia, festivals, collaborations, competitions, and Seoul Arts Center in Korea, and the United States by such ensembles as the JACK Quartet, the Midwest Composers Symposium, and Center for New Music, University of Iowa. Furthermore, his electric piece
'Heterogeneous'
has been accepted for performance at Cicada Consort at The University of Alabama, and 2016 National Student Electronic Music Event (N_SEME 2016) at the University of Oklahoma. Currently he is pursuing the PhD in composition at the University of Iowa. He holds degrees from Sang Myung University (M.Mus in computer music), also studied music technology at New York University for M.Mus degree. Joungmin has studied with David Gompper, Josh Levine, Lawrence Fritts, Bryan Haaheim, Hyunsook Choi, and Dafna Naphtali, in addition to private studies Elainie lillios.
---
Christine BURKE
Visual Field
refers to the total area in which objects can be seen in the side vision as you focus your eyes on a single point. When staring at a fixed object, one may experience subtle (real or imagined) manipulations along their periphery; light fading in, out, or flickering; movement, change of color, etc. In "Visual Field", sounds from the bass clarinet are presented and then manipulated in an attempt to imitate this phenomenon.
Christine Burke
 graduated from Duquesne University in 2014 with a Bachelor of Music degree in Clarinet Performance where she studied clarinet with Jack Howell and composition with David Stock. While in Pittsburgh, she was actively involved in the city's new music and chamber ensembles, most notably appearing with Alia Musica as the soloist for Krzystof Penderecki's "Quartet for Clarinet and String Trio". A composer as well, she was awarded 1st Place in the Pittsburgh Festival Orchestra's Composition Competition in 2012 for her clarinet, viola and piano trio, Dense Music. Additionally, she has had music performed by NOW Ensemble, Reed III Trio, and at the New Music on the Point, soundSCAPE and Pittsburgh New Music festivals. She is currently pursuing Master's degrees in composition and clarinet performance at the University of Iowa, where she studies with Nomi Epstein (composition) and Jorge Montilla Moreno (clarinet).
---
Carlos TORO-TOBON
Unveiled
is a piece for fixed media composed in 2015. The initial gesture composed with sounds related to very distinguishable ordinary objects unveils the space to a section full of ethereal atmospheres made of numerous short sounds. A second element uses the reverberation of some of those small objects as drones and pads, giving contrast through variations on the same sounds. The initial gesture appears again in different transformations, closing, opening (unveiling) new moments.
Carlos Toro-Tobon
 a composer born and raised in Colombia, received his MA degree in composition from the Universidad EAFIT in 2011. His composition teachers have been, Andrés Posada S., Moisés Bertrán and Marco Alunno. Since 2005, he has been a professor of music theory and composition at the Universidad de Antioquia, Colombia, where also coordinated the music education program. In 2014 Carlos Toro-Tobón was granted a Fulbright scholarship to study in the U.S., and is currently pursuing a Ph.D. in music composition at the University of Iowa. He recently complete a work for solo clarinet entitled "Escenas de una Doble Vida" (Scenes of a Double Life), which was premiered April 2015 in the Mons Royal Conservatory, Belgium at a concert along with other Colombian and Belgian works celebrating the signing of an exchange agreement with Universidad de Antioquia. He has composed works for orchestra, string orchestra, choir, string quartet, and other chamber configurations.
---
Joshua MARQUEZ
Slough
Through the process of degradation, Slough transforms into different states through changes in texture, articulation, character, etc... Transient emphasis and greater use of noise elements disintegrate the material, over time, in tandem with further destruction of the spectra. Timbre is the primary developmental element in Slough. The extreme contrasts, throughout, are representational of the chunky shedding that is associated with the word "slough".
Joshua Marquez
 (b. 1990) is a composer and Biomusic researcher whose music explores the intersection between nature and music. His research examines pitch hierarchy of humpback whale (Megaptera novaeangliae) song and rhythmic entrainment in Bonobo apes (Pan paniscus). Timbral subtleties, spectral manipulation, and textural variation permeate his music, which draws inspiration from natural, sonic phenomenon.
    Marquez's music has been performed, internationally, by ensembles such as the JACK Quartet, Stony Brook Contemporary Chamber Players, University of Iowa Center for New Music, Akropolis Reed Quintet, Fresno State New Music Ensemble, Gate City Camerata, Quintet Sirocco, and the Cape Fear Wind Symphony.     Recent performances include the New York City Electroacoustic Music Festival, the National Student Electronic Music Event, Birmingham New Music Festival (AL), Brave New Works (CA), Indiana State University New Music Festival (IN), Stony Brook Premieres! (NYC), Circuit Bridges (NYC), and the International Ferienkruse für Neue Musik Darmstadt in venues such as Symphony Space (NYC), Abron Arts Center (NYC), the Englert Theatre (IA), Georgia Southern University (GA), Weatherspoon Art Museum (NC), the Canada International Film Festival, and the Utopia Film Festival (MD), among others.
    Marquez's paper, "Deep Structures of Pitch Usage in Humpback Whale Song", was accepted to the 2015 Humpback Whale World Congress in Sainte-Marie, Madagascar. His music has been released on the album, Sonic Flux (E.M.P.i.R.E.S) and will be released on an upcoming Quintet Sirocco album. His work has been supported by the Ape Cognition and Conservation Initiative, Ocean Alliance, the Roger Payne Marine Sound Archive, and the Music Research Institute.
    Marquez is a PhD candidate (ABD) in composition at the University of Iowa. He holds degrees from the University of North Carolina at Greensboro (MM '13), and Campbell University (BA '11). In 2015, Joshua and his partner, Dana O'Malley, founded the interdisciplinary collaborative nonprofit, GRIT Collaborative. Marquez serves as a Resident Composer for the Saint Mary's Summer Composition Intensive in Notre Dame, IN (2014-present). He has studied with Josh Levine, David Gompper, Mark Engebretson, and Alejandro Rutty in addition to private studies with Samuel Adler, Derek Bermel, Michael Harrison, Laura Kaminsky, David Lang, and Augusta Read Thomas.
---
Dongryul LEE
Entanglement
"Entanglement" (Verschränkung is the original word Schrödinger wrote in his letter to Einstein) refers to an enigmatic phenomenon in quantum physics, "spooky behavior at a distance" in Einstein's words. This ominous interaction between two quanta cannot be calculated by pre-existing physics models, but the totalistic quantum states can be deduced after measuring one of the quanta: they behave as "entangled", mutually dependent entities, and no pre-defined omnipresent forces can control them other than probabilities.
    The title of each movement is based on the three distinctive quantum states: pure state, entanglement (entangled state), and spontaneous decay. The first movement portrays the potential infinite energy of quanta, and the second movement is about the process (entanglement) of these two hypostatized musical entities. In the third movement, I depicted an eternal decaying process, in which the energy of quanta is returning to its original source, reified as a figure of a "tree" shape here. I envisaged the images of limited beings circulating over a transcendental routine, interrupted twice by world-tree images, and all of these elements are controlled by my plan; so for me this is also a miniature of this world to a certain extent: God, creatures, laws, and circulations (, and unknown Tenebrae).
Dongryul Lee
 is a South Korean composer of modern classical music. He holds degrees in computer science and music composition from the Yonsei University and the Eastman School of Music respectively, from which he received three consecutive composition prizes and four years of scholarships. He was selected as a 2nd place for the 2015 American Prize for Composition: Orchestral Music Student Division in 2015, received an Honorable Mention in the 2015 Sun River Prize, and selected for a Cello Loft Commission. He studied composition with Erin Gee, Stephen Taylor, Reynold Tharp, Carlos Sanchez-Gutierrez, Ricardo Zohn-Muldoon, David Liptak, and Tae-hoon Kim, while attending master classes led by Vinko Globokar, Unsuk Chin, Oliver Knussen, and Steven Stucky, and seminars by Tristan Murail and Helmut Lachenmann. At Eastman, he studied conducting with Brad Lubman and Mark Davis Scatterday, and piano performance with Tony Caramia. He studied electronic music with Allan Schindler, Scott Wyatt, and Heinrich Taube. He names Takemitsu, Xenakis, Grisey, Lutoslawski, and Ligeti as key musical predecessors for establishing his own voice. Other influences on his music include Chaos and Fractal Theory, Number Theory, and Acoustical Physics of Music. His current projects include a 24 quarter-tone tuned horn and cello piece for the Cello Loft Commission, and a 19 instruments chamber orchestra piece inspired by transcendental numbers from Number Theory. As an active composer and theorist, he is currently pursuing his DMA degree in music composition at the University of Illinois at Urbana- Champaign with the support of a Cooke Fellowship, while teaching theories and aural skills, and administering McFarland Carillon Tower.
---
Carlos COTALLO SOLARES
El Arzobispo de Constantinopla
 
El arzobispo de Constantinopla
se quiere desarzobispoconstantinopolitanizar.
El buen desarzobispoconstantinopolitanizador
que lo desarzobispoconstantinopolitanizara,
buen desarzobispoconstantinopolitanizador será.
 
El arzobispo de Constantinopla (The Archbishop from Constantinople) is a Spanish tongue-twister. In it, words are combined to create new ones, and alliteration is extensively used, resulting in a, although grammatically correct, almost nonsensical text. In the piece, the relationship and limits between speech and music are explored. The source material (multiple recordings of the tongue-twister), is layered, fragmented, and manipulated in different ways, often making the speech unrecognizable.
Carlos Cotallo Solares
 was born in Vitoria, Spain, in 1989. He is currently pursuing a PhD in Music Composition at the University of Iowa. He previously completed a Master's degree at the Universität der Künste in Berlin and a Bachelor's degree at the Hochschule für Musik Freiburg. He has studied composition with Cornelius Schwehr, Iris ter Schiphorst, Daniel Ott, Lawrence Fritts, Josh Levine, and Nomi Epstein, and attended seminars and lectures by Mathias Spahlinger, Walter Zimmermann, David Gompper, Paul deMarinis, Johannes Schöllhorn, Elena Mendoza, Manos Tsangaris, Orm Finnendahl, Brice Pauset, Marc Sabat, and Martin Supper.
    His pieces have been performed in Germany, Poland, Spain, and the United States, by ensembles such as Ensemble Alarm, Ensemble Chronophonie, Ensemble handwerk, and Ensemble Kuraia. Carlos has been a member of the experimental music group Ensemble Alarm and founded several rock and improvisation bands. He currently works as a teaching assistant in music theory and is one of the curators of the monthly concert series IHearIC.
---
Jasper SCHMICH KINNEY
breaking the silence of an ancient pond
Matsuo Basho, a 17th century Japanese poet, became famous for his development of the haiku. Before Basho, haikus stood by themselves: single three-line poems. For the first time in centuries of haiku writing, Basho created techniques to link haikus together to construct a larger poem. His goal was to have poems that contained formal unity, yet still presented variety from haiku to haiku. Basho's most renowned technique is called "leap linkage," where the first poem begins describing a certain image, but in the following poem, he uses subtle wordplay to twist that image, changing the entire meaning. (This idea can be seen inside a single haiku of Basho's: "When holding it/ Hold it like an infant/ Baby cherry tree.") Basho's haiku techniques can be reimagined in the context of music, creating new ways of transforming and developing material over time. breaking the silence is a piece composed in the style of Basho's haiku poetry; think of it as several individual haikus, containing variety and change from one haiku to the next, but containing unifying techniques that bind the haikus together, creating oneness.
Jasper Schmich Kinney (b. 1994) is a Colorado-based musician. Schmich Kinney is the artistic director and co-founder of "Nebula Ensemble," a contemporary chamber ensemble whose goal is to present and create new music and new art in Colorado. Additionally, he is the pianist and a resident composer for Nebula Ensemble. Chris Malloy is Schmich Kinney's primary composition professor, and he has also studied composition with Joshua Fineberg, Davide Ianni, Philippe Leroux, David Maslanka, Eric Wubbels, and Leanna Kirchoff. Schmich Kinney's compositions are deeply influenced by his passionate concentrations in Zen Buddhism, poetry, and piano performance. His favorite hobbies include cooking vegan meals, reading science fiction, and taking long walks in nature.