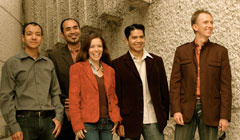 Thursday, October 1, 2009, 7:30 p.m.
at Riverside Recital Hall
CNM guest artists
The ONIX Ensamble (Mexico)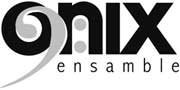 || download program ||
Program
Zachic IV (Bird of a hundred voices) (2007)
    for flute, clarinet, violin, cello and piano
        1. Xopancuicatl (Cantos del tiempo de verdor)
        2. Yaocuiucatl (Cantos guerreros)
        3. Icnocuicatl (Cantos de reflexión)
        4. Xochicuicatl (Cantos floridos)
 
Alejandro CARDONA
(Costa Rica, 1959)
Toccata (1931)
    Arr. Francisco Cortés
    for flute, clarinet, violin, cello and piano
 
Silvestre REVUELTAS
(México, 1899)
Fantasías para flauta y piano (1998)
 
Armando LUNA (1964)
 
US premiere
 
El Tango del Diablo
    for flute, clarinet, violin, cello and piano
 
Astor PIAZZOLLA
(Argentina 1921-1992)
 
World Premiere
 
 
Intermission
 
El Laberinto de Maxwell
    for flute, clarinet, violin, cello and piano
 
Hebert VAZQUEZ
(México 1963)
Enlightenment
    for flute, clarinet, violin, cello and piano
 
David VAYO
(U.S. 1957)
 
World Premiere
 
El Aguila Bicéfala (2004)
    Estreno en México
    for flute, clarinet, violin, cello and piano
 
Gabriela ORTIZ
(México 1964)
Performers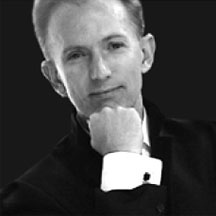 Alejandro Escuer, flute
Mexico City, 1963
Alejandro Escuer is a Mexican musician who has developed his own artistic foundations on music interpretation and composition, which have had an impact on his concerts and recordings with acclaimed reviews by TIME Magazine Art Director, New Music Connoiseur, Classical Music Review, American Record Guide and personalities such as Karlheinz Stockhausen, Robert Dick, among many others. He is at ease improvising and performing as a soloist with symphony orchestra or solo recitals with piano, guitar, electronics, percussion, multimedia or ensemble. Alejandro Escuer has been a driving force for the consolidation of new music in Mexico. He founded ONIX in 1996 and has been the artistic director and producer of more than one hundred concerts with more than sixty premieres from México, Japan, The U.S., Canada, Portugal, The Netherlands, Germany, France, Corea, Italy, Spain, Hungary, Australia, Denmark, Austria, Argentina, Uruguay, Venezuela, Costa Rica, among many others. Alejandro Escuer has received numerous prizes and awards, including a Rockefeller Foundation Award (1995), The National Interpreters Competition INBA (first prize) 1986, 1987; The National Scholarship Award for the Arts (UNAM) 1989, 1991, 1995; Líderes de México Honorary Award 1998, and many recognitions and fellowships from FONCA. He is also an active scholar (full time tenure faculty at the Escuela Nacional de Música of the UNAM), and as such he has been giving master classes and concert-lectures across the American continent. Currently he is a visiting Fulbright professor at Indiana University and he has been invited by Columbia University, New York University, CalArts, and many other relevant institutions. Alejandro Escuer holds degrees from Conservatorio Nacional de Música (B.A.) and Universidad Nacional Autónoma de México (B.A.). He obtained his soloist degree from Sweelinck Conservatorium Amsterdam in 1991 (M.A./ Uitvoerend Musicus), and earned a doctorate in 1995 from New York University (Ph.D. Doctor of Philosophy in Music Performance). Alejandro has had incredible teachers such as S. Gazelloni, K. Verheul, R. Dick, M. Arizpe, M. Salinas. Above all, he is a mutlidisciplinary artist, incorporating painting, photography and design methods to his approach to music. As a soloist he has recorded Jade Nocturno, Aqua, Aire Desnudo and Folklore Imaginario (http://www.quindecim.com.mx/).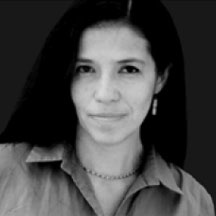 Edith Ruíz Zepeda, piano
Mexico City, 1973
Mexican pianist Edith Ruíz has played in Mexico's main concert halls, as well as in the United States, Canada, Poland, Cuba, Colombia and Ireland. She has performed in international music festivals such as: Music Academy of the West (Santa Barbara), Music Festival (Aspen), Clarinetfest 2006 (Atlanta), Clarinetfest 2007 (Vancouver), Festival Internacional Cervantino, Foro de Música Nueva Manuel Enríquez, Festival Internacional Eduardo Mata (Mexico) among many others. As collaborative pianist she continually performs with Mexico's City main orchestras, music schools and choirs, as well as competitions, festivals, auditions, recordings, radio and TV programs. She is currently the principal pianist at the Orquesta Sinfónica de Minería, and a full time tenure professor at the Escuela Nacional de Música/UNAM. Edith Ruiz is the pianist of ONIX Ensamble and she has recently founded ARTE CUBICO, her own school of music and arts. She has recorded two CDs with clarinetist Javier Vinasco for Música de Cámara Latinoamericana label. The first one includes Colombian music and the second one consists of works by Astor Piazzolla and Heitor Villalobos. She received the Gabino Barreda and Gustavo Baz Prada medals (UNAM), the Gwendolyn Koldovsky 2000 prize (Cleveland Institute of Music) and she is the second prize winner of the Darius Milhaud 2000 Competition (CIM). As a soloist she has performed with the Orquesta Sinfónica de Puebla, Banda del Estado de Oaxaca, Camerata Cronos, Orquesta Juvenil de la Escuela Nacional de Música among others. She took her first piano lessons at the DOREMI Music Academy and finished her Bachelors Degree at the Escuela Nacional de Música/ UNAM in Mexico and a Masters Degree in Collaborative Piano at the Cleveland Institute of Music.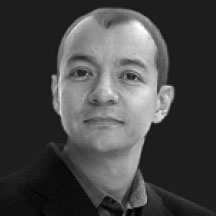 Fernando Domínguez, clarinet
Mexico City, 1970
Fernando Domínguez studied clarinet at the Conservatory of Vienna with Roger Salander and bass clarinet with Harry Sparnaay at the Conservatory of Amsterdam. In Mexico he has studied with Francisco Garduno, Luis Humberto Ramos and Abel Pérez Piton in the music schools of the Ollin Yoliztli and the Escuela Nacional de Música (UNAM). He has played as a soloist with the following orchestras: Sinfónica Vida y Movimiento, la Escuela Nacional Preparatoria, Sinfónica de IPN, la Cámara de Bellas Artes and Sinfónica Carlos Chávez. He currently teaches at the Escuela Nacional de Música (UNAM) and plays with the pianist Tonatiuh de la Sierra as a duo performing in varied concert halls in Mexico City. He also performs with Ensamble 3, with the flutist Salvador Torre and the pianist Mauricio Náder with whom he has presented concerts in Forums such as: The New Music Forum, The Contemporary Music Festival in Havana, Cuba, Encounters with Mexico in Bogotá, Colombia, and in many other cities in Mexico. In 2000, Ensamble 3 won first place in the VII Chamber Music Contest of the National University. Fernando Dominguez is also a member of ONIX Ensamble, with whom he has performed in the international Cervantino Festival, The Festival of the Historical Center of Mexico and the Forum of New Music. In 2003 he was invited to become a member of Trio Neos. Fernando Domínguez has participated in the International Musik Ferienkuerse in Darmstadt, Germany in 2002 and has been the recipient of numerous grants from the Consejo Nacional para la Cultura y las Artes.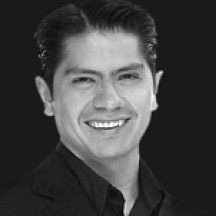 Abel Romero, violin
Mexico City, 1973
Abel Romero is a Mexican violinist who has consolidated himself as one of the most active players of his generation. He performs as a solo chamber musician on a regular basis and due to his high quality performances and interpretations, he has appeared in many concert halls and venues in Mexico and around the world. Abel is the violinist of ONIX Ensamble and a member of the Orquesta Sinfónica Nacional, one of the most important orchestras in México. He is involved with pedagogic projects oriented to improve music education at an early age. Therefore he often travels abroad to attend Suzuki method teacher training courses and other similar seminars and workshops. He is also an active young professor and as such he is a violin faculty member of Centro Escolar Cedros. Abel Romero obtained his Bachelor's degree in Music Performance from the University of Maryland, where he was offered a merit-based scholarship. He was a second prize winner of the IV National Violin Competition at the Escuela Nacional de Música which belongs to the Universidad Nacional Autónoma de México. His violin teachers were Daniel Heifetz, Natalia Gvodetzkaya, Archil Katzarava, Aaron Bitrán and Cruz Rojas. He has performed for world-renowned artists such as Pinchas Zuckerman, John Dalley, Zoria Zijmurzaieva and Jorge Risi, who have have coached him over the years. Abel Romero plays on a violin made in 2007 by Terry Borman.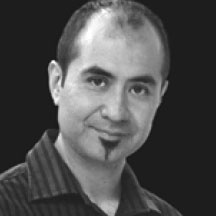 Edgardo Espinosa, violoncello
Mexico City, 1963
Edgardo Espinosa was born in Mexico City where he undertook musical studies at the National School of Music, graduating with honors in 1990. Thanks to a scholarship from the Universidad Nacional Autónoma de México, he continued his studies in London, England, with Richard Markson. While in Europe, he obtained several diplomas such as LLCM, FLCM and a graduate Studies Certificate from the London College of Music. Later on, he obtained a Master of Music Degree in musical performance from the Thames Valley University. He has attended several summer courses in the United Kingdom, Italy and Mexico, where he has received master classes from Maud Martin Tortelier, Wolfgang Laufer, Alan Smith and Ivan Monighetti, amongst others. Upon completing his studies, Edgardo Espinosa moved back to Mexico, where he currently holds a full-time tenure professor position at the Universidad Nacional Autónoma de México. There he devotes himself both to teaching and to performing chamber music, with special emphasis in contemporary music. He is a member of important contemporary music ensembles such as ONIX Ensamble and Cello Alterno and performs regularly in the most important music halls all across his country. Additionally, he has recently participated in concerts in the United States, England, Spain and China.
Notes & Bios
Alejandro CARDONA
Zachic IV (Bird of a hundred voices)

Composed for ONIX, Zachic 4 is structured in four parts with a slow-fast-slow-fast design. The movements are: Xopancuícatl (spring songs or "songs for green times"), Yaucuícatl (warrior's songs), Icnocuícatl (songs for pondering or meditating), and Xochicuícatl (florid songs). The cuícatl (songs) of the Aztecs were divided into these four categories. The material for this work is partly (and freely) based on bird songs.

The first movement, Xopancuícatl, is a kind of fantasy in which the main materials of the work are presented, as are the timbers of the ensemble, which are slowly introduced. Yaucuícatl, emerges from this movement without a pause, as if the free materials were suddenly articulated through rhythm and time. This movement is a dance which recreates the Mexican "pitero" (flute) music and the sea-shell trumpets. The texture, however, has a certain polyphonic density, with different layers of materials. The form is created through contrasting juxtapositions. Icnocuícatl is a series of free chaconne-like variations on a lullaby from the Istmo de Tehuantepec region of Oaxaca called "Gregorio". In Xochicuícatl, the final movement, the bird songs take on an incisive rhythmic quality. The original material is recapitulated and, near the end, as a preparation for the closing section, there is a canonic passage, at different velocities, which is labeled "Nancarrow among the birds", a small homage to this Mexican composer born in the United States.

The word Zachic is the Mayan name for the bird which in Nahuatl is called zenzontl, and in Spanish cenzontle or sinsonte (in English it is the mocking bird). The Zachic was considered the "bird of a hundred voices". Some Guatemalan researchers claim that many Mayan-Quiché melodies are based on the songs of this particular bird. For the composer, the Zachic is a symbol of the incredible capacity of our people to transform their musical and sonic reality: nature becomes culture and culture becomes part of nature. This symbol of an initially imitative and then intertwined relationship between nature and culture is treated musically in different ways throughout the work. — A.C.
---
Silvestre REVUELTAS
Toccata
Silvestre Revueltas' music -- most of it written during the last decade of his short life -- bursts with energy, instrumental color, and mocking humor. Revueltas began violin studies at age eight; the years 1913-16 found him in Mexico City studying composition and violin. From there Revueltas headed north to Texas to study at St. Edward College in Austin (1916-1918) and then to the Chicago Musical College (1918-1920). Revueltas returned to Mexico to give violin recitals in the capital and several states. But Chicago drew him back in 1922 for a four-year course of violin study. In the mid-1920s Revueltas made trips down to Mexico for several series of recitals of modern music; his piano accompanist was the young Carlos Chávez.
Ultimately, Chávez persuaded him to return to Mexico City to teach violin and chamber music at the National Conservatory and to serve as assistant conductor of Chávez's newly formed Orquesta Sinfónica de México, a position he held from 1929-1935. During this time, Revueltas also became active in the cause of artists' and workers' rights.
The Neo-Classical movement, which tried to marry old forms to new harmonies and melodic techniques, was sometimes criticized for producing arid, unlovable music. But Silvestre Revueltas never wrote a dull note in his life, and his Toccata for chamber ensemble takes an old Baroque form and injects it with the vitality of Mexican popular music and Revueltas' own keen ear for exotic sonorities. The work begins in an all-out rush after a quick bang on a drum. The woodwinds start it off with dazzling, coruscating scales, which quickly yield to the violins and horns. After some prefatory material, the violins play the main melody and the piece is fully underway. Baroque sounds in the Toccata include sections where the violins play melody with scampering contrapuntal accompaniment in the woodwinds, and the slower, minor-key melody that breaks the momentum in the middle, which winds around itself in much the manner of a Bach melody. But these scholarly methods cannot for a moment suppress the fun in the Toccata, and when the instruments finally come together near the work's close, with piquant fanfares from the brass and running melodies on the winds, the joy is irresistible. Revueltas closes the work with a fun little coda. Revueltas is often referred to as a "Mexican Stravinsky," but on the evidence of unique works like the Toccata, it's probably more correct just to call him Silvestre Revueltas. — All Music Guide
---
Hebert VAZQUEZ
El Laberinto de Maxwell

In 2007 I concluded a musical Bestiary depicting six fabulous beasts or monsters that belong to different historical periods and cultural traditions:
1. El Trauco (2007) [solo Clarinet]
2. Jabberwock (2004) [Flute/Alto Flute, Bass Clarinet and Piano]
3. El laberinto de los sacrificios (2006) [Woodwind Quintet] (The labyrinth of the sacrifices)
4. El sueño del Kraken (2007) [Violin, Viola, Cello and Piano] (The Kraken's dream)
5. El Gólem (2006) [Bass Clarinet Duo]
6. El demonio de Maxwell (2007) [Fl./Alto Flute, Cl./Bass Cl., Vn., Pf. and Vc.] (Maxwell's Demon)
Each one of the pieces in the cycle may be performed separately, if desired. Maxwell's Demon is an imaginary creature that the Scottish physicist James Clerk Maxwell created in 1867 to contradict the second law of thermodynamics. Maxwell imagined one container divided into two parts. Both parts are filled with the same gas at equal temperatures and placed next to each other. Observing the molecules on both sides, an imaginary demon guards a trapdoor between the two parts. When a faster than average molecule approaches the door he makes certain that it ends up on the left side and when a slower than average molecule approaches the door he makes sure that it ends up on the right side. So after these operations he ends up with a container in which all the faster than average gas molecules are in the left side and all the slower than average ones are in the right side, contrary to the second law of thermodynamics.

El demonio de Maxwell is dedicated to the Onix Ensemble, while the Bestiary was written for my 4-year-old-daughters, Emma and Natalia. — Hebert Vázquez
---
David VAYO
Enlightenment

While in Mexico City in 2006, I spent an evening in the home of two musicians I deeply admire, composer Gabriela Ortiz and her husband, flautist-composer Alejandro Escuer. After dinner, Alejandro offered to show me two instruments he had recently acquired from a maker in the Netherlands: a contrabass and a sub-contrabass flute. These remarkable contraptions of PVC pipe allow a flautist to play in the range of the double bass and the tuba, and they have a haunting, chthonic quality. I fell in love with them immediately.

Because Alejandro plays all members of the flute family, I hit upon the idea of writing a piece in which he would start out on the contrabass flute (he vetoed the sub-contrabass because it's so cumbersome to transport) and gradually work his work up to the piccolo. When he mentioned that he'd be interested in my including his entire ONIX ensemble in the piece, I decided that all of the other instrumentalists would follow the same trajectory, from very low to very high, and that the rate at which the music unfolded would reinforce this arc of ascending energy- starting out almost inertly, then slowly and steadily accelerating to demonic velocity.

Two meanings of the title refer to these aspects of the plot line: the music becomes gradually more luminous as the notes rise, as well as more and more free of weight and encumbrance as the beat quickens. A third meaning of "enlightenment" is a state of spiritual understanding, often reached in a moment of transcendent revelation. The climax of the piece, a white-hot vortex of sound in which pitch and rhythm seem to vanish into a singularity, might be though of as representing such a moment. And indeed, on the other side we emerge into a different world, still at the uppermost extreme of musical pitch but now crystalline, mystical, a music of eternity rather than of time.
David Vayo
---
Gabriela ORTIZ
El Aguila Bicéfala

El Aguila Bicéfala (2005) (The two headed eagle) is dedicated to the ONIX Ensemble and was written thanks to the support of the Programa México en Escena of the Fondo Nacional para la Cultura y las Artes award.

On textiles and fabrics of the Mizteca zone of the Metlatónoc there are exquisitly conceived embroideries of fantastic birds with extended wings and two, three or even six heads. The two heads eagle was a common graphic motive from the beginning of colonial times. These eagles are bilateral symmetric and flexible designs that fit into rectangular or triangular spaces. Such motive has evolved through history and one can discover an iconographic resemblance with the Hasburg's eagle.

Just like in the designs on the textiles, my piece is based on geometrical similarities. Musical motives are interwoven in such a way that they overlap in order to create various geometrical acoustic shapes that unfold through a continuous musical discourse, a discourse where past and an imaginary future references meet to shape what I perceive as a unified present: a dual discourse that reflects my personal history through a sincretism that has permeated my cultural background.