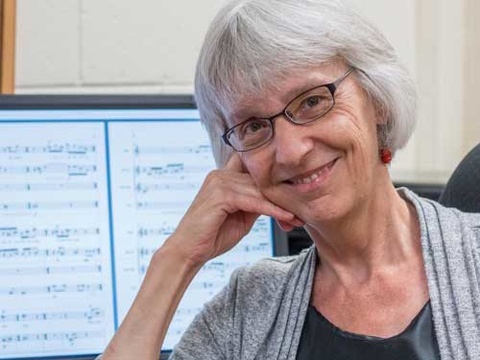 Featuring the Music of Guest Composer Zae Munn
together with works by
John Adams, Laird Addis,  and David Gompper
 
The Center for New Music Ensemble
Sunday, December 2, 2018 at 7:30p in the Concert Hall
Program
Bass Sonata [1958]   Laird ADDIS [1937-2018]
I. Slow
II. Quarter = 92
Volkan Orhon, double bass
David Gompper, piano
Double Bass Concerto [2018]
David GOMPPER [b.1954]
for double bass and ensemble
 I.
II.
Volkan Orhon,
double bass soloist
Daniela Volkovinsky
,
flute
Jenna Sehmann
,
oboe
Kimberly Cassisa
,
B♭ clarinet
Mauricio Silva
,
bass clarinet
Shawn Seguin
,
bassoon
Katelyn Jahnke Halbert
,
horn
Bryan Powell
,
trumpet
Caleb Lambert
,
trombone
David Mercedes,
tuba
Peter Naughton
,
percussion I
Travis Newman
,
percussion II
Matt Anderson
,
percussion III
Pam Weest-Carrasco
,
harp
Yixue Zhang
,
violin I
Joshua Palazzolo
,
violin II
Tyler Hendrickson
,
viola
Hui-Hsuan Su
,
cello
Will Yager
,
double bass
David Gompper,
conductor
Intermission
Accord [2017]
Zae MUNN [b.1953]
for oboe, viola and piano
Pensive, yearning
Purposeful
Groove
Easement
Pensive with purpose
Re-entering the groove
Purposeful
Detente
The Grand Accord
Courtney Miller, oboe,
Christine Rutledge, viola,
David Gompper, piano
Gnarly Buttons [1996]
John ADAMS [b.1947]
for clarinet and chamber ensemble
The Perilous Shore
Hoedown (Mad Cow)
Put Your Loving Arms Around Me.
Michael Norsworthy,
clarinet soloist
Jenna Sehmann
,
English horn
Shawn Seguin
,
bassoon
Caleb Lambert
,
trombone
Christopher Bram,
guitar
Zachary Stanton
,
banjo
Joshua Palazzolo
,
mandolin
Nicha Pimthong
,
piano I
Hongwei Cai,
piano II
Yixue Zhang
,
violin I
Luciana Hontila
,
violin II
Tyler Hendrickson
,
viola
Hui-Hsuan Su
,
cello
Will Yager
,
bass
David Gompper,
conductor
Christine Rutledge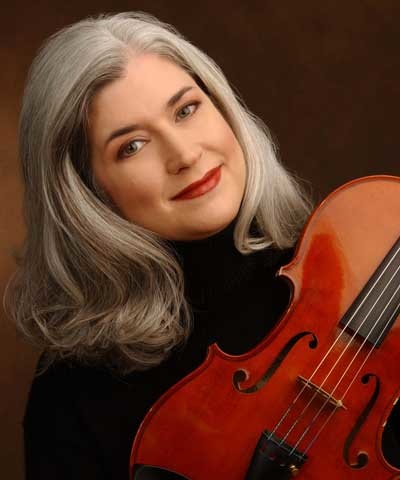 Violist Christine Rutledge is a musician and educator of eclectic interests and talents. She is equally at home from the most cutting-edge new music, to performances on baroque viola. Her solo and chamber music performances and recordings have been praised in The New York Times, The Strad and Strings, and Fanfare.
In an effort to provide violists with a larger and historically accurate body of baroque repertoire, Rutledge founded Linnet Press Editions. Her technique book, The Violist's Handbook, has sold hundreds of copies throughout the world.
Recent performances, lectures, and master classes on both modern and baroque viola include those in Germany, Sweden, South Africa, and across the United States.
Rutledge currently holds the position of Professor of Viola at the University of Iowa. She is a graduate of the Curtis Institute of Music, the University of Iowa, and the Interlochen Arts Academy.
Courtney Miller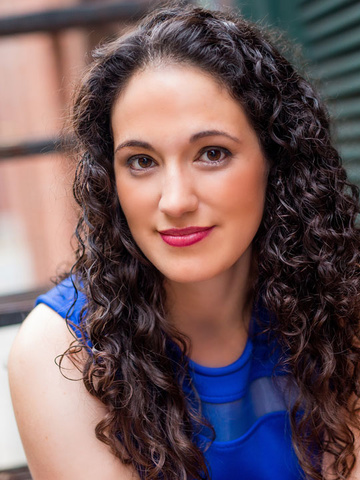 Dr. Courtney Miller is the oboe professor at University of Iowa. She made her solo debut with the Jacksonville Symphony Orchestra at age 17, and continues to be a devoted performer traveling throughout the United States and abroad as a solo, chamber, and orchestral musician. Dr. Miller's recently album Modern Fairy Tales released on Centaur Records is readily available on iTunes, Amazon and Spotify. Fanfare Magazine hails Courtney Miller as "a performer of considerable skill, with an unfailingly lovely sound, abundant technical ability, and a special gift for turning notes into poetry."
Dr. Courtney Miller has a Bachelor of Music from Florida State University, a Master of Music from Cleveland Institute of Music and a Doctor of Musical Arts from Boston University. Her teachers include John Ferrillo, John Mack, and Eric Ohlsson.
Volkan Orhon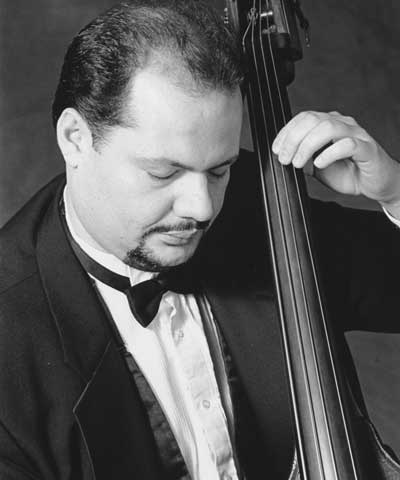 Volkan Orhon was a finalist and prizewinner in the  Concert Artists Guild Solo Competition in New York City and was the co-first place winner of the  International Society of Bassists Solo Competition. Additionally, he distinguished himself as the first double bass player ever to win the grand prize overall and first prize for double bass at the  American String Teacher's Association  Solo Competition.
Mr. Orhon has performed with internationally recognized musicians including  Gary Karr, Fazil Say, and the  Emerson and Tokyo String Quartets  and has played solos with orchestras and recitals around the world. He was one of the performers for the international consortium of  John Harbison's  Concerto for Bass Viol and Orchestra. He was recently a featured soloist at the  World Bass Festival in Poland, performing with the Academy Orchestra under the direction of Franco Petracchi. He has been an invited clinician to workshops across the U.S. and abroad including Europe and South America, as well the International Society of Bassists.
He is currently professor of double bass at the  University of Iowa.
Michael Norsworthy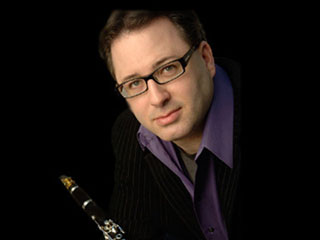 Michael Norsworthy's virtuosity, versatility and musicianship has garnered critical acclaim around the globe. As soloist with numerous orchestras around the USA and abroad, as a captivating recitalist and chamber music performer and as one of the most celebrated champions of the modern repertoire having premiered over 150 new works at such venues as Carnegie Hall, Vienna's Musikverein, Moscow's Tchaikovsky Hall, The Casals Festival and the Aspen Festival, Norsworthy has defied categorization, dazzling critics and audiences alike. He has recorded for Mode, Gasparo, Albany, New Focus, New World, BMOP/sound, Nonesuch, Canteloupe and Cauchemar records and recently premiered concerti by Michael Finnissy and David Gompper. He is currently principal clarinet with the Boston Modern Orchestra Project, Professor and Woodwind Department Head at the Boston Conservatory at Berklee and a performing artist for Selmer Paris and Vandoren.
Read more about Michael Norsworthy at www.michaelnorsworthy.com
Laird Addis
Sonata
Laird Addis was on the faculty of the Department of Philosophy at the University of Iowa for 41 years beginning in 1963, publishing books and articles in philosophy, some in connection with what he called his "other life" as a musician. Originally a clarinetist, he played two years as the bass clarinetist with the Quad City Symphony Orchestra, then played another twenty-seven seasons there on the double bass. An undergraduate double major in music and philosophy, he studied composition for two years with Philip Bezanson. His Bass Sonata was written in 1958. On the UI philosophy faculty, he continued his connections with the School of Music, serving as the "outside" faculty member on well over 100 doctoral committees for music students. He and his wife Patricia were among the co-founders in 1980 of the Iowa City Community String Orchestra. After retirement Addis took up composition again. The ICCSO performed a new work, "Nocturne," for tenor and string orchestra in 2010, and another new work, "Music for Strings" in 2016.
David Gompper
Double Bass Concerto
This two-movement work is the fourth in a series of compositions based on the Farey sequence, rendered as a visual model known as a Sunburst and made aural through a set of pitch mappings. Just as light from the sun, traveling through the valleys of the moon, seems to dance around the edges during a total solar eclipse, I was interested to position and use the double bass to suggest shadows, auras, glimpses of sound that are suggestive and ambiguous, often whispered and always muted.
David Gompper has lived and worked professionally as a pianist, a conductor, and a composer in New York, San Diego, London, Nigeria, Michigan, Texas and Iowa. He studied at the Royal College of Music in London with Jeremy Dale Roberts and Humphrey Searle. After teaching in Nigeria, he received his doctorate at the University of Michigan and taught at the University of Texas, Arlington. Since 1991, he has been Professor of Composition and Director of the Center for New Music at the University of Iowa. In 2002-2003 Gompper was in Russia as a Fulbright Scholar, teaching, performing and conducting at the Moscow Conservatory. In 2009 he received an Academy Award from the American Academy of Arts and Letters in New York City, and a Fromm Commission in 2013.
     Gompper's compositions have been performed at Carnegie Hall, Lincoln Center and Merkin Halls (New York), Wigmore Hall (London), Konzerthaus (Vienna) and the Bolshoi and Rachmaninoff Halls (Moscow Conservatory). His compositions have been released on 17 discs, including his Violin Concerto with Wolfgang David and the Royal Philharmonic Orchestra on the Naxos label. As a pianist, he continues to maintain an active profile accompanying musicians and singers, including Wolfgang David (violin), Stephen Swanson & John Muriello (baritones), Michael Norsworthy (clarinet), Christine Rutledge (viola), Timothy Gill (cello) and Volkan Orhon (double bass).
Zae Munn
Accord
Reaching an accord can be a desirable outcome where differences and disagreements prevent productive or positive results--in personal and work relationships, in labor-management negotiations, within and between organizations, and amongst nations. It is challenging to understand and then accommodate an array of positions and identities and then to weave them together in a way that maximizes coherence without minimizing the value of all the elements.
     Accord seeks to reach a grand accord amongst distinct and seemingly opposed musical identities. There are three metric identities (symmetric, asymmetric, and ametric) and two pitch collection identities (a pitch centric collection and a 7-note synthetic scale that avoids a tonal center). The metric identities do not have a one-to-one relationship with the pitch collections, but combine in various ways to create a series of nine continuous sections, each a step along the way towards the ninth section, "The Grand Accord."
Zae Munn is Professor of Music at Saint Mary's College in South Bend, Indiana where she teaches theory, composition, digital media in music, and orchestration/arranging. She is the Director and Resident Composer of the Summer Composition Intensive at Saint Mary's College. She has also taught at Bowdoin College, Transylvania University, Lehigh University, and Interlochen Arts Camp.
     Her DMA and MM degrees in composition are from the University of Illinois at Champaign-Urbana and her BM in composition is from Chicago Musical College of Roosevelt University. Born in 1953, Munn's early musical training was as a cellist, with additional studies in piano, voice, and conducting.
     Virtually all her works are available from one of these publishers: Arsis Press, Balquhidder Music, Earthsongs, Frank E. Warren Music, HoneyRock, JOMAR Press, MusicaNeo, Tempo Press, and Yelton Rhodes Music. Recordings are available from Navona Records, Capstone Records, Centaur Records, and a number of independent labels.
     Zae is active in the dog rescue community and has fostered about 70 dogs in her home over the last several years.
John Adams
Gnarly Buttons
The London Sinfonietta and Present Music commissioned this work. It was premiered on October 19, 1996 by clarinetist Michael Collins and the London Sinfonietta under the direction of Adams. It was written for solo clarinet and a chamber ensemble comprised of thirteen musicians. The instrumentation is unusually eclectic and includes banjo, mandolin, guitar, trombone, english horn, bassoon, strings, piano, and two keyboard samplers.
This piece was inspired by his father's struggle with Alzheimer's disease and his death. Adams said of this experience:
My dad had . . . become obsessed with the clarinet. And he did funny, strange things with it. One time, my mother was emptying out a load of laundry into the washing machine, and she heard this strange noise and looked and saw that my father had taken the clarinet apart piece by piece and hid it in the laundry. And somehow, this suggested a strange, slightly berserk piece that had both charm and humor, but also a certain personal poignance.
Throughout the writing process he used his father's clarinets, and "the intimate history they embodied . . . became deeply embedded in the piece." The double entendre "gnarly" means both awesome and gnarled. "Buttons" describes how our lives now have become about just "pressing buttons." Adams also explained that he was subconsciously thinking of the book Tender Buttons, a book of poetry labeled verbal Cubism, by Gertrude Stein. —Season E. Cowley
John Adams is a San Francisco-based composer and conductor. He was born in Worcester, Massachusetts on February 15, 1947. He began composing around age 10, writing his first work, a minuet, for a family friend. Adams said "the idea of being a composer started in 1956." He was inspired upon learning about Mozart's life as a composer, not just as a performing musician. His father, who taught Adams to play the clarinet as a child, was a great inspiration to him.
Adams attended Harvard University from 1965–72, earning both Bachelor and Master of Music degrees. His primary composition teacher was Leon Kirchner, a student of Arnold Schönberg. While there, he occasionally performed as a substitute clarinetist with the Boston Symphony and Boston Opera Company. He also conducted the Bach Society Orchestra. After graduating, he moved to San Francisco in 1971 and taught at the San Francisco Conservatory of Music from 1972–85.
Initially Adams was labeled as a minimalist composer. Although he was enamored with this style of music, especially that of Steve Reich and Philip Glass, he stated that he "would have to find a way to make it more expressive and less bound to its procedures." He has developed his own unique voice, his works steeped with a "certain kind of Mark Twain American wit."
Adams described the common thread in his music as "a wryness that . . . is very much unique to American culture. Gnarly Buttons was included in Adams' list of works that share this "wryness," which is reflected in the title and the way rhythms and melodies are twisted. " —Season E. Cowley