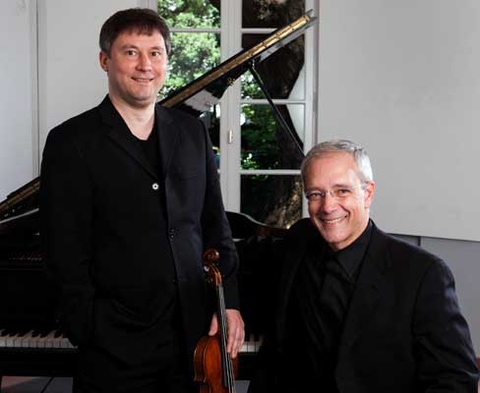 CONCERT V
Sunday, October 30, 2011, 2:00 p.m.
Old Capitol Museum Senate Chamber (map)
Guest Wolfgang David, violin
David Gompper, piano
performed works including S. Prokofiev: Sonata No. 2 in D Major
and two new works by Gainey and Gompper
|| download program ||
Program
Nigun (Improvisation) No. 2 from "Baal Shem"
        Three Pictures of Chassidic Life (1923)
 
Ernest BLOCH
(1880-1959)
Salmagundi Farrago (2011)*
        I. Aria
       II. Fugue
      III. Passacaglia
 
Christopher GAINEY
(b. 1981)
Calling Cards (2011)*
      for violin and piano
 
David GOMPPER
(b. 1954)
 
— Intermission —
 
Tristia, 6 lyric pieces for violin and piano (2006-07)
        Appassionato; with élan
        Presto; still
        Semplice; feroce
 
Jeremy Dale ROBERTS
(b. 1934)
Sonata No. 2 in D Major, op. 94a (1943)
        I. Moderato
       II. Scherzo
     III. Andante
      IV. Allegro con brio
 
Sergei PROKOFIEV
(1891-1953)
* premiere
 
 
Performers
Wolfgang David and David Gompper met in 2000, when Wolfgang was on a concert tour of the US. They began to work together as a performer and composer, which resulted in eleven works composed by David Gompper especially written for Wolfgang David, including a Violin Concerto, recently performed by Wolfgang and the Royal Philharmonic Orchestra and recorded for the NAXOS label. As Laurence Vittes of Gramophone writes, "their working relationship is as close and meaningful as Brahms had with Joachim." In 2002 both musicians were invited to perform together as a violin & piano duo in Moscow. Encouraged by this success, they have since presented over 100 concerts, touring throughout the United States and a number of countries in Europe. While their repertoire includes traditional works for this instrumentation, the main focus is a combination of late romantic, standard 20th century and contemporary compositions written especially for them. Three CDs of the duo are available: two on Albany and one on VDE-Gallo.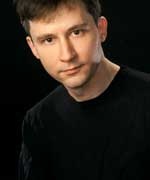 In the space of a few short years, Wolfgang David has ensconced himself on the international stage, both as a recitalist, and as a guest soloist with many leading orchestras such as the Royal Philharmonic Orchestra, Vienna Radio Symphony Orchestra, Johannesburg Philharmonic Orchestra, Berne Symphony Orchestra, New York Virtuosi etc.
He has been well received by the press — the Washington Post wrote that he "scaled the heights of musicmaking" and The Strad described his playing "as emotionally wide-ranging as one could hope for".
Admitted to the University for Music in Vienna at the age of eight, David studied there for many years with Rainer Küchl, the concertmaster of the Vienna Philharmonic Orchestra. Later he continued his studies at the Musikhochschule in Cologne with Igor Ozim and with Yfrah Neaman at the Guildhall School of Music in London.
The winner of many competitions and prizes, David has performed in major halls such as Konzerthaus and Musikverein Hall in Vienna, Carnegie Hall in New York, Cerritos Center in Los Angeles, the Wigmore Hall in London, Victoria Hall in Geneva, and Philharmonie in Cologne.
Highlights of his career included concerts at the Great Assembly Hall of the United Nations in New York in the presence of Secretary General Kofi Annan, and a concert in Bangkok, given for the Queen of Thailand.
Besides focusing on the traditional main repertoire, Wolfgang David also enjoys collaborating with a number of living composers, such as David Gompper, Noel Zahler, Ching-chu Hu, Joseph Dangerfield, Rainer Bischof, Jeremy Dale Roberts, John Allemeier, etc. He has commissioned, premiered, and recorded works specially written for him.
Wolfgang David performs on a violin built in 1715 by Carlo Bergonzi, Cremona, on exclusive loan to him from the Austrian National Bank.
Wolfgang David has recorded a CD with the Royal Philharmonic Orchestra under the baton of Emmanuel Siffert and three albums with the American pianist David Gompper. Another CD with the Royal Philharmonic Orchestra was released on the NAXOS label in April 2011.
Program Notes
Ernest BLOCH
Nigun (Improvisation) No. 2 from "Baal Shem"
Bloch's "Baal-Shem" Suite is composed of three miniatures based on Hassidic subjects. In 1924 Bloch transcribed one of the movements "Nigun" (I Believe) for violin and piano. This is deeply felt, highly reverent music - an emotional confession of faith. The expressive quality of the violin enhances the composer's strongly Judaic idiom.
After studies in Brussels and Frankfurt, the Swiss born Ernest Bloch came to the USA in 1916. He would spend most of his creative career there and became an American citizen in 1924. He held teaching positions in Cleveland, San Francisco, and Berkeley. His early works showed the influences of Richard Strauss and Claude Debussy. Later he composed works on Jewish subjects - "Schelomo" (1916) and the large scale "Sacred Service" ("Avodath hakodesh" - 1933).
---
Christopher GAINEY
Salmagundi Farrago
This summer I attended the "Bite of Seattle," a festival featuring food from local Seattle restaurants, as well as a variety of local music. While making my way through the festival's multiple stages of loud, live, local music, I noticed a recurring rhythmic bass line that was featured in some way in the music being played on all the stages. However, despite the similar bass line, many different styles of music were presented at the festival.
This type of seemingly random juxtaposition has the unexpected effect of highlighting similarities between different musical styles, creating semantic links that allow for a fresh blend of those elements that different musical styles do not have in common. The three movements of Salmagundi Farrago are different approaches to juxtapositions of this type. While some of these juxtapositions are the result of arcane compositional technique (the discussion of which adds little to the experience of hearing the resulting music), I would like to point out the paraphrasing that is a main feature of the third movement.
As I was walking through the "Bite of Seattle" it struck me that the entire festival was a grandiose, outdoor, interactive passacaglia. I have tried to recreate this experience by using the bass line that I heard (a sort of Pink Floyd/Queen hybrid taken out of context) at the festival as the motivic foundation for the final movement of this piece. Allusions to famous passacaglias from Webern, Bach, Britten, and Schoenberg are piled on top of this foundation to create a mélange of familiar sounds in fresh contexts. The words "salmagundi" and "farrago" are both used to describe mixtures of disparate elements. I think they sound good together, like Schoenberg and Pink Floyd.
Christopher Gainey (b. 1981) did his undergraduate and Master's level work at the Peabody Conservatory earning degrees in composition, guitar performance, and music theory pedagogy before receiving a Ph. D. in composition from the University of Iowa. His music has been performed throughout the United States and abroad by groups such as the University of Iowa Center for New Music, The Atlantic Guitar Quartet, The Affinity Chamber Players, The San Francisco Guitar Quartet, and Duo Transatlantique. His music is published by Vogt&Fritz and in the SCI Journal of Music Scores, and his music is included on recordings from SCI, The San Francisco Guitar Quartet, ERM Media, and The Grinnell Singers. Until recently, he was a lecturer in composition at Grinnell College and a Visiting Assistant Professor of Music Theory at the University of Iowa and is currently pursuing a second Ph. D. in music theory at the University of British Columbia. For more information please visit his website.
---
David GOMPPER
Calling Cards
During the 19th century and 20th centuries, before the advent of the telephone, calling cards were central to facilitating social interaction between new acquaintances, family and friends. While the card was used to initiate visits, it is the various responses and established etiquette that piqued my curiosity. While the French inscribed initials to denote the reason for the visit, there was also a tradition of turning down the card's corners - a visit in person (upper right corner), a congratulatory visit (upper left corner), etc. This single movement composition for violin and piano is, in essence, an imaginary narrative--the gentleman caller wooing the lady of the house and the unexpected series of responses, expressed as dialogue between the violin and piano and resulting in contrapuntal textures that weave tangled webs.
David Gompper (b. 1954) has lived and worked professionally as a pianist, a conductor, and a composer in New York, San Diego, London, Nigeria, Michigan, Texas and Iowa. He studied at the Royal College of Music in London with Jeremy Dale Roberts, Humphrey Searle and Phyllis Sellick. After teaching in Nigeria, he received his doctorate at the University of Michigan, taught at the University of Texas, Arlington, and since 1991 has been Professor of Composition and Director of the Center for New Music at the University of Iowa. In 2002 - 2003 Gompper was in Russia as a Fulbright Scholar, teaching, performing and conducting at the Moscow Conservatory. In 2009 he received an Academy Award from the American Academy of Arts and Letters in New York City.
Gompper's compositions have been performed in such venues as Carnegie and Merkin Halls (New York), Wigmore Hall (London), Konzerthaus (Vienna) and the Bolshoi Hall (Moscow). Wolfgang David and the Royal Philharmonic Orchestra recently recorded his Violin Concerto for a Naxos CD. His song cycle The Animals, based on the poetry of Marvin Bell, will be released on an Albany disc. Currently he is working on a Double Concerto that will be premiered February 2012.
---
Jeremy Dale ROBERTS
Tristia, 6 lyric pieces for violin and piano
this sequence of short movements has inscribed on its title page two fragments from the Tristia (1917-20) of Osip Mandelstam:
'We shall die in transparent Petropolis,
Where Prosperina rules over us…'
'…And on my lips the black ice burns,
The recollection of Stygian bells.'
They reflect my enduring attraction to the poets of the Russian 'Silver Age': Akhmatova, Tsvetaeva, Mandelstam – the brilliant but doomed generation, whose world was evoked and given its memorial in the 'Poem without a Hero' of Akhmatova. Like Mandelstam's collection, my work is loosely bound together by recurrent themes and images, dominated by the master image of St. Petersburg.
Jeremy Dale Roberts (b. 1934, Gloucestershire, England), who recently retired as Head of Composition at the Royal College of Music, London, was a Visiting Professor of Composition at the University of Iowa for the 1999-2000 academic year.
He studied with William Alwyn and Priaulx Rainier at the Royal Academy of Music, London. His compositions have been performed worldwide at the Edinburgh and Aldeburgh Festivals, the Venice Biennale, the Diorama de Geneve, and the festivals of Avignon and Paris.
They include the cello concerto Deathwatch, written for Rohan de Saram; Tombeau for Stephen Kovacevich; Croquis for string trio, written for members of the Arditti Quartet (BBC commission); In the Same Space, nine poems of Constantin Cavafy, written for Stephen Varcoe; Lines of Life, lyric episodes for ensemble, written for Lontano (BBC commission); and Casidas y Sonetos — del amor oscuro, for solo guitar (Arts Council commission) for Charles Ramierez.
Recent commissions include Hamadryad for alto flute, viola and guitar; Stelae, a work for gamelan; and Nightpiece for soprano and two bass viols.
---
Sergei PROKOFIEV
Sonata No. 2 in D Major, op. 94a
Sonata No. 2 in D Major, Op. 94b is is based on the composer's own Flute Sonata in D, Op. 94, written in 1942 but, at the request by David Oistrakh, arranged for violin in 1943 when Prokofiev lived in Perm in the Ural Mountains, a remote shelter for Soviet artists during the Secord World War. The work, a little over 20 minutes and consisting of four movements, is highly classical in design. It opens with a sonata movement, followed by a brilliant scherzo, a slow movement, and a triumphant finale.
Sergei Prokofiev (1891-1953) is one of Russia's most well known composers from the first half of the 20th century. His principal legacy was his ability to fuse melody with modernism, a trait that can be heard throughout his output. He has written works in all genres (ballets, operas, symphonies, concerti, etc.), including many chamber and solo instrumental works.