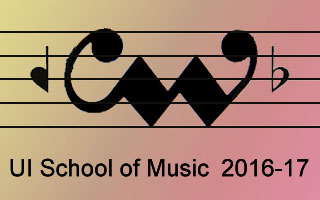 the second concert in Season 53 of UI composers' recent works
adjudicated and chosen by their peers
 
Composers' Workshop II
Sunday, December 9, 2018 at 7:30p in the Concert Hall
Gabi Vanek, bassoon & electronics
True Swamp is my attempt at creating a musical environment that allows the performer to retain creative agency as they move through the piece. The work is comprised of a series of varying wide interval tremolos that are each accompanied by a collection of cellular ideas. The performer can navigate through these organisms at a pace of their choosing in order to create a unique landscape. The title, True Swamp, comes from one of many late night political discussions over far too many beers.
Will Yager is a bassist/improviser currently engaged in doctoral study at the University of Iowa. His primary interests are improvisation and collaborating with living composers in the creation of new solo and chamber repertoire for the double bass. In 2018, Yager was a a Robert Black double bass fellow at the Bang on a Can Summer Music Festival. In addition to his varied performance activities, Yager has held teaching posts at Maryville College, the University of North Alabama, and is currently a teaching assistant at the University of Iowa.
FAT SUNSET 2018 
Christine BURKE 
Zachery Meier, flute
Christine Burke, clarinet
Justin Comer, baritone sax
Gabi Vanek, bassoon
Alex Spenceri, euphonium & pan lids
Day Beyer, violin
Will Yager, bass
The words "fat sunset" came up in a conversation recently, and I wondered how that might work as a formal structure. Realized, this results in the very nice process of moving from being apart to being together.
A composer from Iowa City, IA, whose music has recently been recognized by the Koehne Quartet at Wien Modern, a.pe.ri.od.ic, Alarm Will Sound and the Mizzou International Composers Festival, and Northwestern University's New Music Conference. Past collaborations include projects with the Chicago Civic Orchestra Fellows, JACK Quartet, Talea Ensemble, Heavy Air, The Living Earth Show, NOW Ensemble, and participation in Núcleo Música Nova, the UNK New Music Festival, and the Earle Brown Music Foundation's International Summer Academy.¶Christine earned a Master's Degree from the University of Iowa, where she studied with Nomi Epstein and Josh Levine (composition) and Maurita Murphy Marx and Jorge Montilla Moreno (clarinet). She was previously a student of David Stock (composition) and Jack Howell (clarinet) at Duquesne University.
Improvisation for piano 
Ramin ROSHANDEL 
Natalie Nicholson, performer
Ramin Roshandel, performer
Inspired by the idea of working with non-actors in cinema, this piece is an experimental attempt to write a music piece for a non-pianist performer
Ramin Roshandel started studying the setar (an Iranian classical music instrument) at the age of 14. He completed his Bachelor's in Iranian Music Performance at the Tehran University of Art and his Master's in Music Composition at the University of Tehran. In the first year of his Ph.D. in composition at the University of Iowa, he worked with Josh Levine and is currently pursuing the second year with Sivan Cohen Elias. His pieces have been performed in EMCC Festival of New Music (Exchange of Midwest Collegiate Composers), MCS (Midwest Composers Symposium) and read by the JACK quartet.
for stereo fixed media
Space Sounds is a musical piece based on sounds recorded by spacecraft observing the cosmos and other planets in our solar system. The piece uses samples of sounds from outer space, collected by NASA and the University of Iowa Department of Physics & Astronomy.
Tyler Katz (b. 1995) (pronouns: they/them) is a composer and M.A. student at the University of Iowa. They have previously studied music composition at the University of Miami, where they received their B.M in Composition, as well as a B.S. in applied physics with minors in political science and mathematics. Raised in a musical family, they have been studying violin since 1999 and composition since 2010. Their music has been performed by the Passepartout Duo and read by the JACK Quartet. They have also had their music performed at the Midwest Composers Symposium. They are currently a teaching assistant in Music Theory and Aural Skills and are a violinist in the UI Chamber Orchestra
generations 2.1 for video and improvisers
Carlos Cotallo-Solares – music 
Timothy David Orme – animation 
Wombat
Justin Comer,
saxophone
Carlos Cotallo Solares,
electric guitar
Will Yager
,
double bass
Improvisers Justin K. Comer (saxophones), Carlos Cotallo Solares (guitar/electronics), and Will Yager (double bass) formed Wombat in October 2017. Together they explore new sonic textures and instrumental techniques in concert halls, coffee shops, and backyards. Though the performances are never planned beforehand, the trio's music is influenced by their collective experience with contemporary art music, noise, jazz, metal, and drone. Recent appearances include the Maximum Ames festival (Ames, IA), Composers' Workshops at the University of Iowa, and the Feed Me Weird Things concert series
Carlos Cotallo Solares is a Spanish composer and improviser. His work deals with subjects such as the relationship between music and language, quotation, and meter and tempo polyphony. His pieces often focus on a single concept or technique that is interpreted in multiple ways. He performs regularly with the free improvisation trio Wombat.

Timothy David Orme is a writer, filmmaker, and animator. His short films have been shown at film festivals and art venues all over the world, including European Media Arts Fest, Jihalva International Documentary Film Festival, Ann Arbor Film Festival, Philadelphia Film and Animation Festival, Raindance, and others.