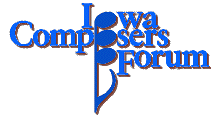 A Festival of New Music
Friday, October 13 through Saturday, October 14, 2000
Schedule
Friday, October 13
 
 
2:30-
4:30
pm
Choral Reading Session
1077 Voxman Music Building

Kantorei
Timothy Stalter, director

Works by
Jon CHENETTE
   The Vow and  Pleasant It Looked
Amy KUCERA
   Illumina and  Three Alleluias
 
8:00
pm
CONCERT
Clapp Recital Hall
 
The Center for New Music Ensemble
David Gompper, director
 

Children of Poseidon

Anna Skogman, violin I
Miki Yuasa, violin II
Mary Kelly, viola
Giovanna Cruz, violoncello

Joshua REZNICOW

Sonata for Viola and Piano

Mary Kelly, viola
Yun-Pai Hsu, piano

Ray SONGAYLLO

Rush Hours

Antonio Guimaraes, flute
Joan Blazich, clarinet
Miki Yuasa, violin
Giovanna Cruz, violoncello
Yun-Pai Hsu, piano

Jeffrey CADWELL

Dialogues

Karen Kress, clarinet
tape

Elaine ERICKSON

Of Thee I Scream

Jeff Graves, euphonium

Ching-chu HU

Fast Track

Antonio Guimaraes, flute
Yun-Pai, Hsu, piano

Jonathan CHENETTE

Sally Goodin

Anna Skogman, violin I
Miki Yuasa, violin II
Mary Kelly, viola
Giovanna Cruz, violoncello

Anthony LIS
Saturday, October 14
Voxman Rehearsal Hall
 
9:30 am
Panel: Composition for Various Levels
 
10:30 am
Student Composition Performance Workshop
 
12:00 noon
Lunch -- followed by the
Annual Members Meeting and Board Meeting
 
Notes & Bios
JOSHUA REZNIKOW
Children of Poseidon
This is a work for string quartet. I wrote the piece in the format of a "miniature." A miniature in musical terms, is a piece that has several movements that may last anywhere from thirty seconds to two minutes. Each movement is a concentrated effort to synthesize themes and compositional techniques.
This piece is based on various fish that I own. Each movement reflects the attitude or characteristic of the chosen fish. Some movements come back such as  plecostomus, to mimic how we as "spectators", view a fish tank. The intent is to show how the viewing of a fish tank is a circular phenomenon that is based on the expectation that what we see will be seen again, whereas the nature of music tends to reflect a linear course, which has a beginning and an end. The movements are an attempt to blend both these tendencies.
Joshua Reznicow is a native of the Twin Cities and a graduate of the University of Northern Iowa where he received his BME and BM in string education and composition/theory. While there he studied viola/violin with Frederick Halgedahl and composition with Dr. Jeremy Beck. In leading up to his first teaching position in the Linn-Mar community School District in Marion, Iowa, Mr. Reznicow has taught at UNI and throughout the country. Some of his teaching assignments have included teaching theory at the UNI Suzuki School, as well as teaching composition and music history at the Tops Piano Camp in Boca Raton, Florida. During his last two summers he has been the composer-in-residence at the Austin Chamber Music Center (ACMC) in Austin, Texas where he has coached several ensembles and has had several of his pieces performed and premiered. Mr. Reznicow's works include pieces for piano, ensemble and orchestral works, and has helped produced several rock albums. Recently Mr. Reznicow has started an electronic string/composition group at Linn-Mar where students have the opportunity to creatively work within a technology-based medium, utilizing their talents and expertise on their string instruments and beyond.
---
RAY SONGAYLLO
Sonata for Viola and Piano
The Sonata for Viola and Piano, in its three relatively brief movements, represents a more French influence in approach to the genre. A balancing of sections and themes is presented rather than the Germanic concept of developing motives and themes. The first movement is in a flowing 5/4 meter, the viola being in a lyrical song-like style. The Lento is a recitative-like interlude, leading to the Allegro rondo which employs frequent metric changes, tone clusters in the second theme, and a scherzo quality in the middle section.
This is the first performance of this work.
Ray Songayllo earned his Bachelor and Master of Music degrees in piano from Northwestern University. He has performed throughout the United States and has had two Carnegie Recital Hall appearances. As a composer, his works have been presented in university events, festivals, conferences, and in Fontainebleau while working in composition at the Conservatoire Americaine. After 27 years of university teaching, he is currently performing, lecturing, composing, and adjudicating. Mr. Songayllo is a founding member of the Iowa Composers Forum, and was the recipient of the 1993 Pyle Commission for his Piano Quintet.

In July 1996 he performed at the Salle Cortot in Paris and premiered a new composition, "Hommage a Faure" in the Salle Munch of the Ecole Normal. He has since presented lecture/recitals at the College Music Society Conferences in both Berlin and Vienna, and this past summer lectured and played chamber music at the International Workshops in Graz, Austria.
---
JEFFREY CADWELL
Rush Hours
The three movements of Rush Hours highlight three different periods of the drive time rush hour. Movement one,  stop and go, makes use of a technique that could be termed "static modulation" I begin with several rhythmic patterns which are layered on top of each other and all located in a diatonic center with no flats or sharps. These patterns continue and I gradually progress through the circle of key signatures, adding one flat and then two and so on. Once I get to a center with seven flats (quasi-C flat Major), I translate that to five sharps (quasi-B Major) and then continue the modulatory process by removing sharps. The movement is called  stop and go, due to its rather jagged rhythms and shifting metrical patterns which, to me, are characteristic of stop and go rush hour traffic.
The second movement,  rain, is a respite between the two energetic outer movements. It also forms a contrast in that in the outer movements the instruments cooperate to form an overall texture or rhythmic groove while rain makes use of instrumental solos and duos. This movement has a harmonic layout based on movement by thirds. Most all of the material in the movement is derived from the opening bar of the cello solo.
The third and final movement,  fly, baby, fly, is the period in which driving is unobstructed by normal rush hour traffic. Tremolos and trills are prominent throughout the movement and  fly, baby, fly is bright, fast and energetic, reflecting the freedom driving on the open road gives. At the end of the movement, I interweave motives from all three movements of Rush Hours.
Jeffrey R. Cadwell (b. 1977) is currently a Masters composition student at the University of Minnesota. His music has been heard in various settings across the Mid-West, most recently at the Music 2000 Festival held by the University of Cincinnati, College-Conservatory of Music. He is presently at work on a commission from the University of Minnesota Dance Department for a 25-minute work for dance that will be taken to local public schools as well as performed on campus. Cadwell is a student of Judith Lang Zaimont. Previous teachers include Dr. William P. Dougherty and Dr. Belinda Takahashi.
---
ELAINE ERICKSON
Dialogues
Dialogues (1999), for clarinet and tape, is a revision of a work written many years ago. The tape part contains mainly tape-manipulated clarinet sounds and electronic sounds. The piece begins with a loop of broken 2nds for the clarinet on tape and a low trill for the live clarinet. The live clarinet part often has wide skips and syncopated 16th notes. It is often in a free atonal style. The use of extreme registers often occurs. In the middle of the piece the live clarinet has a slow melody that is tonal. Later, there is a duet for the clarinet with a flute melody on tape. There is a long bridge, consisting of syncopated 16th notes for the clarinet and sharp electronic chords on tape, that leads back to the main theme. A codetta of new tape sounds-vocal, piano, flute and electronic-occurs. The climax happens when the clarinet plays in its lowest register and a gong, with a high soprano note, occurs on tape. The piece ends quietly with the clarinet alone.
Elaine Erickson was born in Des Moines, Iowa. She has a Bachelor of Music degree in Piano Performance from Wheaton College (Illinois) and a Master of Music degree in Music Composition from Drake University. She has won numerous awards, fellowships and residencies, including from the Ford Foundation (Contemporary Music Project), Meet the Composer, the Charles Ives Center (four times), the National League of American Pen Women (including the $1000 Music Composition Award), the Pyle Commission Award from the Iowa Composers Forum, among others. She has done additional study in composition at the University of Iowa and at Peabody Conservatory (Baltimore, Maryland). She has composed four operas, three of which were performed at Peabody. She travels to Iowa schools as an artist for Very Special Arts Iowa. She is a published poet.
---
CHING-CHU HU
Of Thee I Scream
Of Thee I Scream is a story about a boy wanting some ice cream. The title alludes to one of the methods the soloist uses to produce sounds through the euphonium. The play on "sing" also factors into this work, and obviously the title may bring up other associations which is also intentional. The first movement contains material developed in the remaining four movements. The second movement is the boy trying another tactic to get some ice cream. When he does, he celebrates, which is the third movement. The fourth is the slow enjoyment of licking an ice cream cone. The soloist "licks" throughout the range of the euphonium. And, as in ice cream, once you lick it, it is gone. The fifth movement deals with the sugar rush after such a decadent treat.
Of Thee I Scream was commissioned by Jeffrey P. Graves.
Ching-chu Hu, born and raised in Iowa City, Iowa, received his B.A. from Yale University in 1992. After studying at the Freiburg Musikhochschule for a year, he went to the University of Iowa, where he received a M.A. in Composition and a M.F.A. in Orchestral Conducting in 1996. He has been a composition fellow at the Bowdoin Summer Music Festival, May in Miami Festival, June in Buffalo, and the Advanced Center for Composition at the Aspen Music Festival. He is currently a composition doctoral candidate at the University of Michigan. His composition teachers include William Bolcom, Leslie Bassett, Bright Sheng, Evan Chambers, and Michael Daugherty. He also served as president and founder of the University of Michigan's SCI Student Chapter (SCIUM) and is also active as a pianist and conductor of new music. Ching-chu was a winner of an 1999-2000 ASCAP/SCI commission and has written the score for The Life and Times of Jimmy B., a film by Alison McDonald, which recently received a Director's Guild Award.
Ching-chu is currently an instructor at Denison University.
---
Originally from Hutchinson, Minnesota, Jeff Graves holds the Bachelor of Arts degree in music from Bemidji State University (MN), the Master of Music degree from Ball State University (IN), and the Doctorate of Musical Arts Degree from the University of Michigan. In addition, he is the winner of numerous competitions and other awards, including 1st Prize at the 1998 University of Michigan Graduate Concerto Competition, 2nd prize at the 1997 Leonard Falcone International Euphonium Competition, and National Winner of the 1995 MTNA Wurlitzer Collegiate Artist Award (brass division). An active solo performer, Dr. Graves has presented recitals and master classes most recently in Illinois, Indiana, Kentucky, Minnesota, Missouri, New Mexico, New York, North Dakota and Ohio. Jeff has a wide range of orchestral experience, performing most recently with the Detroit Symphony, Toledo Symphony and the Grant Park Symphony Orchestra. Jeff Graves's primary teachers have included Fritz Kaenzig (the University of Michigan), Mark Mordue (Ball State University), Velvet Brown (Ball State University) and Thomas Swanson (Bemidji State University).
During the 2000-2001 school year, Dr. Graves is serving as Visiting Lecturer of Tuba and Euphonium Performance Studies at Illinois State University in Normal, Illinois.
---
JONATHAN CHENETTE
Fast Track
Fast Track draws inspiration from the jazzy energy of Sam Gilliam's print  Fast Track, owned by the Cedar Rapids Museum of Art. The print's prominent structural element of a circle inscribed in a square led to the opening musical ideas: solid four-note chords built of harmonic fourths in the piano and constrained, circular melodies in the flute. Textured white veils rising from the bottom of the image gave rise to a gravity-defying melodic figure built of ascending intervals that grow ever larger, which becomes the basis for later sections of the music. In the end, of course, the notes have an energy of their own, but both the music and Gilliam's image evoke the frenetic pace of life on the fast track. Today's performance is the premiere of the version for flute and piano, based on the original version for flute and guitar commissioned by Red Cedar Chamber Music for the Boland-Dowdall Duo's "Artistic Celebration of the 21st Century."
The works of Jonathan Chenette include an opera premiered in 1993, choral and chamber music published by Boosey & Hawkes and Theodore Presser, and orchestral music performed by the St. Paul Chamber Orchestra and the Netherlands Radio Chamber Orchestra, the latter performance during the 1985 ISCM World Music Days in Amsterdam. Most recently, he has completed Iowa's project for the national Continental Harmony program, a  Rural Symphony to be premiered October 15 by the Fort Dodge Area Symphony. Chenette received a PhD from the University of Chicago and teaches at Grinnell College.
---
ANTHONY LIS
Sally Goodin
Sally Goodin is an old fiddle tune, possibly from the Ozark Mountains. Not much is known about the tune, except that it was popular at dances from about 1890. Eck Robertson's 1922 recording is considered by many to be the first commercial country music recording.
Sally Goodin was originally written for harpsichord in October 1988, but was re-arranged for string quartet in July 1989. The latter version of the work has been performed by the Sartory String Quartet (Minneapolis, MN) (1995 and 1994), the Faber String Quartet (Cedar Falls, IA) (1994), the University of Akron New Music Group (1993), and the Dakota String Quartet (Sioux Falls, SD) (1992), as well as by students at the Minnesota Center for Arts Education (Minneapolis) (1993).
Anthony Lis is Professor of Theory and Composition at South Dakota State University in Brookings, where he has taught since 1987. Lis studied composition with Michael Hennagin, Jonathan Kramer, and T. Scott Huston, and received his Doctor of Musical Arts degree from the College-Conservatory of Music at the University of Cincinnati in 1985.
Lis's compositions have been performed throughout the United States and in Canada. He has received commissions from the Dale Warland Singers, the Cincinnati Composers' Guild, Northern Kentucky University, the University of Northern Iowa, and the South Dakota Music Teachers Association. Lis has received grants from A.S.C.A.P.,  Meet the Composer, the South Dakota Arts Council, and South Dakota State University. Lis's compositions are published by Acoma/Nambe Editions (Toronto, Canada) and Earnestly Music (Waltham, MA). In addition to his compositional and theoretical activities, Lis has written book reviews in the popular music area for both Fontes Artis Musicae and Notes.
Lis has taught Theory, Composition, and Music Literature courses at the University of Cincinnati, the University of Northern Iowa, and South Dakota State University. He has been an officer in the Cincinnati Composers' Guild, the Association of South Dakota Composers, and the Minnesota Music Theory Consortium.