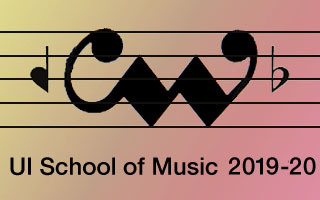 the first concert in Season 54 of UI composers' recent works adjudicated and chosen by their peers
Composers' Workshop I
Sunday, October 27, 2019 at 7:30p in the Concert Hall
Program
| | |
| --- | --- |
| Nos2010b (2017) | Trinton PRATER |
Trinton Prater, solo rocks, Live Electronics
Nos2010b was inspired by prehistoric stone instruments such as rock gongs and lithophones. The piece uses electronics to emulate the acoustics of a cave, shaping the reverberation and echo of two rocks' natural sounds. It also utilizes the human voice, filling the cave's soundscape with echoes of distant phrases and ancient words. These elements work together to postulate how the earliest musicians would have created musical material and explored their sonic surroundings.
David Mercedes, tuba
Wenxin Li, Live Electronics
This piece is inspired by a Chinese ancient song Sky-shading Apricot Blossoms (杏花天影) composed by JIANG Kui in 1187 AD. I used the first four notes of this song, which are formed in a quasi-symmetrical structure, as the foundation and motive in my piece. This quasi-symmetry can be found in the pitches, rhythm, and structure. This piece also used some extended techniques on tuba, including exhaling, singing, whispering and whistling through the instrument, to create an ancient song feeling. This piece is composed for David E. Mercedes.
Matt Mason, piano, Fixed Media
Afraid is an expression of love for the film "Night of the Living Dead" which is considered the originator of zombie film culture. Not only was the film a campy, experimental entry into the horror genre, but it was also full of scathing, yet subtle social commentary on issues of race, gender, and the American Nuclear family. In an effort to mimic the same campy, yet depth-full spirit of the original film, Afraid is a blend of humor and introspection. Using dialogue from the film (which fell into the public domain because of a copyright oversight), the fixed media element uses the film's dialogue to create rhythmic drive, somber accompaniment, and anxiety-inducing underscore.
| | |
| --- | --- |
| The Abyss | Vahid JAHANDARI |
The Abyss - "The only way to escape the abyss is to look at it, gauge it, sound it out and descend into it." Georg Buchner
Matthew Mason, piano
Tandem piece is an invitation to the audience to meditate along with the performer. The concept of the poem by Nariman Gasimoglu reflects the idea of this piece and its meditative mood. The audience is welcome to join to read the poem when they see seven people walking around the piano and reading the poem.

     This is my image on water reflecting on universes
     With my soul having left my body beyond time.

     A heavenly breeze gives the image a gleaming smile
     That waves to thaw all the frozen lights.

     Behold, how sun is landing on this illuminating my soul
     And I find it setting in my reflection to float as a halo.

     This halo is reflected on water to shape my image into a pair
     Behold, who has become my bosom friend as a word for friends to utter.

     (Read by the performer) Yes, he's the very one who walks on water tramping across my reflection
     And my eyes flutter open into an enchanting beauty.

     Tie me up, o my Lord, to His feet and raise me up
     So my reflection raising from water will rain on earth in myriad drops.

     The rain is falling to tie the heavens down to earth,
     O my Lord, pluck these falling strings with Gasimoglu in your hand.
 
sul, for solo double bass, is inspired by my own experiences of observing the intricate choreography that light creates as it travels through the natural world, specifically the sunlight that flows through tree branches when observing from the ground. The concept of those fragile moments juxtaposed with the visual strength that these small performances create inspired me to consider ways in which I can occupy a similar performative space within sound. Abstract art is important to my compositional process when making formal and structural decisions. This piece takes inspiration from the abstract paintings of Jason Twiggy Lott, specifically his work "Equation".
| | |
| --- | --- |
| Villanelle no. 2 | Mark RHEAUME |
Mark Rheaume, trombone
The villanelle is a poetic form consisting of five tercets and a final quatrain. Described by one anthology as "exquisite torture, wrapped into 19 lines," the alternating pattern of two repeating rhymes and two refrains produces a complex structure of juxtaposition and growth during its linear progression. Villanelle no. 2 tests how this scheme might inform a strictly musical setting. For me, the villanelle aptly breeds thematic variations. This treatment of recursion offers the same as any good form: the chance to foster, assess, and liberate expectation.
| | |
| --- | --- |
| r-p-o-p-h-e-s-s-a-g-r | Ramin ROSHANDEL |
LIGAMENT
Anika Kildegaard,
soprano
Will Yager
,
double bass
r-p-o-p-h-e-s-s-a-g-r (on a poem by E. E. Cummings)