The Center for New Music hosts
Lawrence Stomberg, violoncello and Ketty Nez, piano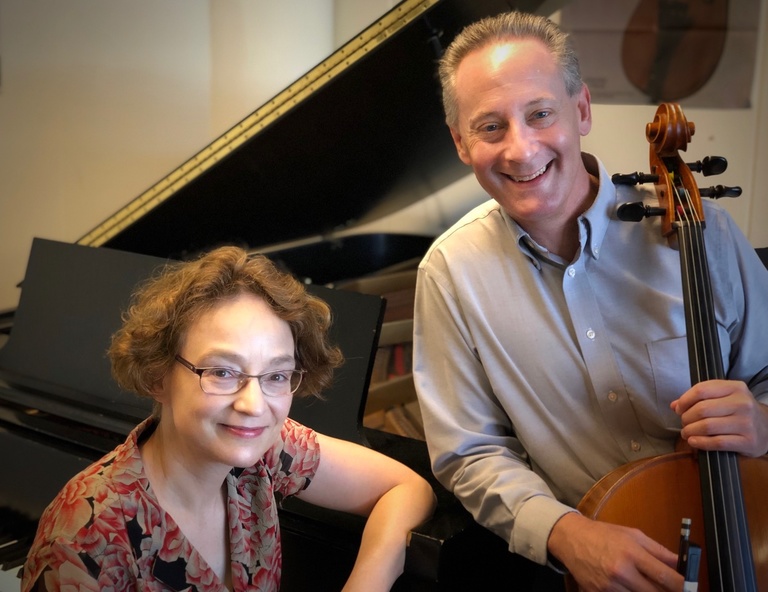 Friday, March 22, 2024 at 7:30p in the Concert Hall
Program
Pohádka (1910-1915)

I. Con moto
II. Andante
III. Allegro

Leoš JANÁČEK (1854-1928)

 
| | |
| --- | --- |
| Flutter (2012) | Bohdana FROLYAK (b. 1968) |
5 moments (2019)

I. Marcia sings
II. old dance
III. "da domas"
IV. "daj mene"
V. duduk kolos

Ketty NEZ (b. 1965)
| | |
| --- | --- |
| Douleur fermée dans la glace, op. 66 (2021) | Gyula BÁNKÖVI (b. 1966) |
Nigun and Hora (2019)


I. The Yizkor Nigun
II. The Flaming Hora

Ofer BEN-AMOTS (b. 1955)
| | |
| --- | --- |
| Cycles (2016) | David GOMPPER (b. 1954) |
Performers
Cellist Lawrence Stomberg enjoys a varied career of performance as soloist and chamber musician, pedagogue, and in community outreach through music. Hailed for "style and elegance" and "drama and rhetoric" (Strings Magazine), and "lyrical yet impassioned interpretation" (Fanfare Magazine), he has been a featured performer at the Eastern Music Festival and Texas Music Festival, and Serafin Summer Music and Master Players Festival, and performs annually at the Techne Music Festival. Currently a member of the Philadelphia-based mixed ensemble, The Halcyon Consort, he served thirteen years as the cellist of the acclaimed Serafin String Quartet, having toured around the United States. Stomberg is invested in presenting the music of the old masters, including recent performances of the cycle of the six Suites for Unaccompanied Cello of J.S. Bach and the complete Cello and Piano works of Beethoven, as well as bringing new works and compositional voices to life, with recent and upcoming premiers and commissions of solo, sonata, chamber, and concerto works by composers Kirk O'Riordan, David Osbon, Richard Prior, Mazz Swift, Alisa Rose, and Ketty Nez. Concerts have taken him across four continents, with recent solo and chamber music performances in the cities of London, Vienna, Bogotá, as well as across the United States. He has recorded for the Centaur, Naxos, Albany, Ravello, and VAI labels.
As a recipient of the 2018 Delaware Division of the Arts Established Artist Fellowship, Stomberg turned much his performance activity to musical outreach and community engagement through his project, Bach in Wilmington, which paired the six Suites for Solo Cello of J.S. Bach with recorded interviews of residents of Wilmington, Delaware (his current home), and commissioned works responding both to Bach and Wilmington, by violinists and crossover artists Mazz Swift and Alisa Rose. This work continues, with continuing performance and teaching artist appearances in community centers, churches, food pantries, and re-entry programs around the city, and an online video series through Ankos Films.
Stomberg is a busy and dedicated pedagogue, having served on the faculties at Truman State University in Missouri and Oklahoma State University before joining the music faculty at the University of Delaware School of Music in 2004, where he is currently Professor of Cello and Associate Director for Performance Studies. He is a frequent guest at schools across the United States and abroad giving cello and chamber music masterclasses, and finds the work of teaching a vital companion to that of performing.
Lawrence Stomberg lives in Wilmington, Delaware with his wife, cellist and pedagogue Jennifer Crowell Stomberg. They have three adult children, as well as an animal menagerie of three cats, a dog, and a turtle.
---
     Ketty Nez joined the composition and theory department at the Boston University School of Music in 2005, after teaching for two years at the University of Iowa. "Listen to a Wonder Never Heard Before!," her portrait CD as composer/pianist, was released in 2010 by Albany Records. Her folk opera, "The Fiddler and the Old Woman of Rumelia," was premiered in a staged version in May 2012, by Juventas New Music Ensemble. Her piano concerto "thresholds," performed by Ketty and the Boston University Wind Ensemble, was released in July 2013 by Ravello Records. BUWE also recorded "four scenes for Juliet," released February 2019 by Summit Records. Her CD's of chamber music with Albany Records also include "double images" (2020), and "far sight sun light" (2023). During the fall term of 2021, Ketty was a guest teacher at the Liszt Academy in Budapest, Hungary, as a Fulbright scholar.
     Ketty completed, in 2002-3, a residence of several months at the Ecole Nationale de Musique in Montbeliard, France, prior to the premiere of her chamber opera "An Opera in Devolution: Drama in 540 Seconds," at the 2003 Seventh Festival A*Devantgarde in Munich. In 2001, she spent several months as visiting composer/scholar at Stanford University's Center for Computer Research in Music and Acoustics (CCRMA), and in 1998 participated in the year-long computer music course at the Institute de Recherche et Coordination Acoustique/Musique (IRCAM). Before computer music studies, Ketty worked for two years with Louis Andriessen in Amsterdam, and co-founded the international contemporary music collective Concerten Tot and Met. She spent a year studying with composer Michio Mamiya in Tokyo before her graduate work, and her music has been performed in festivals in Europe, North America, and Asia. Ketty holds a Ph.D. in composition from the University of California at Berkeley, a master's degree in composition from the Eastman School of Music, a bachelor's degree in piano performance from the Curtis Institute of Music, and a bachelor's degree in psychology from Bryn Mawr College.
Program Notes
Composer Leoš Janáček was a deeply fond of Russian literature, spoke the language, visited the country three times, and founded a Russian Club in Brno. Pohádka ("A Tale") was inspired by Russian writer Andreyevich Zhukovsky's epic poem The Tale of Tsar Berendyey. Scholars are uncertain where or when Janáček read the poem, and if Pohádka was a commission or composed through Janáček's own initiative. Among his papers were found incomplete notes on Zhukovsky's poem, which suggests the dramatic arc of the music:
"There once lived a king called Berendyey whose beard reached down to his knees. He had lived with his wife in perfect union for three years but God had still not blessed them with any children, which grieved the king sorely. At this the king decided it was time to view his kingdom. So he took leave of his wife and travelled for eight months. We'll leave out what befell him….The king returned once more to his castle with its golden roof. The queen is standing at the entrance. At the queen's side stands the prime minister, holding a brocade cushion on which a beautiful baby in swaddling clothes is kicking its legs. The king sighed: "Oh, of this I knew nothing! You took me unawares, ill-fated one!" Having spoken thus, he wept the bitterest of tears."
Pohádka was premiered 13 March 1910, in a program at the Brno Organ School, by faculty cellist Rudolf Pavlata and pianist Ludmila Prokopová. Janáček took issue with reviewer Jan Kunc, who stated that the last movement's tune was Russian (Brno daily news, 17 March 1910). Asserting that all the music was his own, Janáček requested Kunc's public correction, which the newspaper duly printed the next day.
--Ketty Nez
---
Flutter for cello and piano was written in 2012. The piece is inspired by Nazar Honchar, member of the LuHoSad literary group of Ukrainian poets, who tragically died in 2009:
"I'm flickering you — are flickering the world — flickering lace"
--Bohdana Frolyak
---
Ketty Nez's 5 moments were inspired by a handful of children's songs and instrumental tunes, here for duduk, tambura, and bagpipe, recorded in Alexandrovo, Macedonia, in September 1934. These works are a minor part of the large collection of women's and epic songs, recorded by Harvard scholars Milman Parry and Albert Lord during their two expeditions to Bosnia and Herzegovina. (One Herzegovinan song found its way into Marica sings.) Parry and Lord's monumental collection of recordings were transcribed during a residence at Columbia University (1941-1942) by Béla Bartók, who published these as the multi-volume series Yugoslav Folk Music. The original recordings are now part of Harvard University's Milman Parry Collection of Oral Literature. The five movements are Marica sings, old dance, da domas, daj mene, and duduk kolos. Dedicatee Lawrence Stomberg and the composer premiered the work at the University of Delaware, on 29 September 2019.
--Ketty Nez
---
Gyula Bánkövi's Douleur fermée dans la glace reflects his impressions as an adolescent, from having read Karel Schulz's Stone and Pain (a biography of Michelangelo, 1942). The title also suggests emotions which are not allowed to be expressed, as if enclosed in ice, for example, forbidden love. Cellist Zoltán Onczay and pianist Emma Mocsári premiered the work in Budapest, on 21 December 2022.
--Gyula Bánkövi
---
The work Nigun & Hora was written in 2018. The composition was commissioned by the YIVO Institute for Jewish Research on the occasion of a special event dedicated to the great cellist and composer Joachim Stutschewsky and the music of his world. The two movement work is written for cello and piano. The first movement is titled "Nigun" with the subtitle "Yizkor" (In memoriam) to depict the invocatory nature of the music. This Yizkor Nigun (Memorial Prayer) was written with the memory of the Holocaust in mind. In fact, the opening motive in the cello sounds the musical cryptogram of "Shoah" the Hebrew name for the Holocaust. The German spelling of the letters S-C-H-o-A-H translates into the main motive: E flat-C-B-A-B. The second part is a "Hora," a popular dance among the early Halutzim, the Zionist Pioneers who rebuilt the Land of Israel at the end of the 19th through mid-20th century. The title of this movement is "The Flaming Hora," describing the fiery spirit and vivid circular motion of this much-cherished Israeli dance. The two movements together, symbolize the historical process of a devastating destruction followed by a miraculous resurrection.
--Ofer Ben-Amots
---
Cycles, for violoncello and piano, is a duet that shares many of the pitch and harmonic relationships heard in Sunburst, Traceur, Clarinet Concerto, Baily's Beads and the Double Bass Concerto. Formally, the work is in three parts and in some sense, very traditional in its rhetorical language, one that explores both linear and vertical materials suggesting a lively conversation and shared lyrical experience between the two instruments. It was written during the spring of 2016, and premiered by Yoo-Jung Chang and Rene Lecuona at Clarke University in Dubuque, Iowa on June 5, 2016. It was recorded by Hannah Holman and Rene Lecuona on Albany Records.
--David K. Gompper
---