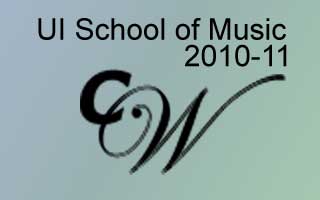 CONCERT VI
Saturday, December 04, 2010, 7:30 p.m.
Riverside Recital Hall (map)
2010-11 Composer's Workshop II
Anthony Donofrio, concert organizer
Program
Triggers (2010)
 
Israel NEUMAN
b. 1966
 
Nathan Borgert, tenor saxophone
Israel Neuman, computer
 
Piece for Solo Tuba (2010)
 
Zachariah ZUBOW
b. 1984
 
Kate Wolhman, tuba
 
In the Garden for String Quartet (2010)
 
Ju Hye KIM
b. 1979
 
Colleen Ferguson, violin I
Peige Zhou, violin II
Diana Mayne, viola
Bryn Sumner, cello
Kira Horel, conductor
 
Olympus: Three Miniatures of Greek Gods (2010)
          I. Eros
         II. Ares
        III. Dionysus
 
Brian PENKROT
b. 1978
 
Nora Epping, flute
Marjorie Shearer, clarinet/bass clarinet
Jikyung Kam, piano
Gloria Lowther, cello
 
A Look Back at Loveliness (2010)
          I. The Philosopher
         II. The Dream
        III. Journey
 
Aaron PERRINE
b. 1979
 
Jacqueline Lang, soprano
Grete Nothling, piano
 
Reflection (2010)
 
Min-Pyo KIM
b. 1976
 
Rolando Jose Hernandez Gaitan, flute
Amy Pirtle, violoncello
Seong-Sil Kim, piano
Min-Pyo Kim, conductor
 
Secrets (2010)
 
Anthony DONOFRIO
b. 1981
 
Christine Augspurger, percussion
 
Program Notes
Israel NEUMAN
Triggers
Granular synthesis is a technique of sound synthesis that generates complex sounds from many microsounds, also known as grains. A typical granular synthesis system will receive three main modifiers: a carrier signal, a grain-triggering signal and a grain-shaping envelope. In Triggers, I have used the granular synthesis method to provoke an interaction between the saxophone and the computer. Yet, causality also transpires in this piece as pre-composed material promotes improvisations preformed both by the saxophonist and the computer.
Israel Neuman, composer and bassist, is captivated by dynamic compositions. Using mathematically-based systems of composition, free improvisation and real-time computational algorithms, he creates musical entities that evolve with each performance. Mr. Neuman received a Ph.D. in composition and a M.A. in jazz studies at the University of Iowa, and a B.Mus. in jazz studies at the University of Hartford. He has studied composition with Lawrence Fritts, John Eaton, David Gompper and John Rapson. He studied bass with Gary Karr, Michael Klinghoffer, Diana Gannett, Volkan Orhon, and Anthony Cox. He served as the instructor of the electronic composition class and as the studio assistant for the Electronic Music Studios at the University of Iowa. He performed and recorded with Robert Paredes, John Rapson, Brent Sandy, Jimmy Green, Wayne Escoffery, and Steve Davis. His composition Turnarounds for horn and tape received a Honorable Mention Award from the International Horn Society and was selected for inclusion in the CD series of the Society of Composers, Inc. His compositions were performed at the 2010 SEAMUS National Conference (Minnesota), 2008 Electronic Music Midwest Festival (Illinois), and at the 2007 (Indiana) and 2008 (Iowa) Midwest Composers Symposium.
---
Zach ZUBOW
Piece for Solo Tuba
The impetus for composing a piece for tuba comes from the relationship the composer has had with many tuba performers. Tuba players need new music and are eager to practice the music for the concert stage. This piece is an attempt at something not only interesting for the performer, but also for the audience.
Zach Zubow received his bachelor's degree at Luther College in Decorah, Iowa, and in 2008, graduated with a master's degree in music composition from Illinois State University in Normal, Ill. Zubow's music has been included on conferences throughout the United States, including the Society of Composers' National Conference in Columbia, S.C. His composition teachers include David Gompper, Lawrence Fritts, David Feurzeig, Brooke Joyce, and Martha Horst. Zubow is now pursuing a Ph.D. in music composition at The University of Iowa and is a member of the Iowa Composers Forum, the Society of Composers, ASCAP, SEAMUS, the College Music Society, and Electronic Music Midwest. For more information, please visit www.zachzubow.com.
---
Ju Hye KIM
In the Garden
is written for string quartet and it was inspired by the Bible (Luke 23:43). "I tell you the truth, today you will be with me in paradise."
Originally from Seoul, South Korea, Ju Hye Kim is currently pursuing her doctoral degree at The University of Iowa where she is studying music composition. She holds a B.M. and a M.M. from Ewha Womans University, South Korea and a M.M. from Western Illinois University. She has studied with Sora Ahn, Young-ja Joo, James Caldwell, Paul Paccione, James Romig, and Lawrence Fritts. Her music has been performed in Seoul (South Korea), Toronto (Canada), Tampa, Macomb, and Iowa City.
---
Brian PENKROT
Olympus: Three Miniatures of Greek Gods
Eros: Eros is the god of love and lust. He is often depicted as blindfolded and winged. His arrows are dipped in a potion that causes uncontrollable lust. This miniature begins and ends with Eros hunting his victims. The middle sections are from the point of view of someone stung by his arrows: sensuality and lust, followed by a more romantic experience of love.
Ares: Ares is well-known as the Greek god of war. Neither Zeus nor Hera (his parents) liked him very much, causing him to lash out in violence and create havoc. A battlefield soundscape, the viciousness of battle is portrayed by dissonance of indeterminate pitch clusters and improvised rhythmic gestures.
Dionysus: Best know as the god of wine, Dionysus is also the god of celebration. Though not an original god, Dionysus became the god of merrymaking out of necessity, as it was one of the last aspects of human life that pitted order against chaos to have a holy rationale. This miniature is purposely off-kilter to emulate drunkenness. The grooves are set against each other, providing regular phrasing and irregular phasing. Textures shift between clean and thick, clarifying and obscuring regularity in the grooves.
Brian Penkrot is an American composer of contemporary concert music. Originally from Chicago, Brian studied violin, guitar, musical theater, improvisational theater, and dance before beginning studies in composition. Penkrot's music has been performed in institutions and festivals in the United States and Europe. His chamber song Song of Liberty, (based on a text by William Blake), was selected for the Nevada Encounters of New Music festival in 2009. Chaparral Bridge premiered at the 2009 soundSCAPE festival in Pavia, Italy, and inspired the name for the Penbridge Trio. Rites of the Little Hours for percussion trio and fixed audio was selected for the 2010 SCI National Conference in South Carolina.
Penkrot earned his master's degree from the University of Nevada-Las Vegas, where he was a part-time faculty member in the composition and theory departments. He received his bachelor's degree from Columbia College in Chicago. Penkrot is a Ph.D. student at The University of Iowa, studying with David Gompper.
---
Aaron PERRINE
A Look Back at Loveliness
Edna St. Vincent Millay (1892-1950) was an American poet and playwright. Independent and rebellious by nature, her best-known and most characteristic works are about love, grief, the inevitability of change, abandonment and death. Millay achieved much success during her lifetime, including the Pulitzer Prize for Poetry in 1923.
Born in McGregor, Minnesota, Aaron Perrine earned his bachelor's degree in trombone performance and music education with high distinction from the University of Minnesota-Morris in 2002. While an undergraduate, he received the Edna Murphy Morrison Award, Daisy Hansen Award, Chancellor's Award, and multiple awards in composition from the Minnesota Music Educators Association. After his time in Morris, Perrine moved to Minneapolis and began working on his master's degree. While at the University of Minnesota, he studied composition with Judith Zaimont and jazz arranging with Dean Sorenson. Perrine completed his master's degree in 2006, and is now pursuing his Ph.D. in composition from The University of Iowa, studying with David Gompper and Lawrence Fritts. For more information, please visit his website at www.aaronperrine.com.
---
Min-Pyo KIM
Reflection
When reflecting on my past experiences, I am reminded that nothing can be changed, for better or worse. What is done cannot be undone; however, each memory holds the promise of fulfillment, whether it results in a realized dream or a continued struggle. Reflection describes the cyclical relationship between the past, present, and future. The opening material depicts the present, which evokes feelings of progressive eagerness. This section is followed by a more lyric and expressive section that describes the past. The passages in which fragments of a Korean children's song ('Obba Saeng-kag') are employed recall a childhood memory, and ambiguous musical statements are formed using a variety of timbres to form an image of an uncertain future. Finally, the piece concludes with a recollection of the present, past, and future passages that alternate with each other in the cyclical fashion.
Min-Pyo Kim began to study music composition with Eun-Sook Kim and Kyu-Tae Kim in Korea, and continued to study with Cindy McTee at the University of North Texas, and Jan Radzynski, Donald Harris, and Thomas Wells at The Ohio State University. Currently, he studies with David Gompper, Lawrence Fritts, and John Eaton at The University of Iowa, where he is a doctoral student. His Grace for flute duo, which is now being published by Carolyn Nussbaum Music Company, won the first prize in the 2008 Areon Flutes International Competition. Min-Pyo has been also serving as an active church music director and conductor in the Chicago, Iowa City, Columbus, and Dallas areas, as well as in Korea. He has worked as a teaching assistant for music theory and currently working on his Ph.D. dissertation.
---
Anthony DONOFRIO
Secrets
is the result of a discussion with performer Christine Augspurger about graphic notation and a recent interest in the percussion scores of Robert Moran. The piece is set in nine "frames" that consist of a mixture of traditional and graphic notation. Each frame has a set duration or set of durations from which the performer may choose. While frames one and nine are fixed in order, the order of the remaining frames is left to the performer.
Originally from Cleveland, Ohio, Anthony Donofrio is currently a third-year Ph.D. student in music composition at The University of Iowa. He has studied with David Gompper, Frank Wiley, John Eaton, Paul Schoenfield, and Thomas Janson. His chamber work, Obituary, was recently premiered and recorded by the Five-One New Music Ensemble as a part of the Cleveland Public Theater's BigBOX series. In April 2011, The University of Iowa Symphony Band and soloists Meghan Aube and Lucas Bernier will premiere his dissertation, In Violent Silence: A Double Concerto for Two Percussionists and Wind Ensemble. He holds a Bachelor of Music, a Master of Music, and a Master of Arts from Kent State University.