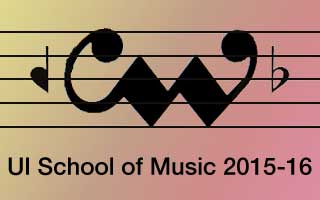 Concerts III & IV
Composers' Workshop & Tour
Sunday, November 1, 2015, 7:30 p.m.
Riverside Recital Hall (map)
Saturday, November 7, 2015
The Midwest Composers Symposium
School of Music, Indiana University, Bloomington, IN
Note: Works chosen to represent UI are indicated with asterisks
Download the full two-day five-session program
MidwestComposer'sSymposium2015.pdf
Program
The Korean word "Gong-Gan,"refers to empty space. In this work, the sounds of wind, foot stomping & stamping to impact, and human voice constitute a message, which in turn blends in with the sound of the flute to fill the space before vanishing slowly. In this piece, the flute struggles to remain relevant, with two melodies and rhymes. The flute, under-toned by traditional Korean folk music, eventually reverts to what it effectively is, writhes and vanishes into new emptiness.
My brother came into this world with developmental delays and similar cognitive issues. When he was a toddler, my parents brought him to the University of Iowa Children's Hospital to have him tested for autism, but we found out, surprisingly, that he barely skirted diagnosis on the autism spectrum. Thus, we have had to experience his journey as one without a road map. As his older brother, I have had the joy of witnessing his growth over the years, and it is apparent to me that his condition is by no means a setback but instead an opportunity. Ḁis is a testimony to the beautiful relationship I have with my brother.
10 Channel Fixed Media
The title refers to the source materials used to create this piece; all of the fixed sounds except for one 4.7-second region was obtained from a double bass using various standard (e.g. pizzicato, ricochet, sul ponticello) and non-standard (e.g. bowing the side of the instrument, bowing the tuning pegs, moving a hand quickly between the instrument's neck and body) techniques. The 4.7 seconds of sound outside of this double bass-derived environment came from crushing a dried red pepper. Unfortunately, its 4.7 second contribution was not enough to earn the red pepper a place in the title.