In cooperation with the UI String Quartet Residency Program, CNM presents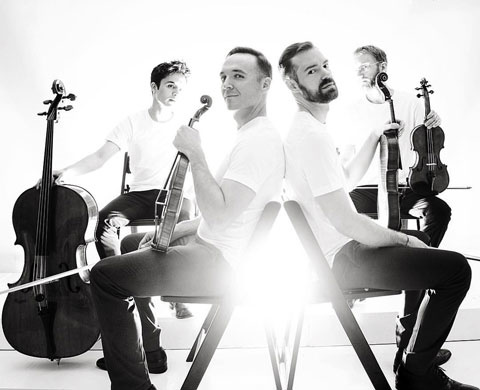 The JACK Quartet
Violinists Christopher Otto and Austin Wulliman
Violist John Pickford Richards and Cellist Jay Campbell

A premiere performance of new works
by four UI student composers
Wednesday, November 15, 2017,
at 7:30pm in the Voxman Concert Hall
 
View: JACK and UI composers group photo 
Program
drifting through, unspeaking
Jeremy MAAS
In Limbo
Alexandros SPYROU
 II
III
— Intermission —
Fixed Ataxia
Joseph NORMAN
Karellen
Carlos COTALLO SOLARES
Performers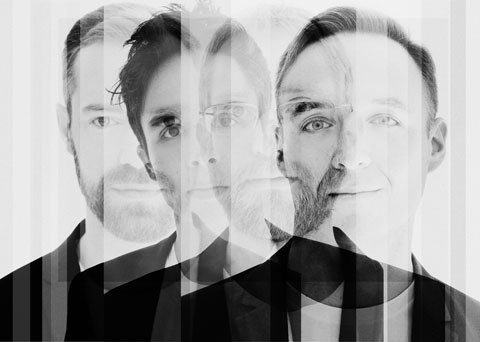 Deemed "superheroes of the new music world" (Boston Globe), the
JACK Quartet
is "the go-to quartet for contemporary music, tying impeccable musicianship to intellectual ferocity and a take-no-prisoners sense of commitment." (Washington Post) "They are a musical vehicle of choice to the next great composers who walk among us." (Toronto Star)
    The recipient of Lincoln Center's Martin E. Segal Award, New Music USA's Trailblazer Award, and the CMA/ASCAP Award for Adventurous Programming, JACK has performed to critical acclaim at Carnegie Hall (USA), Lincoln Center (USA), Miller Theatre (USA), Wigmore Hall (United Kingdom), Muziekgebouw aan 't IJ (Netherlands), IRCAM (France), Kölner Philharmonie (Germany), the Lucerne Festival (Switzerland), La Biennale di Venezia (Italy), Suntory Hall (Japan), Bali Arts Festival (Indonesia), Festival Internacional Cervatino (Mexico), and Teatro Colón (Argentina).
    Comprising violinists Christopher Otto and Austin Wulliman, violist John Pickford Richards, and cellist Jay Campbell, JACK is focused on new work, leading them to collaborate with composers John Luther Adams, Chaya Czernowin, Simon Steen-Andersen, Caroline Shaw, Helmut Lachenmann, Steve Reich, Matthias Pintscher, and John Zorn. Upcoming and recent premieres include works by Derek Bermel, Cenk Ergün, Roger Reynolds, Toby Twining, and Georg Friedrich Haas.
    JACK operates as a nonprofit organization dedicated to the performance, commissioning, and spread of new string quartet music. Dedicated to education, the quartet spends two weeks each summer teaching at New Music on the Point, a contemporary chamber music festival in Vermont for young performers and composers. JACK has a long-standing relationships with the University of Iowa String Quartet Residency Program, where they teach and collaborate with students each fall, and the Boston University Center for New Music, where they visit each semester. Additionally, the quartet makes regular visits to schools including Columbia University, Harvard University, New York University, Princeton University, Stanford University, and the University of Washington.
 Program Notes
Jeremy Maas
drifting through, unspeaking
This quartet is a reflection upon my experience in an isolated and stagnant place. In this extended period of time, I felt comfort and unease become less distinguishable from one another. Though no part of my experience was especially sudden or discontinuous, the subtleties were always in flux. It became evident to me that I cannot hold a steady state, nor can anyone or anything; and at the closest level of observation, all that remains is weakness and volatility.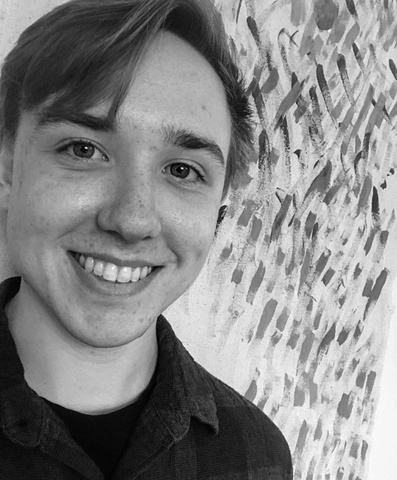 Jeremy Maas
(b. 1994) is a composer living in Iowa City. He is currently pursuing his Master's degree in Music Composition at the University of Iowa while working as a graduate assistant in Music Theory. He previously completed a Bachelor's degree in Music from Luther College. His music has been featured by the Iowa Composers Forum, the Exchange of Midwest Collegiate Composers, Minnesota Public Radio, and by Sybarite5. Jeremy has studied composition with Brooke Joyce, Steve Smith, Stefano Sacher, and Josh Levine.
Alexandros Spyrou
In Limbo
I composed "In Limbo" [from latin Limbus (border, fringe)] to indicate an indefinite state of neglect or oblivion to which persons or things are consigned when regarded as outworn, useless, or absurd. The piece intends to be devoid of the modernist concepts of form and development and tear off the fabric of pitch and harmony. What remains is a skeleton of non-propositional rhythmic activity with timbral nuances seeping through its pores. The live audio uses a collection of spectral effects to augment or complement the instrumental material.
Alexandros Spyrou
(1989) is a Greek composer and music theorist. In his work he questions the modernistic paradigm of dialectics and dualism and proposes an ontogenesis of a-centered multiplicities which are in a continuous morphallaxis, in a constant state of becoming. His music has been performed in Greece, Italy, Germany, the United Kingdom and the United States by such ensembles as the London Sinfonietta, the JACK Quartet, MDI Ensemble Milano, Ensemble SurPlus, the Contemporary Directions Ensemble, Musica Nova Ensemble, Ensemble DissonArt, and numerous soloists.
    Alexandros studied composition with Michael Finnissy, David Gompper, Evangelia Kikou, Josh Levine, Georges Papoutsis and Athanasios Zervas. Further, he attended masterclasses with numerous composers: Andre, Aperghis, Billone, Czernowin, Ferneyhough, Gervasoni, Mahnkopf, to name just a few. He took part in several festivals and academies such as the Composit Festival in Italy, the Internationale Ferienkurse für Neue Musik Darmstadt, in Germany, the Schloss Solitude Akademie in Germany, and the Midwest Composers Symposium in the United States.
    At the University of Iowa, he served as a teaching assistant in music theory and composition, as president of the local chapter of the SCI as a student senator for the School of Music in the Graduate Student Senate and as president for the local Fulbright Student Association. He is the founder and artistic director of the Delian Academy for New Music in Greece, a collaborating artist for the online trans-disciplinary platform Synoros.com and a member of BMI classical, the Society of Composers Inc., and the Royal Musical Association (U.K).
    Alexandros has been a scholar of the Fulbright Foundation, the State Scholarship Foundation of Greece, the City Council of Ioannina, the Graduate College of the University of Iowa, the Harry D. Triantafillu Foundation, and the Stanley Foundation. He holds diplomas in Harmony, Counterpoint and Fugue from the Conservatory of Ioannina (Greece), a Bachelor of Music from the University of Macedonia (Greece), a Master of Music from the University of Southampton (U.K) and a Master of Philosophy from the University of Bristol (U.K). He currently lives in Vienna, Austria as an artistic researcher supported by the Austrian agency for international cooperation in education and research (OeAD), and is a Ph.D candidate at the University of Iowa.
    Visit his
website
.
Joseph Norman
Fixed Ataxia
Fixed Ataxia is an exploration of chaos, determinism, and self-similarity. It features an evolving binary structure wherein chaotic algorithms are pitted against serialist procedures. The proportional relationship within this binary form is in non-linear flux. Fixed timbral elements are juxtaposed with elements that have a fluid syntactical meaning. Concurrent with the sections of fluctuating proportions, the pitch material mutates into a heavily distorted harmonic spectra.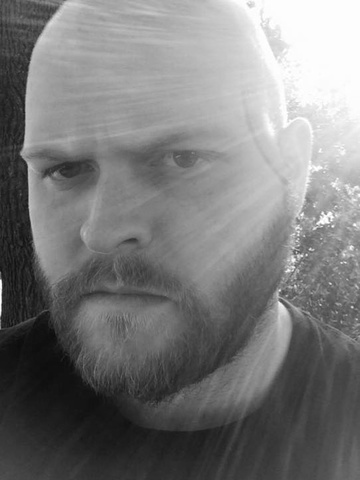 Joseph Norman
is a fourth year PhD candidate in Music Composition at the University of Iowa and is currently Research Assistant, Composer, and Sound Designer/Technician for the University of Iowa Department of Dance.. He is currently advised by Dr. David Gompper. Mr. Norman's music has been performed at the Exchange of Midwest Composers in Boulder, CO and Kansas City, MO, at the Society of Composers, inc Concert at University of Iowa, and at the Alba Music Festival. Additionally, he has had works performed by the JACK Quartet and LOUi (the Lap Top Orchestra of University of Iowa) and read by the Calder Quartet, the JACK Quartet, the University of Iowa Center for New Music, and the University of Maryland Wind Ensemble.
Carlos Cotallo Solares
Karellen
The piece began as an exploration of the musical possibilities and ramifications of using an independent click track for each of the four members of the string quartet, but gradually became a reflection about subjects like freedom and progress, communication and isolation, the consequences of technological development, and the relationship between performer and composer.
The title of the piece references a character of the novel Childhood's End, by Arthur C. Clarke.
Carlos Cotallo Solares
(b. 1989) is a Spanish composer. His work deals with subjects such as the relationship between music and language, quotation, and poly-metric and poly-temporal structures. His pieces often focus on a single concept or technique that is interpreted in multiple ways.
Cotallo Solares' music has been performed internationally in festivals like the Summer Course for New Music (Darmstadt), NYCEMF (New York), SCI National Conference, Time of Music (Viitasaari), Crescendo Festival (Berlin), Ciclo de Música Actual (Badajoz), Blurred Edges Festival (Hamburg), Mehrklang Festival (Freiburg), and Blind Spot Festival (Berlin). He has work with ensembles such as the JACK Quartet, handwerk, Ensemble Chronophonie, POING, Ensemble Container, Ensemble Alarm, and Ensemble Kuraia.
Carlos is currently pursuing a PhD in composition at the University of Iowa, completing previously a Master's degree at the Universität der Künste in Berlin and a Bachelor's degree at the Hochschule für Musik Freiburg. He works as a teaching assistant in music theory and composition and is one of the organizers of the concert series IHearIC.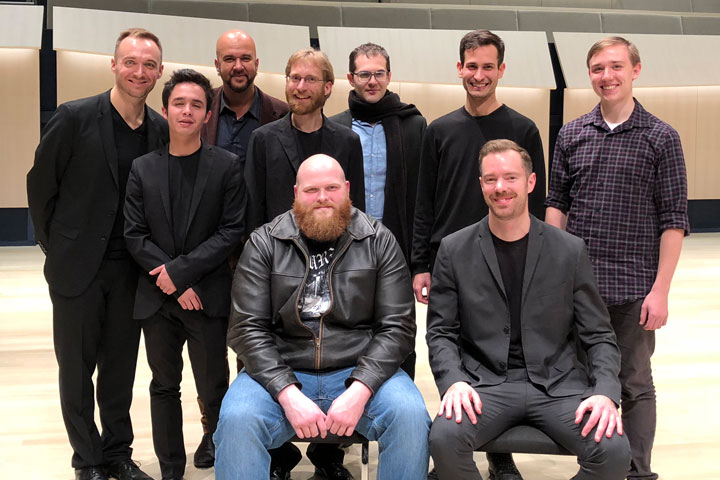 Back row (l to r) Austin Wulliman, Marcos Balter, Alex Spyrou, Carlos Cotallo Solares, Jeremy Maas
Middle row (l to r) Jay Campbell, Christopher Otto
Front, seated Joseph Norman, John Pickford Richards