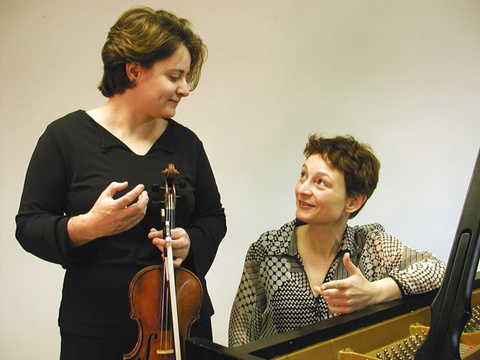 Violin and Piano Music of Eastern Europe
 
Duo Katie Wolfe, violin and Ketty Nez, piano
Saturday, October 6, 2018 at 7:30p in the Recital Hall
Five Melodies, Op. 35b (1920/1925)
Sergei PROKOFIEV (1891-1953)
1. Andante
2. Lento, ma non troppo
3. Animato, ma non allegro
4. Allegretto leggero e scherzando
5. Andante non troppo
Sonata No. 2 for solo violin (1958)
Grażyna BACEWICZ (1909-1969)
1. Adagio – Allegro – Adagio
2. Presto
double images (2017)
Ketty NEZ (1965-)
1. melt with the sun
2. I woke up and remembered
3. you who told me
Intermission
Sonata for Violin and Piano in E Minor, BB28, DD72 (1903)
Béla BARTÓK (1881-1945)
1. Allegro moderato (molto rubato)
2. Andante
3. Vivace
Wolfe-Nez Duo
University of Iowa faculty Katie Wolfe and Ketty Nez formed a violin-piano duo at the University of Iowa in 2005, and since then have performed at various venues nationally and internationally. Their concerts are a mixture of repertoire, featuring commissions and works by today's composers, including Eliane Aberdam, Martin Bresnick, Richard Cornell, David Dzubay, David Gompper, Amelia Kaplan, David Lefkowitz, David Liptak, Robert Morris, and Tom Schnauber. Working with both faculty and student composers at various schools in conjunction with masterclasses and lectures, their tours have included Amherst College, Boston University, Oberlin Conservatory of Music, UCLA, University of Iowa, University of Rhode Island, University of Wisconsin Madison, and the Banff Centre in Canada. The duo were featured artists in the 2015 New Music Festival at Ball State University in Indiana. Performances in 2018 include the University of Iowa, Boston University, and the University of Delaware.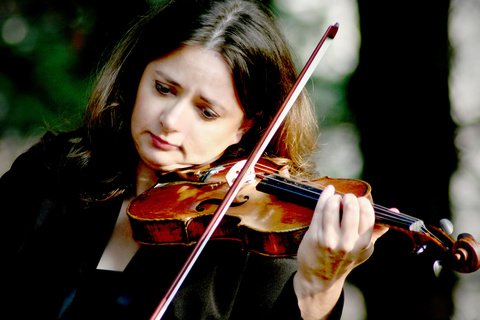 Katie Wolfe
Violinist Katie Wolfe leads an intriguing career mix as a soloist, recording artist, chamber musician, orchestral leader and adjudicator. She has performed in the United States, Canada, Costa Rica, Bolivia, Malaysia, Korea, Japan, the Soviet Union, Italy, Spain and the Netherlands. She also shares her passion for music as a teacher. Originally from Minnesota, she joined the string faculty of The University of Iowa in 2004 as Associate Professor of Violin. Prior to teaching in Iowa, Ms. Wolfe taught violin, viola, and chamber music at Oklahoma State University. She also served as Associate Concertmaster of the Oklahoma City Philharmonic.
     Ms. Wolfe has recorded for Centaur Records, Albany Records, Newport Classics, and Kleos Classics. During the 2006-2007 season, she recorded the Sonatas for Violin and Piano of Danish composer Niels Gade, the music of Madison composer Laura Schwendinger, and a piano quartet by David Gompper. In 2006, she made the first recording of a "rediscovered" Sonata for Piano and Violin by Joseph Haydn with Byron Schenkman, released by Centaur Records in 2006. and a piano quartet by In 2006, she made the first recording of a "rediscovered" Sonata for Piano and Violin by Joseph Haydn with Byron Schenkman, released by Centaur Records in 2006.
     Ms. Wolfe is a founding member of the Matisse Piano Trio, formed in 2004 with fellow University of Iowa faculty pianist Ksenia Nosikova and cellist Anthony Arnone. The trio is as committed to teaching as well as performing, and they have given masterclasses and performances at universities and other concert venues in Iowa, Minnesota, Missouri, Oklahoma, Texas, New Mexico, and Hawaii.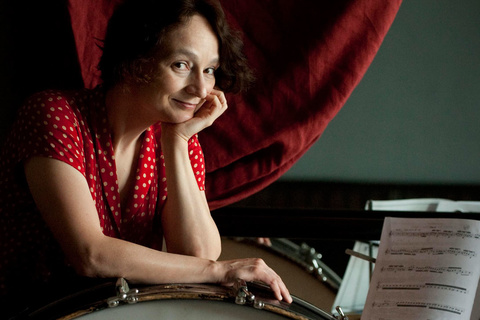 Ketty Nez
Ketty Nez joined the composition and theory department at the Boston University School of Music in 2005, after teaching for two years at the University of Iowa. At BU, she directed the Time's Arrow new music ensemble for four years. Listen to a Wonder Never Heard Before!, her portrait CD as composer/pianist, was released in 2010 by Albany Records. Her folk opera, The Fiddler and the Old Woman of Rumelia, was premiered in a staged version in May 2012, by the Juventas New Music Ensemble. Her piano concerto thresholds, performed by Ketty and the Boston University Wind Ensemble, was released in July 2013 by Ravello Records. Current projects include the CD release of four scenes for Juliet, commissioned by the BU Wind Ensemble, and Lina and the Wolf, an opera on the life of Lina Prokofiev.
     Ketty completed, in 2002-03, a residence of several months at the Ecole Nationale de Musique in Montbeliard, France, prior to the premiere of her chamber opera An Opera in Devolution: Drama in 540 Seconds, at the 2003 Seventh Festival A*Devantgarde in Munich. In 2001, she spent several months as visiting composer/scholar at Stanford University's Center for Computer Research in Music and Acoustics (CCRMA), and in 1998 participated in the year-long computer music course at the Institute de Recherche et Coordination Acoustique/Musique (IRCAM). Before computer music studies, Ketty worked for two years with Louis Andriessen in Amsterdam, and co-founded the international contemporary music collective Concerten Tot and Met. She spent a year studying with composer Michio Mamiya in Tokyo before graduate work, and her music has been performed in festivals in Europe, North America, and Asia. Ketty holds a Ph.D. in composition from the University of California at Berkeley, a master's degree in composition from the Eastman School of Music, a bachelor's degree in piano performance from the Curtis Institute of Music, and a bachelor's degree in psychology from Bryn Mawr College.
Sergei Prokofiev
Five Melodies, Op. 35b
In 1920, during bitter disputes which delayed the Chicago Opera premiere of his opera The Love for Three Oranges, Prokofiev accepted concerts in California. On this tour he composed Five Melodies (aka Five Songs without Words) as vocalises for Nina Koshetz, a Ukrainian mezzo-soprano slated to sing the role of Fata Morgana in his opera. (Prokofiev finally conducted the premiere in 1921.) These two premiered Five Melodies in March 1921, at a recital in New York.
     As an interesting aside, Nina's rich voice had also inspired Rachmaninov to compose for her, and there were romantic intrigues between Nina and the two composers during their early careers in St. Petersburg and Moscow. Fleeing the October Revolution to establish careers in the US, the three artists maintained contact throughout their lives.
     Four years later, by now living in Paris, Prokofiev was impressed when hearing the famous Hungarian violinist Joseph Szigeti, and considered writing a second set of small violin pieces. Another violinist, Cecilia Hansen, suggested that the second of these songs would work well played by violin. Prokofiev turned to a third violinist, Polish virtuoso Paul Kochański, whose expertise he trusted better than Cecilia's, and for whom he had written his first Violin Concerto. Working together during two intensive sessions at Kochański's house, the two transcribed all five songs for violin. The second song is dedicated to Hansen, the fifth one to Szigeti, and the rest to Kochański, who premiered the new set with Prokofiev in July, 1925. (Mining his music for all its piquant evocative color, Prokofiev also orchestrated the second song, and arranged the fourth for solo piano.) —Ketty Nez
Grażyna Bacewicz
Sonata No. 2 for solo violin
Polish composer and violinist Grazyna Bacewicz was born in Łódź, Poland. She studied violin, piano and composition at the Warsaw Conservatory and the Paris Conservatory, where she was a compostition student of the legendary Nadia Boulanger and violinists Andre Tourret and Carl Flesch. She served as the principal violinist of the Polish Radio Orchestra, and gained wide-ranging acclaim as both a violinist and composer.
     The Sonata No. 2 for Solo Violin was written in 1958, not long after a serious car accident ended her performing career. The work is in two movements. This movement begins with a melodic unison that gradually expands outwards to wider and wider dissonant intervals and then recedes back, searching for the opening unison, which doesn't occur until nearly the end of the movement. Various violinistic effects such as trills, left hand pizzicato, and playing close to the bridge (sul ponticello) combine to add lots of expressive timbres to this movement. The second movement is a perpetual motion that features different interval combinations that slide from pitch to pitch, gradually building throughout the movement to a dramatic climax. —Katie Wolfe
Ketty Nez
double images
Written the summer of 2017, double images are a set of three "songs," musical conversations between earthy Romanian folk tunes for violin and flute, recorded and transcribed in the 1910's by Béla Bartók, and aria melodies from Ketty's opera Lina and the Wolf (about the life of Lina Prokofiev, first wife of the composer). The titles of each "song" are lines from Anna Akhmatova's poems, which are set as arias in the opera. The aria melodies, however, have become fragmented and ephemeral, musical "ghosts" that hover in the background. double images was premiered by violinist Aija Reke and the composer in Boston, in March, 2018. —Ketty Nez
Béla Bartók
Sonata for Violin and Piano in E Minor, BB28, DD72
Bartók's Sonata in E Minor is a rarely performed work, offering a glimpse into what the young composer, in the last year of his studies at the Budapest Conservatory, may have been thinking - what trends were "hip" to young musicians at the time. It is enlightening to trace the origins of musical elements and "tropes," refined in his later music to become the quintessential Bartók we now know. He was a terrific virtuoso, and the piano writing is elegant, facile, and challenging. The harmonies and motives are a heady mix of rich chromaticism and gestures inspired, in part, by Richard Strauss and Johannes Brahms (Bartók had not yet discovered Debussy's music.)
     The second movement features both a Lisztian gypsy rhapsody with cimbalom flourishes, and gutsy Brahmsian "Hungarian dance," i.e. the popular kind. Bartók was to discover real folk music in 1904, overhearing "Red Apple" sung by a young peasant woman. This musical surprise launched a lifetime of intensive ethnomusicological research, initially together with composer Zoltán Kodály. The last movement, another dance, features accelerating percussive ostinati, which would sound equally at home in his other works for violin and piano (including two Sonatas and two Rhapsodies).
     Bartók premiered this work with Jenš Hubay in January, 1904. —Ketty Nez