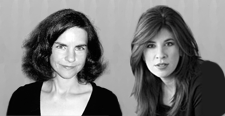 Sunday, December 6, 2009, 7:30 p.m.
at the Riverside Recital Hall
The CMN Ensemble
with Guest Artists
Ann Cravero, mezzo-soprano
Nathalie Cruden, viola
|| download program ||
Program
Cadenza for viola solo (1984)
 
Krzysztof PENDERECKI
 
Nathalie Cruden, guest violist
 
Fallen Eve (2004)
        Five Songs after Hughes
 
Geoffrey GORDON
 
Ann Cravero, mezzo-soprano
Rolando Hernandez Gaitan, flute
Jamie Cox, clarinet
Meghan Aube & Jonathan Werth, percussion
Emily Rolka, violin
Yoo Jung Chang, violoncello
Minji Kwon, piano
 
 
Intermission
 
Raw Item (2005)
 
Marcos BALTER
 
Andrew Parker, oboe
Pam Weest-Carrasco, harp
Seong Sil Kim, piano
Yoo Jung Chang, violoncello
Meghan Aube, percussion
 
"now again" - fragment from Sappho (2006)
 
Bernard RANDS
 
Ann Cravero, mezzo-soprano
Rolando Hernandez Gaitan, flute
Jamie Cox, clarinet
Kery Lawson, trumpet
Pam Weest-Carrasco, harp
Jonathan Werth, percussion
Michelle Crouch, Soprano voice
Katherine Eberle, Alto voice
Emily Rolka, violin
Jessica Altfillisch, viola
Yoo Jung Chang, violoncello
 
Performers
Nathalie Cruden received her Bachelor's degree in Music Performance from the Eastman School of Music in 1992. While there, she was a student of John Graham and studied chamber music with the Cleveland Quartet. She has also studied with William Preucil, Heidi Castleman, and Mark Jackobs. She has participated in the Aspen Music Festival, the Heidelberg Schloss-Festpiele, the Quartet Program, and Piccolo Spoleto.
At ESM, Nathalie was a founding member of the Eastman Baroque Strings, a quintet that gave performances with Karl Haas and Paul O'dette. Other founding members were Jonathan Manson and Jonathan Talbot. She also performed extensively with the new music ensemble, Musica Nova.
In Iowa, Nathalie was the Principal Violist of the Cedar Rapids Symphony (2001-2007), and Principal Violist of the Cedar Rapids Opera (2001-2007). She taught viola at Grinnell College (2001-2006). In Minnesota, Nathalie was a guest artist with the Hill House Chamber Players, whom she will join for concerts again in the 2009-2010 season, the Musical Offering, and the Lyra Baroque Orchestra. Nathalie is also on the substitute roster with the Minnesota Orchestra and has enjoyed performing with them. Nathalie has played with the Charleston Symphony Orchestra, the Savannah Symphony Orchestra, and the North Carolina Symphony Orchestra, as well as most of the orchestras in Eastern Iowa.
Nathalie is a native of Iowa City where her musical life began at the Preucil School of Music. She is happy to be back.
Ann Cravero, an active mezzo-soprano recitalist and soloist, has been heard on stages in Italy and throughout the United States including performances at Weill Recital Hall in Carnegie Hall. She has performed in master classes with Frederica von Stade and Michele Crider, and coached with soprano Cheryl Studer. She participated as an apprentice artist for the Des Moines Metro Opera, is the district winner of the National Association of Teachers of Singing Artist Award competition, and received honorable mention for the Metropolitan Opera National Council District Audition. Dr. Cravero has directed operas for the Drake Opera Theatre, the City Opera Company of the Quad Cities, and a one-act opera at the University of Iowa. She has performed opera roles with the Martha-Ellen Tye Opera Theatre at the University of Iowa, the Northland Opera Theatre, and the Rome Festival Opera. She holds the Doctor of Music Arts and Masters of Music from the University of Iowa, and a Bachelor of Music Education degree from Bradley University. She is Assistant Professor of Voice and Opera Director at Drake University.
Notes & Bios
Krzysztof PENDERECKI
Cadenza for viola solo (1984)
The Polish composer, Krysztof Penderecki (1933-), burst onto the international scene in 1960 with the premier of his gut-wrenching work "Threnody for the Victims of Hiroshima", earning him a place among the leading avant garde composers of his day. Yet, by 1965 he was already moving away from the planned chaos of the post-serialists and incorporating traditional folk tunes and baroque forms into his music. By 1984, when Cadenza was written, Penderecki was using largely traditional forms, such as the modified sonata-allegro form of Cadenza, and using more familiar tonal structures, as opposed to the tone clusters and sound effects he relied on in earlier works, such as Threnody. Unlike so many composers who find their unique voice through pushing traditional boundaries and experimenting with expanding form and harmonic language, Penderecki seems to have made the journey in reverse, discovering his means of expression by embracing and manipulating traditional conventions, and retreating from the avant garde stance of his youth.

Cadenza is, to me, a drawn out wail of rage beginning and ending with a sigh; a simple falling half-step which expands both harmonically and rhythmically to create musical lines. Penderecki uses repetition of this idee fixe to create an insistent driving beat which carries the music from it's slow opening lament into a raging fast paced middle section which heats up into a frenzy and propelling the music into a stunning return of the opening statement. Cadenza takes the listener on a simple musical journey, starting and ending in the same place with a simple motif, but, at the same time, the emotional journey is complex, cathartic, and undeniable.

Penderecki grew up in soviet occupied Poland, and martial law was in effect when he composed Cadenza. When I hear this piece, I am moved in an inexpressible way. This is not background music, and it is not exactly pleasant, but it is immediate and gripping and universal. It is amazing that artists such as Penderecki, Shostakovich, and Messiaen, are able to compose at all, much less create music which is so strong that it can open up, and change, the hearts of people living in different countries, in different times.
Nathalie Cruden
---
Geoffrey GORDON
Fallen Eve (2004)
commissioned by the Abelson Foundation, is inspired by the work of British poet laureate Ted Hughes, and sets five Hughes texts for mezzo soprano and mixed chamber ensemble. The texts are not linked in any formal or aesthetic way, other than that they all convey, to my mind, the same antiquitious struggle between good and evil, or perhaps more precisely, innocence and carnal experience. The ubiquitous presence of the serpent in these texts is instructive, and no accident.
The musical response is designed to be both thorny and lyrical, following closely the rhythm and imagery of the texts. Other elements common to my current work, including the use of isorhythmic figures, unbarred music and some limited use of unconventional sounds--multiphonics in the winds, crushed bow in the strings, exploiting the inside of the piano, etc.--are also present. In the end, the text is the guiding blueprint for this music.
Geoffrey Gordon
Geoffrey Gordon's list of works includes orchestral and chamber music--vocal and instrumental--as well as scores for theater, film and dance. His music has been called "brilliant" (Philadelphia Inquirer), "stunning" (Milwaukee Journal Sentinel), "wonderfully idiomatic" (Salt Lake Tribune), "haunting" (Strings Magazine) and "remarkable" (Fanfare). Chicago Tribune music critic John von Rhein called Mr. Gordon's lux solis aeterna, premiered in January of this year by the new music ensemble Fulcrum Point, "a cosmic beauty ... of acutely crafted music."

A 2009 winner of the Aaron Copland Award, Mr. Gordon is a composer-in-residence at the Aaron Copland House this season. His work has been funded by the Barlow Endowment, the National Endowment for the Arts, the American Composers Forum, Meet the Composer, the MacArthur Foundation, the Abelson Foundation, and the Mary Flagler Cary Charitable Trust, among others. During the past year, Mr. Gordon's works were performed more than fifty times on three continents. In 2009, he had two new works premiere as part of a commission project through Meet the Composer, including a new orchestral work for Boston Modern Orchestra Project and a new chamber work for the Parker String Quartet, co-commissioned by the Concert Artists Guild, which premiered in New York, at Symphony Space, in May. In the 2009-10 season, he will have premieres in San Francisco, Chicago, New York, Washington, London, Paris, Amsterdam, Tel Aviv, Jerusalem, Santiago and Brisbane.
---
Marcos BALTER
Raw Item (2005)
Oboe has always been one of my favorite instruments, not only for its beautiful innate sound but also because of its wide color pallet and flexibility of sound manipulation. Although Raw item is a chamber work for five instruments, the oboe plays a very prominent role here.
I am fascinated with the thin line that divides controlled and uncontrolled elements, as one quite often finds elements of randomness within well-framed structures, and vice-versa. Musically, that creates possibilities to explore different harmonic relationships and timbral worlds, as well as to free ensembles from the traditional idea that one must follow or be followed, thus creating a group of individuals that are indeed unique in their musical roles. However, as an artist I do want to claim total ownership of my work, and I do want to guarantee the faithful reproduction of the sounds as I imagined them while writing a work. Therefore, all uncontrolled elements in my music are handled in ways that assure the final outcome although variable is always within a very narrow margin of variation.
The title is both a reference to the "musical deconstruction" of the oboe within the work through the exploration of many of its instrumentation issues, as well as a more philosophical reference to one's acceptance or rejection of the idea of being changed, "improved", or "refined" by the dominant environment as a way to fit in.
Marcos Balter
The music of composer Marcos Balter (b.1974, Rio de Janeiro, Brazil) has been regarded by critics as "frenetic" [New York Times], "a virtuosic equilibrium of colliding particles (with) both intricate clarity and convincing trajectory" [Boston Globe], "delicate" [Time Out Chicago], "a free-form mural in volume, touch, inflection, and presence" [FAME], "colorful, inventive, (...) with vibrant sonics" [New Music Connoisseur], "exciting and refreshing, (...) agile, flexible and fragile" [Zeitschichten]. His works have been championed by many of today's most prestigious and adventurous new music ensembles and performers, and by organizations such as the Fromm Concert Series at Harvard University, the Tanglewood Music Festival, Tokyo Bunka Kaikan, E-Werk Freiburg, the MATA Festival, Teatro Colon of Buenos Aires, Seiji Osawa Hall, Merkin Hall, the Juilliard School, Le Poisson Rouge, and the Chicago Millennium Park. His main composition teachers were Augusta Read Thomas, Amy Williams, and Jay Alan Yim. He has also taken lessons in festivals and master classes in Europe and North America with Louis Andriessen, George Benjamin, Pierre Boulez, Oliver Knussen, Christian Lauba, Tristan Murail, Bernard Rands, Wolfgang Rihm, and Kaija Saariaho, among others. He is currently the coordinator of the Music Composition program at Columbia College Chicago.
---
Bernard RANDS
"now again" - fragment from Sappho (2006)
Through more than a hundred published works and many recordings, Bernard Rands is established as a major figure in contemporary music. His work Canti del Sole, premiered by Paul Sperry, Zubin Mehta and the New York Philharmonic, won the 1984 Pulitzer Prize in Music. His large orchestral suites Le Tambourin won the 1986 Kennedy Center Freidheim Award.

Conductors including Barenboim, Boulez, Berio, Maderna, Marriner, Mehta, Muti, Ozawa, Rilling, Salonen, Sawallisch, Schiff, Schuller, Schwarz, Silverstein, Sinopoli, Slatkin, von Dohnanyi, and Zinman, among others, have programmed his music. Composer-in-Residence with the Philadelphia Orchestra for seven years, from 1989 to 1995, as part of the Meet The Composer Residency Program for the first three years, with 4 years continued funding by the Philadelphia Orchestra, Rands made a wonderful and dedicated contribution to the music of our time.

Rands' works are widely performed and frequently commercially recorded. His work Canti D'Amor, recorded by Chanticleer, won a Grammy Award in 2000.

Born in England in 1934, Rands emigrated to the United States in 1975 becoming an American Citizen in 1983. He has been honored by the American Academy and Institute of Arts and Letters; B.M.I.; the Guggenheim Foundation; the National Endowment for the Arts; Meet the Composer; the Barlow, Fromm and Koussevitzky Foundations, among many others. Recent commissions have come from the Suntory concert hall in Tokyo; the New York Philharmonic; Carnegie Hall; the Boston Symphony Orchestra; the Cincinnati Symphony; the Los Angeles Philharmonic; the Philadelphia Orchestra; the B.B.C Symphony, London; the National Symphony Orchestra; the Internationale Bach Akademie, Stuttgart; the Eastman Wind Ensemble and the Chicago Symphony Orchestra. Many chamber works have resulted from commissions from major ensembles and festivals around the world. His Chamber Opera Belladonna was commissioned and premiered by the Aspen Festival for its fiftieth anniversary in 1999. In 2003 the first act was performed as part of VOX 2003 of the New York City Opera. Upcoming projects include commissions from The Institute for American Music to write a string quartet for the Ying String quartet; a Meet the Composer consortium commission to compose a guitar concerto for Eliot Fisk and three chamber orchestras; a solo piano work for Robert Levin. Rands continues his long term project of composing a full scale opera, entitled Vincent, based on the life and work of Van Gogh.

A dedicated and passionate teacher, Rands has been guest composer at many international festivals and Composer in Residence at the Aspen and Tanglewood festivals. Rands is the Walter Bigelow Rosen Professor of Music at Harvard University where he teaches with distinction. The originality and distinctive character of his music have been variously described as "plangent lyricism" with a "dramatic intensity" and a "musicality and clarity of idea allied to a sophisticated and elegant technical mastery" -- qualities developed from his studies with Dallapiccola and Berio.

Rands was elected and inducted into the American Academy of Arts and Letters in 2004.