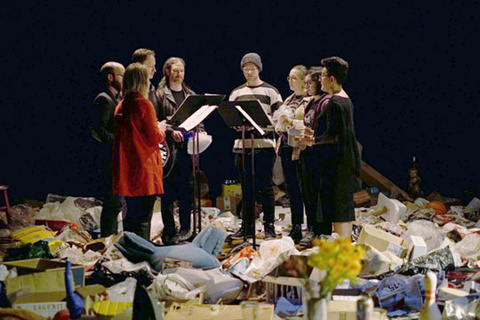 a.pe.ri.od.ic presents a 'trash opera'
 
Time With People (2013)
by British composer Tim Parkinson
 
Sunday, October 22, 2017, 3:00 pm
at the Stark Opera Studio
 
 The Opera
After the initial entrée of questions-answered (deadpan, but here the thought arises: to whom is one addressing these answers?) an itinerant band of onlookers slowly makes its way across a landscape strewn with years of accumulated debris. They drift like ghosts or victims of some epidemic. What follows is a foray into Tim's rhythmic colloquy writing, and prosaic language, akin to Stein (along the lines of 'I like to be with you and you like to be with me and both of us like to be together'… drumhit). But there are onlookers. We all like to be together, watched.
      From here the scene collapses. Objects are hit rhythmically; until after some fizzling out and rearrangement, this band ends up singing what they hear over headphones. There is an incessant drumkit pattern. They bark descriptions of the sounds they hear (again, who for?); guitars are played; there is revelling, a dance. Occasionally a sound will ring across the floor causing them to lie down, only shortly to get back up again. And finally what emerges is the detritus-objects themselves taking over. These people must assemble them in boxes and drop them rhythmically onto the floor, to a soundtrack of Handel (and occasional barked words 'we all together/alone' etc.). The objects getting smaller and smaller until, all the music over, tiny things of, as Parkinson puts it '1g or less' fall to the floor. Fade to black abruptly.
      This is a world in which music is a kind of memory—something that must be reconstructed from the ground up, and afterwards returned to the same ground. Only three LPs (the analogue record-grain-noise remains on the recordings used) are left. Music is reduced to complete first principles—in the end, the downbeat alone. This was music that brought to my imagination A Canticle for Leibowitz, or perhaps more extremely, Mick Jackson's Threads.
 
(From a review from its world premiere at Huddersfield Contemporary Music Festival, UK)
 The Performers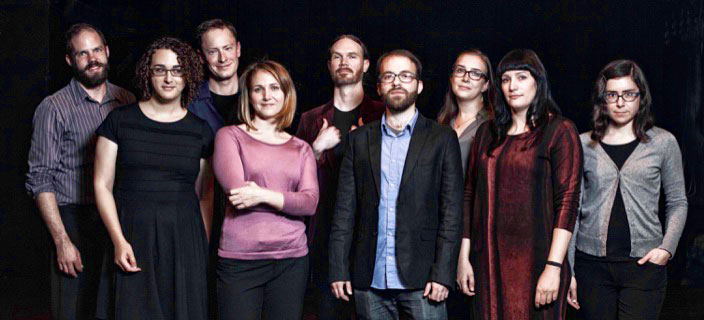 a.pe.ri.od.ic is a Chicago-based performance collective featuring post-Cagean notated, acoustic, experimental music. Founded in 2010*, a.pe.ri.od.ic's repertoire explores the indeterminacy of various musical elements including instrumentation, structure, pitch, and/or duration. Drawn to works of sparseness, contemplation, and quietude, this "daring group" (Chicago Reader) focuses on scores primarily notated with prose. Led by Nomi Epstein, the ensemble has commissioned, premiered, and recorded works by composers such as Michael Pisaro, Eva-Maria Houben, Jurg Frey, James Saunders, and Pauline Oliveros. a.pe.ri.od.ic released its debut album, more or less, featuring the music of Jurg Frey in 2014 under New Focus Recordings.
 
The cast includes: Eliza Bangert, Nora Barton, Johanna Brock, Nomi Epstein, Billie Howard, Jeff Kimmel, Kenn Kumpf, Matthew Oliphant, Robert Reinhart and Isaac Stevenson.
 
 The Composer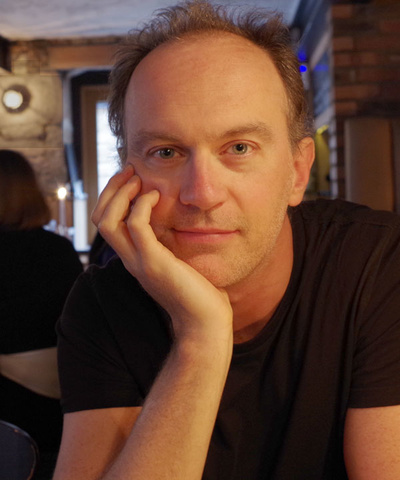 Tim Parkinson
(b.1973) has consistently pursued an independent path, seeking to engage with whatever it means today to be a functioning composer in the world. His music has been labelled as experimental, "reconstructing music from the ground up", and "sounding like nothing else", the work invariably returning to fundamental questions around the meaning of sound. He has been associated with other British independent voices of the same generation, such as Bailie, Crane, Harrison, Newland, Saunders, Whitty.
      His music is mostly performed by a dedicated community of friends and musicians (amongst others Philip Thomas and Anton Lukoszevieze), but he has also written for various groups and ensembles including Apartment House, [rout], Incidental Music, Dedalus, Edges, Basel Sinfonietta, London Sinfonietta; and for various instrumentalists including Stephen Altoft, Angharad Davies, Rhodri Davies, Julia Eckhardt, Tanja Masanti, Andrew Sparling, Craig Shepard, Silvia Tarozzi, Stefan Thut, Deborah Walker. His music has been performed in UK, Europe, USA, Armenia, Australia, New Zealand and Japan. Broadcasts of music have been on Resonance FM, Wandelweiser Radio, BBC Radio 3, WDR Köln, and Schweizer Radio SRF2.
      His opera,
Time With People
, has received complete and partial performances in London, Cardiff, Huddersfield, Los Angeles, Chicago, and San Francisco.
      In 2011 he was visiting Professor of Composition at Brno Academy, and he has also lectured at Guildhall School of Music and Drama, Oxford Brookes, Ostrava New Music Days, Huddersfield University, as well as teaching at Ashmole Academy and Christchurch Primary School. He studied at Worcester College, Oxford, followed by study with Kevin Volans in Dublin, and participated in the Ostrava New Music Days 2001, attending seminars with Petr Kotik, Alvin Lucier, Zsolt Nagy and Christian Wolff.