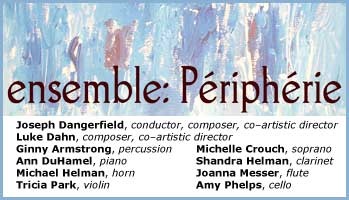 CONCERT XVII
Sunday, April 24, 2011, 7:30 p.m.
Riverside Recital Hall (map)
ensemble: Périphérie
Joseph Dangerfield & Luke Dahn, Artistic Directors
Program
Some Details of Hell
 
David SMOOKE
 
Joanna Messer, flute
Shandra Helman, clarinet
Michelle Crouch, soprano
Amy Phelps, violoncello
Ann Duhamel, piano
Joseph Dangerfield, conductor
 
Sephiroth
 
Klaus HÜBLER
 
Michael Helman, horn
Tricia Park, violin
Amy Phelps, violoncello
Ann Duhamel, piano
 
I hear the Sound that Has Fallen Silent
 
Irina DUBKOVA
 
Joanna Messer, flute
Shandra Helman, clarinet
Tricia Park, violin
Amy Phelps, violoncello
Ann Duhamel, piano
Joseph Dangerfield, conductor
 
Private Wilderness
 
Philippe BODIN
 
Michelle Crouch, soprano
Ann Duhamel, piano
 
dense / Echo I
 
Robert HP PLATZ
 
Shandra Helman, clarinet
Tricia Park, violin
Amy Phelps, violoncello
Ann Duhamel, piano
 
Ask the Wind
 
Mike BARNETT
 
Tricia Park, violin
Amy Phelps, violoncello
Ann Duhamel, piano
 
Guest Performers
ensemble: Périphérie Artists
Program Notes
David SMOOKE
Some Details of Hell
The song is a semi-staged setting of the Lucie Brock-Broido poem of the same title from her collection Trouble in Mind. In order to highlight the emotion of the text and to create various sonic possibilities, the performers are asked to move through various stations as the piece progresses.
The first and last sections of the piece use a microtonal scale that was derived from the resonance created by the low B sustained in the piano. This note is held through the use of a piece of magnetic tape tied to the string, which is rubbed in order to create a bowed effect. This piece is dedicated with great admiration to Tony Arnold.
Composer David Smooke currently resides in Baltimore, Maryland, where he teaches music theory, rock music history, and composition at the Peabody Conservatory of Johns Hopkins University. The Washington Post claims that "Smooke has some of the most uninhibited brain cells around" and describes his music as "superb […] a kaleidoscopic sonic universe where anything could happen." His honors include those from the Maryland State Arts Council, BMI, the National Association of Composers USA, the MacDowell Colony, and the Virginia Center for the Creative Arts. He has composed commissions for groups and individuals including the International Contemporary Ensemble (ICE), CUBE, and pianist Amy Briggs. He received an M.M. degree from the Peabody Conservatory, a B.A. magna cum laude from the University of Pennsylvania, and a Ph.D. from the University of Chicago, where he received the Century Fellowship, the highest fellowship offered by the Humanities Division. His composition teachers have included Shulamit Ran, David Rakowski, Robert Hall Lewis, and Richard Wernick. In addition to his composition activities, David performs improvisations on toy piano with the support of Schoenhut toy pianos and also blogs on New Music Box, the online magazine of the American Music Center. For further information, visit www.davidsmooke.com.
---
Klaus HÜBLER
Sephiroth
Sephiroth — plural of "Sephira"(Hebr.): number.
The Greek word "sphere" comes from the same root, and to "decypher" something is a direct allusion to this Cabbalistic idea.
The "Sephiroth" here are used as a formal idea, much like in the Song of Songs, where they stand for the parts of the lover's body as an analogon of God's body, or in many works of art ever since, up to Umberto Eco's "Foucault's Pendulum".
The music of Klaus K. Hübler is — paradoxically — characterized by the union of dark, arcane beauty and hieratic, almost mathematical clarity: Measure and beauty combined.
Klaus K. Hübler was born in 1956 in Munich, Germany. He studied composition with Peter Kiesewetter and Brian Ferneyhough and musicology at the Ludwig-Maximilians University in Munich. By the year 1975 Klaus K. Hübler had already composed 24 major (principally chamber music) works. In the year 1977 Hübler received the Förderpreis from the city of Stuttgart for his string quartet.

Invitations to several composers forums followed: The "Stiftung-Künst-lerhaus" in Boswil, Switzerland (1982-1984); International Summer Courses Darmstadt (1984-1988); and the Pittsburgh International Music Festival (1986). Stipends were received from Heinrich-Strobel-Stiftung (1982), IRCAM Centre Européen pour la Récherche Musicale (1983), and der Landeshauptstadt München und des Landes Niedersachsen ,Künstlerhaus Schreyahn" (1988).

Hübler has published articles about Karlheinz Stockhausen ("Und doch bin ich Mensch geworden") as well as John Cage ("Gedanke und Stil. Versuch einer kritischen Dokumentation").

Klaus K. Hüblers music has been performed in all major Festivals throughout Europe and has been recorded by many major radio stations. Klaus K. Hübler resides in Munich, Germany.
---
Irina DUBKOVA
I Hear the Sound that has Fallen Silent

is a part of a Triptych entitled "In the Soft Moonlight." It also has an independent nature and can be performed separately. The basis of this work is a collection of rhythmic figures with a special quality: flickering rhythmic figures have been extracted from various rhythmic structures based on reoccurring Russian national plots, and is reflected in the overall form of the work. The "pulsation" of voices develops as a general prayer for happiness and well-being.

This composition was composed for soloists of ensemble of Studio New Music in Moscow and was performed first time in the Festival "Moscow Autumn 2005".

In United States this composition was performed the first time in 2006 with soloists of Ensemble of New Music, conductor - David Gompper .
Born in Russia, Irina Dubkova (b. 1957) began composing at the age of five. After completing her formal training as a pianist, she graduated from the Moscow Conservatory in 1982 in composition and continued with post-graduate studies in composition with Professor Roman Ledeniov and theory with Yuri Kholopov.

From 1982 to 1985, Dubkova was musical editor in the USSR State Radio and TV Company. Irina Dubkova has taught in the Composition Department at the Moscow State P.I. Tchaikovsky Conservatory since 1995.

Irina Dubkova has participated in many competitions and festivals. She was a winner in the Moscow International Young Composer's Competition, in 1980 with Four Romances on texts of Sergei Yesenin for baritone and piano; in 1982 with her Symphony No. 1; in 1985 with a vocal cycle for children; in 1987 with Allegro for symphony orchestra. Her compositions have been performed regularly at the annual festivals Moscow Autumn, Universe of Sound, Nippon Kokoro, Earino Spring Festival, International Organ Gedike's Festival, and Meeting of the Friends. Performances of Dubkova's symphonic, chamber, vocal and choral music have been heard across the Russia and in many regions of the world.
---
Philippe BODIN
Private Wilderness
was written in three separate creative spurts between May 1987 and October 1988. I wrote the third movement one Saturday afternoon during my last semester at Oberlin College, and the second movement the following summer. The first movement took me a month and represented my first real effort at composing "a piece". It was written during my first semester at Yale School of Music. I was still a voice major at the time, and composition was a mere hobby I had been pursuing sporadically since the time I was a twelve year-old writing down my improvisations at the piano or the organ. The three songs became my first completed opus and were part of my very slim portfolio I presented to switch from voice performance to composition during my second year at YSM.
Born in France and based in the US, Philippe Bodin holds a DMA in Composition from Yale University where he studied with Martin Bresnick and Nicholas Maw. A finalist in the 2007 Underwood New Music Readings, he has been awarded prizes, awards, grants, and residencies in the US — American Academy of Arts and Letters, Barlow, Utah Arts Festival, American Music Center, American Composers Forum and the Jerome Foundation, MacDowell, Yaddo — and abroad — Lutoslawski (Poland), Angelo-Comneno (Italy), and Homage to Mozart (Russia) competitions, Banff Residency.
He has received commissions from the Da Capo Chamber Players, Lost Dog, Left Coast, Empyrean; the Eroica, Mannes, Mojave, and Kungsbacka (Sweden) trios; pianists Genevieve Lee and Lorène de Ratuld; French ensembles Philharmonique de Radio-France, TM+, and Voxabulaire; and Dutch ensembles Orkest de Volharding and Electra. His work has also been performed by the Las Vegas Festival Orchestra, the Chamber Orchestra Kremlin, the St. Luke's Chamber Ensemble, the New Zealand piano trio, Xtet, Verge, Brave New Works, Périphérie, and pianists Thomas Sauer, Eric Huebner and Mark Robson, on Los Angeles's Monday Evening Concerts, PianoSpheres, Keys to the Future, Second Helpings, Sounds French, Sonic Boom, and the Asia Pacific Festival.
Prior to his incarnation as a composer, he studied mathematics, architecture, piano, organ, and voice, and had a career as an operatic baritone, working under the batons of Myung-Whun Chung, Philippe Herreweghe, and Marc Minkovski. For further information, visit philippebodin.com.
---
Robert HP PLATZ
dense / Echo I
Which composer would not have liked to get around having to write program introductions about his works? Echo I is exactly this: a comment about another major work of mine, written freely in a sketch-like manner. To be precise, it is from three pieces that this score draws a sounding resumé: SCHREYAHN for cello and groups of instruments in space underlies the initial trio for cello, flute and piano; and the works tôku/NAH for two wind orchestras and ANDERE RÄUME for four percussionists and recorded sounds have left their traces in the second part.
With this score, a whole series of "Echo"-pieces took it's beginning. Each piece differs from it's "original" in a different way. The "Echopieces" can be played separately or in connection with their originals as a sounding comment.
dense was written in march 1994, and the continuation (as dense/Echo I) in January 1996 for Ensemble Kaleidocollage. The first performance took place on February 12, 1996 in Vienna, Austria.
Composer/conductor Robert HP Platz was born 1951 in Baden-Baden, Germany. He studied composition with Wolfgang Fortner and Karlheinz Stockhausen, and conducting with Francis Travis. He is sought after as both a composer and conductor throughout Europe, Japan and the U.S.
As a conductor, he has premiered over 300 works in coopoeration with such orchestras as the SWR orchestras, the DSO Berlin and the Orchestre Philharmonique du Luxembourg. For twenty years he was the conductor and administrator of the ensemble Cologne, which collaborated with composers such as Hosokawa, Huber, Scelsi, Stockhausen, and Xenakis.
Platz's compositions composed since 1989 are part of a "diary," whereby each piece contributes to the whole of one overarching polyphonic work, or what he calls a polyphonic "form". Each work in the series includes an element of "music in space," in both a figurative and literal sense.
Since 1990, he is a professor of composition at the Conservatory of Maastricht, (Holland) where he also offers a seminar on the performance practice of contemporary music. He is a member of the Bureau du Directeur of the Electronic Studios Centre de Recherches et Formation Musicales de Wallonie (CRFMW), Liège, and has been the principle guest conductor of ensembles Alternance (Paris) and Musica d'Insieme (Milan). Numerous recordings of his works are available through the various labels.
Platz currently lives in Cologne.
---
Mike BARNETT
Ask the Wind
was composed at a time of great upheaval in my life. With a career shift from teaching to performing, several cross-country moves and the life of a traveling musician, I was inspired by the sentiment of a wistful breeze and compelled to tell people: "Ask the wind if it knows where it's going, but don't ask me."
The eclectic career of Mike Barnett has transcended the boundaries of the traditional contemporary musician. In the late 1970's and early 1980's, art rock ensembles such as Rush and Pink Floyd and classically-influenced European heavy metal bands like Iron Maiden and King Diamond captivated Mike and led him to discover his penchant for the drum set. As a self-taught drummer he began playing in bands that were composing and recording original music. During the early years of his musical career he gained extensive experience as a performer, recording artist and collaborative composer of heavy metal music. In 1988 Mike co-founded the now legendary underground heavy metal ensemble, Phantom Crew. Over the next eleven years the band would go on to record five albums, compose nearly 200 songs and perform in countless venues throughout the eastern United States, generating a sizeable, cult-like following in the process.
During this time, at a point when his musical creativity began to outgrow his knowledge of the art form, Mike chose to pursue formal composition training. He earned the Bachelor of Arts degree in 1996 and Master of Arts degree in 1998, both in Music Composition, from the Indiana University of Pennsylvania. In 2004, Mike earned the Doctor of Musical Arts degree in Composition from the University of Colorado at Boulder. He served as a Graduate Instructor at CU from 1999 until 2004 and as a Faculty Music Instructor in the Composition/Theory department from 2004 until 2006. Mike currently teaches at St. Francis University and works as a composer, drummer and private music instructor.
Dr. Barnett's compositions include several orchestral works, including a work for orchestra and electronic sounds, a piano concerto, a work for wind ensemble, a chamber opera and many chamber works, solo works and songs. His music has been performed around the world by prominent musicians and major ensembles. Over the years, Mike has appeared on many rock and metal recordings as both a band member and as a "hired gun" musician and has enjoyed extensive mass media exposure.