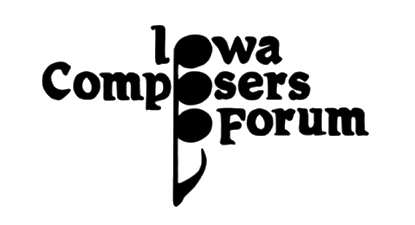 Concert XIII
CNM ENSEMBLE
performing at the
Iowa Composers Forum
New Music Festival 2015
Saturday, March 28, 2015, at UNI
|| download program ||
Program
 Two Pieces for Piano Quintet (2014)
     I. Time and Again
     II. Time's Up
 
 Burton GOLDSTEIN
 
Jeiran Hasan, flute
Christine Burke, clarinet
Korak Lertpubulchai, piano
Rebecca Bressanelli, violin
Matthew Laughlin, violoncello
Hisham Groover, conductor
 
 Ives in a Glass House (2015)
      for violin and piano
 
 Joseph MATTINGLY
 
Andrew Gentzsch, violin
Alice Chang, piano
 
 Frozen Moments (2014)
 
 Nima HAMIDI
 
Emily Duncan, flute
Thiago Ancelmo de Souza, clarinet
Korak Lertpubulchai, piano
Andrew Gentzsch, violin
Matthew Laughlin, violoncello
Sungzin Kim, conductor
 
 

— Brief Intermission —
 
 
 Esotera II (2014)
 
 Alexander SPYROU
 
Leonid Iogansen, violin
Eunkyung Son, violoncello
Christine Tithecott, piano
 
 Reflections on a Weathered Monument (2014)
 
 Randy WELLS
 
Jeiran Hasan, flute
Allison Offerman, oboe
Christine Burke, clarinet
Alex Widstrand, bassoon
Matthew Laughlin, violoncello
Sungzin Kim, conductor
 
 Fingerprint Skin Graft (2014)
 
 Joshua MARQUEZ
 
Emily Duncan, flute
Thiago Ancelmo de Souza, clarinet
Korak Lertpubulchai, piano
Andrew Gentzsch, violin
Matthew Laughlin, violoncello
Hisham Groover, conductor
 
Notes
Burton GOLDSTEIN
Two Pieces for Piano Quintet
Time cannot be controlled in the real world, unfortunately; but in the world of music, an attempt can be made. In this work, I played with melodies going at several unrelated speeds at once, held together by a common simple harmony. In the heat of composing this piece, my compositional charts were forgotten, and I did something that ended up with time seeming to go backward.
My influences in this are: The Art of Fugue, chorale preludes, Ligeti, Carter, isorhythmic motets, and Ockeghem's mensuration canons. How far can it go, from Bach's 2:4:8 into irrational relationships like 5:7:11? How much irrationality can we accommodate?
Burton Goldstein is active as a composer and has taught at the college and university levels. Awards include:The American Prize 2014; Vox Novus selected three works in 2014; International Music Prize; Borromeo Prize; Brandenburg Chamber Music Prize; Copland Award; Lee Ettelson Award; a commission sponsored by the S. Mark Taper Foundation; AMC Grants (4), BMI Award; Mancini Scholarship. The Aspen Quartet is recorded by the Arditti String Quartet for Albany Records. He was awarded his PhD at UCLA. Fellowships include: the Ernest Bloch Festival in Oregon (Ung); the Aspen Institute for Advanced Compositional Studies (Druckman and Rands); and the Schoenberg Institute (Stein), sponsored by the NEH. Mr. Goldstein has composed music used in well over a hundred trailers and promos for major motion pictures and TV shows, including: George Lukas' animated feature, Strange Magic (2015); Guillermo del Toro's The Book of Life (2014); Harry Potter and the Goblet of Fire and X-Men 3. He has taught composition, electronic music, music theory and harpsichord at: UC Santa Barbara; UCLA; El Camino College; Scripps College; and CSU: Long Beach, Fullerton and Los Angeles.
---
Joseph MATTINGLY
Ives in a Glass House
grew out of research into David Huron's theories of expectation and surprise undertaken for a post tonal class. Originally a three-minute work blending isometric rhythms with minimalism, the work has since evolved into a larger worker combining the original nucleus with octatonic systems and a larger aba formal structure.
Joseph Mattingly is a composer living and working in Iowa City. His sacred liturgical music has been played throughout the world. He has studied with David Gompper, Jon Schwabe, Alan Schmitz, and Allen Koepke.
---
Nima HAMIDI
Frozen Moments
is composed based on hours of improvised materials by using them to shape a formally structured piece. The general idea is capturing the moments of a specific time period of my life during composing this piece. The piece is expressive in content and language and features the manipulation of time and timbre.
Nima Hamidi lived as a composer in Tehran until 2011. Before studying composition in Iran he studied the Setar, an Iranian traditional instrument. Currently he is second year in the PhD program in composition at the University of Iowa. His music is an attempt to discover relation between Iranian traditional music and Western contemporary techniques in composition. He has been studying composition with Lawrence Fritts and David Gompper during his studies in USA.
---
Alexander SPYROU
Esotera II
is based on processes of material metamorphosis and dematerialization of musical objects. Patterns are rotated and distorted. Musical objects and textures transform into new categories of musical beings. Structures collide or mingle and energy is dispersed or accumulated in time. Esotera is a cycle of works that deal with the dispositions of the psyche.
Alexandros Spyrou is a Greek composer. His music has been performed in Greece, the United Kingdom and the United States by such ensembles as the London Sinfonietta, the JACK Quartet, the New York Miniaturist Ensemble, the Contemporary Directions Ensemble, Musica Nova Ensemble and DissonArt ensemble. He studied music theory and composition in Greece and the United Kingdom with Michael Finnissy, Evangelia Kikou, Georges Papoutsis and Athanasios Zervas. He is presently a PhD candidate at the University of Iowa studying composition with David Gompper. Visit his website at www.alexandros-spyrou.tk.
---
Randy WELLS
Reflections on a Weathered Monument
was inspired by the experience of standing out in the cold in a town square next to a nineteenth century war monument. This piece is a tone-painting of what I imagine the last day of this war hero's life to have been like. I wrote this as a sort of film score for those events; it is up to you to provide the images to accompany it.
Randy Wells has been playing music for about seven years, and has been composing for precisely as long. He enjoys writing for any instrumental combination that he happens upon, especially medium sized chamber ensembles (he feels they offer the best opportunities for interesting polyphony). Randy is currently studying composition under Dr. Alan Schmitz at the University of Northern Iowa.
---
Joshua MARQUEZ
Fingerprint Skin Graft
A skin graft is a type of surgery where skin is transplanted from one section of a patient to another section of the same patient (autologous), from a genetically identical individual to another (isogeneic), from the same species to the same species (allogeneic), from two different species (xenogeneic), or from replacing with synthetic material (prosthetic).

The same procedure occurs with the pitch material of Fingerprint Skin Graft, shifting from a diatonic set to an increasingly more chromatic aggregate by means of a slow introduction of the complement until the completion of the aggregate. The visceral melody that sits on top is unique every time it appears, but similar enough to appear analogous, like a fingerprint.
Joshua Marquez (b. 1990) is a Filipino-American composer currently pursuing a PhD in composition at the University of Iowa. Joshua holds degrees from the University of North Carolina at Greensboro (MM '13), and Campbell University (BA '11). He has studied with David Gompper, Mark Engebretson, Alejandro Rutty, and Milen Parashkevov with private lessons from Samuel Adler, Derek Bermel, Michael Harrison, Laura Kaminsky, Kristin Kuster, Zae Munn, and Augusta Read Thomas. Marquez's music has been performed by ensembles such as the JACK Quartet, Stony Brook Contemporary Chamber Players, University of Iowa Center for New Music, Akropolis Reed Quintet, and Quintet Sirocco.