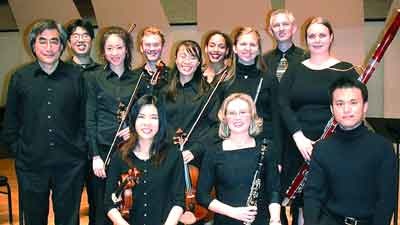 University of Minnesota
New Music Ensemble
Young-Nam Kim, conductor and violin
Jerry Luckhardt, conductor
at Clapp Recital Hall
Wednesday, May 3, 2006, 8:00 p.m.
|| download program ||
Program
Louange a l'Immortalite de Jesus (1941)
    Extremement lent et tendre, extatique
 
Olivier MESSIAEN (1908-1992)
 
Young-Nam Kim, violin
David Gompper, piano
 
Turnstile (1999)
    for Violin and Computer Generated Sound
 
Doug GEERS (b.1968)
Black Angels
  Thirteen Images from the Darkland (1970)
    for Electric String Quartet
 
George CRUMB (1927-2000)
 
Interval
 
"Lake Blue Sky" (1994)
    for mezzo soprano, flute, clarinet,
    violin, cello, piano and percussion
 
Jennifer HIGDON (b.1962)
Music for Small Orchestra (1926)
    for flute, clarinet, bassoon,
    4 violins, 2 cellos and piano
 
Ruth CRAWFORD (1901-1953)
 
Ensemble Personnel

Mezzo Soprano, Angela Young-Smucker
Flute, Naomi Enter
Clarinet, Lauren Bantz
Bassoon, Marianne Olsen,
Violin, Megan Campbell, Yi-Ming Chen,
Kai-Li Cheng, Ping-Yu Chuang & Chen-Yu Hsu
Viola, Yi-Ming Chen
Cello, Geoff Anderson & Jerian Okoh
Piano, Ita Wang & Michelle Kwon
Percussion, Carvel Kuehn
 
Notes & Bios
DOUGLAS GEERS
Turnstile
is a work for violin with computer-generated sounds which contrasts moments of "interior" and "exterior" experience, plunging the listener into an auditory environment of samples which have been abstracted to varying degrees and contrasting supple melodic lines and soft textures with boisterous rhythms and crunchy sound colors. The piece juxtaposes and connects musical moments, immersing the solo violin in a dreamlike accompaniment of processed samples.
Douglas Geers (b. 1968) is a composer who works extensively with technology in composition, research, performance, and multimedia collaborations. He has composed in a wide range of musical styles, including classical concert music, pop songs, television and film scores, and electroacoustic music. He earned his doctorate in music composition at Columbia University, where he studied with Fred Lerdahl, Tristan Murail, Jonathan Kramer, and Brad Garton. Geers is now Assistant Professor of music and Director of the STRUM electronic music studios at the University of Minnesota, Minneapolis, where he founded and directs the annual Spark festival of Electronic Music and Art.
---
GEORGE CRUMB
Black Angels (Images I), Thirteen Images from The Darkland for Electric String Quartet
 
Things were turned upside down.
There were terrifying things in the air...
They found their way into Black Angels.
-George Crumb, 1990
Black Angels is probably the only quartet to have been inspired by the Vietnam War. The work draws from an arsenal of sounds including shouting, chanting, whistling, whispering, gongs, maracas, and crystal glasses. The score bears two inscriptions: "in tempore belli" (in time of ward) and "Finished on Friday the Thirteenth, March, 1970". It was conceived as a kind of parable on our troubled contemporary world. The numerous quasi-programmatic allusions in the work are therefore symbolic, although the essential polarity - God versus Devil - implies more than a purely metaphysical reality. The image of the "black angel" was a conventional device used by early painters to symbolize the fallen angel.

The underlying structure of Black Angels is a huge arch-like design, which is suspended from the three "Threnody" pieces. The work portrays a voyage of the soul. The three stages of this voyage are Departure (fall from grace), Absence (spiritual annihilation) and Return (redemption). The numerological symbolism of Black Angels, while perhaps not immediately perceptible to the ear, is nonetheless quite faithfully reflected in the musical structure. These "magical" relationships are variously expressed; e.g., in terms of length, groupings of single tones, durations, patterns of repetition, etc. An important pitch element in the work - descending E, A, and D-sharp - also symbolizes the fateful numbers 7-13. At certain points in the score there occurs a kind of ritualistic counting in various languages, including German, French, Russian, Hungarian, Japanese and Swahili.

There are several allusions to tonal music in Black Angels: a quotation from Schubert's "Death and the Maiden" quartet (in the Pavana Lachrymae and also faitly echoed on the last page of the work); an original Sarabanda, which is stylistically synthetic; the sustained B-major tonality of God-Music; and several references to the Latin sequence Dies Irae ("Day of Wrath"). The work abounds in conventional musical symbolisms such as the Diabolus in Musica (the interval of the tritone) and the Trillo Di Diavolo (the "Devil's Trill", after Tartini).

The amplification of the stringed instruments in Black Angels is intended to produce a highly surrealistic effect. This surrealism is heightened by the use of certain unusual string effects, e.g., pedal tones (the intensely obscene sounds of the Devil-Music); bowing on the "wrong" side of the strings (to produce the viol-consort effect); trilling on the strings with thimble-capped finders. The performers also play maracas, tam-tams and water-tuned crystal goblets, the latter played with the bow for the "glass-harmonica" effect in "God-Music.
(Program note by George Crumb)
American modern composer George Crumb (b. 1929) is known for his innovative means of composition, including his use of numerology and new playing techniques and continues to experiment with a variety of timbres, often achieved with ingenuity. A pupil of Boris Blacher at the Berlin Musikhochschule and of Ross Lee Finney at Ann Arbor, George Crumb spent much of his career as professor of composition at the University of Pennsylvania until his retirement in 1997. He has received many prestigious awards including a Fulbright Scholarship, a Rockefeller grant, two National Institute of Arts and Letters grants, two Guggenheim grants, the 1968 Pulitzer Prize for the 1989 Prince Pierre de Monaco Gold Medal,1998 Cannes Classical Award, 2001 Grammy and numerous honorary degrees.
---
JENNIFER HIGDON
"Lake Blue Sky" for mezzo soprano, flute, clarinet, violin, cello, piano, percussion
was commissioned by the Network for New Music. Both the music and the text of this beautiful lullaby is written by Jennifer Higdon and is dedicated to her little brother Key.
Soft Moon
Soft Dreams
Angels of play sing to you
Quiet Stars
Light Breeze
Take this evening cool
Drift along
through streams of sleep
to come to play upon the clouds
and waving grass
of gentle fields
whisper you to sleep,
by a
Blue Sky Lake
under a
Lake Blue Sky

Float along
peacefully
with birds and rays of sun
Dancing Light
through breezy leaves
will harmonize with music's heaven
flowers paint
and pedals bloom
dotting paths of play
hear soft ripples
and lapping waves
which in breeze for you hum
from a
Blue Sky Lake
under a
Lake Blue Sky

No storms here
dark clouds no
boom or rumble
nor tears to mark
the ground
only soft patter
of gentle love
sweetening the air

Soft warm air dream
floating you down
sliding in slumber's peace
know love will always
my little one surround
and sing you
in a lullaby,
Blue Sky Lake
under a
Lake Blue Sky
Jennifer Higdon (b. Brooklyn, NY, December 31, 1962) maintains a full schedule of commissions, writing on average 6-12 works a year, and is now considered a major figure in contemporary American music.

She has been honored with awards and grants from the Guggenheim Foundation, the American Academy of Arts & Letters (two awards), the Pew Fellowship in the Arts, Meet-the-Composer, the National Endowment for the Arts, and ASCAP. Her orchestral work Shine was named Best Contemporary Piece of 1996 by USA Today in their year-end classical picks. In the summer of 2003, she was the first woman to be named a featured composer at the Tanglewood Contemporary Music Festival.

Her works have been recorded on over 2 dozen CDs. A recent Telarc recording Higdon: Concerto for Orchestra/City Scape was nominated for 4 Grammy Awards.

She holds degrees from Bowling Green State University, University of Pennsylvania, and The Curtis Institute of Music, where she is currently on the composition faculty.
---
RUTH CRAWFORD
Music for Small Orchestra

was completed in the spring of 1926, before her work with Charles Seeger. The piece is in two movements, the first marked "Slow, pensive" and the second "In roguish humor." Both movements create their textures through layered ostinati, the first through undulating quintuplet figures that are later juxtaposed against sextuplets. The second movement has a more meccanico feel to its layering, twos and fours against more lyrical sextuplets. The work may have been inspired by Schoenberg's Five Pieces for Orchestra, op. 16. Crawford's first movement shows an affinity with the Farben movement of op. 16, while her second movement relates to the first in Schoenberg's set. The Music for Small Orchestra is a modest but secure and satisfying work.
Ruth Crawford was born in East Liverpool, Ohio on July 3, 1901 and died at the age of 52 in Chevy Chase, Maryland on November 18, 1953. She is associated with the American avant-garde of the 1920s and 1930s, composers such as Henry Cowell, Carl Ruggles, Edgard Varese, Dane Rudhyar, and Charles Seeger. She began studying composition with Seeger in 1929 and the two were married a short time later. Crawford abandoned a very promising career as a composer in the 1930 as she joined Seeger's ongoing study of American folk music. She returned to composition for a short time in the early 1950s, a return unfortunately cut off by her early death. With the possible exception of Varese, Crawford may be considered the most talented member of the group of American composers with whom she is associated. Most scholars and performers consider her 1931 String Quartet to be her most important work, but her songs, piano pieces, and orchestral works are also considerable achievements.
(Program note by Michael Cherlin)