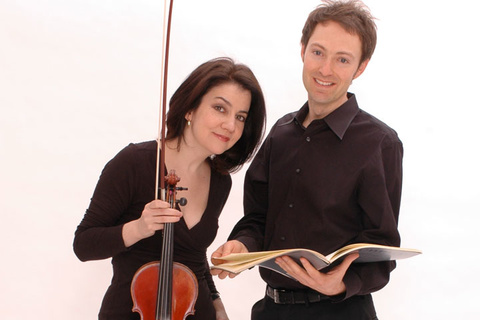 Guest violinist, Sarah Plum
with
Guest pianist, Timothy Lovelace
 
Friday, April 13, 2018 at 7:30 pm
in the Concert Hall
Program
Sonata No. 1 for violin and piano in a minor, op. 105 [1851]
Robert Schumann [1810-1856]
Mit Leidenschaftlichem Ausdruck
Alegretto
Lebhaft
Obey Your Thirst for violin and electronics [2015]
Eric Moe [1954]
Sonata for Violin and Piano [1914]
Leos Janacek [1854-1928]
Con Moto
Ballada
Allegretto
Adagio
— Intermission —
Chanson Russe [1922] transcription of an aria from the opera Mavra
Dance Russe [1933] arranged by S. Dushkin, from Petrushka
Igor Stravinsky[1882-1971]
Sonata for Solo Violin [2017] *
Sidney Corbett [b.1960]
Animato
Sonata No. 2 for violin and piano [1922]
Bela Bartok [1881-1945]
Molto moderato
Allegretto
* Commissioned by Sarah Plum with a grant from Drake University
  Performers
Sarah Plum began her performing career by winning the first prize at the International Stulberg Competition in 1984.  Since then she has carved out a distinctive role as a serious interpreter of a wide range of repertoire both old and new.     Plum's performances have been praised as "consistently stunning with works that demanded conventional virtuosity but also great skill in unconventional techniques" (third coast journal).
    She has tirelessly championed composers - commissioning, premiering and discovering new works while also bringing them to the attention of a larger public. This has brought her acclaim at noted festivals and venues such as the Luzern Festival, Ars Musica Brussels, New York City Electoacoustic Music Festival, 3rd Practice Festival, Quiet Cue (Berlin), Spectrum New York, the Center for New Music (San Francisco), the Cube of the Moss Arts Center at the Institute for Creativity and Technology at Virginia Tech, Unruly Music at the Marcus Center (Milwaukee) and Sonic Landscapes at California State University Fullerton among others. In the past 5 years alone she has commissioned pieces from Sidney Corbett, Christopher Adler, Charles Nichols, Eric Lyon, Laurie Schwartz, Mari Kimura, Sidney Boquiren, Mari Takano, Elizabeth Hoffman, Kiki Keren Huss and Jeff Herriot.
    Plum's recent releases on the Blue Griffin label are garnering critical praise: Music for a New Century (BGR 371) features world premiere recordings of violin concerti by Sidney Corbett and Christopher Adler with conductors Nicholas Deyoe and Akira Mori. Whole Note Magazine lauded this release, saying: "I can't think of a better flag bearer than Sarah Plum who is quite brilliant here, or better performances or interpretations.  This is an important addition to the contemporary violin concerto discography". Bela Bartok: Works for Violin and Piano, Volume 1 (BGR 373) is the first of a two volume set of Bartok's works for violin and piano with her longtime duo partner Timothy Lovelace that has been described as having "a fine sense of rhythm and excellent ensemble work…listeners will surely look forward to the next entry in the Plum/Lovelace series of Bartok works."  
    Recent appearances include solo performances at Stanford University's Center for Computer Research in Music and Acoustics (CCRMA), and on the Music from the Edge concert seriesat the Andy Warhol Museum in Pittsburgh, Pennsylvania as well as chamber music concerts at the Festival et Academie de Musique Zodiac in the south of France. Last fall Plum was the featured guest performer at Electronic Music Midwest at Lewis University in Chicago where she presented 9 works for violin and electronics, most of which were written for her.
    Please visit sarahplum.com for additional information and media samples. 
Pianist and conductor Timothy Lovelace has performed on four continents and has been featured at Carnegie's Weill Recital Hall, New York's Merkin Concert Hall, Philadelphia's Trinity Center, Columbia University's Miller Theatre, Chicago's Dame Myra Hess Memorial Concerts and on chamber music series sponsored by the symphony orchestras of Chicago, Cincinnati, Detroit, Minnesota, and the Saint Paul Chamber Orchestra. The roster of internationally-known artists with whom Timothy Lovelace holds the Ethel Alice Hitchcock Chair in Collaborative Piano and Coaching at the University of Minnesota. He previously taught at The University of Texas at Austin, the University of Wisconsin Oshkosh, the University of Wisconsin-Platteville, the Green Lake Chamber Music Camp, and The Madeline Island Music Camp. His principal teachers were Pat Curtis, Harold Evans, Clifford Herzer, Gilbert Kalish, Donna Loewy, and Frank Weinstock. He studied at the University of Cincinnati College-Conservatory of Music, Stony Brook University, and the Aspen and Eastern Music Festivals.
Program Notes 
Eric Moe
Obey Your Thirst
The eco-poeticist Timothy Morton points out that the soft-drink slogan "Obey Your Thirst" has the effect of turning a bottle of soda into a bottle of thirst. The slogan is rooted in reality - what's in the bottle is carefully formulated to stoke a craving for more. This piece has the violin in furious pursuit of satisfaction. It plunges to the depths using subharmonics, an octave below the conventional range of the instrument, and climbs high in its search, almost catches its breath (once), clambers up walls or runs into them and bounces off. Throughout, it chases or is chased by an electroacoustic partner in wild canons - like a typical cartoon cat-and-mouse scenario where predator and prey take turns chasing one another. Is thirst quenched at the end? You decide.
      I composed Obey Your Thirst in 2014 for the amazing Mari Kimura, pioneer of subharmonic playing techniques. The piece requires extreme virtuosity throughout and makes incredible demands on the performer. —E.M.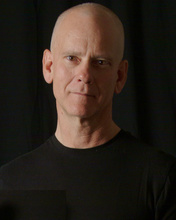 Eric Moe
composer of what the NY Times has called "music of winning exuberance," has received numerous grants and awards for his work, including the Lakond Award from the American Academy of Arts and Letters and a Guggenheim Fellowship; commissions from the Fromm and Koussevitzky Foundations, the Barlow Endowment, Meet-the-Composer USA, and New Music USA; fellowships from the Wellesley Composer's Conference and the Pennsylvania Council on the Arts; and residencies at MacDowell, Yaddo, Bellagio, Camargo, VCCA, UCross, Aaron Copland House, Ragdale, Hambidge, Carson McCullers Center for Writers and Musicians, and the American Dance Festival, among others.
      Tri-Stan, his one-woman opera on a text by David Foster Wallace, was hailed by the New York Times as "a tour de force" that "subversively inscribes classical music into pop culture." A recording is available from Koch International Classics. Strange Exclaiming Music (Naxos American Classics) was described by Fanfare as "wonderfully inventive, often joyful, occasionally melancholy, highly rhythmic, frequently irreverent, absolutely eclectic, and always high-octane music." Kick & Ride (bmop/sound) was a WQXR album of the week: "…it's completely easy to succumb to the beats and rhythms that come out of Moe's fantastical imaginarium, a headspace that ties together the free-flowing atonality of Alban Berg with the guttural rumblings of Samuel Barber's Medea, adding in a healthy dose of superhuman strength." Other all-Moe CDs are available on New World Records (Meanwhile Back At The Ranch), Albany Records (Of Color Braided All Desire, Kicking and Screaming, Up & At 'Em, Siren Songs), and Centaur (On the Tip of My Tongue).
      As a pianist, Moe has premiered and performed works by a wide variety of composers. He founded and currently co-directs Pittsburgh's Music on the Edge new music concert series. Moe studied at Princeton University and U.C. Berkeley and is currently the Andrew W. Mellon Professor of Music at the University of Pittsburgh.
Sidney Corbett
Sonata for Solo Violin
When Sarah asked me to write a piece inspired by one of the Bach Solo Sonatas or Partitas I took a deep breath. These are some of the greatest works for violin, extremely well known and written by Bach! On the other hand, the chance to write a substantial solo piece for Sarah and to wrestle with Bach seemed too intriguing to pass up, so I chose the a minor sonata and got to work. At the time I was reading David Foster Wallace's "Everything and More (A Compact History of Infinity)" which is the story of how mathematicians have struggled to understand the infinite, from the ancient Greeks to the nineteenth-century mathematical genius Georg Cantor's counterintuitive discovery that there was more than one kind of infinity.
      Inspired by this book and Bach's penchant for numerology in his works I began to analyze Bach's sonata. And I found a lot. For instance, many of the proportions in his piece are either prime numbers or squares of primes and there are countless branchings, strata and sub-strata which are derivative of primes. All of this gave me a lot to think about and to work with. Thus my piece is strongly informed by these more abstract underpinnings which I discovered in analyzing the Bach. However, the notes, rhythms and the musical material beyond the proportional skeleton are my own. This piece was premiered at Duke University in January of 2018.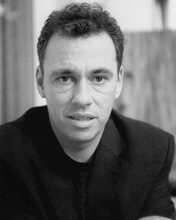 American composer
Sidney Corbett
has resided in Germany since 1985 when he moved to Hamburg to join the composition class of Gyorgy Ligeti and is currently professor for composition at the University of the Performing Arts in Mannheim. His output includes works for the stage, orchestral compositions, instrumental chamber music and a large amount of vocal music. His works have earned him numerous national and international awards and prizes and have been performed and broadcast worldwide. Corbett's chamber opera, "X UND Y", was premiered at the Eclat Festival in Stuttgart in February 2002, the scenic work "Paradiso", after Dante, for speaker and string quartet, which also premiered in 2002, in Basel, the large scale opera,
Noach
, after an original libretto by Christoph Hein, which ran very successfully in the 2001/2002 season at the Bremen Opera and his third opera,
Keine Stille außer der des Windes
(No Silence but that of the Wind), after texts by Fernando Pessoa, which premiered in the Concordia Theatre Bremen and an opera UBU, after Alfred Jarry with a libretto by Simone Home de Mello premiered at the opera house in Gelsenkirchen in April 2012. His most recent opera,
Das Große Heft
, was premiered Osnabrück Opera in March, 2013 and was praised in the Frankfurter Allgemeine Zeitung as "music that penetrates deep into the characters and scenes." His newest opera, based on an unused movie script by Pier Paulo Pasolini, entitled San Paolo premieres this spring at the Osnabruck Opera House.