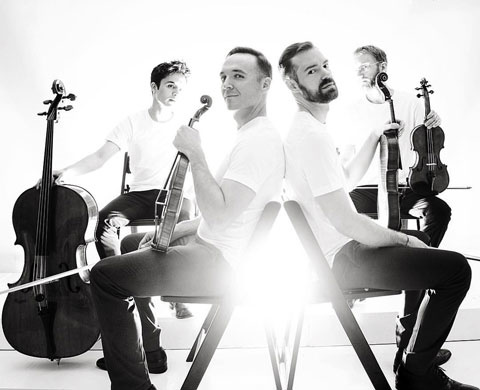 Concert X
In cooperation with the UI String Quartet Residency Program
CNM presents
The JACK Quartet
world premiere performance of works by UI student composers
Thursday, December 8, 2016, 7:30pm
The University of Iowa, School of Music Concert Hall
 
Program
Nascent is an exploration of emergent structure through phased transformation and juxtaposition. Through gradual processes of alteration, connections between sonically disjunct material are revealed. As this structure unfolds a musical surface undulates with varying degrees of energy and density, and is underscored by systematized timbral patterns.
As with much of my recent work, my attraction to the special qualities of certain sounds (in this case, ones that are close to silence, slightly unpredictable) is coupled with an interest in wanting to hear them realized in the most organic way possible. Throughout the piece, players choose to perform (or not perform) these sounds, which creates a variable form that I find to be quite exciting. The work, here, is meant to be a tangible experience beyond the musical one.
The title of this work was inspired by Arun Saldanha's ethnography Psychedelic White: Goa Trance and the Viscosity of Race, in which he presents a philosophy of the mechanics of race and social structures that accounts for the complexities of viscosity (the degree of fluidity/non-fluidity of racial/social identity and perception) as well as segmentarity (fixed machinic divisions into binary, but also more complex, social structures). As Saldanha's text explores the functions of these concepts in social structures, this piece likewise explores the their complexities and interactions within the realm of sound as timbral, harmonic, textural, and gestural structures interact with varying degrees of viscosity and segmentarity.
Three Canons
Carlos COTALLO SOLARES 
[BIO]
In the piece there are three contrasting sections of musical material, in which canonic techniques are applied to different parameters such as pitch, duration, articulation, and volume. The three sections are presented in various configurations, interrupting, layered on top of, and blending with each other.
— Intermission —
Six Millikelvin deals with energetic decrease. This process is explored through a number musical elements; some are based on physical movement, such as rate of glissandi (from vibrati to slides between long tones) and articulation (i.e. from tremolos to sustained tones). Others are based on acoustical energy, such as shifts in bow position, changes in bow pressure, and registral descent (shorter to longer wavelengths).
    Six millikelvin (0.006K) equates to -273.144 degrees Celsius and -459.659 degrees Fahrenheit. Just above absolute zero, it is one of the lowest recorded temperatures in a laboratory setting. It is also the average recorded temperature in Iowa during the month of December.
A Shadow Shrouded was inspired by a book "Voices from Chernobyl" by Svetlana Alexandrovna Alexievich. Several impressive moments in the book were selected and as a clue for propelling the plot of the music. In this piece, you will hear "nightmare approaching", "solitary monolog", "sufferer's calling" "interrupted memory", and "shadow of death".
In limbo for string quartet and live audiovisual media
I composed "In Limbo" [from latin Limbus (border, fringe)] to indicate an indefinite state of neglect or oblivion to which persons or things are consigned when regarded as outworn, useless, or absurd. The piece intends to be devoid of the modernist concepts of form and development and tear off the fabric of pitch and harmony. What remains is a skeleton of non-propositional rhythmic activity with timbral nuances seeping through its pores. The live audio uses a collection of spectral effects to augment or complement the instrumental material. The live video generates a mise en abyme effect of internal variance as an analogy to introspection.
    *Special thanks to Jean-François Charles for his audio and video programming.
Performers
Deemed "superheroes of the new music world" (Boston Globe), the JACK Quartet is "the go-to quartet for contemporary music, tying impeccable musicianship to intellectual ferocity and a take-no-prisoners sense of commitment." (Washington Post) "They are a musical vehicle of choice to the next great composers who walk among us." (Toronto Star)
    The recipient of Lincoln Center's Martin E. Segal Award, New Music USA's Trailblazer Award, and the CMA/ASCAP Award for Adventurous Programming, JACK has performed to critical acclaim at Carnegie Hall (USA), Lincoln Center (USA), Miller Theatre (USA), Wigmore Hall (United Kingdom), Muziekgebouw aan 't IJ (Netherlands), IRCAM (France), Kölner Philharmonie (Germany), the Lucerne Festival (Switzerland), La Biennale di Venezia (Italy), Suntory Hall (Japan), Bali Arts Festival (Indonesia), Festival Internacional Cervatino (Mexico), and Teatro Colón (Argentina).
    Comprising violinists Christopher Otto and Austin Wulliman, violist John Pickford Richards, and cellist Jay Campbell, JACK is focused on new work, leading them to collaborate with composers John Luther Adams, Chaya Czernowin, Simon Steen-Andersen, Caroline Shaw, Helmut Lachenmann, Steve Reich, Matthias Pintscher, and John Zorn. Upcoming and recent premieres include works by Derek Bermel, Cenk Ergün, Roger Reynolds, Toby Twining, and Georg Friedrich Haas.
    JACK operates as a nonprofit organization dedicated to the performance, commissioning, and spread of new string quartet music. Dedicated to education, the quartet spends two weeks each summer teaching at New Music on the Point, a contemporary chamber music festival in Vermont for young performers and composers. JACK has a long-standing relationships with the University of Iowa String Quartet Residency Program, where they teach and collaborate with students each fall, and the Boston University Center for New Music, where they visit each semester. Additionally, the quartet makes regular visits to schools including Columbia University, Harvard University, New York University, Princeton University, Stanford University, and the University of Washington.