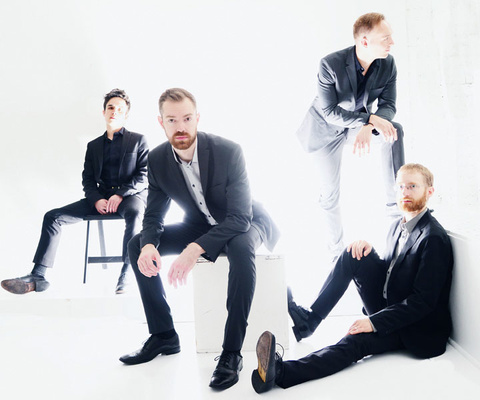 The JACK Quartet
Violinists Christopher Otto and Austin Wulliman
Violist John Pickford Richards, and Cellist Jay Campbell
 
New Works by UI Composers
From among sixteen compositions submitted by University of Iowa composers for reading sessions last December, the JACK Quartet have chosen to premiere nine compositions in this concert.
Wednesday, March 13, 2019 at 7:30p in the Concert Hall
What happens in the in-between spaces of time and place? Are they badlands, empty of life? In my string quartet, my goal is to recalibrate the focus of one's listening. In-Between is structured with gestures that are separated by varying amounts of space. Each gesture represents an unnamed event or place—a discrete point. For example, one gesture may represent the toss of a ball and the next it bouncing against the concrete, or two consecutive gestures could represent two important landmarks. At first, the space between these points appears empty, but on deeper investigation, it is overflowing with movement and energy.
Woodblock Solo for string quartet 
for string quartet
Woodblock Solo (for string quartet) is derived from materials from a piece from 2017: Woodwind Trio (for solo woodblock player), by taking the monophonic woodblock lines and turning them into string parts. The music retains its percussive nature through extended techniques. The string instruments do not play in the traditional manner anywhere throughout the piece, instead hitting the instrument in ways to bring out its different percussive timbres. The piece was written in 2018 for the JACK Quartet.
Back when I had just moved to Iowa City, I was attracted by the view outside the window of my new room. When I opened the window, there were so many beautiful colors, sounds and movements like sunshine sprinkles, sway of tree leaves, singing birds and crackling branches. And when the day is rainy, heavy wind and rain also join in. All these echoed in my mind after I closed the window, which inspired me to write Outside the Window.
String Quartet No. 2, Mov. III.
In this piece I use a variety of sounds and instrumental techniques with the aim of exploring the strings mainly in their role as sound and noise generators. The third movement was created in a quite unusual way for me: by sound mining and remixing recordings from my previous pieces for strings. The result was then transcribed and adapted for string quartet.
The wide resulting spectrum of sound colors is mostly kept around the boundaries of very soft dynamics as a reference to La Marcha del Silencio (the Silent Parade), a civil rights march in 1948 in Bogotá, Colombia. The protest, called by the presidential candidate J. E. Gaitán, was his last public speech and a silent pacifist demonstration to oppose political violence. Two months later, his assassination led to a civil war and a ten-year period of political unrest known as La Violencia, which facilitated the rise of currently existing Communist guerrillas.
With Atlas no. 1, I hope to test the relationship between star charts and music notation. Both are rigid maps that describe the fluid and ever-changing behaviors of their respective subject. To investigate this idea, I ask the string quartet to attempt a new lexicon of notation, which is less concerned with pitch, rhythm, and breadth of timbre, and more attentive to movement, space, and acoustic atmosphere.
The genesis of humanity's exercises in mythology, art, and science began with attempting to understand and track the movement of stars. In different parts of the globe, cultures developed unique stories and oriented their lives based on the sliver of heavens available to them. In a similar fashion, the performers in Atlas no. 1 craft constellations through the summation of gesture, choice, and chance.
Intermission
Partly inspired by Michael Jackson's song Heal the World, my String Quartet No.1 is an imaginary journey searching for a "place" where there is no damage or hurt, sorrow or fear. The music begins moaning-like and is slow-paced, constantly changing timbre with a dark expression. After a sudden flash — a metaphor for the dawn of hope—, the music shifts, sending a signal to God asking a way to travel from shore to shore. After a difficult trek, the "place" appears unexpectedly. It is quiet and peaceful, like a beautiful meadow, birds singing and with flowers fragrant. Everything is created in beauty and exists in harmonious coexistence.
Caeli for string quartet is inspired by my own experiences of observing the natural phenomena of specular reflection, specifically in regard to sunlight on a body of water's surface that is sometimes referred to as "sun glitter". The concept of temporally fragile moments juxtaposed with the visual strength of these reflections inspired me to consider ways in which I can recreate a similar effect with sonic material. In regard to form and structure, the piece takes inspiration from the abstract paintings of Gina Parr, in particular her 2016 "the intelligence of feeling" series. These paintings take scattered bursts of intense density and present them episodically on flat canvas juxtaposed by airy and delicate streams of flowing oil, acrylic, and charcoal. Caeli for string quartet is my exploration of these ideas through sound and time.
Eclipses orchestrates the movements of human beings as celestial bodies—as wandering beings that emit waves, cycle in orbit, and create shadows. Subtle microtonal movements, or retunings of the same pitch, tell the story of gradual planetary motion leading to the drama of the eclipse. In the dimmed light of a solar eclipse, even the most familiar surroundings seem unfamiliar and strange.
This piece was born out of the implementation of Price's Law, a mathematical principle that posits that 50% of the total output within a given field is created by the square root of the producers within that field. The piece is structured around the numbers 3 and 9, most evident within the large-scale form: three movements over about nine minutes. In keeping with the concept of inequality inherent in Price's Law, this quartet meditates on proportion, balance, and comparison between sounds and soundscapes. The ethics of an environment constructed upon principles of inequality may be quietly contemplated by the listener.
Performers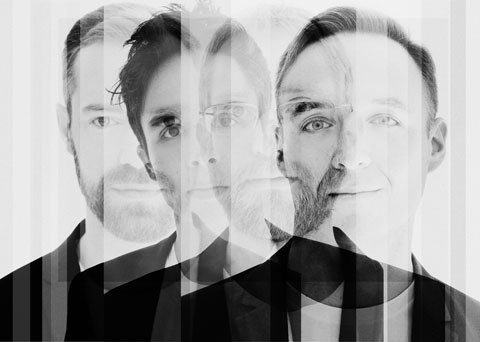 Deemed "superheroes of the new music world" (Boston Globe), the
JACK Quartet
is "the go-to quartet for contemporary music, tying impeccable musicianship to intellectual ferocity and a take-no-prisoners sense of commitment." (Washington Post) "They are a musical vehicle of choice to the next great composers who walk among us." (Toronto Star)
    The recipient of Lincoln Center's Martin E. Segal Award, New Music USA's Trailblazer Award, and the CMA/ASCAP Award for Adventurous Programming, JACK has performed to critical acclaim at Carnegie Hall (USA), Lincoln Center (USA), Miller Theatre (USA), Wigmore Hall (United Kingdom), Muziekgebouw aan 't IJ (Netherlands), IRCAM (France), Kölner Philharmonie (Germany), the Lucerne Festival (Switzerland), La Biennale di Venezia (Italy), Suntory Hall (Japan), Bali Arts Festival (Indonesia), Festival Internacional Cervatino (Mexico), and Teatro Colón (Argentina).
    Comprising violinists Christopher Otto and Austin Wulliman, violist John Pickford Richards, and cellist Jay Campbell, JACK is focused on new work, leading them to collaborate with composers John Luther Adams, Chaya Czernowin, Simon Steen-Andersen, Caroline Shaw, Helmut Lachenmann, Steve Reich, Matthias Pintscher, and John Zorn. Upcoming and recent premieres include works by Derek Bermel, Cenk Ergün, Roger Reynolds, Toby Twining, and Georg Friedrich Haas.
    JACK operates as a nonprofit organization dedicated to the performance, commissioning, and spread of new string quartet music. Dedicated to education, the quartet spends two weeks each summer teaching at New Music on the Point, a contemporary chamber music festival in Vermont for young performers and composers. JACK has a long-standing relationships with the University of Iowa String Quartet Residency Program, where they teach and collaborate with students each fall, and the Boston University Center for New Music, where they visit each semester. Additionally, the quartet makes regular visits to schools including Columbia University, Harvard University, New York University, Princeton University, Stanford University, and the University of Washington.