Ensemble Musicians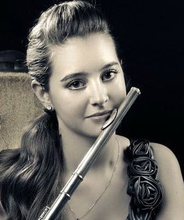 Flutist Daniela Volkovinsky received her undergraduate degree from Columbus State University, her master's from SUNY Purchase College and is currently pursuing a doctorate in flute performance at the University of Iowa. She is the flute studio teaching assistant and studying with Professor Nicole Esposito. Her past teachers include Dr. Tara Helen O'Connor and Dr. Andree Martin. Along with her studies, Daniela has enjoyed a varied teaching and performing career. She was a finalist in the Atlanta Flute Club Competition, performed in the finals of the Georgia Philharmonic Young Artist Competition and has had experience performing principal parts in a multitude of university ensembles including symphony orchestra, contemporary ensemble, various chamber groups, wind ensembles and flute choir. Daniela's passion for teaching has led her to maintain an active studio, teach non-majors and work with groups of flutists of all ages and levels.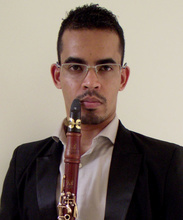 Born in the city of Rio de Janeiro, Mauricio Silva has excelled both in the Brazilian and international music scene, where he has developed an intense work as soloist, chamber music player and professor. Winner of several competitions, the following deserves special mention, which are the first prize of the "II Eduardo Tagliatti Piano and Chamber Music Competition", "I MIMO Instrumental", "V Furnas Geração Musical held into the Festival Villa-Lobos". This last contest is the most important chamber music prize of the Brazil. Beyond his actuation in Brazil, Mauricio Silva played in 3 international tours, being 2 tour by France (2010 and 2012) and 1 tour by USA (Chicago 2014). He played on the same stage that the Cuban Grammy winner Paquito D'Rivera and played with great musicians like the pianist nominated to the Latin Grammy Edith Peña. Several times in his concertos and show as soloist and alongside of his Omega Clarinet Quartet, he received important reviews like "Mauricio Silva is one of the best revelations of new generation of clarinetists" (Musical Serie Concertos Raros), "The Clarinetist Brazilians that seduced the audience" (Journal Sudoest - France) and "The Brazil is honored with the Omega" (Haute Saintonge - France). Mauricio has appeared frequently in TV and Radio Programs, among them, we can cited the TV program "Partituras" and the radio programs "Americas in Concerto" and "Músicas e Músicos do Brasil". He was professor of Niterói Music Conservatory, Sergipe Music Conservatory and played with many groups like Brazilian Symphonic Orchestra (OSB), National Symphonic Orchestra (OSN), Rio de Janeiro Philarmonic Band, among others. Also, he was the idealizer and artistic director of "First Sergipe Clarinet Encounter - ENCLASE" (Itabaiana, 2016), as well as of the "Armando Ghidoni Week" (Rio de Janeiro, 2013). His partnership with talented composers as Liduino Pitobeira, Tiago Vidal Correa, Armando Ghidoni and etc, thus, he is helping to enlarge the clarinet repertoire. His mainly partnership is with the Italian composer Armando Ghidoni, who has dedicated to him several beautiful and challenging pieces. Mauricio recorded some tracks of CD called "Armando Ghidoni Jazzy Chamber Music" as well. Currently, he is Teaching Assistant of clarinet studio at University of Iowa, artist of Devon & Burgani Clarinets and of the ZAC Ligatures.
                Bassoonist Alex Widstrand is a graduate of the University of Wisconsin-Eau Claire, and is currently pursuing a master's degree in bassoon performance and pedagogy. His past teachers have included Kristine Fletcher, Jacqueline Wilson, and Andrew Machamer; he currently studies with Benjamin Coelho. From 2011 to 2014 he played bassoon and contrabassoon with the Chippewa Valley Symphony Orchestra, and was an auxiliary bassoonist with the La Crosse Symphony Orchestra from 2012 to 2013. He is also a published composer, arranger, and editor with Really Good Music, LLC.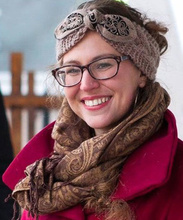 Hornist Katey Jahnke Halbert is a performer, teacher, and clinician living in Iowa City. At home on the concert stage, Mrs. Halbert has performed with the Quad Cities Symphony Orchestra, Pro Musica Chamber Orchestra of Columbus (OH), West Virginia Symphony Orchestra, Michigan Philharmonic, Central Ohio Symphony, Newark-Granville Symphony, McConnell Arts Center Chamber Players and Opera Project Columbus. As a teacher, she previously served on the faculty of Muskingum University, Marietta College, and Mount Vernon Nazarene University. While teaching at the collegiate level she taught private lessons, ran and organized studio class, and coached chamber ensembles. Mrs. Halbert has also maintained a successful private studio since 2009 and her students have gone on to participate in many prestigious youth symphonies, all-state ensembles, and summer programs including Blue Lake Fine Art Camp, Ohio's All-State Symphony Orchestra, and the Columbus Youth Symphony. A frequent recitalist and clinician, she has been a performer/adjudicator at the Mid North Horn Workshop at Ball State University, a masterclass clinician at Wright State University, a featured soloist with the Muskingum Collegiate Chorale at the Ohio Music Educator's Conference, and has given and been a part of numerous faculty recitals. Mrs. Halbert received her MM in performance at Ohio State University after attending the University of Michigan and Bowling Green State University. She is currently pursuing a Doctorate in Musical Arts with Jeffery Agrell at the University of Iowa where she is also Mr. Agrell's Graduate Teaching Assistant.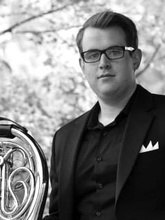 Ethan Brozka has a broad range of performance experience including symphony orchestra, chamber, and modern music. He is pursuing a Master's degree as a teaching assistant at the University of Iowa where he is a student of Jeffrey Agrell. His past teachers include Roland Pandolfi, David Wakefield, and Susan McCullough. He holds the position of fourth horn with the Dubuque Symphony Orchestra, and recently served as guest principal horn of the Quincy Symphony Orchestra. Ethan holds an Artist Diploma from the Oberlin Conservatory, and has studied at the University of Denver, The Royal Danish Conservatory, and the Aspen Music Festival and School. Recently, Ethan was selected as a 2016 Horn Fellow at the Music Academy of the West where he studied with the former principal horn of the Metropolitan Opera Orchestra, Julie Landsman.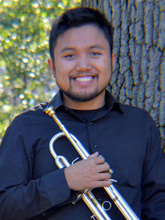 John Kenneth Gorder, more commonly known as Kenken, is a second year master's student studying trumpet performance under the tutelage of Dr. Amy Schendel at the University of Iowa. He serves as the trumpet teaching assistant at the University of Iowa. Previous trumpet teachers include Dr. Kevin Eisensmith, Ken Brader, and Kyle Fleming. Prior to his time at UI, he earned a bachelors of science degree in music education from Indiana University of Pennsylvania. He maintains a private studio ranging from elementary school students to college-level students. In addition to teaching privately, he has also had experience teaching in the public schools (K-12) in the Pittsburgh Area. Additionally, he has served as an ensemble coach, camp counselor, and lifeguard at the Interlochen Arts Camp in Summers 2015 and 2016.
                As a result of being involved in various ensembles (brass quintets, brass trios, trumpet quartets, orchestras, bands, etc.), he is quite versatile in virtually any musical setting. In February 2015, he commissioned and premiered a 4-movement work for trumpet quartet titled Wind Turbines by Pittsburgh composer, Jacob Pallo. Recently, Kenken has performed and premiered sinfonietta pieces at Bang on a Can Summer Festival by composers Valentin Jost, Liza Sobel, and Connor D'Netto. A highlight from this recent experience was performing alongside members of the Bang on a Can All-Stars for a recital of Louis Andriessen's music with the featured piece being Worker's Union.
                As he continues his musical journey, some recent highlights of experiences have include competing in the National Trumpet Competition semi-final rounds, embarked on a 10-day orchestra tour of central Europe, substituted as principal trumpet of the Altoona Symphony Orchestra (PA) and Muscatine Symphony Orchestra (IA), and has participated in several music festivals including the Puerto Rico Summer Music Festival and the 30th season of Bang on a Can Summer Festival held at MASS MoCA to name a few.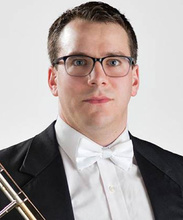 Caleb Lambert began his musical training at age eleven in Olympia, Washington where he studied euphonium and trombone with Syd Potter and Richard Lopez. In 2007 Mr. Lambert attended Roosevelt University in Chicago, Il where he studied with Jay Friedman and Peter Ellefson. In demand as orchestral musician, Caleb is currently second trombone in Orchestra Iowa, and interim second trombone for the 2017-2018 season in Quad City Symphony. Mr. Lambert also performs frequently with the Dubuque Symphony Orchestra, and Waterloo Cedar falls Symphony. As a freelance musician, he has had the honor to work with the Chicago Symphony, South Bend Symphony, the Civic Orchestra of Chicago, New Chicago Brass, and many others. Mr. Lambert was awarded the Grand Prize at the Chicago Brass Festival's Solo Competition on euphonium in 2012, and can often be seen performing on euphonium and bass trumpet around the Midwest. During his tenure with the Axiom Brass Quintet Mr. Lambert was awarded the Preis der Europa-Stadt Passau and taught classes in chamber music and trombone pedagogue at some of America's leading music conservatories including the Juilliard School of Music, Manhattan School of Music, Boston University, New England Conservatory, University of the Pacific, Southern Oregon University, University of Las Vegas, Western Illinois University, California State University, Sacramento and many more. In addition to his teaching duties at the University of Iowa, Mr. Lambert is a low brass teaching partner at West Music in Coralville, IA and runs a small private studio in Iowa City.
                 Graduated with First Class Honour from College of Music, Mahidol University with Bachelor's Degree in Piano Performance in July 2014, and a recent graduate with Master's Degree in Piano Performance from Bowling Green State University, Ohio in May 2016, a native of Thailand, Nicha Pimthong was born in 1992 and started taking piano lessons at the age of 6. Her career as a pianist has taken her to perform in various countries including France, Japan, Malaysia, Singapore, and the United States, and Thailand. Her major piano teachers in Thailand were Ajarn Asayuch Chamroon Dr. Nopanand Chanorathaikul, and Dr. Eri Nakagawa. An active pianist since a young age, Nicha has received numerous prizes from national and international piano competitions including First Prize winner as well as the Best Compulsory Piece Prize in the Trinity Guildhall National Youth Piano Competition (2007), Third Prize winner in the 7th Bangkok Chopin Piano Competition (2005), Third Prize winner in the Thailand 1st Mozart International Piano Competition (2011), the highest prize in the Kawai Piano Competition (2007), receiving the Royal Trophy from Princess Petcharat Ratchasuda of Thailand, and Special Prizes in the 6th Bangkok Chopin Piano Competition and the AMA Studio Piano Competition (2002). Nicha received First Concert Certificate in Solo Piano (FC) with 2nd highest marks in Thailand in 2004 and Licentiate diploma, LTCL recital in piano performance with the highest score in Thailand from the Trinity Guildhall College of Music, London in 2010. Nicha was invited as a guest pianist to perform in Trinity Award Thailand 2011, and was also invited by UCSI University School of Music to give a debut joint piano recital at Kuala Lumpur, Malaysia, as well as a winner piano recital in Bangkok, Thailand. A vivid chamber music, performer, Nicha has performed in numerous concerts, masterclasses, and festivals in both solo and chamber music.
                In May 2016, Nicha received her Master's Degree in Piano Performance from Bowling Green State University, receiving an assistantship and full scholarship. She was under the tutelage of Dr. Solungga Fang-Tzu Liu and enjoyed performing her solo repertoire as well as working as a collaborative pianist. Nicha was selected to perform in various concerts, competitions, and masterclasses by Vadym Kholodenko, Prof. Paul Schenly, Prof. Lori Sims; and Jiayan Sun. In August 2016, Nicha is starting her first year of Doctor of Musical Arts program in Piano Performance and Pedagogy at the University of Iowa under the tutelage of Dr. Ksenia Nosikova, receiving Performance Assistantship, working and performing with the Center for New Music. Nicha has also enjoyed serving as a choir pianist at her church as well as playing for Sunday services.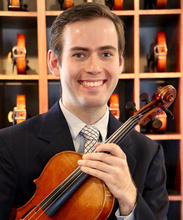 Tyler Hendrickson began his studies as a Suzuki Student at age 6. After many years of tutelage at the Preucil School of Music, he went on to receive is BA from Luther College, and his MM from Wichita State University. He has played as a section violist with the Wichita Symphony and LaCrosse Symphony. He has spent summers as a scholarship student at Interlochen and Rocky Ridge Music Center, and was a fellowship recipient at the Aspen Music Festival and School. An avid chamber musician, he most recently performed with the Spiritoso Quartet. He is currently pursuing his DMA at the University of Iowa, where he also plays principal viola with the UI Symphony and Chamber Orchestras.
Will Yager, originally from Knoxville, TN, is a first-year doctoral student at the University of Iowa. Prior to relocating to Iowa City, he was a regular member of several regional east Tennessee orchestras, an active member of the east Tennessee jazz scene both as sideman and leader of his own ensembles, and an ardent proponent of contemporary and experimental music. In addition to a busy performing schedule, Yager held teaching posts at Maryville College and the University of North Alabama. Yager has performed in masterclasses for Franco Petracchi, Bert Turetzky, Jon Hamar, Geoff Keezer, and more.
    Yager holds an MM from the University of Tennessee and a BA from Maryville College. His primary instructors include David Slack, Bill Swann, Rusty Holloway, Steve Benne, and Volkan Orhon.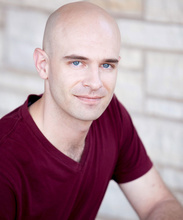 Zack Stanton received his Doctor of Musical Arts in composition from the University of Texas at Austin, where he studied with Dan Welcher, Yevgeniy Sharlat, Donald Grantham, and Russell Pinkston. He has written for orchestra, wind ensemble, choir, and chamber ensembles of various sizes, and his work has been increasingly performed throughout the United States. In 2012 his Concerto for Piano and Wind Ensemble received Honorable Mention in the ASCAP/CBDNA Frederick Fennell Competition.
                Recent commissions include works for clarinetist Sarunas Jankauskas, trumpet player Jared Broussard, horn player Anne Marie Cherry, the Sacramento Youth Symphony Chamber Music Workshop and Line Upon Line Percussion.  In 2011 Line Upon Line Percussion released a recording of Echoes of Veiled Light, for percussion trio.  During the 2011-2012 season, the Austin Symphony Orchestra premiered the orchestral version of Triple Venti Latté under music director Peter Bay.
                Active as a performer, Stanton served as a pianist and conductor for the University of Texas New Music Ensemble and for four years acted as the Assistant Director of the group.
                 Prior to his appointment at the University of Iowa, Stanton taught at Belmont University and the University of Texas at Austin.