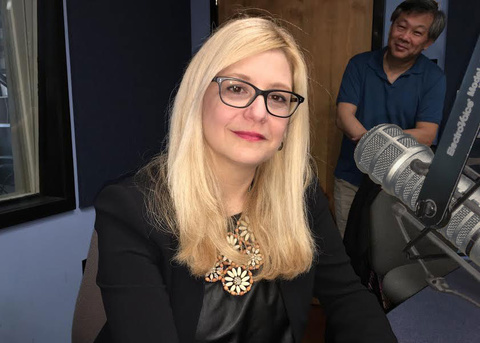 Featuring the Music of Guest Composers
Laura Schwendinger and Bernard Short
 
The Center for New Music Ensemble
Sunday, February 24, 2019 at 7:30p in the Concert Hall
 
Program
Huzuni [2018] *premiere                                                           Bernard SHORT [b.1979]
Daniela Volkovinsky
,
flute
Jenna Sehmann
,
oboe
Mauricio Silva
,
clarinet in B-flat
Shawn Sequin
,
bassoon
Komsun Dilokkunanant,
horn in F
Bryan Powell
,
trumpet in B-flat
Caleb Lambert
,
trombone
Peter Naughton
,
percussion
Nicha Pimthong
,
piano
Yixue Zhang
,
violin I
Luciana Hontila
,
violin II
Tyler Hendrickson
,
viola
Hui-Hsuan Su
,
violoncello
Will Yager
,
double bass
David Gompper,
conductor
A City Called Heaven [1988]                                                 Olly WILSON [1937-2018]
I. Agitato
II. Adagio
III. Allegro
Daniela Volkovinsky
,
flute
Kim Cassisa
,
clarinet in B-flat / bass
Travis Newman
,
Peter Naughton
, and Nick Miller,
percussion
Nicha Pimthong
,
piano
Yixue Zhang
,
violin I
Tyler Hendrickson
,
viola
Hui-Hsuan Su
,
violoncello
David Gompper,
conductor
Intermission
Treetop Studio [2012]                                    Laura Elise SCHWENDINGER [b.1962]
for clarinet and cello
for mixed ensemble
Movement I
Movement II
Movement III
Daniela Volkovinsky
,
flute
Jenna Sehmann
,
oboe
Kim Cassisa
,
clarinet in B-flat / bass
Shawn Sequin
,
bassoon
Katelyn Jahnke Halbert
,
horn in F
Bryan Powell
,
trumpet in B-flat
Caleb Lambert
,
trombone
David Mercedes,
tuba
Travis Newman
and
Peter Naughton
,
percussion
Ann Fienup,
harp
Nicha Pimthong
,
piano
Yixue Zhang
,
violin I
Joshua Palazzolo
,
violin II
Tyler Hendrickson
,
viola
Hui-Hsuan Su
,
violoncello
Will Yager
,
double bass
David Gompper,
conductor
Program Notes
Bernard Short
Huzuni
Huzuni is a single movement musical composition for sinfonietta ensemble that formally reflects the five stages of grief. Using the Swahili word for sadness or sorrow and research from the Kübler-Ross Model, Huzuni lays out each of the five stages in the following order: denial and bargaining [section 1], depression and anger [section 2], and acceptance [section 3]. In section 1 the tonal center of g minor is implied but never fully realized, thereby providing a sense of the denial of truth. In section 2, dissonance is emphasized to suppress a clear sense of direction in order to project a state of depression. It functions as a bridge section that slowly simulates depression in real life. When juxtaposed against the first section we see that the piece shows us that consciousness can be related to tonality and unconsciousness to atonality.
     In section 3 the principal melody returns, but within the key of B Major. Even here we see a denial of what the true tonal center is, but it is handled in a way that creates a sense of this reality being adequate, suitable, or acceptable. When juxtaposed against the first sections, an ascending 3rd relationship is created giving the sense of climbing out of the valley and onto higher ground. The third and final section exposes the idea of acceptance and is achieved by juxtaposing the keys of the first and third sections The ascending relationship between these two keys suggests the triumphant climb from a depressed state into a state of acceptance that is finally resolved, in the conclusion, in the key of E major.
     Throughout the composition we tap into the natural continuum found in harmonic intervals, between consonance and dissonance. This continuum is then used to reflect each of the emotions as part of the grief model.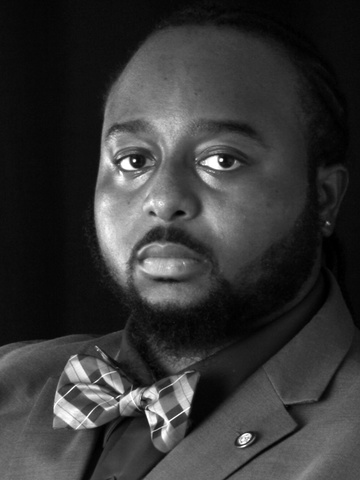 Bernard Short (b. 1979, Harlem, NYC) was raised in Far Rockaway Queens, NY; he earned a BA in music with a focus in composition at Morehouse College in 2007, and a Masters in Music Education at The University of Georgia in 2012. He is currently in the PhD in music composition program at the University of Iowa. He was awarded a Dean's Fellowship, currently; he is working as a research assistant for the Center for New Music, and is studying with Lawrence Fritts and David Gompper.
     From 2008-2014 he was the Director of Bands and Orchestra at Cross Keys High School in Atlanta, GA. While Director, he was responsible for the rebirth of both programs, which are thriving today, and the programs awarding of Grants from many organizations, which helped fuel his success; including one from The Grammy Organization. In 2015, he received a commission from The Julien Chamber Winds Ensemble at The University of Dubuque. In 2017, he was commissioned to compose a piece to have its world premier in Mykonos, Greece at the Delian Academy for New Music's International Summer Academy for Composers and Sound Artists. To Bernard, music is the expression of a person's soul that is best used as a way to communicate with someone without allowing words to obliterate the message.
Olly Wilson
A City Called Heaven
A City Called Heaven was commissioned by the Boston Musica Viva ensemble and given its world premiere in April 1989. The title of the composition is taken from a traditional Black American spiritual whose principal theme serves as the musical inspiration for the central slow movement of the piece. The chorus of this spiritual has the following text:

     Sometimes I am tossed and driven -- Lord
     Sometimes don't know where to roam --
     I've heard of a city called heaven
     I'm trying to make it my home.

     The composition contains three movements in a fast-slow-fast arrangement, each of which is inspired by different genres of African-American music transformed by my own contemporary musical language. The first movement is based on a reinterpretation of a blues "riff" -- a short definitive melodic motive which, in traditional practice, is repeated against a changing harmonic background. The piece opens with a somewhat rhetorical statement of a riff, whose inherent "swing" qualities gradually take on greater importance as the piece progresses. The movement utilizes a great deal of unison writing, cross rhythms and blues-like melodic patterns, that collectively create a composed realization of an abstract blues improvisation. After the first movement builds to a climax, there is a short, contrasting, harmonically static section before the return of an altered version of the opening blues riff.
     The second movement seeks to evoke the character and sensibilities associated with the original spiritual in a new musical context. After a brief introduction featuring the clarinet, there ensues a series of short sections which, while sharing similar musical ideas, contrast with each other in character, texture and tempo. There gradually emerges an altered version of the first line of the spiritual stated cantabile in the viola and violin. This music is then commented upon, expanded and modified by the entire ensemble. In a broad sense, the entire movement is a contemporary reflection on the original spiritual.
     The last movement, which opens with an aggressive percussion solo, is dominated by virtuoso passages for the piano in the lower register and percussion. The basic musical gestures associated with these two prominent instruments are inspired by rhythmic dynamism of the African-American music genre "Boogie-Woogie." The entire ensemble, beginning with pizzicato strings, shares in the development of this basic musical material that leads to several episodes whose distinct musical ideas grow out of previous sections. Ultimately, a series of duets between the percussion and piano culminate in a riff-like ensemble statement that brings closure to the movement. —Olly Wilson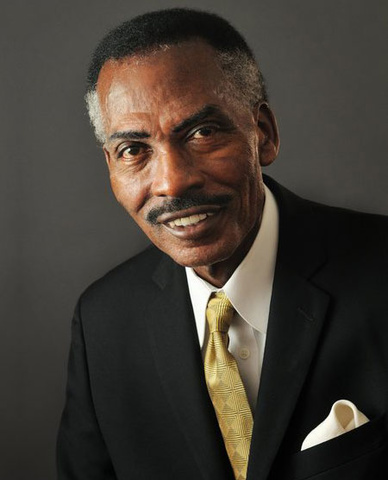 Olly Wilson's richly varied musical background includes not only the traditional composition and academic disciplines, but also his professional experience as a jazz and orchestral musician, work in electronic media, and studies of African music in West Africa itself. His catalogue includes orchestral and chamber works, as well as works for electronic media.
     Wilson's works have been performed by major American orchestras such as the Atlanta, Baltimore, Saint Louis, Detroit, and Dallas Symphonies, along with such international ensembles as the Moscow Philharmonic, the Netherlands Philharmonic and the Royal Concertgebouw Orchestra. He has received commissions from the Boston, Chicago, and Houston Symphonies, as well as the New York Philharmonic and the American Composers Orchestra. He has been awarded numerous honors including: the Dartmouth Arts Council Prize (the first international competition awarded for electronic music for his work Cetus); commissions from the NEA and Koussevitzky Foundation; an artist residency at the American Academy of Rome; several Guggenheim Fellowships; a Rockefeller Foundation Fellowship; and the Elise Stoeger Prized awarded by the Chamber Music Society of Lincoln Center. In addition to being a published author (Wilson has written numerous articles on African and African-American music), Wilson often conducts concerts of contemporary music. In 1995, Wilson was elected in membership at the American Academy of Arts and Letters.
Laura Elise Schwendinger
Treetop Studio
The title of "Treetop Studio" is a reference to Andrew Imbrie's beautiful little studio overlooking the treetops of the Berkeley hills. A place where Olly Wilson visited often along with UC Berkeley Graduate Composers working with Olly and Andrew.
Treetop studio was commissioned for a memorial concert for Andrew Imbrie at UC Santa Cruz and premiered there by John Sackett- Clarinet and Jean-Michel Fonteneau-Cello
Sinfonietta
Laura Elise Schwendinger's Sinfonietta was commissioned by Joel Sachs for his New Julliard Ensemble, and had its world premiere performance at Alice Tully Hall, under the direction if Joel Sachs at Alice Tully Hall, Lincoln Center in 2012. The title both refers to the length of the work, which is a short or simple symphony and to the classical idea of a short symphony and to the size of the orchestra. The Sinfonietta is just under 13 minutes and in three movements. The first movement blossoms just a little and uses simple material. The second movement, a waltz-styled scherzando, seems to fall apart just enough at the end-so that all that's left is the accompaniment. This is my nod to Haydn, a little joke between players and audience, how does one dance when the melody decides to leave the texture? The third movement is fast paced music with an expressive violin line interwoven, which becomes increasingly more dramatic with use of brass.
The first composer to win the Berlin Prize, UW-Madison Prof, Laura Schwendinger's music has been championed by artists Dawn Upshaw (Tour 1997-2013; TDK/Naxos DVD), Matt Haimovitz, Miranda Cuckson, Julian Wachner w/Trinity Wall Street NOVUS, Arditti & JACK Quartets, ICE, New Juilliard Ensemble, and performed by Jenny Koh, Janine Jansen, Eighth Blackbird, Mathieu Dufour, American Composers Orchestra, Franz Liszt Orchestra; At Carnegie, Kennedy Center, Alice Tully Hall-Lincoln Ctr, Times Ctr, Symph Space, BargeMusic, Wigmore Hall, Berlin Phil, Théâtre Châtelet, and National Arts Center CA, Tanglewood, Bennington, Aspen and Ojai Fests. Her honors include those from the Guggenheim, Koussevitzky (2x), Fromm Foundations, Radcliffe Institute, Copland House, Harvard Musical Assn, Chamber Music America, League of American Orchestras-NewMusic Alive, McDowell (10), Yaddo (8), Rockefeller's Bellagio, Bogliasco Found, American Acad. Arts & Letters (Leiberson"mid-career composers of exceptional gifts" and Ives Scholarship), First Prize ALEA III Comp (1995), and recipient of a Opera America Disc Grant for Artemisia perf. Times Arrow fest with Julian Wachner (1/7/17). Commissions include those from Miller Theater, ACO, Juilliard, Sounding Beckett (Off-Broadway), Kennedy Center, StonyBrook Premiere, and National Flute Assoc. She has been on faculty at the Bennington Conf, New Music on the Point, Irish Comp Summer School, and Guest Composer at the Tallis Festival, Switz (7/17) and in July 2018, a Master Artist at the Atlantic Center for the Arts. Her work on Cedille's "Notable Women" ("hidden gem", UK Guardian), review (Fanfare) "evokes a sense of serene mystery and infinite beauty." CDs featuring her music (Centaur/ Albany), received glowing reviews. A NYT Playlist review read "The chamber works grouped together on this captivating disc show off her acute ear for unusual textures..she sketches musical short stories of somnambulant fragility and purpose." Review in Chic Trib (Eighth Blackbird) read "an acute sonic imagination and sure command of craft.", (NYT) "The piece is darkly attractive, artful..moving…", and the Boston Globe, "This was shrewd composing, the genuine article. Onto the "season's best" list it goes." About her Creature Quartet just released by Albany Records on QUARTETS, featuring the JACK Quartet, Colin Clarke wrote "The sheer intensity of both music and performance thereof is spellbinding, as if the passion of the composer for her subject shines through like a light."