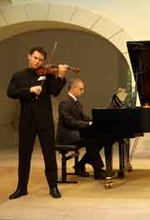 Wolfgang David, violin
David Gompper, piano
Clapp Recital Hall
Wednesday, September 13, 2006
8:00 p.m.
Guest Performer
In the space of a few short years, Wolfgang David has ensconced himself on the international stage, both as a recitalist, and as a guest soloist with many leading orchestras. He has been well received by the press -- the Washington Post wrote that he "scaled the heights of music-making" and The Strad described his playing "as emotionally wide-ranging as one could hope for."
Admitted to the University for Music in Vienna at the age of eight, David studied there for many years with Rainer Kuechl, the concertmaster of the Vienna Philharmonic Orchestra. Later he continued his studies at the Musikhochschule in Cologne with Igor Ozim and with Yfrah Neaman at the Guildhall School of Music in London.
The winner of many competitions and prizes, David has performed in major halls such as Konzerthaus and Musikverein Hall in Vienna, Carnegie Hall in New York, Cerritos Center in Los Angeles, the Wigmore Hall in London, and Philharmonie in Cologne. He has concertized in over 30 countries and regularly tours throughout Europe, the United States, South Africa and South Korea.
Highlights of his carrier included concerts at the Great Assembly Hall of the United Nations in New York in the presence of Secretary General Kofi Annan, and a concert in Bangkok, given for the Queen of Thailand.
Wolfgang David performs on a violin built in 1715 by Carlo Bergonzi, Cremona, on exclusive loan to him from the Austrian National Bank.
In 2004 his first CD, together with pianist David Gompper, was released by Albany Records that includes a 20th century program of American composers.
In 2006 Wolfgang David recorded an album of compositions by the King of Thailand Bhumibol Adulyadej with the Royal Philharmonic Orchestra (London) under the baton of Emmanuel Siffert.
Program
King's Cross (2006)
 
John ALLEMEIER
Dreams of Fin (2006)
 
Joseph DANGERFIELD
Much Ado About Nothing, op. 11 (1918/19)
      Mädchen im Brautgemach
      Holzapfel und Schlehwein
      Gartenscene
      Mummenschanz
 
Erich Wolfgang KORNGOLD
 
Interval
 
Sonate in F-Dur KV 376 (1781)
      Allegro
      Andante
      Rondeau
 
Wolfgang Amadeus MOZART
Phantasie op. 47 (1949)
 
Arnold SCHOENBERG
Star of the County Down (2005)
 
David GOMPPER
Notes & Bios
JOHN ALLEMEIER
King's Cross (2006)

King's Cross takes its name from the London Underground tube stop were 26 people were killed in a terror attack on July 7, 2005. There are two contrasting ideas that are the foundation of the piece. The first idea is slow and consists of modal melodic material over pedal tones in the piano. An ascending chromatic line is used as a countermelody to the modal melody. The second idea is faster and more rhythmic. In this faster music, the chromatic line is an important feature but is now inverted. The transition between the two ideas uses combines characteristics of both ideas. Sustained pitches are interrupted with melodic flourishes that foreshadow the melody and tempo of the upcoming section. The slow melody of the first second laments the victims of the kind of violence experienced in New York, Washington, Madrid and London.
John Allemeier received his Ph.D. in Composition from the University of Iowa, his Master of Music in Composition from Northwestern University and his Bachelor of Music in Performance from Augustana College. He has studied composition in Europe at the 41st and 42nd Internationalen Ferienkurse für Neue Musik in Darmstadt, Germany and the 6th International Composition Course in Cesky Krumlov, Czech Republic. Allemeier's music has been programmed on such international venues as Russia-America: Music of the XXI Century - Moscow Conservatory, the Seoul International Computer Music Festival and the 7th Brazilian Symposium on Computer Music, on national conferences of the Society of Composers and the Society for Electro Acoustic Music in the United States, and at regional conferences of the College Music Society and the Society of Composers. His music has been recognized by the Ibla Foundation European International Competition for Composers and the American Society of Composers, Authors and Publishers with honorable mention in the ASCAP Foundation/Rudolf Nissim Composers Competition and ASCAP Standard Awards. Allemeier has received supporting grants from Marshall University and the University of Iowa Fine Arts Council. His music is published by Carl Fischer Music Publishers, C. Alan Publications, M. Baker Publications and European American Music. John Allemeier currently teaches composition and music theory at the University of North Carolina at Charlotte.
---
JOSEPH DANGERFIELD
Dreams of Fin (2006)

Dreams of Fin was conceived as an extension of Finnegan's Wake by David Gompper. Gompper states that in writing Finnegan's Wake, his "intention was to effect a transformation of the foot-stomping dance tune by leading it through a labyrinth of rhythmic manipulations, and into a series of playful excursions." I see his work also as an interpolation of the wake of the so-named character in James Joyce's Ulysses. The joyous dance-like melody of Finnegan's Wake sets a mood contrary to what most of western society views as a somber occasion. Dreams of Fin attempts to make a further interpolation where the material then becomes an extension of Gompper's work, beginning precisely where Finnegan's Wake ends as though one has passed through the ether to the realm of the dead, into what Edgar Alan Poe once referred to as the "Dream World." I thusly reordered the intervals of the primary motive from Gompper's work and applied my own musical syntax to create a new motive. The use of sul tasto in the violin and una corda in the piano provides a veiled view of the "other world," moving out of the shadows only at the moment of greatest beauty, marking the final acceptance of Finnegan's transition into the "Dream World."
Joseph Dangerfield (b. 1977) is currently Assistant Professor of music composition and theory, as well as the director of orchestral activities at Coe College. He holds a BFA in music theory and composition from Marshall University (1999), a MM in composition from Bowling Green State University (2002), and a PhD in composition from the University of Iowa (2005). His principle composition instructors were Michael Golden, David Gompper, and Marilyn Shrude. He studied Electroacoustic music with Lawrence Fritts and Elainie Lillios.

Dangerfield's music has been performed throughout the United States, England, Italy Russia, and Egypt at various festivals. Dangerfield is the recipient of many awards which include, The Young and Emerging Composers Award (2002), ASCAP Standard Awards (2004/05), and the Henry and Parker Pelzer Prize (2005) for excellence in composition. Dangerfield was also a top ranking finalist in the Student Fulbright Competition (2004/05) for study at the Moscow Conservatory.
---
ERICH WOLFGANG KORNGOLD
Much Ado About Nothing

Much Ado About Nothing, a suite for violin and piano, has continued to be one of Korngold's more frequently performed works right up until the present. It owed its composition to rather improvisational circumstances. In 1918 Korngold had written a piece of incidental music for Shakespeare's play of the same name in view of some performances at Schönbrunn Castle. (Later his pieces was also performed in Vienna's Burgtheater.) World War I initially prevented its interpretation by a full symphony orchestra. As a result, Korngold arranged the whole work on a smaller scale in a version for violin and piano. After the performances in May 1920, he selected four pieces from it and joined them together to form a suite. Mädchen im Brautgemach describes the changing emotions of a young woman whose wedding day is near, while the second movement, Holzapfel und Schlehenwein, presents two tipsy night watchmen in the form of a curious march. Gartenscene tells of a girl who has fallen in love with a young nobleman, and the concluding Mummenschanz depicts a group of merry musicians who strike up music for a dance. The musical effect of the suite results first and foremost from the juxtaposition of parts of merry animation and emphatic expression.
Erich Wolfgang Korngold - (b Brno, 29 May 1897; d Hollywood, CA, 29 Nov 1957). A remarkable child prodigy, he was an Austrian composer who was active in the USA. In 1906 he played his cantata Gold to Gustav Mahler, who pronounced him a genius and recommended that he be sent to Zemlinsky for tuition. At the age of 11 he composed the ballet Der Schneemann, a sensation when it was first performed at the Vienna Court Opera (1910); he followed this with a Piano Trio and a remarkable Piano Sonata in E that so impressed Artur Schnabel that he championed the work all over Europe. Korngold was 14 when he wrote his first orchestral work, the Schauspiel Ouvertüre; his Sinfonietta appeared the following year. His first operas, Der Ring des Polykrates and Violanta, were completed in 1914. With the appearance of the opera Die tote Stadt, completed when he was 23 and acclaimed internationally after its dual premiere in Hamburg and Cologne (1920), his early fame reached its height.

Max Reinhardt, with whom Korngold had collaborated on versions of Die Fledermaus and La belle Helene, invited him to Hollywood in 1934 to work on his celebrated film of Shakespeare's A Midsummer Night's Dream. Over the next four years, Korngold pioneered a new art form, the symphonic film score, in such classics as Captain Blood, The Prince and the Pauper and Anthony Adverse (for which he won the first of two Academy Awards). The Anschluss prevented him from staging his fifth opera, Die Kathrin, and he remained in Hollywood composing some of the finest music written for the cinema.

After the war Korngold returned to absolute music, composing, among other works, a Violin Concerto (1937, rev. 1945) first performed by Heifetz, a Cello Concerto (1946), a Symphonic Serenade for string orchestra (1947) given its premiere by Furtwängler, and the Symphony in F (1947-52). His late Romantic style, however, was completely out of step with the postwar era and when he died at the age of 60, he believed himself forgotten.
---
ARNOLD SCHOENBERG
Phantasie, op. 47

Phantasie recalls little of the classical, tonal world of form. Its music, however, differs markedly in mood from the Trio and seems more related to the expressive world of the Serenade op. 24 and the serenade-like parts of "Pierrot Lunaire." Schoenberg intended his last instrumental work to be a genuine solo piece for violin, in which the piano would fulfil the modest role of "something added" (orig. "etwas Hinzugefügtes"). To this end he composed first the complete violin part and restricted himself as far as the piano was concerned to the broad indications of the complementary note rows to be worked out later. In a sense the piano part of the Phantasie is the first written-out basso continuo in dodecaphonic music
---
DAVID GOMPPER
Star of the Country Down (2005)

Star of the County Down for violin and piano, is the first in a series of three pieces for violin and piano based on Irish tunes, together with Music in the Glen (2004) and Finnegan's Wake (1997). The single movement work, beginning and ending with simple statements of the melody, is made up of a series of variations moto perpetuo with a climax that finds the tune continually being fragmented, torn and warped.
David Gompper (b. 1954) has lived and worked professionally as a pianist, a conductor, and a composer in New York, San Diego, London, Nigeria, Michigan, and Texas. He studied at the Royal College of Music in London with Jeremy Dale Roberts, Humphrey Searle and Phyllis Sellick. After teaching at the University of Nigeria, Nsukka, he received his doctorate at the University of Michigan, taught at the University of Texas, Arlington, and since 1991 has been Professor of Composition and Director of the Center for New Music at the University of Iowa. In 2002-2003 Gompper was in Russia as a Fulbright Scholar, teaching, performing and conducting at the Moscow Conservatory.

Gompper's compositions are heard throughout the United States and Europe. In 1999 his Transitus (for wind ensemble) premiered at Carnegie Hall, and a number of his works have premiered in London's Wigmore Hall, including: Hommage a W. A. (William Albright) for piano; and Shades of Love, a song cycle on the poetry of Constantin Cavafy. His Butterfly Dance was recorded in Moscow this past April for a forthcoming CD on Albany Records, and his Outside Cage for piano and electronics will be premiered at the Institute of Music and Acoustics in Karlsruhe this November.

In October 2004, Albany Records released a CD entitled Finnegan's Wake with performances of works for violin and piano by Gompper and Viennese violinist Wolfgang David. Together they recorded a number of works last September (Debussy, Messiaen, Hu, and Zahler), and will record again this September (Schoenberg, Korngold, Dangerfield and Allemeier) for the release of two CDs - a disc of new works, and a second with more traditional 20th century masterpieces.