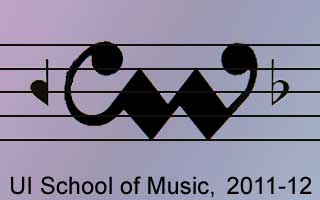 CONCERT IX
Saturday, December 03, 2011, 7:30 p.m.
Composers Workshop II
Program
Trio
 
Ryan COLE (1985)
 
Dan Spencer, horn
Jessica Ducharme, trombone
Kate Wohlman, tuba
 
Contrasting Images
        for fixed media — stereo
 
Shane HOOSE (1985)
Sunset Over the Lotus Pond
 
Leonid IOGANSEN (1981)
 
Leonid Iogansen, violin
 
String Quartet
 
Ryan COLE (1985)
 
Michael Wright, violin 1
Emily Levine, violin 2
Jessica King, viola
Rebekah Dotzel, 'cello
 
either/or
        for laptop with audience participation
 
Jason PALAMARA (1977)
As We Continue Across the Country
 
Zach ZUBOW (1984)
text by Thea Brown
 
Janet Ziegler, soprano
Aaron Ziegler, percussion
 
Program Notes
Ryan COLE
Trio
This short work was composed explicitly for the University of Iowa's Brass Trio. It is an exercise in counterpoint, giving instruments that typically have a dearth of melodic material an opportunity to employ lyrical phrasing and contour. The piece also seeks to exploit the possibilities of timbre and texture in such a unique ensemble, exploring the variety of sounds and combinations inherent in the instruments.
String Quartet
This string quartet is a struggle with sonata form, and modeled after the quartets of Henryk Górecki. The opening material gives way to the primary theme, after which the opening material reasserts itself, now with more confidence. A second theme follows and leads into a developmental section. The opening material reappears, somewhat weaker, and leads into a recapitulation of only the primary thematic material. This ultimately assents to the emerging material from the opening, allowing the section to finally unfold to conclude the work.
Ryan Cole (b. 1985) is a native of Houston, TX, and graduated from Houston Baptist University in 2009 with a Bachelor's degree in music composition. He studied composition with Dr. Ann Gebuhr, composition and piano with Dr. Daniel Kramlich, piano with Dr. Melissa Marse, and organ with Dr. Rhonda Furr.
Before moving to Iowa in 2010, Ryan worked for four years as Music Director at Woodforest Presbyterian Church in Houston, where he had several pieces commissioned and premiered by the choral ensemble. He has also received commissions for wedding ceremonies and memorial services, and often premiered the works himself as pianist.
Ryan was also a founding member of the country-rock band Wolf Explosion, which performed regularly around Houston before disbanding in 2010. He served primarily as pianist/keyboardist, but also played guitar, mandolin, melodica, and trombone. He is currently a member of Iowa City-based Almost Circle, mostly playing bass and mandolin.
In addition to music-related activities, Ryan has worked as a telemarketer, barista, journalist, and, currently, school bus driver. He plans to enroll at the Albert-Ludwigs-Universität in Freiburg, Germany during the 2012-2013 school year as part of an academic exchange program with the intent of earning a Bachelor's degree in German.
Ryan is in his second and final year of pursuit of an MA in composition at the University of Iowa. He is studying with Dr. Lawrence Fritts and Dr. David Gompper.
---
Shane HOOSE
Contrasting Images
Contrasting Images represents my return to electronic composition after a period of composing strictly for acoustic instruments. There are two versions of this piece: an 8-channel version, and the stereo version that will be heard this evening.
Shane Hoose is a graduate of Bowling Green State University (MM) and Ball State University (BM) and is currently pursuing a doctorate in composition at the University of Iowa. Recently, he was a finalist in the Music Teacher's National Association (MTNA) Composition Competition. He composes in both the acoustic and electroacoustic media. He is currently an adjunct instructor of music at Kirkwood Community College in Cedar Rapids, Iowa. His mentors in composition include Lawrence Fritts, David Gompper, and Elainie Lillios.
---
Leonid IOGANSEN
Sunset Over the Lotus Pond
Inspired by traditional Chinese music, this work combines the lyric sound of the violin with imitations of the sounds of traditional Chinese instruments, particularly those of Erhu and Guzhen. In addition, the piece offers several innovative devices, such as "combinational pizzicatos" to produce low harmonic sounds and pizzicatos engaging more than one finger of the right hand. The piece is composed in memory of Ren.
Born in St. Petersburg Russia in 1981, Leonid Iogansen started playing violin at the age of seven. As a violinist, he has won a number of competitions and has performed at numerous venues in the United States (where he moved seventeen years ago), as well as abroad. As a composer, Leonid has received a number of commissions, most notably from Shuang Yin International Arts Festival in Taiwan, where served as a composer-in-residence in 2006. He has written much solo, chamber and orchestral music. Leonid holds a Summa cum laude Bachelors of Music in violin performance and composition from Boston University, where he was a Trustee Scholar in 2001-2003, and a Masters degree with the same majors from Peabody Conservatory.
---
Jason PALAMARA
either/or
is a work for laptop/live electronics with audience participation. The piece displays three text boxes into which various questions, musings, commands and requests are typed. The questions and musings are intended to be thought provoking, whereas the commands and requests are directed at the audience who, responding, become a part of the electronic manipulations. © 2010 Morningstar Son Music. All rights reserved.
Jason Palamara is a first year doctoral student in music composition at the University of Iowa. He recently graduated with a Master's degree from the University of Louisville and has a Bachelor's from Butler University. Mr. Palamara is currently studying with Dr. Larry Fritts. All resemblances are purely coincidental.
---
Zach ZUBOW
As We Continue Across the Country
The purpose of a vacation is to experience something different from the daily normalcy of life. This may be investigating and seeing new attractions, going on an adventure or just relaxing with a good book on beautiful shores. During our experience of living outside our normal life even just for a brief time, we may encounter unexpected events. While these unexpected happenings occur, we may find ourselves attaching to the one thing we know best, the person we are vacationing with. As We Continue Across the Country is one of these experiences of traveling with a loving partner, whose features sometimes become refreshed in new surroundings, causing us to find warmth and fulfillment. As We Continue Across the Country was commissioned by Janet and Aaron Ziegler and was a collaboration between the composer and Thea Brown, a graduate student in the University of Iowa's Writers Workshop.
Zach Zubow's compositions have been featured on numerous new music conferences and festivals throughout the United States and abroad, including the 2010 Society of Composers (SCI) National Conference in Columbia, South Carolina. Zach was also named regional winner in the 2011 SCI/ASCAP Student Composition Commission Award for his string quartet, Sundown, and was also the 2011 first prize recipient of the Five College Composition Competition hosted by the University of Massachusetts for his alto saxophone and percussion duo, Rounded Angles. As well as composing, Zach has presented his research regarding beat class transformations in Ligeti's Étude No. 4, Fanfares, from Ligeti's first book of etudes that will be published in the online journal, Proceedings, for the New Music Festival at the University of Central Missouri. Zach was also recently accepted as one of six composers worldwide to participate in the Alba New Music Festival in Alba, Italy in May 2011, where Mr. Brian Ganz performed Zach's work for solo piano titled Prevailing Wind. Along with performances, a new CD of works produced by ABLAZE Records titled "Millennial Masters Series" will be released in August 2011 that will feature Nebulae for flute and tape performed by Dr. Rebecca Ashe. Zach has received degrees from Luther College, Illinois State University and is now pursuing a PhD in music composition at The University of Iowa. For more information please visit www.zachzubow.com.