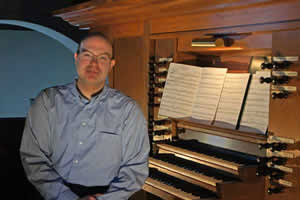 CONCERT XIV
Friday, February 15, 2013, 7:30 p.m.
Riverside Recital Hall (map)
Guest organist Carson Cooman
performing works Åberg, Moran, Krapf, Kondo, Bédard and Corner
Co-sponsored by the Organ Area
|| download program ||
Program
Marsch Babacou (1983)
 
Thomas ÅBERG (b. 1952)
Five Miniatures (1984)
        Allegro
        Presto
        Moderato
        Allegro, staccato
        Presto
 
Thomas ÅBERG
Elegant Journey with Stopping Points of Interest (1965)
 
Robert MORAN (b. 1937)
Triptych II (1978)
        Rejoice in the Lord always. (Philippians 4:4)
        Show a gentle attitude toward all. (Philippians 4:5)
        …and again I say, Rejoice. (Philippians 4:4)
 
 
Gerhard KRAPF (1924-2008)
One and a Half Preludes (2010)
        I
       II. Scholion (Chorale)
 
Jo KONDO (b. 1947)
Fantasia (2012)   – World premiere
 
Denis BÉDARD (b. 1950)
 
— Intermission —
 
Five Biblical Prayers (1976)
        Intrada
             "Thou hast girded me with strength." — Psalm 18:39
        Prelude and Verse
             "I believe, Lord; help my unbelief." — Mark 9:24
        Canon
             "Teach me thy way, O Lord." — Psalm 86:11
        Arioso
             "Lord, you know everything; you know that I love you." — John 21:17
        Siciliano
             "Guide our feet into the way of peace." — Luke 1:79
 
Gerhard KRAPF
Four Versets and a Canzona (Lydian) (1989)
 
James WOODMAN (b. 1957)
Both hands, breathing (2010)
 
Philip CORNER (b. 1933)
Church Sonata I (1992)
        Allegro moderato
        Andante
        Allegro
 
James WOODMAN
Festival Voluntary (1994)
 
Thomas ÅBERG
Performer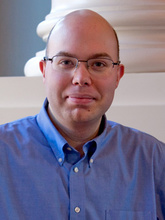 Carson Cooman is an American composer and organist. He holds degrees in music from Harvard University and Carnegie Mellon University and since 2006 has held the position of Composer in Residence at The Memorial Church, Harvard University. As an organ recitalist, Cooman specializes particularly in the performance of contemporary music. Over 130 new compositions by over 100 composers have been written for him by composers from around the world. He has given premiere performances of works by a number of the present era's most distinguished composers including Peter Maxwell Davies, Emma Lou Diemer, Michael Finnissy, Jennifer Higdon, Jo Kondo, Robert Moran, Colin Mawby, and Daniel Pinkham.
Cooman has recorded organ music for releases on ASV/Blackbox, JADE Records, and Zimbel Records. A Marvelous Love: New Music for Organ (Albany Records; May 2012) features works by Patricia Van Ness, Jim Dalton, Tim Rozema, Al Benner, Thomas Åberg, Harold Stover, and Peter Machajdik. His newest recording, Legends in the Garden: Organ Music by Thomas Åberg, was released in December 2012 on the Soundspells label.
As a composer, Cooman has created a catalog of works in many forms—ranging ranging from solo instrumental pieces to operas, and from orchestral works to hymn tunes. His work has been performed on all six inhabited continents and appears on over forty recordings, including seventeen complete CDs on the Naxos, Albany, Artek, Altarus, Gothic, MSR Classics, Raven, and Zimbel labels.
Program Notes
The program consists entirely of organ music from the 20th and 21st centuries particularly suited to an instrument like this Taylor & Boody, op. 13—a small, American-built instrument in a German baroque style. While most music written during the first half of the 20th century was intended for large romantic and symphonic organs, the proliferation of neo-baroque organs in the second half of the century meant that composers began again creating repertoire that was particularly effective on these small historically-modeled instruments. Three of the composers in particular (Åberg, Krapf, and Woodman) have focused a significant portion of their creative output on pieces explicitly designed for organs of modest size.
The pieces tonight represent both traditional and non-traditional (more "avant-garde") styles of writing for the instrument. Åberg and Woodman are masters of using very traditional musical materials and forms in fresh and unexpected ways. The works of Kondo, Corner, and Moran belong largely to more experimental traditions.
Gerhard Krapf, with his strong connections to the University of Iowa, is an exemplar of an important tradition in the history of American music—an immigrant composer who contributed greatly to the musical landscape of his adopted homelands of the USA and Canada.
Thomas ÅBERG
Marsch Babacou (1983)
was written during a period when I played a lot of music by BAch, BArtók, and COUperin as some sounds and even the title indicates.
The former cathedral organist in Stockholm, Professor Gotthard Arnér (1913-2002), encouraged me in particular to write new music for chamber (or "choir") organs. He often said that "most modern composers are only interested in the sound of the great organ and thus miss the intimate sound of the smaller instruments."
Five Miniatures (1984)
was one of the pieces I wrote under his inspiration.
Festival Voluntary (1994)
is an ebullient work intended to be effective on either a small or large organ. It forms a sequel to the series of twelve toccatas (1981-90) and is a very joyous piece, incorporating some elements reminiscent of early baroque music.
Thomas Åberg (b. 1952) was born in Stockholm, Sweden and works there as composer, concert organist, and music administrator. Most of his works are written for the organ and are often characterized by their rhythmic joy, simplicity, and humor. He has stated that "music must bring enjoyment, without abandoning reverence," and as such his style often uses the most basic of musical materials to create a discourse that is both spiritual and visceral. His music has been performed by organists at festivals throughout Europe, Asia, and the USA. He also tours regularly worldwide as concert organist with his own works. In December 2012, Carson Cooman released a CD (Legends in the Garden) devoted to Åberg's organ compositions.
---
Robert MORAN
Elegant Journey with Stopping Points of Interest (1965)
was composed as a birthday gift for Moran's teacher Darius Milhaud. Employing an entirely graphic score, it can be performed and realized with any instrumental combination. In terms of its realization on a solo instrument, the composer has said that he particularly recommends the use of the organ, given its large timbral and registral possibilities. (Dan Moore and the University of Iowa Percussion Ensemble recorded a realization of this piece as part of their acclaimed Moran recording on the Innova label.) Tonight's performance uses exclusively fragments and ideas from other Moran compositions as the musical source material.
Robert Moran (b. 1937) was born in Colorado and studied in Vienna (with Hans Erich Apostel) and at Mills College (with Luciano Berio and Darius Milhaud). He has composed for solo instruments and intimate chamber groups; created musical compositions incorporating 100,000 performers, radio and television stations, skyscrapers, and airplanes; and has composed a number of highly-regarded operas. Moran compositions range from the absurd theatre piece Divertissement Number One (1967), in which performers react to the sight and sound of popcorn popping, to the sinister yet funny Alice in Wonderland (2011) for the Scottish Ballet. Throughout his career Moran has been careful not to ally himself with any specific school of composition. Musicologist and critic Walter Simmons noted that Moran "has passed through most of the 'isms' that have comprised the contemporary music landscape of the past 50 years." This path has freed Moran to explore whatever musical form interested him at a given moment, and his numerous musical excursions have led to the development of his unique style and a large body of compelling music.
---
Gerhard KRAPF
Triptych II (1978)
is dedicated to the American composer Paul Manz (1919-2009). Like other European-born organ composers active in American during the mid-20th century, Krapf composed music in a style that blended past and present, and took particular advantage of the clarity of speech and color of the neo-baroque mechanical organs being built in those years. (Under his leadership, University of Iowa became the first American state university to obtain a mechanical action instrument.) Unlike many of his colleagues, Krapf's musical language drew not only on baroque elements (and especially the influence of J. S. Bach), but also on the particular modalities and sounds of medieval and Renaissance music. Most of Krapf's organ works were commissioned by music publishers and based on familiar hymn tunes. In his non hymn-based compositions, Krapf almost always chose biblical texts as inspiration, and he wrote out of a heartfelt religious and musical devotion. It is in these works that his combination of pre-Baroque harmonies with a contemporary idiom is perhaps most fully-realized. Triptych II was one of three triptychs he wrote in the late 1970s.
Five Biblical Prayers (1976)
was written during the composer's final year teaching at the University of Iowa. It is dedicated to his daughter Gerhild, also an organist herself. Again, Biblical texts serve as inspirations for this suite of character pieces, for which the composer supplied registration suggestions very well suited to a small, baroque style organ.
Gerhard Krapf (1924-2008) was born in Meissenheim, Germany. After years of piano and organ study, he was drafted into the German army in 1942, wounded six times in the course of military service, and did not know the war had ended when he was captured by the Russians on May 10, 1945. Years of hard labor followed, and during this period of mental and physical agony, Krapf began composing. Music paper was unavailable and even regular paper was in short supply, so he wrote his compositions on cement bags. After his release, he completed music degrees in Germany and immigrated to the United States in 1953 for further study. Krapf served as professor of organ (founding the department) at the University of Iowa from 1962 to 1977 and at the University of Alberta from 1977 to 1987.
---
Jo KONDO
One and a Half Preludes (2010)
was composed for Carson Cooman. It consists of two movements of unequal length. The extended first prelude is followed by the very brief "half" prelude, Scholion (Chorale). (The word "scholion" comes from the Greek for "comment.") The piece is typical of Kondo's "linear music" style, in which the musical discourse throughout consists of a single melodic line, harmonized and decorated both above and below. In his organ music, Kondo chooses registrations that focus on the organ's fundamental principal and flute colors.
Jo Kondo (b. 1947) is widely considered the leading Japanese composer of his generation. He has taught extensively within Japan, the USA, and England. Influenced by American experimental music and traditional Japanese music, he developed a personal compositional style in the late 1970s that he entitled "Sen no ongaku" (linear music). The entire structure of the musical piece is determined from a single melodic line. As the style developed over time, Kondo began adding further vertical elements ("harmonization") to allow for additional textural dimensions. Kondo has written: "Each sound must have its own entity and life. What I am doing in my compositions is to create a web of intertonal relationships, while trying to safeguard the possibility of aurally perceiving the individual entity and life of every single tone in that relationship."
---
Denis BÉDARD
Fantasia
Commissioned by Carson Cooman, the Fantasia was written in 2012. Intended for a small organ, it consists of four contrasting parts: a joyful and rhythmic march, an ostinato in which the right hand improvises flourishes on a repeated short sequence played by the left hand, a slow section on quiet stops, and an energetic final section using the full resources of the organ. All these sections are more or less thematically related.
Canadian composer Denis Bédard (b. 1950) was born in Quebec City and studied at the Conservatoire de Musique Québec. He also studied in Paris, Montreal, and in Amsterdam with the famed harpsichordist Gustav Leonhardt. As an organist, he has held posts in Quebec City, and is currently director of music at Holy Rosary Cathedral in Vancouver. He has been professor of organ at the University of British Columbia and the Conservatoire de Musique Québec. Bédard is one of the leading Canadian composers of his generation, with a catalog of compositions that includes orchestral, vocal, chamber, choral, and many organ works. His music, essentially tonal and melodic, is characterized by a concern for formal clarity and immediate communication. He provides the following notes about this work:
---
James WOODMAN
Four Versets and a Canzona (Lydian) (1989)
was the first in a series of works inspired by suites of the same structure by the Italian baroque composer Domenico Zipoli (1688-1726). This work was commissioned for the 1990 Boston National Convention of the American Guild of Organists, where it was premiered by Peter Sykes. Like a great deal of Woodman's music, it is intended to be particularly effective on a small organ. His interest in writing music for such instruments began in the early 1980s while he was organist at the Society of St. John the Evangelist, whose chapel possesses a one manual 1975 Beaudry organ.
Church Sonata I (1992)
was commissioned by Norfield Congregational Church in Weston, Connecticut. It was premiered by Jayson Rod Enquist on March 28, 1993. A composer who has a number of "series" within his catalog, Woodman has composed two further such sonatas (the third for Carson Cooman in 2007). The three movements blend baroque and contemporary American idioms in a mix that is distinctly Woodman's own. Woodman has said that being an American composer is very important to him, and that he intends his music to speak with an American voice. The clean lines and clear textures of his style thus owe as much to New England as they do to Renaissance and baroque Europe.
James Woodman (b. 1957) is a graduate of Princeton University (composition) and New England Conservatory (organ). He has served as composer in residence at the Cathedral Church of St. Paul in Boston, Massachusetts and as monastery organist at the Society of St. John the Evangelist in Cambridge, Massachusetts. His organ and choral works have been performed around the world by numerous leading organists and appear on several CD recordings.
---
Philip CORNER
Both hands, breathing (2010)
was written for organist Katharina Schröder. Like many of Corner's works, the pacing and musical structure emerge from the influence of the natural or physical world—in this case, a connection of the performer's breathing to the physicality of alternating hands.
Philip Corner (b. 1933) is a significant figure in the history of American experimental music. A student of Otto Leuning, Henry Cowell, and Olivier Messiaen, Corner's music was also influenced by his personal interactions with John Cage. Corner was a founding participant of Fluxus in 1961 and has been involved with numerous other ensembles over the years. In 1976, he founded with Barbara Benary and Daniel Goode the ensemble Gamelan Son of Lion in New York City. From 1972-92 he was a professor at Livingston College, until it was absorbed into the Mason Gross School of the Arts. He retired and moved to Reggio Emilia, Italy, where he currently lives and works. Corner's creative output is immensely large and consists of work in nearly all genres and media, including musical, spoken, visual, written, and visual arts. He divides his output into five periods based on his aesthetic and ideological preoccupations at each time: 1) Culture (1950s), 2) The World (1960s and 70s), 3) Mind (1970s and 80s), 4) Body (1980s and 90s); 5) Spirit & Soul (1999 to the present).