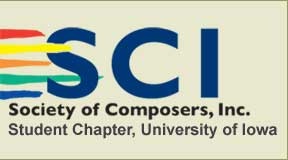 CONCERT XXVI
Saturday, May 05, 2012, 8:00 p.m.
University Capitol Center Recital Hall (map)
Duo Yin Yang
The Music of Here and Now:
Viola-Cello Duos by UI Composers
performed works by
Walter Piston, Daniel Frantz, Stephanie Pieczynski,
Will Huff and Zach Zubow.
Program
Duo for Viola and Violoncello (1949)
        I. Allegro risoluto
       II. Andante sereno
      III. Allegro brillante
 
Walter PISTON (1894-1976)
ghlit (2012)
 
Daniel FRANTZ (b.1986)
birth pang (2012)
 
Jason PALAMARA (b. 1977)
 
— Intermission —
 
Wildwood Dancing (2012)
 
Stephanie PIECZYNSKI (b. 1987)
A Modal Thing (2012)
        I. Modulation
       II. Transposition
      III. Inversion
      IV. Canon
 
Will HUFF (b. 1986)
Walls of Justice, Painted Green
 
Zach ZUBOW (b. 1984)
Performers
Duo Yin-Yang was formed by Manuel Tábora and Yoo-Jung Chang out of a mutual love and admiration for new music, and in particular the works of our fellow students here at the university.
Yoo-Jung Chang, 'cello
A native of South Korea, Yoo-Jung Chang received her Bachelor of Music degree from Ewha Womans University in Seoul, South Korea. As a full scholarship recipient, she earned her Graduate Professional Diploma at the Hartt School and Master of Art Degree at the University of Iowa. Chang has been featured as soloist with Antelope Valley Symphony Orchestra as a winner of Gail Newby Concerto Competition. She also won the Nan-Pa Music Competition, Korean Brahms Association Competition, Seoul Baroque Chamber Orchestra Competition, Ewha Womans University Chamber Competition and SIA Scholarship Competition. As an active orchestra player, Chang has performed with UI Center for New Music Ensemble (IA), Chicago Civic Orchestra (IL), Waterbury Symphony Orchestra(CT), YMG Debut Orchestra(CA), International Chamber Soloists Ensemble(NY) and AIMS Festival Orchestra (Graz, Austria). Her principal teachers include Anthony Arnone, Hannah Holman, MihaiTetel, Eleonore Schoenfeld. Currently, Chang is on faculty as applied cello instructor at Grinnell College in Iowa.     
Manuel Tábora, viola
Manuel began his music studies in 2001, when he was admitted into the "Victoriano López" School of Music in his hometown of San Pedro Sula, Honduras. There he studied the violin with teachers Yina Medina, José Iglesias, and Mario Fúnes, graduating with a high school diploma in Music Education in 2005. Since 2006 Manuel has lived and studied in the United States, first at Washburn University of Topeka, KS, under the instruction of Dr. Larisa Elisha. He holds a Bachelor's Degree in Music Performance from Washburn University and has recently begun graduate work at The University of Iowa, where he studies under Professor Christine Rutledge. At Iowa, Manuel enjoys working for the university's Center for New Music, where he performs both newly composed music and masterworks of the modern repertoire. He is also working on a minor in Music Theory Pedagogy, and plans to graduate with a Master of Fine Arts degree in the Spring of 2014. Manuel has been a member of the Topeka Symphony Orchestra, having played with this ensemble from 2006 to 2011. He has also been a member of the Honors Fetter String Quartet at Washburn University, with whom he had the distinction of being National Finalist at MTNA's Collegiate Chamber Music Competition in 2009. Since 2010, Manuel has represented Honduras internationally as principal violist of YOA Orchestra of the Americas in their tours of South America (July-August 2010), Dominican Republic (October 2010), Mexico (July-August 2011) and China (December 2011- January 2012). Manuel was honored to perform at the inaugural season of Philip Glass' Days and Nights Festival in Carmel Valley and Big Sur, California, as a part of the YOA String Quartet, in August 2011. In the summer of 2012, Manuel will be helping to launch "In the Plains- Chamber Music Festival," a program aimed to present top quality chamber music performances, as well as educational opportunities, for rural communities in northeast Kansas.
Program Notes
Daniel FRANTZ
ghlit
is a further exploration of a style I have been pursuing at Iowa, more formalized than intuitive. It is constructed from small blocks of intuitively composed material, treated themselves as individual 'notes' and arranged according to a predetermined structure. The title is an anagram, a typo, or just plain nonsense.
Daniel Frantz received his BM in music composition and electronic music from the University of South Florida. There he studied with Paul Reller and Michael Timpson. He was awarded the Patrick Keim Memorial scholarship for composition in 2007, and received a talent grant for clarinet performance. He is currently pursuing his MA in composition at the University of Iowa.
---
Jason PALAMARA
birth pang
In 2006, former Secretary of State Condoleezza Rice called the violent deaths of more than 400 Lebanese civilians the "birth pangs of a new Middle East." Since that statement, violence and upheaval in the region has escalated, with major events unfolding faster than the western media can anticipate or metabolize. Shifting alliances, mass killings, and ruthless dictators being toppled by bloodthirsty mobs all lead one to ask; if these are the birth pangs of something new, what exactly is being brought into this world? Do we even want to know? Conversely, at the moment of this writing, US Special Operations forces are deployed in 75 different countries and the US is actively waging war on multiple fronts while our leaders pretend we aren't completely out of money. With all of this going on in the world it makes one wonder what use there is in being a musician, practicing an instrument, or even eating breakfast. How can we go on with our lives as if we are sure the sky will not fall tomorrow, shortly after noon? Why should we get out of bed? Why should we do our homework? Why bring even more children into this mess? Does this not make us fools, fiddling while Rome burns? But then one might see the problem the other way around. Having a baby, writing a symphony, laughing over a pint of beer with a few friends, are these not the reasons we suffer governments, armies and laws to exist? Are these things not birth pangs of the good things in life? If not, would we not rather be fools?
Jason Palamara is a first year doctoral student in music composition at the University of Iowa. He has studied composition with Michael Schelle, Frank Felice, Krzysztof Wolek, Steve Rouse, and Larry Fritts. This space left blank to facilitate page turns. He has also done masterclasses and lessons with George Tsontakis, Augusta Read Thomas, York Höller, Per Norgard, and Louis Andriessen. Jason is an active performer on the violin and laptop and was a founding member of the Bonecrusher New Music Ensemble in Louisville, KY. Next year, Jason will be the graduate assistant in music for the University of Iowa's dance department. Since 2009, he has also maintained an active collaboration with Seattle based composer Nat Evans.
---
Stephanie PIECZYNSKI
Wildwood Dancing

is the title of a book by Juliet Marillier portraying a Transylvanian folk-tale about a group of sisters who discover that on every full moon, they can open a portal into the faerie world where the faerie queen holds a grand ball. The sisters dance with all kinds of faerie creatures, but must be back before dawn or they will be trapped in the faerie world forever. I chose to create the excited atmosphere that the full moon brings, the revelry of the dance, and the approach of dawn that ends the festivities.
Stephanie Pieczynski received her Bachelor's degree in composition at Northern Illinois University where she studied composition under Ted Hatmaker, Robert Fleisher and David Maki, as well as oboe under Ricardo Castaneda. Pieczynski has been commissioned by peers to compose music for recitals and benefit concerts and has had pieces performed by the Chicago Miniaturist Ensemble, the 2008 Fusion Arts Exchange Ensemble, and the NIU wind ensemble. Pieczynski was involved in the NIU Wind Symphony, Wind Ensemble, Philharmonic, Steel Band, Early Music Ensemble, and New Music Ensemble as well as several chamber groups. Her works have been performed throughout the United States and Central America. Stephanie is currently pursuing her MA in composition at the University of Iowa studying with Lawrence Fritts and David Gompper. For more information visit www.stephaniepieczynski.com.
---
Will HUFF
A Modal Thing
In my piece, I explore back-to-basics operations as applied to diatonic sets. Each movement makes explicit the operation I am exploring: the first movement modulates from one set to another, the second movement layers a transposition of one mode on top of itself, the third movement uses sets related by inversion, and the last movement is semi-canonic. These pieces were something akin to self-assigned homework, laying the groundwork for future development in modal writing.
Will Huff holds a B.M. summa cum laude at the University of Arkansas (2008) and a M.M. at Butler University (2010). His commissions range from pieces written for friends to the well-established Fort Smith Symphony (director John Jeter). His most recent success includes the premier of his solo trombone piece, A Divisive Dichotomy, in Washington D.C. at the Eastern Trombone Workshop this past March. He has participated in ensembles devoted to new music including the JCFA Composer's Orchestra, Ensemble 48, and the Outside Orchestra. Will Huff is currently pursuing a doctorate at the University of Iowa where he holds a TA in theory and composition. His mentors have included Drs. Robert Mueller, Frank Felice, Michael Schelle, and Larry Fritts.
---
Zach ZUBOW
Walls of Justice, Painted Green
is a piece that is heavily influenced by the music from …And Justice For All, an album released by Metallica in 1988. The title comes from the first lyrics heard in the title track of the album. The piece is a response to the wasteful spending by the United States government, in particular the General Service Administration's 2010 conference in Las Vegas where over $800,000 was spent on items such as mind readers, clowns, and scouts sent to pick the event venue. Part of GSA's mission is to save taxpayers money, which makes it even more outrageous that our government is losing money on events such as these. This sort of abuse is epitomized in the title tracks first two lines of the chorus, "the ultimate in vanity, exploiting their supremacy".
Zach Zubow's compositions have been featured on numerous new music conferences and festivals throughout the United States and abroad. Zach was named regional winner in the 2011 SCI/ASCAP Student Composition Commission Award for his string quartet, Sundown, which has also won the 2012 College Music Society Mid-Atlantic Composition Award. He was also the 2011 first prize recipient for the Five College Composition Competition hosted by the University of Massachusetts for his alto saxophone and percussion duo, Rounded Angles and first prize winner of the 2012 College Music Society Southern Region's Composition Competition for his piece for found percussion titled Hiking the Cascade Creek Trail. As well as composing, Zach has presented his research regarding beat class transformations in Ligeti's Étude No. 4, Fanfares, from Ligeti's first book of études that will be published in the online journal, Proceedings, for the New Music Festival at the University of Central Missouri. A new CD of works produced by ABLAZE Records titled "Millennial Masters Series" was released in October 2011 that features Nebulae for flute and tape performed by Dr. Rebecca Ashe. Zach has received degrees from Luther College, Illinois State University and is now pursuing a PhD in music composition at The University of Iowa. For more information please visit www.zachzubow.com.