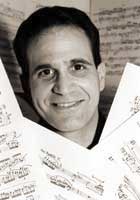 Guest Composer, Paul Siskind
Clapp Recital Hall
Sunday, February 5, 2006, 8:00 p.m.
|| download program ||
Program
Celli Celesti for two cellos (2000)
 
Paul SISKIND
 
Ken Ishii and Emma Davis-Oeth, violoncellos
 
Rituale for soprano saxophone and percussion (1991)
 
 
 
Andrew Brobston, saxophone
Chris Sande, percussion
 
Duo-Bagatelles for clarinet and cello (1990)
 
 
 
Yasmin Flores, clarinet
Ken Ishii, violoncello
 
Memoriale for alto saxophone and marimba (2003)
 
 
 
Jason Laczkoski, saxophone
Ginny Armstrong, marimba
 
 
Intermission
 
Lem II
    for contrabass and
    15 instruments (1996)
 
Franco DONATONI (1927-2000)
 
Volkan Orhon, contrabass

CNM Ensemble

Tamara Thweat*, flute
Mark Weiger*, oboe
Yasmin Flores, clarinet
Jeffrey Tilghman, bassoon
Matthew Hellenbrand, horn
Brian Umlah, trumpet
Matt LeFeber, trombone
Josh Calkin, tuba
Ginny Armstrong and Chris Anderson, percussion
Liang-Fang Chang, piano
Pamela Weest-Carrasco, harp
Scott Conklin*, violin
Christine Rutledge*, viola
Tony Arnone*, violoncello
Volkan Orhon*, contrabass
David Gompper*, conductor

* School of Music faculty
 
Notes & Bios
PAUL SISKIND
Celli Celesti for two cellos (2000)

The cello has long been one of my favorite instruments for a number of reasons, including its luxuriant tone, its wide range, and the many interesting timbral effects that are available on it. I have also noticed over the years that there seem to be many more dual-cellist couples than among other instruments; I've sometimes wondered if this is due to the corporeal contour of the body of the instrument (the famous photo by Man Ray comes to mind), and the way that players embrace their instruments as they play them. It thus seemed appropriate for me to write a duet for my cellist friends Lawrence and Jennifer Stomberg.

The main thematic idea of the piece is the slow unfolding of ascending scales in overlapping canons. These scales "open up" by evolving from octatonic scales through the different types of diatonic modes and then the whole-tone scale. The large-scale formal design is built upon the pitches of the open strings of the instrument, used as the progressive tonal centers of the piece; these tonal centers are demarcated by strummed chords. Numerous other timbral effects are incorporated as well, often used in free cadenza passages.

Rituale for soprano saxophone (or alto) and percussion (1991)

I have long been interested in incorporating theatrical, spatial, and non-metric elements in my work; Rituale represents a synthesis of many of these characteristics. However, their use in Rituale is not intended to imitate or portray any specific ritual practices, but rather to merely evoke the feeling of observing some sort of unnamed ritual by incorporating free incantations, stately processionals, and hypnotic ostinatos. I thus view the spatial theatrics as simply being additional elements utilized within the overall design of the piece, working in conjunction with abstract, purely musical ideas. Rituale was commissioned in 1991 by saxophonist Charles Young, and was the winner of the 1995 composition contest of the Friends and Enemies of New Music. It is dedicated to Charlie Johnson, who hates boring music by dead composers.

Duo-Bagatelles for clarinet and cello (1990)

Duo-Bagatelles displays an important aspect in the development of my musical style: a penchant for a terse and aphoristic sense of drama. Each of its five movements presents a concise, self-contained mood or gesture, with focus on the coloristic possibilities of the instruments rather than on motivic development. As virtuosic show-pieces, the Bagatelles present numerous challenges to the performers.

Memoriale for alto saxophone and marimba (2003)

As the title suggests, Memoriale is a somber, lyrical piece. It was written in memory of percussionist Michael Hooley, a colleague who passed away in 2000 at a tragically young age. The main melodic and harmonic motifs of the piece are loosely based on musical spelling of the letters in Mike's name. Memoriale was co-commissioned by saxophonists Matthew Patnode and Randall Smith to premiere at the World Saxophone Congress in 2003.
Paul Siskind's music encompasses many genres, and has been performed across the country and abroad by renowned ensembles such as the Minnesota Orchestra, Omaha Symphony, Arditti String Quartet, Dale Warland Singers, Continuum, Burklyn Ballet Theatre, and soprano Cheryl Marshall. He has received awards and grants from ASCAP, Meet The Composer, the American Music Center, the National Federation of Music Clubs, and the McKnight, Jerome, Puffin, and Dodge foundations. His work is published by G. Schirmer Inc., and has been recorded on the Innova and New Ariel labels, among others. He has worked as a composer-in-residence for the Education Department of Minnesota Opera, Twin Cities Chapter Coordinator for the American Composers Forum, Music Director of One Voice Mixed Chorus, and as an Auditor for the New York State Council on the Arts. Dr. Siskind is on the faculty of the Crane School of Music, SUNY-Potsdam.
---
FRANCO DONATONI
Lem II for contrabass and 15 instruments

Lem II is connected to Lem, for solo contrabass (1983), which in turn is directly inspired by a composition for solo cello called Lame (1982). As Donatoni writes, "Despite being derived from Lame, Lem finds autonomy by developing in opposition. The mutual passages in the two works are absolutely conventional and are suggested by contradictory behaviors and dictated by a compositional conglomeration of musical cells."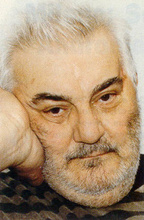 Franco Donatoni (1927-2000) - Born in Verona, he began his music education with Bottagisio, and subsequently studied composition with Pizzetti at the Accademia Nazionale di Santa Cecilia in Rome. He took part in the Summer Courses for New Music in Darmstadt four times, and in 1972 he lived in Berlin at the invitation of the Deutscher Akademischer Austauschdienst. The meetings with Bruno Maderna proved an important influence on his artistic development.

Donatoni received many honors during his lifetime. He also made a name as a teacher, lecturing in Turin, Milan, and Bologna, and conducting seminars throughout the world. From 1970 he led summer courses in composition at the Accademia Chigiana in Siena.

For Donatoni, sound becomes the essential element of a work. His works reveal a dramatic, quasi-theatrical sensibility based on a firm comprehension of intervalic relationships, and resulting in rich and contrasting textures. This he achieves by a series of transformations on tiny groups of intervals--employed in rapid succession rather than superimposed, such a compositional process generates varied and differentiated solo lines.

Doublebassist Volkan Orhon's career spans a wide variety of solo, orchestral and chamber music performing and teaching across the country and around the world. He was a finalist and prize winner in the Concert Artists Guild Solo Competition in New York City, and was the co-first place winner of the International Society of Bassists Solo Competition. Mr. Orhon has performed with internationally recognized musicians including Gary Karr and the Emerson String Quartet, and has performed solo with many orchestras.

Mr. Orhon is Assistant Professor of Doublebass at the University of Iowa and principal double bass of the Cedar Rapids Symphony. Born and raised in Turkey, Mr. Orhon began playing the double bass at the age of 12, and spent much of his youth touring Europe with the Mediterranean Youth Soloists. After receiving his bachelor's degree from the Ankara State Conservatory under the tutelage of Tahir Sumer, he became a member of the Ankara Presidential Symphony Orchestra. In 1991, Mr. Orhon came to the United States to continue his studies with Gary Karr at The Hartt School of Music.