Kim Walker, Guest Bassoonist
and the
New Opus Trio
Clapp Recital Hall
Sunday, February 25, 2001, 8:00 pm
Program
Elegies and Dances
Martin-Beatus MEIER

(premiere performance)

Commissioned by Joanne Reece and Bill Voxman
in celebration of Himie Voxman's 87th birthday

Andante Mosso
Allegretto
Lento assai - Molto sostenuto
Vivace leggiero
Andante tranquillo - Molto vivo

Joan Blazich,  clarinet
Anna Skogman,  violin I
Liao Lijiong,  violin II
Mary Kelly,  viola
Jacqueline Emery,  cello
Pam Weest-Carrasco,  harp
David Gompper,  conductor

 
Thought-forms
 tape alone
Lawrence FRITTS
Hamadryad
for alto flute, viola and guitar
(premiere performance)
Jeremy Dale ROBERTS

New Opus Trio
Eugenia Moliner,  flute
Christine Rutledge,  viola
Denis Azabagic,  guitar

 
Intermission
Life of the Party
A Concerto for Bassoon and 16 Friends
Don FREUND

Party Music 1: Hard Rock
   Chat 1: Small Talk
      (Bn w/Fl, Ob, Cl, Cbn)
   Party Music 2: Gospel
   Chat 2: Religion
      (Bn w/El Pno, Cbn,
      Marimba)
   Party Music 3: Techno
   Chat 3: Politics
      (Bn w/Tpt, Hrn, & Tbn)
   Party Music 4: Posh
   Chat 4: Sports
      (Bn w/Pno, Fl, Cl)
  Chat 5: Art
       (Bn w/String Quartet)
   Party Music 5: Cool Jazz
   Party Music 6: Blues
   Chat 6: Flirts
      (Bn w/El Gtr, Cbn w/El Bs)
   Duo Cadenza: Break-up
      (Bn & Cbn)
   Party Music 7: Deep Funk
   Soliloquy: Broke-up
      (Bn w/Pno)
   Ballad: Make-up
   Finale: Celebrate!

 Kim Walker,  solo bassoon
Benjamin Coelho,  contrabassoon
Antonio Guimaraes,  flute
Amy Burgus,  oboe
Karen Kress,  clarinet
Jed Cord,  trumpet in C
Carol Olszewski,  horn
Matthew Ertz,  trombone
Adam Grosso,  percussion
Yung-Pai Hsu,  piano
Anna Skogman,  violin I
Stephen Shepherd,  violin II
Mary Kelly,  viola
Jacqueline Emery,  violoncello
Steve Grismore,  electric guitar
Anton Hatwich,  electric bass
Jon Donald,  drumset
David Gompper,  conductor

 
Notes & Bios
MARTIN-BEATUS MEIER
Elegies and Dances
This composition follows a zigzag path alternating between pensive and whimsical domains. The idea of interplay among such opposites, and of doing so in a framework of folk music-like tonalities and structures, enticed me upon hearing a live performance of Klezmer music. Thinking in symmetric phrases, transparent textures and predictable pitch sets made for a novel but delightful enterprise.
The initial movement, being written some time before the rest, was scored for string trio rather than string quartet. In the interest of preserving the slight and sketchy musical texture of this true "Elegy," the original scoring has been left unchanged. Notwithstanding this odd circumstance, the five units ought to be considered a set of interdependent episodes.
It has been an honor to invent this music for Himie Voxman with whom I had the pleasure to read duo music a few years ago, and who is known for his dedicated and enlightened work in the clarinet world. The work is in honor of Himie on his 87th birthday, and was commissioned by Joanne Reece and Bill Voxman in September of 1999.
Martin-Beatus Meier, a native of Bern, Switzerland, received much of his professional training at the Akademie Mozarteum in Salzburg, with additional studies in composition, conducting and opera production in Geneva, Paris, and at Indiana University. His musical career since coming to the United States in the early 60s included work as a symphony conductor and two decades of tenure at the University of Texas and Washington State University. Having retired from academic work, he continues to be active as a composer, writing predominantly on commissions from overseas. Among his larger works of the last few years include  Threnos Eratou for nine instruments,  Incidental Music to Schiller's Maria Stuart (for a Mannheim production),  Columbia Sketches for orchestra (for the Washington State Centennial),  Divertimento in Là for Chamber Orchestra and  Irish Cycle for voice, viola and piano. He lives in Port Townsend on the Olympic Peninsula.
---
LAWRENCE FRITZ
Thought-forms
Lawrence Fritts is director of the Electronic Music Studios and assistant professor of composition and theory. He has composed for a wide variety of electronic and computer media, including concrete tape, instruments and tape, voltage-controlled and MIDI-controlled analog and digital synthesizers, and digitally processed instruments. His recent works for tape and instruments utilize real-time computer sound transformation technology. His music has been performed at festivals and conferences in the U.S. and broadcast in the U.S., Canada, South America and Europe.
His technological research focuses on performance aspects of real-time DSP transformations and spectral analysis/re-synthesis. Other interests include musical applications of mathematical group theory, on which he has presented papers at several conferences and seminars including a recent meeting of the American Mathematical Society. His review of the mathematics of Milton Babbitt's music appears in the spring 1997 issue of Music Theory Spectrum. He received his Ph.D. in composition from the University of Chicago in 1995, where he studied with Shulamit Ran, Ralph Shapey and John Eaton. He previously taught at DePaul University and Columbia College, and has been on the faculty at the University of Iowa since 1994.
---
JEREMY DALE ROBERTS
Hamadryad
When Christine Rutledge (one of my colleagues at the University of Iowa School of Music, where I was a visiting professor last year) asked me to write a trio for her group, I was delighted. It was an extremely enticing, not to say seductive, line-up of instruments -- flute, viola and guitar -- and I was very keen to write for these particular players. I had already written a solo piece for Christine, so I knew her sound and something of her musical personality; and the CD she lent me of Eugenia Moliner and Denis Azabagic, the husband and wife members of the Cavatina Duo, introduced me to two other remarkable musicians.
There is already a miniscule repertoire for the flute/viola/harp combination -- (and I impertinently got my foot in the door for a further commission for this more conventional ensemble). The inclusion of the guitar, with its more restricted range and more muted dynamic range, coloured my whole approach. I decided to bring all three instruments into its orbit: the use of an alto flute, instead of the more brilliant ordinary flute, biased the whole conception towards a rather shadowy texture. (The French word for viola is 'alto'). Its sultry tones, like the warm dusky tones of the viola, are wonderful compatible with the guitar.
Hamadryad is the name the Greeks gave to wood-nymphs who were said to die with the tree in which they dwelt. It is also the name of a large Indian snake -- naja hamadryas -- likewise a tree-dweller. In my piece, it is the arcadian image which predominates. (JDR)
Jeremy Dale Roberts (b. 1934, Gloucestershire, England), who recently retired as the distinguished Head of Composition at the Royal College of Music, London, was a Visiting Professor of Composition at the University of Iowa for the 1999-2000 academic year. He studied with William Alwyn and Priaulx Rainier at Marlborough College and the Royal Academy of Music, and his compositions have been performed at the Edinburgh and Aldeburgh Festivals, the Venice Biennale, the Diorama de Geneve, and the festivals of Avignon and Paris. They include the Cello Concerto - 'Deathwatch' written for Rohan de Saram; Tombeau for piano, written for Stephen Bishop Kovacevich; Croquis for string trio, written for members of the Arditti Quartet (BBC commission); In the Same Space, nine poems of Constantin Cavafy, written for Stephen Varcoe; Lines of Life, lyric episodes for ensemble, written for Lontano (BBC commission); and 'Casidas y Sonetos - del amor oscuro', for solo guitar (Arts Council commission) for Charles Ramirez. Professor Dale Roberts was the subject of a BBC "Composer's Portrait" in April, 1981.
---
DON FREUND
Life of the Party
(Concerto for Bassoon and 16 Friends)
This composition could be described as an instrumental mini-opera with two identifiable layers of musical activity. One layer is the "Party Music," a series of "songs" in varied vernacular styles which recede into the background to allow the more intimate party "Chats" to be heard.
The scenario is this: the bassoon and its date, the contrabassoon, show up at a party, and before long engage in a "Small-Talk Chat" with the other woodwinds -- a breezy triple-triple meter against the heavy duple of the "Hard Rock Party Music." When a new "Gospel Party Music" begins, the bassoon and contra begin an earnest, spirited discussion of religion with the electric piano, later joined by the marimba. This odd mixture of gospel blues, Messiaen-ic chords, and simulated Gregorian chant yields to the next party music, a robotic "Techno" passacaglia, over which the bassoon and brass trio engage in a heated debate about politics. this stark tension is replaced by the thick, rich harmonies of the "Posh Party Music," over which the bassoon and piano (later joined by the flute and clarinet) discuss sports in 16th-note flurries of sinewy athleticism.
The string quartet interrupts, advancing some abstract theories of art; the bassoon sympathizes, while "Cool Jazz Party Music" is heard in the background. A sultry "Blues Party Music" follows, with sexy electric guitar riffs that elicit some flagrant flirtation from the bassoon. The contrabassoon is outraged, and retaliates by becoming closely intertwined with the electric bass. A lovers' spat erupts, a duo-cadenza for bassoon and contra, full of choice multiphonics and other extended effects. During the ensuing "Deep Funk Party Music" the bassoon goes off by itself and has a cry. The contra re-enters, and reconciliation is found in a country-flavored Ballad. All is well; the party ends with a rollicking celebration!
Life of the Party was inspired by the incomparably vivacious personality and astounding virtuosity of Kim Walker.
Don Freund, Professor and Chair of the Composition Department at Indiana University, received his D.M.A. from the Eastman School of Music in 1972. He has composed over 80 performed works, ranging from solo, chamber, and orchestral music to pieces involving live performance with electronic instruments, music for dance and large theatre works; he is also active as a pianist, conductor, and lecturer. He has received grants from the National Endowment for the Arts, and prizes including the 1979 Washington International String Quartet Composition Competition, the ISCM 1976 International Piano Music Competition, the 1995 AGO/ECS Publishing Award in Choral Composition, the Hanson Prize, the McCurdy Award, the Aspen Prize, and 21 ASCAP Awards. In 1998 he was composer-in-residence at the Australian National Academy of Music, and lectured on his music at Royal Conservatories in Brussels and the Hague, the Royal Academy of Music in London, the Prague Conservatory and the Hochschule in Vienna. His works are published by MMB Music, Boosey and Hawkes, E.C. Schirmer, Seesaw, and Vivace Press and his music is available on CD's from CRI, Albany, Innova, Crystal, and Pro Organo.
Performers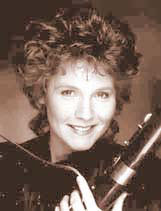 Kim Walker
First winner of the Pope Foundation Music Awards in 1992 in New York, and catalyst of the commission which won the 1997 Grawemeyer Award, the British/American bassoonist Kim Walker is one of the world's foremost solo wind players. Extraordinary musical talents include winning first prize in several international competitions (Ancona and Stresa, Italy, as well as Geneva's 'Premier Prix de Virtuosite').
From 1990 to 1995 Kim appeared at the Brereton International Music Symposium, where she forged musical ties with such artists as Brigitte Fassbaender and Birgit Nilsson. She founded and was artistic director of Les Etoiles Musicales music festival in France from 1994 to 1996, with Birgit Nilsson and Vladimir Ashkenazy as patrons. Kim was nominated a Young Global Leader in Politics at the Davos World Economic Forum and became a member of the French Government's Council to "unite Scientists and Artists." Walker, who joined the Indiana University School of Music in 1994, now is chair of the woodwind department as she teaches and guides the talents of other outstanding young musicians.
Her early training came from the Interlochen Arts Academy and the Curtis Institute of Music in the United States and the Conservatoire de Musique de Geneve and Basel Scuola Cantorum in Switzerland. She then remained in Europe for 17 years performing internationally and teaching at the Geneva Conservatory. Her prize-winning students are now playing in 38 prestigious orchestral positions (mostly solo bassoon) in Australia, Britain, Scandinavia, Austria, Germany, France, Italy, Korea, and the U.S.A. This artist's full interdisciplinary, holistic approach to and involvement with the world of music, as well as fluency in several languages, highlight some of the many facets that have made Walker's career remarkable.
After nearly a decade of performing as first bassoonist (either as a member or guest) with many of the world's finest orchestras (London Symphony Orchestra, Montreal Symphony, Chamber Orchestra of Europe, l'Orchestre de la Suisse Romande, RAI Torino), Kim has devoted her time to a rich and compelling solo career. Appearances at many of the prestigious international festivals, including Ravinia, Schleswig-Holstein, Lucerne, MIDEM, Hong Kong, Sydney, Monte Carlo, Korsholm, Prades, Marlboro, Wolf Trap, Newport and others throughout Europe, have established her as an international soloist of the highest caliber. Whilst the bassoon might have been an endangered species, it is hardly extinct and may soon be off the list as Kim performs on tours to Australia, Africa, Hong King and China, in addition to the more traditional European and North American routes with repertoire of some 40 concerti and extensive recital programs. The British Council hosted Kim's visit to China as the first diplomatic mission after Tianenman Square.
Recent noteworthy appearances have included two world premiers in London: Ad Ora Incerta - Four Orchestral Songs from Primo Levi by Simon Bainbridge for mezzo-soprano, solo bassoon (written for Brigitte Fassbaender and Kim Walker) and the BBC Symphony Orchestra. This piece commissioned by Kim Walker has just won the 1997 Grawemeyer Award. The second premier was another commission of a concerto by Richard Rodney Bennett, performed with the London Sinfonia, conducted by Richard Hickox. United States first performances include Richard Rodney Bennett's sonata and Alfred Prinz's bassoon concerto. Future engagements include an extensive tour with New York's Lincoln Center Chamber Music Society and concerto tours in Europe and Australia. Eleven prize-winning CDs for DECCA, GALLO, COLLINS, and REGENT records have won top honors and outstanding acclaim worldwide. These recordings include concerti by Mozart, Strauss, Hummel, and Wolf-Ferrari with orchestras such as the Philharmonia, the London Mozart Players, and RIAS Berlin under the conductors Thomas Vasary, Jane Glover, and Vladimir Ashkenazy. Equally successful are her recordings of gems from the previously undiscovered wealth of solo baroque and classical bassoon repertoire which she researched in European libraries. On a lighter note, the arrangements for the extraordinary female bassoon quartet "Queens of the Night", whose repertoire extends from Scheidt to Elvis to...! are available on video (live performance at MIDEM) and CD.
Within the contemporary realm, Kim is actively enlarging the bassoon's repertoire, working with such composers as Karlheinz Stockhausen, Luciano Berio, Giya Kancheli, Sofia Gubaidulina, Simon Bainbridge, Richard Rodney Bennett, and David Baker.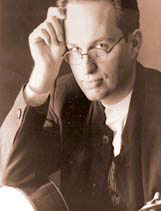 New Opus Trio
Born in Tuzla, Bosnia and Herzegovina, in November 1972, Denis Azabagic is considered today as one of the best guitarist of his generation. In 1993, at the age of 20, he became the youngest winner of one of the most prestigious International Guitar Competition: " Jacinto e Inocencio Guerrero", Madrid, Spain. He has been a prizewinner in virtually every competition he participates, including first prize at the following Festivals:
   International Guitar Festival IGF-Frechen, Germany, 1995;
   International Guitar Competition "Rene Bartoli"-Aix en Provence, France, 1995; International Guitar Competition"Francicso Tarrega"-Benicasim, Spain, 1995;
   International Guitar Competition"Manufacturas Alhambra"-Alcoy, Spain, 1996;
   International Guitar Competition "Printemps de la Guitarre"- Bruxelles, Belgium, 1996; International Guitar Competition "Guitar Foundation of America"- Montreal, Canada, 1998;
   Schadt String Competition, Allentown, Pennsylvania, USA, 1999;
   Stotsenberg International Guitar Competition, Malibu, California, USA, 1999.
In 1993 Denis Azabagic formed a duo with a flutist Eugenia Moliner and since then they have played concerts at festivals and concert halls throughout Europe and America. Today known as Cavatina Duo, they have recorded their first CD for the Spanish label "Opera Tres". As a soloist, Denis has played with various orchestras and has given recitals in Europe and the United States. His performances has taken him to famous halls such as Concertgebouw in Amsterdam and Radio France in Paris.
Denis Azabagic has published three solo CDs, one for "Printemps de la guitarre" and another two for "Opera Tres". He also appears on the Video recording for Mel Bay. A new CD for Naxos will be on the market in the August 2000.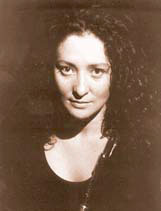 Spanish flutist Eugenia Moliner has been acclaimed by the British Flute Society Magazine as "a brilliant young musician and an artist of the highest caliber."
She started her musical education at the age of 14 in the "Conservatorio Superior de Musica de Valencia" and continued her studies at Rotterdam's Conservatorium, graduating with the highest honors. Her professors were Dolores Tomas, Jo Hagen, Els Van Zundert and Jan Gruithuizen. She also attended master-classes with Jaime Martin, Kate Hill, Raimond Guiot and Magdalena Martinez.
Eugenia Moliner has been playing as a first flute of Baroque Ensemble in Rotterdam and second flute of National Philharmonic of Netherlands. She was also the first flute of "Montebello Ensemble" with which she appeared around Europe, conducted by Henk Guitaart. With the same ensemble she performed for the Shoenberg family on national Dutch TV.
As a soloist she performed recitals with accompanist Jan Gruithuizen, Rob Broek, and Melody Lord, captivating audiences with her personality and musicianship.
As a professor she has taught in Conservatory of Burriana, Valencia-Spain. Since 1997 she regularly gives master-classes in Valencia-Spain and in Tuzla-Bosnia. Recent concert and master-class at the Northern Illinois University were received with great enthusiasm and confirmed her qualities both as a pedagogue and as a concert player.
In 1993 she formed a duo with guitarist Denis Azabagic and since then they have been playing in concert halls and festivals of Europe and USA, such as Eem and Veem festival in Groningen (Netherlands), Aix en Provence summer festival (France), Frechen festival (Germany), Ciutat de Burriana festival (Spain).
In 1996 they won the "Young Musicians of De Doelen" competition in Rotterdam (Netherlands). Today known as Cavatina Duo they recently released their first CD for the Spanish label Opera Tres, with which they have signed a contract for five years. Pan Magazine from England said this about the recording: "The energy levels behind this playing are breath taking, the ensemble playing is superb and the program is fascinating." Eugenia's next solo project is a CD featuring composers from South America.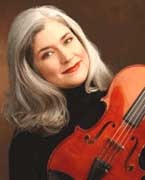 Christine Rutledge, currently Associate Professor of Viola at the University of Iowa, has appeared as soloist, chamber musician, and orchestral musician throughout the United States and abroad.
Her performances and recordings have been praised in such publications as "The Strad," "Fanfare," the "New York Times," and "The New York Concert Review." Her recordings with the Notre Dame String Trio include: "Chamber Works of David Diamond for Strings and Piano" with pianist Ralph Votapek, and the Hindemith String Trios. Soon to be released is a solo disk of works by Clarke, Bliss, and Bridge for viola and piano with Ksenia Nosikova. Recent solo performances and master classes include those at International Viola Congresses in Bloomington, Indiana, Marchneukirchen, Germany, and Linksping, Sweden; Rhodes College; the Oberlin Conservatory; and the University of Kansas.
Rutledge's repertoire spans major works from the standard repertory to lesser-known and obscure works for the viola, particularly those for viola in unusual combinations. She also performs many of her original transcriptions of baroque compositions, including the Bach Cello Suites and Gamba Sonatas. Works composed for her include "Chimera" for Viola and Harpsichord by C.P. First and "Nudged Along on Time's Notched Stick" for Flute, Viola, and Guitar by Zae Munn. Currently a trio for flute, viola and guitar is being composed for her newly-formed ensemble, The New Opus Trio, by Jeremy Dale Roberts, and also a duo for viola and percussion by Claude Baker.
Rutledge currently serves on the executive board of the American Viola Society, and is president of the Iowa Viola Society. For six years she served as Assistant Principal Viola of the Louisville Orchestra and violist of the Ceruti Chamber Players and the Kentucky Center Chamber Players. She has also been a member of the faculty at the University of Notre Dame. Festival appearances include the Sewanee Summer Music Center, the Aspen Music Festival, the Taos School of Music, the Manitou Music Festival, the Hot Springs Music Festival, and the Interlochen Arts Camp. She is currently a member of the Fontana Festival of Music and Art ensemble and has served as faculty member at the Interlochen Arts Camp.
Rutledge is a graduate of the Curtis Institute of Music as a student of Karen Tuttle and Michael Tree, and the University of Iowa with William Preucil, Sr. She is also a graduate of the Interlochen Arts Academy, where she was honored as Valedictorian and recipient of a Young Artist Award. Among her many honors are Prizewinner in the Aspen Festival Viola Competition, an Indiana Arts Commission Individual Artist's Fellowship, recipient of an Eli Lilly Foundation grant for undergraduate teaching development, as well as several awards from the Institute for Scholarship in the Liberal Arts at the University of Notre Dame. Most recently she was awarded a major grant from the Arts and Humanities Initiative at the University of Iowa.