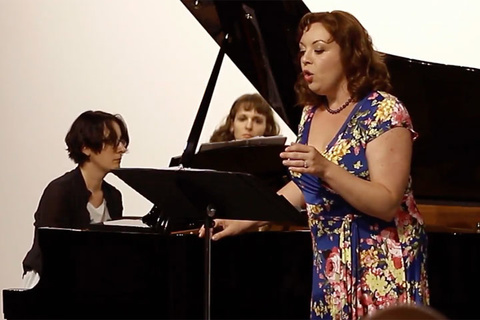 The Center for New Music presents
 
Guests
Liz Pearse, soprano
Stacey Barelos, piano
 
Thursday, February 28, 2019 at 7:30p in the Recital Hall
Labor Day (2011)
LJ WHITE 
More (2015)
Natasha ANDERSON 
Games of Belief (2015)
Tonia KO 
Intermission
Got Lost (2006)
Helmet LACHENMANN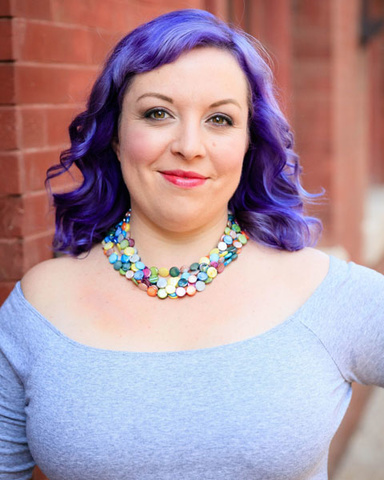 Liz Pearse
Finding joy in variety, Liz Pearse is a musician of many pursuits. Liz began her exploration of the endless possibilities of the voice after a childhood spent playing any instrument she could lay hands upon. As a performer, her uniquely colorful and versatile voice has led to performances of wide-ranging works from medieval to modern, and though she is known as a specialist in contemporary vocal repertoire, she also deeply enjoys a well-aged song. Liz has recently begun a long-term project commissioning and performing works for singer at the piano (though she still enjoys the collaborative process!), and looks forward to presenting her second full-length recital of such pieces, a celebration of the 100th anniversary of Poulenc's La bestiaire featuring newly-commissioned animal portraits, in 2019.
     Liz has a special affinity for music post-1900. As a soloist, her recent projects include multiple performances of Pierrot Lunaire, touring Olivier Messiaen's Harawi, electroacoustic programming including Philomel, and on-going commissions dedicated to the creation of works for self-accompanying soprano.
     In addition, Liz forms one-quarter of Quince Ensemble, a treble quartet dedicated to the creation and performance of contemporary vocal literature. With Quince, Liz has performed on tours of Morton Feldman's Three Voices, David Lang's love fail (including the work's Polish premiere), and on numerous collegiate residencies and festivals from coast to coast. Quince's third album, Motherland, was released to critical acclaim by New Focus Records in April 2018. Quince will record love fail in 2019.
     In previous seasons, Liz has had the privilege of performing at the Lucerne Festival, singing Berio's Coro under the baton of Sir Simon Rattle. She also performed at soundSCAPE Festival in Italy, where in 2013 she shared the distinction of "Outstanding Performer" with her brother, conductor and percussionist John J. Pearse. Other chamber and solo engagements have included the Toronto Electroacoustic Symposium; (le) poisson rouge; Omaha Under the Radar; Kerrytown Concert House; Baldwin Wallace University; and Constellation Chicago. Her opera credits include Lyric Opera Kansas City, Michigan Opera Theatre, Toledo Opera, and Opera in the Ozarks, in addition to many performances with Indiana University and Bowling Green State University Opera Theatre.
     Liz recently received her Doctorate in Contemporary Music from Bowling Green State University in Ohio. There, her studies included research in the prevalence and incorporation of contemporary repertoire in the collegiate voice studio, and her dissertation "BECAUSE THERE IS NO BASIS FOR COMPARISON": THE SELF-ACCOMPANYING SINGER AND ROGER REYNOLDS' SKETCHBOOK FOR THE UNBEARABLE LIGHTNESS OF BEING was presented in October 2018.
     Liz's doctoral recitals included Messiaen's Harawi and an electroacoustic program, among a diverse range of art song and chamber programs. She also won both the Dr. Marjorie Conrad Art Song Competition and the BGSU Competitions in Music concerto competition while at BGSU, and her mentor there was Dr. Jane Schoonmaker Rodgers. Prior to her doctoral work, Liz studied with Patricia Stiles at Indiana University.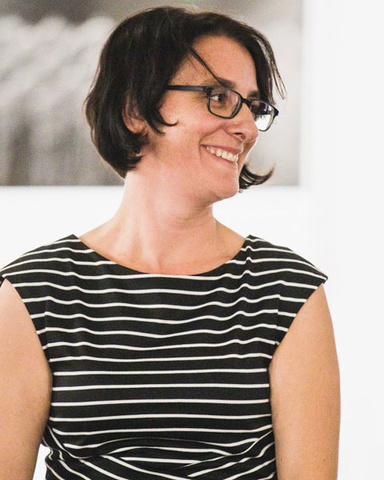 Stacey Barelos
Omaha native Stacey Barelos is a performer, composer, and educator. As a pianist, she specializes in the music of the 20th and 21st centuries and has done extensive research on the piano music of American composer Henry Cowell, www.cowellpiano.com. Her recent performances have expanded to the world of the toy piano with an upcoming album to be released in 2019 featuring new solo and chamber toy piano works.
     As a composer, Stacey's music has been performed across the U.S. and in Europe and Australia. Recent premieres include many little noisy wooden things for percussion and improvisers, as part of the Generator Series, and In a World (voice and piano) and The Non-American Dream (voice and trombone), written in collaboration with the Opera Omaha One Festival. Dr. Barelos can be heard on the Albany, Centaur, and Blue Griffin labels.
     As an educator, Dr. Barelos is the Theory/Composition Department Chair at the Omaha Conservatory of Music and the Education Director for the Omaha Under the Radar Festival. As part of the festival, Stacey teaches Soundry an experimental workshop for amateur adults wishing to explore instrument making, improvisation, and composition. Dr. Barelos received degrees from the University of Wisconsin-Madison, Luther College and Bowling Green State University. For more information, see her website, www.staceybarelos.com.
LJ White
Labor Day
Poet: Erika Meitner

The way we sleep to-
gether is locational,
seasonal -- the way
you can buy useful things off
the roadside here in
summer passing through: peaches,
heirloom tomatoes,
squash, sweet corn, bait, antiques, rugs,
tie-dye, fireworks, guns --
your hand around the back of
my neck in the dark
above the covers the way
you'd hold a beer can,
near empty, out on the porch
before tossing it.
Natasha Anderson
More
More is a fractured intermingling of situated relations to a female self. It uses fragments of the now axiomatically popular medieval song from Martin Codax, 'Ondas do mar de Vigo', in which a Galician fisherman's wife longs for her husband, yet to return from sea. Other text is triggered by inmates accounts of the institutionalised, gendered abuse dished out at the Hay Institution for Girls. More also conjures forth the voice of Anneliese Michel, a young German woman who died exhausted and malnourished as a result of exorcisms carried out in 1976, in counterpoint to the voices of the Catholic priests who tormented and tortured her.
As we move through this world of symbols, we come alive in quick-fire flashes of attention across the boundaries between sense and non-sense. The vocal subject of More is a fractured human who is one moment hysterical, the next quietly authoritative. She appears briefly as if a cantor intoning some ritual, the next a glossolalic savage enacting the physical process of internalising a punishing oppression. More foregrounds the ontological violence of experiences for which we have no language. The work is an etude on the excesses of body, text, flesh and feeling, under whose tangled net we labor to make meaning out of the meaningless. We are already full to bursting and still we cannot get - nor be - enough. The most ordered voice of the work repeatedly commands: 'still more'. —Natasha Anderson and Jessica Aszodi
Tonia Ko
Games of Belief
My piece starts by confronting an acoustical reality of the piano: every key is connected to a long metal string that contains all harmonic partials of the fundamental note. By isolating these overtones, the performer essentially creates a series of arpeggios, a familiar trope to so much of piano music. This concept of arpeggiation, of leaping up and down the keys became a parameter that I freely manipulated by condensing and stretching intervals. Games of Belief is a loose set of variations over series of chords that expand outward from the opening cluster. Even as the texture changes dramatically, these chords serve as anchors for the listener. At the end of the piece, a descending melodic line guides our return to the acoustic overtones of the opening. The music is constantly striving - sometimes violently - and expanding in range, but at its center is a lyrical core. —Tonia Ko
Helmet Lachenmann
Got Lost
According to pianist Stephen Drury, "Helmut's music doesn't want to give us what we already have, what we already feel good about. He wants to give us an experience we can't imagine having. It's the most beautiful thing in the world." (Quoted in The Post and Courier, 6/1/2016). Using familiar acoustic materials (here: a piano, pianist, and singer), German composer Helmut Lachenmann's works disorient, astonish, fascinate, and awaken one's aural senses to previously unimagined worlds of sound. Though his music has often been seen as cold, inaccessible, or densely intellectual - there is simultaneously a child-like wonder, and a delight in discovery of timbres, sounds, possibilities - like snowflakes seen through the microscope, then on the end of one's mittens.
Even when it seems on the brink of chaos, as if the musicians have become detached from reality, normalcy, and decorum - Lachenmann's music requires both skill, care, and the will to learn and perfect new actions. "Sometimes I say to musicians, 'Try to like it'. They laugh, but they understand." (LA Times, 4/13/2008) In Got Lost, both singer and pianist make sounds in ways uncommon to their discipline, highlighting the musical possibilities of tongue clicks, cheek slaps, and unpitched vocal play that few Western composers have explored - none with such specificity as Lachenmann. On top of all this, he chooses three extremely different texts - a call to courage by Friedrich Nietzsche, a ridiculous love letter to ridiculous love letters by Fernando Pessoa, and a request regarding a lost laundry basket, found in a German elevator.
One may seek meaning from these juxtaposed words (which often occur in tandem - the singer attempting to perform two poems simultaneously) - but, as is often the case with Lachenmann's music, it may be more fruitful to abandon the search for meaning - and take in the sounds instead. "Music is the same thing as a sunrise - it doesn't say anything. It's there, and you enjoy it" (Helmut Lachenmann, Post and Courier). —Liz Pearse