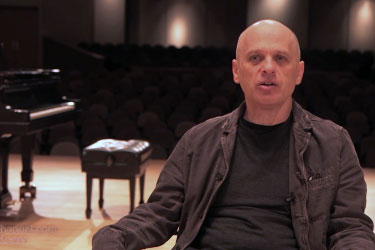 Concert II
The CNM Ensemble
performing works of guest composers
David Lang and Josh Levine
and works by
Hans Abrahamsen, Robert Moran and David Gompper
​Sunday, September 27, 2015, 7:30pm
Riverside Recital Hall (map)
Program
Schnee, Canons 1a & 1b (2006-2008)
Jeiran Hasan,
flute
Allison Offerman, oboe
Christine Burke, clarinet
Wannapha Yannavut, percussion
Korak Lertpibulchai, piano I
Alejandra Escobar,
piano II
Leonardo Perez,
violin
Elizabeth Upson, viola
Matthew Laughlin, violoncello
Zachary Stanton, conductor
Traceur (2014)
David GOMPPER
Thiago Ancelmo de Souza, clarinet
David Gompper, piano
sweet air (1999)
David LANG
for flute, clarinet, piano, violin and cello
Oneirograph, Studies I-III (2015)
Josh LEVINE
electro-acoustic work
 
32 Cryptograms for Derek Jarman (1994)
Robert MORAN
Performers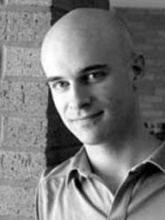 Zachary Stanton received his Doctor of Musical Arts in composition from the University of Texas at Austin, where he studied with Dan Welcher, Yevgeniy Sharlat, Donald Grantham, and Russell Pinkston. He has written for orchestra, wind ensemble, choir, and chamber ensembles of various sizes, and his work has been increasingly performed throughout the United States. In 2012 his Concerto for Piano and Wind Ensemble received Honorable Mention in the ASCAP/CBDNA Frederick Fennell Competition.
    Recent commissions include works for clarinetist Sarunas Jankauskas, trumpet player Jared Broussard, horn player Anne Marie Cherry, the Sacramento Youth Symphony Chamber Music Workshop and Line Upon Line Percussion. In 2011 Line Upon Line Percussion released a recording of Echoes of Veiled Light, for percussion trio. During the 2011-2012 season, the Austin Symphony Orchestra premiered the orchestral version of Triple Venti Latté under music director Peter Bay.
    Active as a performer, Stanton served as a pianist and conductor for the University of Texas New Music Ensemble and for four years acted as the Assistant Director of the group.
    Prior to his appointment at the University of Iowa, Zack taught at Belmont University and the University of Texas at Austin.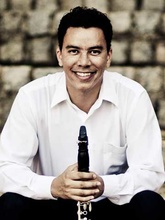 Born in Brazil, Thiago Ancelmo de Souza obtained his Master's degree at the Hochschule für Musik der Stadt Basel, where he graduated with distinction under the guidance of the renowned educator François Benda. During his studies in Switzerland he had the chance to work with important musicians and composers such as Sergio Azzolini, Felix Renglli, Heinz Holliger, Helmut Lachenmann and others. In Switzerland he received a scholarship by Ruth und Hans Rapp Stiftung.
    He was awarded and finalist in many competitions including Jovens Interpretes do Centro Cultural de São Paulo (2003), Jovens Solistas da Orquestra Experimental de Repertório (2005 and 2006), Jovens Talentos Brasileiros (2007), International Clarinet Competition in Krsko (Slovenia,2008), Zurich Opera House Orchestra Academy (2009), and All Star Competition (2012).
    In 2012 he moved to Iowa, where he is pursuing his Doctor of Musical Arts degree at the University of Iowa under the orientation of Dr. Maurita Murphy Marx. Thiago is honored to be the recipient of the prestigious "Iowa Performance Fellowship" granted by the Graduate College of the University of Iowa.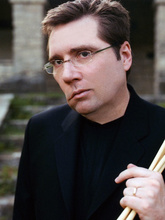 Dan Moore explores the many expressive capabilities of percussion, making music with inspiring artists and composers from an array of musical backgrounds throughout the world.
    He has commissioned and/or premiered new works by composers such as Robert Moran, Paul Elwood, David Gompper, Dick Schory, Anders Koppel, Christopher Deane, Dwayne Rice, Katarina Stamatelos, Lawrence Fritts, Zach Zubow and many others.
    His collaborations and recordings range from experimental art music (Cabinet of Curiosities: The Graphic Percussion Scores of Robert Moran) to quirky, reimagined pop hits of the 1970s (Does Anybody Really Know What Time It Is)
   
 
Program Notes
Hans ABRAHAMSEN
Schnee
Scored for two pianos and percussion with trios of woodwinds and strings, The 2006 version of Schnee is a quarter hour-long set of gradually crystallizing canons that are also musical portraits of snow: its flurries, how it blankets and blanks out the landscape, its delicacy, its cold.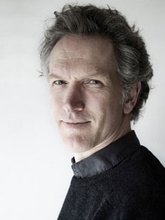 Hans Abrahamsen was born in 1952, and received his musical education from, amongst others, Per Nørgård, Pelle Gudmundsen-Holmgreen and György Ligeti. An early beginner – his first published works date from when he was sixteen – he had produced a sizeable output by the time he reached thirty: several orchestral works (including Nacht und Trompeten (1981), a luminous and dramatic nocturne commissioned by the Berlin Philharmonic), two string quartets and numerous other pieces, mostly instrumental. In 1984 came a set of seven piano studies (later increased to Ten Studies) after which Abrahamsen's productivity gradually slowed, then stopped.
    In 2000 he completed his first extended work in a decade an a half, the Piano Concerto, at once intimate and tightly crafted, as close to Schumann as it is to Stravinsky, speaking at certain moments with intense poignancy. What might have seemed a breakthrough, however, proved an impasse, and it was at this point that Abrahamsen turned again to his piano studies to remake the first four as Four Pieces For Orchestra, which had its UK premiere at the BBC Proms in 2005.
    The new millennium has brought a sequence of major new works that opened in earnest with Schnee; his Third String Quartet (2008), in four short movements, is a relatively simple piece that remains deeply puzzling; Wald for fifteen players (2009) is at once natural depiction (in this case of shadowy forests), cultural evocation (of horn calls, hunts and lurking mystery) and elaborate musical construct; and the Double Concerto (2010-11), exquisite and touching, reaches steadily to moments of bursting brilliance.
    Hans Abrahamsen received the Carl Nielsen Prize in 1989 and the Wilhelm Hansen Composer Prize in 1998. He is featured composer at the Witten Days for New Chamber Music in Germany in spring 2012. — © Paul Griffiths
---
Josh LEVINE
Inflorescence IV
This piece is the penultimate work in a series whose title, "Inflorescence," signifies the process of flowering. The five compositions share two particular attributes. One of these characteristics is that their identities emerge through the compositional process itself, which is to say, I do not have a clear idea where the pieces are going or what they are "about" before embarking on them. The other commonality is that their germinal pitch resources refer to borrowed material. In the present work for two flutes, the melodic material is closely related to that of a twentieth century popular tune and its descending minor-scale accompaniment. The instruments interlace tightly in an off-kilter, looping dance of forgetting, ever revisiting the same material but never able to "relive" it in the same way.
Oneirograph
Oneirograph (ō-nī'rō-grăf) n. An instrument for measuring dreams (?)
With hearty thanks to David Bowlin for performing the violin material, to Rian Brown and Geoff Pingree for their Antarctic sound files and inspiring images, to Eli Stine for his technical assistance—and to Ludwig van Beethoven for his "Heiliger Dankgesang."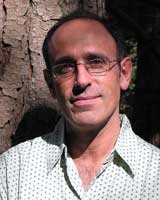 The music of American composer Josh Levine (b. 1959 in Oregon) has been commissioned and performed by prominent new music soloists and ensembles in venues ranging from IRCAM and the Cité de la Musique in Paris to Merkin Hall in New York, from festivals in Melbourne and Los Angeles to the World New Music Days in Stockholm. His tape piece, Tel, was awarded First Prize (1987) and a Euphonie d'0r (1992) at the Bourges International Electroacoustic Music Competition. Recordings of his works have been broadcast internationally and released on the harmonia mundi and New Focus labels.
    Following classical guitar studies in Basle, Switzerland, Levine's focus shifted to composition under the tutelage of Balz Trümpy. Further studies took him to the Paris Conservatory (1985-86 with Guy Reibel) and IRCAM. He worked for several years in Europe as a free-lance composer and guitarist in such noted new music ensembles as Contrechamps before earning his Ph.D. at the University of California, San Diego under the primary mentorship of Brian Ferneyhough. From 2000-08, he lectured in composition, electronic music, and music theory at San Francisco State University, and was subsequently appointed Assistant Professor of Composition at the Oberlin Conservatory of Music. He has also taught composition at UCSD and Stanford University, as composer-in-residence at the soundSCAPE festival in Italy, and in master classes across the U.S.
---
David GOMPPER
Traceur
This work is based on a series of sketches that were generated at the MacDowell Artist Colony in New Hampshire in December and January of 2013-2014, ideas generated from the ascending order of fractions that create interesting symmetrical properties (the Farey series). While this trench work served as a somewhat obtuse structural foundation, the surface and expression of the music is very much related to the experience—mostly imagined—of the art of Parkour, and the person known as a traceur, who as a skilled runner and jumper often performs acrobatic feats of flight (mostly choreographed). This work is about the idea of tracing a path, a person trying to run as fast as possible into (but not around) rails and obstacles with minimal energy and without slowing down.
    This composition was completed November 3, 2014 in Iowa City, and premiered on a recital of contemporary American works November 8 on the University of Iowa campus, with Michael Norsworthy performing and the composer at the piano. It was revised thrice before its final recording in Mechanic's Hall, Worchester, MA on November 16, 2015.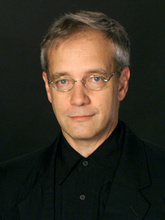 David Gompper has lived and worked professionally as a pianist, a conductor, and a composer in New York, San Diego, London, Nigeria, Michigan, Texas and Iowa. He studied at the Royal College of Music in London with Jeremy Dale Roberts, Humphrey Searle and pianist Phyllis Sellick. After teaching in Nigeria, he received his doctorate at the University of Michigan, taught at the University of Texas, Arlington, and since 1991 has been Professor of Composition and Director of the Center for New Music at the University of Iowa. In 2002-2003 Gompper was in Russia as a Fulbright Scholar, teaching, performing and conducting at the Moscow Conservatory. In 2009 he received an Academy Award from the American Academy of Arts and Letters in New York City.
    Gompper's compositions have been performed in such venues as Carnegie, Lincoln Center and Merkin Halls (New York), Wigmore Hall (London), Konzerthaus (Vienna) and the Bolshoi Hall (Moscow). Wolfgang David and the Royal Philharmonic Orchestra recorded his Violin Concerto for a Naxos CD, and his song cycle The Animals, based on the poetry of Marvin Bell, was released on an Albany disc in June 2012. His Double Concerto, written for Wolfgang David, violin and Timothy Gill, cello and Principal of the Royal Philharmonic Orchestra (RPO), was premiered in March 2013. He received a 2013 Fromm Commission to write a Clarinet Concerto for Michael Norsworthy and BMOP (Boston Modern Orchestra Project), Gil Rose, director, which will be premiered in the spring of 2016. During the fall of 2014, he completed a work for clarinet and piano called Traceur, which was recorded with Michael Norsworthy for a CD to be released fall of 2015. Finally, he is working on a Cello Concerto to be premiered in the fall of 2016, and recorded by the RPO in January of 2017.
---
David LANG
sweet air
During a trip to the dentist my oldest son Isaac was given laughing gas. The dentist called it sweet air, a gentle name to take the fear out of having a cavity filled. It worked. My son experienced something—a drug—so comforting that it made him ignore all signs of unpleasantness. This seemed somehow musical to me. One of music's traditional roles has always been to soothe the uneasy. I must say I have never been that interested in exploring this role. It is much easier to comfort the listener than to show why the listener might need to be comforted. My piece ''sweet air'' tries to show a little bit of both. In ''sweet air,'' simple, gentle musical fragments float by, leaving a faint haze of dissonance in their wake.
   The work "sweet air" was written for the ensemble Sentieri Selvaggi for premiere at the Settembre Musica Festival in Torino, Italy, 9 September 1999. It is intended as a birthday present for Louis Andriessen - Happy sixtieth birthday, Louis! — David Lang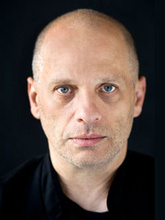 David Lang (composer, Bang on a Can co-Artistic Director) is one of America's most performed composers and is the recipient of numerous honors and awards, including the Pulitzer Prize, Musical America's Composer of the Year for 2013, and Carnegie Hall's Debs Composer's Chair for 2013–2014.
    Recent works include the concerto man made for the ensemble Sō Percussion and a consortium of orchestras, including the BBC Symphony and the Los Angeles Philharmonic; mountain for the Cincinnati Symphony; and death speaks, for Shara Worden, Bryce Dessner, Nico Muhly, and Owen Pallett, at Carnegie Hall. Upcoming highlights include the world premiere of his opera anatomy theatre written in collaboration with visual artist Mark Dion at Los Angeles Opera in June 2016; the North American release in December of Academy Award-winning director Paolo Sorrentino's film Youth , for which Lang composed the score; and Cantaloupe Music's release of the world premiere recordings by the Los Angeles Master Chorale of Lang's the national anthems and the choral version of the little match girl passion .
    Lang is Professor of Music Composition at the Yale School of Music and is also co-founder and co-artistic director of New York's legendary music festival Bang on a Can.
---
Robert MORAN
32 Cryptograms for Derek Jarman
Although the composer employed John Cage-like compositional procedures, this delightful, rhythmic work from 1995, painted in bright timbres for chamber orchestra, could only be a piece by Moran. Borrowing the bass line of a well-known aria from Henry Purcell's Dido and Aeneas, Moran built encoded cryptograms from aggregates (Cage's term) of pitches over each note of that bass, and consulted the I-Ching (another Cage procedure) to determine the "sound-thickness". Both the indicated dynamics and the number of repetitions of each cryptogram may be altered and determined by the performers and/or conductor. Derek Jarman was the brilliant British filmmaker who was chosen by Moran to direct his opera Desert of Roses for the Houston Grand Opera, but unfortunately circumstances did not permit the fruition of that project.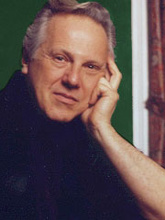 Robert Moran has traveled many musical paths since 1957 when he began his study of 12-tone music in Vienna with Hans Erich Apostel. He has composed for solo instruments and intimate chamber groups; he has created musical compositions incorporating 100,000 performers, radio and television stations, skyscrapers, and airplanes; and he has collaborated with Phillip Glass to compose minimalist opera scores. Moran compositions range from the absurd theatre piece Popcorn Music, in which performers react to the sight and sound of popcorn popping, to the sinister yet funny Alice in Wonderland for the Scottish Ballet.
    His Trinity Requiem, written to commemorate the 10th anniversary of 9-11 is described as "An ethereal work of incredible beauty," and having "[L]yricism without shame." Game of the Antichrist is his newest opera. A religious work from the 12th century, the play depicts the religious conflict around the arrival and eventual defeat of the Antichrist. The work features children's chorus, guitar, jazz piano, alp horn and dozens of other instruments brought together to paint a rich emotional narrative.
    Throughout his career Moran has been careful not to ally himself with any specific school of composition. Musicologist and critic Walter Simmons noted that Moran "has passed through most of the 'isms' that have comprised the contemporary music landscape of the past 50 years." This freed him to explore whatever musical form interested him at the moment, and his numerous musical excursions led to the development of his unique style.
    32 Cryptograms for Derek Jarman is Moran's dynamic offering to experimental film maker Derek Jarman who was best known for the 1986 film Caravaggio. Jarmen died in 1994 from an AIDS-related illness at age 52. The work was choreographed by Ashley Page for the Royal Ballet at London's Royal Opera House in l996 and by Christopher House for the Toronto Dance Theater in l997.