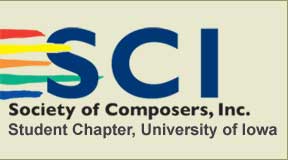 Concert I
University of Iowa - School of Music
Society of Composers, Iowa student chapter
Nima Hamidi, President       Alexandros Spyrou, Vice-President
Jonathan Wilson, Treasurer       Jonah Elrod, Secretary
24 + 24 Hour Concert
Sunday, September 20, 2015, 7:30pm
Riverside Recital Hall (map)
Program
Convergence is the tendency of two dissimilar objects in close proximity to developing similarities. Re-Convergence involves the integration, separation, and ultimate reconciliation of disparate sound objects/events. Their gradual disassociation and re-assemblage results in a brief drama that disseminates a rendering of sonic transformation.
This piece is about people who want to get away from their daily life. An intense introduction, carried on by a section including multiple techniques, is representing individuals who want to escape from their reality. No one wants to give up; people are struggling in their own ways.
While I knew of countless great passacaglias written throughout music literature, prior to working on this piece I was not familiar with the wealth of pieces written for solo tuba, including works by Persichetti, Penderecki, and Malcolm Arnold. Typically in a passacaglia, a bass instrument such as the tuba is confined to reiterating the bass line. In my piece, I wanted to let the tuba explore within, around and even stray from the ostinato, while maintaining the essence of the form.
— Intermission —
The music for "The Wanderer" is rooted in the aimless direction of the harmony. As I created this piece, I thought about the weather and mood the day Friday, September 18 had cast upon me with its storms and cloudy dreariness. Many of the sounds that will be heard are abstractions of the weather encountered that day.
The definition of a Paradox is, a statement or proposition that seems self-contradictory or absurd but in reality expresses a possible truth. To create this piece a world of contradiction was used to create order and form. The composer asked himself questions, and the answers created the form of the piece. But no one knows what inspired those answers from the subconscious. The inspiration for those answers were uncontrolled impulses, those uncontrolled impulses were used to created a very controlled environment upon which the form of the piece takes shape. Thus creating the Paradox of using contradiction to create order.
on My Experiences with a Brother Who Has Autistic Traits but No Diagnosis
My brother came into this world with developmental delays and similar cognitive issues. When he was a toddler, my parents brought him to the University of Iowa Children's Hospital to have him tested for autism, but we found out, surprisingly, that he barely skirted diagnosis on the autism spectrum. Thus, we have had to experience his journey as one without a road map. As his older brother, I have had the joy of witnessing his growth over the years, and it is apparent to me that his condition is by no means a setback but instead an opportunity. This is my testimony to my beautiful relationship with my brother.
Three phrases that explore transitions of timbre.
A work for two iPhones and four dancers and lasts about 3-4 minutes.