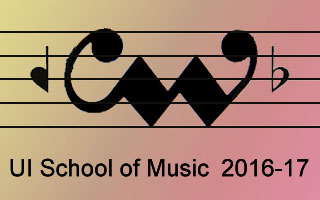 Composers' Workshop II
the second concert in Season 52 of UI composers' recent works
adjudicated and chosen by their peers
Sunday, December 10, 2017, 7:30 p.m. at the Concert Hall
 
 Program
Teddy Van Winkle, Matt Johnson, Noah Perkins, and Jasen Smith, trombones
My main concept of this piece was formal in nature. The idea in question was simple: a gradual increase in energy and intensity from beginning to end, finally culminating in an explosion, a feeling of everything drawing to a red-hot point. What I found interesting about this particular formal idea is that it owes more to rock music than to classical – indeed, it was listening to various rock songs that undergo this type of transformation that first gave me the idea for this piece. There are numerous songs in the rock world that have this type of formal construction (i.e. Stairway to Heaven by Led Zeppelin, One and The Day That Never Comes by Metallica, Starless by King Crimson, more Tool songs than I'd care to name, etc.) but when it comes to pieces in the classical realm that do the same thing, I was hard pressed to name even one. The reason for this, I believe, is that whether it's sonata form, traditional fast-slow-fast arrangement of movements or sections of pieces, or even general treatment of musical themes, the idea of return is thoroughly ingrained in classical sensibilities, and this idea would of necessity preclude the type of form described above.
    What I wanted to do was to create a piece with this formal idea taken straight from the rock world, but with a "syntax" that was firmly planted in the traditions of classical music. The result is a piece that gets carried by its own momentum, and as such, has little room for backward glances. That said, there are definitely themes and other musical ideas that get developed and transformed throughout the piece. It is a fusion of sorts, one that I hope is both fresh and invigorating.
Mauricio da Silva, clarinet
Dana Mietus, viola
Carlos Toro Tobon, Buchla Music Box
To the composer, the notion of a static time to which one's perception seems bound fails to account for the actual experience of reality. Rather, time seems to fluctuate according to such factors as affectation, movement, interaction, and perception. This piece attempts to elaborate on these ideas through sociological and psychological concepts. Throughout the piece, time, represented by the linear organization of elements, is not meant to contain events, but rather to be formed by the events themselves through interaction between the performers.
Resolute, Razed, and Redeemed
"Ruth"
"Rachel"
"Rahab"
Benjamin Wolfe, Counter-tenor
I find that the most beautiful vocal pieces are the ones where the music enhances and embodies the literal meaning of the text, a technique known as "text painting." Resolute, Razed, and Redeemed consists of three songs that, by using text painting, bring the stories of three significant biblical women to life. "Ruth" focuses on the power and resolve of Ruth's words to Naomi. "Rachel" depicts the mourning of a mother who has tragically lost her children. "Rahab" is a heartfelt plea for mercy and a realization of faith.
Maeve McGonigal, flute
Having begun as a 48-hour collaborative project, Respiri has developed into an exploration in the art of shaping air through, around, and outside of the flute.
Emily Wheeler, mezzo-soprano
Rebecca Pape, piano
Like the cycle between day and night, life and death are inevitable. Try as we might, we can never escape it.
And
now, the presence of the Red Death.
He
had come like a thief in the night.
And
one by one dropped the revelers
in
the blood-bedewed halls of their revel,
and
died each in the despairing posture of his fall.
And
the life of the ebony clock went out
with
the last of the gay.
And
Darkness and Decay
and
the Red Death held dominion over all.
Joshua Yem, oboe
Clayton Dryden, piano
A reminiscent piece, The Sound of Rain uses rhythm to personify the weather. Using only A, C, and their overtones, this piece aims to bring the sounds of music in nature to the listener.
AT A STEADY CONSISTENT RATE 
Zachery Meier, flute
Alex Widstrand, bassoon
Justin Comer, saxophone
Alex Spenceri, euphonium
Jeremy Maas, violin
Will Yager, string bass
Christine Burke, object
Performers count through a series of numbers at their own steady, consistent rate, alternating between sound and silence:
3333537333537535537533557337537337547333436333436433446
4344463334666334773337383337387377787337388387883387383