Wolfgang Panhofer, violoncellist
Clapp Recital Hall
Sunday, May 22, 2005, 3:00 p.m.
Guest Performer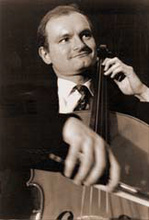 Born in Vienna, Wolfgang Panhofer studied at the Vienna Academy and at the Royal Northern College of Music with Ralph Kirshbaum. He was the winner of a number of prizes, including the Sir John Barbirolli prize and the Austrian Broadcasting Competition. He has had masterclasses with Paul Tortelier, William Pleeth, Ralph Kirshbaum, Boris Pergamenschikow, and Steven Isserlis, and studied chamber Music with Andras Schiff and Peter Schidloff of the Amadeus Quartet. At the age of 17 he was the youngest member to play with the Vienna Philharmonic Orchestra. He has performed concerts throughout Europe, Asia, the Middle East, Africa and the USA where he gave his debut at the Carnegie Hall in 2000. Numerous Radio and Television Broadcast performances include Eurovision under Franz Welser called Moest, a live broadcast shown in 8 countries within Europe; with Paul Tortelier for the BBC; with the Katowice Philharmonic Orchestra for Polish Television; and a special report on Slovenian TV. He has performed concerts under Yehudi Menuhin, Marcello Viotti, Martin Haselboeck, and Franz Welser Moest. He took part in the 150th Birthday Anniversary Concert of Antonin Dvorak with Josef Suk at the Vienna Concerthaus. He has played with world renowned orchestras (Vienna Symphony, Vienna Chamber Orchestra, BBC Symphony, Hamburg Symphony) and is a sought guest of international festivals.
He played numerous concerts in Europe, Japan, Korea, and the United States with renowned orchestras such as the Vienna Symphony Orchestra, the Vienna Chamber Orchestra, the Niederösterreichische Tonkünstler Orchestra, the Lodz Philharmonic, the Baltic Philharmonic, the Kattowitz Philharmonic, and the chamber music ensemble of the BBC Symphony Orchestra.
Program
| | |
| --- | --- |
| Sonata op. 31 | Egon WELLESZ |
| Suite No. 2 in d minor, BWV 1008 | J. S. BACH |
| 3 Signs, op. 53 | Thomas Daniel SCHLEE |
| Cellare | Alfred PESCHEK |
| Sonata for Violoncello solo | Wolfram WAGNER |
Notes & Bios
EGON WELLESZ
Sonata op. 31
The Sonata op. 31 consists of one movement and was written in two days in August of 1920. It begins and ends with a slow motive in 4/4, repeated throughout the piece with slight variations. It is contrasted by an Allegro which is followed by an abrupt change of tempo and character as well. This creates a very tense piece with a slight structural changes found in the classical form of the sonata.
Egon Wellesz (1885-1974) was a pupil of Schoenberg and a close friend of Berg and Webern. He was a specialist in Byzantine music and became a professor at Oxford University, England.
---
J.S. BACH
Suite No. 2 in d minor, BWV 1008
J.S. Bach (1685-1750) is the most prominent member of a huge family of musicians. He has written six Suites for violoncello solo which belong to the oldest works written for this instrument. They all have a very distinct form: the movements alter not only the moods and the tempo but also the rhythms (between 2 and 3). Apart from the introduction (Preludium) all movements are dances.
---
THOMAS DANIEL SCHLEE
Three Signs op. 53 for violoncello solo
Among the outstanding qualities of the violoncello is the intensity of its singing register, from dark depths to its glowing heights. My three pieces written in 2002 are signs of friendship. The music speaks in various aspects: in the dialogues between interpreter and instrument, between composer and the persons the pieces are dedicated to, and between sound and listener. Every detail is directed towards expressivity.

The first piece is of serious character; it begins like a funeral procession, which after an intensification returns to its initial mood. The melodic line of the second "sign" is more lyrical and occasionally graceful; the alternation of ponticello-tremolandi interfere until the music ends with a scarce, grotesque gesture.

In the third piece "laughing" elements alternate with cheerful movements. The music reaches ever higher regions, and falls down in silence. Then, an intimate almost popular melancholic song arises out of the pitch sequence of the beginning, with which the work fades away.
Thomas Daniel Schlee
Thomas Daniel Schlee (b. 1957, Vienna) studied composition with Erich Romanovsky and Francis Burt, and organ with Michael Radulescu at the Hochschule fuer Musik und darstellende Kunst in Vienna from 1976 to 1985. He completed his PhD in Musicology at the University of Vienna in 1984. He also studied with Olivier Messiaen and organ with Jean Langlais in Paris. During the 1980s he was a music dramaturg at the Landestheater in Salzburg, and taught at the Academy of Music and Performing Arts in Vienna as well as at the University of Salzburg. From 1990 to 1998 he was the Artistic director of the Brucknerhaus in Linz, including the International Bruckner Festival. From 1998-2001 he was President of the Guardini Foundation in Berlin, and since then a member of its governing body and board of musical advisors. From 1999-2003 he was Deputy director of the International Beethoven Festival in Bonn and since 2004 Director of the festival "Carinthischer Sommer." He tours internationally as organist, and does editorial and publication work. His compositions include works for orchestra, ensembles, vocal, choral, chamber and instrumental music, including many pieces for or including organ. His composition 3 Signs, op. 53 were written in 2002 and premiered on this concert tour.
---
ALFRED PESCHEK
Cellare
Cellare, for violoncello and written in March 2005, is in three parts. The music is meditative, and written using unstressed and stressed accents (Arsis and Thesis). The first performance is on this concert tour.
Alfred Peschek (born 1929, Linz), works as a composer, musicologist, and music publisher in his home city. He was the founder of "neues ensemble" and the Director of the Bergtheater in Linz. He studied philosophy and musicology in the University of Vienna philosophy (with Erich Schenk), church music, and conducting with Hans Swarovsky. His teachers in composition were Johann Nepomuk David and Bruno Maderna. Premieres have taken place throughout the world. He taught at the Bruckner Conservatory, which is now the University of Linz. Currently he lives as freelance composer who attempts to combine sound colors and sound music with elements of electronic, movement and graphic arts.
---
WOLFRAM WAGNER
Sonata op. 31
The Sonata for violoncello solo was written for Wolfgang Panhofer, who not only premiered it in 1990, but recorded it for Austrian radio and performed it on many tours around the world. The sonata requires a great deal of virtuosity with its artificial harmonics and double stops but also inner depth in its lyrical parts.
Wolfram Wagner (born 1962, Vienna) studied composition at the Universitaet fuer Musik in Vienna, at the Guildhall School of Music and Drama in London and at the Musikhochschule in Frankfurt. He has won several awards and distinctions (the international Anton Bruckner Prize, Linz in 1997, and the Publicity Prize from AKM Austria, among others). In 1992 he was the Composer in Residence of the Academy of St. Martin in the Fields, London, and is currently a professor in composition, harmony and counterpoint at the Universitaet fuer Musik in Vienna. His works include 3 operas, 1 ballet, 2 oratorios, several orchestral works, chamber music, and works for choir and songs). They have been written for or commissioned by the Wiener Musikverein, Wiener Konzerthausgesellschaft, Academy of St. Martin in the Fields, Neue Oper Wien, Carinthischer Sommer, and performed by such ensembles as the Radio Symphony Orchestra Vienna, the Residence Orchestra Den Haag, as well as by famous chamber groups and soloists.