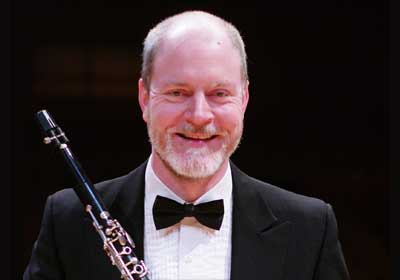 Concert XII
David Gresham, clarinet
and
John Orfe, composer/pianist
Tuesday, March 10, 2015, 7:30pm
Riverside Recital Hall (map)
|| download program ||
Program
Leviathan (2011)
      for 2 clarinets and piano
 
John ORFE (b. 1976)
 
Thiago Ancelmo de Souza, guest clarinetist
 
Album Leaves (2002)
      for piano
     I. Contemplativo, tempo rubato
     II. Meccanico
     III. Sereno, luminoso
     IV. Presto giocoso
 
Steven STUCKY (b. 1949)
 Sonata No. 2 (2007)
      for clarinet and piano
      I.
      II.
      III.
      IV.
 
 Alvin ETLER (1913-1973)
 
— Intermission —
 
Three Studies for Solo Clarinet (2007)
     I. Mountain Bird
     II. Poignant Son
     III. Relentless Machine
 
Karel HUSA (b. 1921)
Intimations (1989)
     for clarinet and piano
 
Sebastian CURRIER (b. 1959)
 An Illustrated Ontogeny of the Flower Snark (2013)
       for clarinet and piano
      -Dot (no break between movements)
      -Line
      -Pyramid
      -Prism
      -Cube
      -Metamorphosis I
      -Metamorphisis II
      -Flower Snark
 
 Carl SCHIMMEL (b. 1975)
Performers
David Gresham
Clarinetist David Gresham has appeared as a recitalist, soloist with orchestra, and chamber musician in over thirty countries and across the United States. Recently he presented a solo recital at the American Music Week Festival on Gulangyu Island, Fujian Province, China. Dr. Gresham has also given six recitals in Japan, a nine-concert recital tour of South America as an Artistic Ambassador sponsored by the United States Information Agency, and given solo performances in England, Italy and Canada. He has presented five recitals at Lincoln Center's Bruno Walter Auditorium in New York City, in addition to other venues in New York including the Great Hall at Cooper Union, the 92nd Street Y Art Gallery, and the Ann Goodman Recital Hall of the Lucy Moses School, in addition to many appearances throughout the nation.
As a soloist with orchestra Dr. Gresham has appeared in Japan, Germany, Portugal, England, Ukraine and the United States. He gave the New York premiere of several works, including David Rakowski's Cerberus concerto for clarinet (doubling on bass clarinet) and orchestra, Osvaldo Golijov's Yiddish Ruakh (version for clarinet and chamber orchestra), and Yevhen Stankovich's concerto for clarinet and chamber orchestra, Secret Calls. Among composers who have composed solo and chamber works for Dr. Gresham are Carl Schimmel, John Orfe, David Maslanka, Paul Harvey, Virko Baley, Valentin Bibik, Tanya Leon, and Oleg Felzer. Dr. Gresham recorded the Mozart clarinet concerto with the Kiev Camerata orchestra for the Troppo Note/Cambria recording label. He made the premiere recording of David Maslanka's concerto for clarinet and band, Desert Roads, which was released by Albany Records. He also presented the Desert Roads concerto at the 2009 ClarinetFest in Porto, Portugal.
As a chamber musician, Dr. Gresham has collaborated with pianist Ursula Oppens, violist Donald McGinnis, pianist Mikola Suk, violinist Mark Steinberg, pianist Benjamin Loeb, the Parnassus Contemporary Music Ensemble, composer/conductor Oliver Knussen, the Almeda Trio, among many others. From 1992 to 2009 he performed with the New York based new music group, Continuum, with which he appeared frequently in New York City, and on tour throughout North and South America, Eastern and Western Europe, and Central Asia. With Continuum he also recorded several CDs of contemporary music.
Dr. Gresham is Professor of Music at Illinois State University in Normal, Illinois. In addition to concertizing, he frequently gives master classes at colleges and music schools in the U. S. and abroad. He performs with the Sonneries woodwind quintet, the duo Difference Tones with flutist Kimberly Risinger, is a member of both the Peoria Symphony Orchestra and the Heartland Festival Orchestra. Dr. Gresham attended the University of South Carolina, the Manhattan School of Music, and earned his doctorate from The Juilliard School.
John Orfe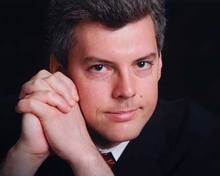 As piano soloist and collaborative artist, Dr. John Orfe has earned critical acclaim for his interpretations of five centuries of keyboard repertoire ranging from the canonic to the arcane. As the core pianist and a founding member of critically-acclaimed new music ensemble Alarm Will Sound, he has performed in Carnegie Hall, Miller Theatre, Roulette, the World Financial Center, and Symphony Space in New York; Disney Hall, Mondavi Hall, and Hertz Hall in California; and music series and festivals across the United States and Europe including Harvard University, Moscow, St. Petersburg, Amsterdam, Berlin, Bremen, Bolzano, Cork, Hamburg, London and Krakow. The New York Times praised his "virtuosic ardor" in performances of György Ligeti's Piano Etudes and Concerto. His solo piano transcription of John Adams' Short Ride in a Fast Machine was hailed as "a knockout" by the Boston Globe and "breathtaking" by the San Francisco Chronicle, which also praised his "hypervirtuosic" performances of Nancarrow. Dr. Orfe gave the US premiere of Steve Reich's "Piano Counterpoint" at Stanford University's Bing Hall in March 2013 as well as the work's East Coast premiere at the Metropolitan Museum of Art in November 2013. He has recorded on Canteloupe, Nonesuch, and Parma labels.
Notes
John ORFE
Leviathan
a concert allegro for two clarinets and piano, takes its title from the sea monster - nowhere explicitly defined as a whale - described in the Book of Job, Chapter 41. The immense and fearsome power of the beast are depicted through serpentine figures in the clarinets, percussive thrashings in the piano, and musical figures that are melodically and rhythmically mighty, mercurial, and wild. Leviathan, of course, is also the famous political tract by Thomas Hobbes written in 1651 during the English Civil War. Hobbes advocated a strong central government as a necessary prevention against social chaos - what he called "the war of all against all." There is no political link between my piece and Hobbes' tract; there is a looser connection insofar as aspects of my current harmonic practice resemble aspects of Hobbes' social contract under a sovereign. Leviathan was premiered by David Gresham, Stephen Heinemann and the composer as part of the 2011 Illinois New Music Festival at St. Joseph's Church in Peoria, Illinois.
John Orfe's music has been performed worldwide. He has fulfilled commissions for numerous chamber, choral, orchestras and festivals, earning praise from The New York Times, LAWeekly, San Francisco Chronicle, Boston Globe, Die Welt, and Hamburger Abendblatt. He is a winner of a Jacob K. Javits Fellowship, a Tanglewood Music Center Fellowship, the William Schuman and Boudleaux Bryant Prizes from BMI, twelve Standard Awards and the Morton Gould Award from ASCAP, the Heckscher Prize from Ithaca College, the Charles Ives Scholarship from the American Academy of Arts and Letters, and first prizes in national competitions held by NACUSA, the Pacific Chorale, Choral Arts Ensemble, Eastern Trombone Workshop, and New Music Delaware. He holds a Bachelor of Music degree from the Eastman School of Music, a Bachelor of Arts in Religion from the University of Rochester, as well as Master of Music, Master of Musical Arts, and Doctor of Musical Arts degrees from the Yale School of Music. He served as the Peoria Symphony Orchestra's first-ever Composer-in-Residence and was honored by InterBusiness Magazine as one of Peoria's "40 Leaders Under Forty" in 2012. In 2013 he received Bradley University's Presidential Appreciation Award. Music of Dr. Orfe appears on the Centaur and Delos labels.
---
Steven STUCKY
Album Leaves
For many years I avoided writing solo music for the piano, intimidated, I suppose, by the grandeur of the existing repertoire, by the seeming impossibility of finding new ways for the piano to speak, and by my inability to play the instrument myself. Yet when Xak Bjerken asked me to write something for his February 2003 recital, I couldn't refuse. Since I am booked to write him a larger piece in a few years, we both looked on this as a kind of test: whether I could write for piano, and whether what I wrote would suit him. These short movements are, at least in rough size and shape, character pieces in the nineteenth-century mold of Schumann, Chopin, or Brahms. This is an idea that has interested me for a long time: the kind of composing that depends not on long-spun narratives or exhaustive development, but on the clarity, pungency, and immediacy of a single, arresting sound-image. It's the kind of composing, too, that aims at maximum contrast between one short movement and the next, not at integrating them into some larger cycle.
Steven Stucky is widely recognized as on of the leading composers today. He was awarded the Pulitzer Prize in Music for his Second Concerto for Orchestra. He has written commissioned works for many of the major American orchestras and ensembles. For over 21 years he was resident composer of the Los Angeles Philharmonic. He taught at Cornell University, where he founded Ensemble X, until 2014, when he joined the faculty of The Juillliard School.
---
Alvin ETLER
Sonata No. 2
Etler's early style is reminiscent of Hindemith with overtones of Bartok and a hint of jazz, but in 1963 with the famous Brass Quintet his style changed to a more astringent modernism. The Sonata No. 2 for Clarinet and Piano from 1969 is clearly in this latter style. It is a dramatic, serious, and gripping work.
A student of Paul Hindemith, Alvin Etler is noted for his highly rhythmic, harmonically and texturally complex compositional style, taking inspiration from the works of Bartók and Copland as well as the dissonant and accented styles of jazz.

Though he played with the Indianapolis Symphony in 1938, he abandoned his orchestral life shortly thereafter to focus on his increasingly successful compositional career (which earned him two Guggenheim Fellowships during this period). In 1942 he joined the faculty at Yale University as conductor of the university band and instructor of wind instruments, where he began his studies with Hindemith. He also taught at Cornell University and University of Illinois before accepting a position at Smith College, which he held until his death.

Notable works include his two woodwind quintets (from 1955 and 1957), a bassoon sonata, the 1963 "Quintet for Brass Instruments", and "Fragments" for woodwind quartet.

Etler is also the author of Making Music: An Introduction to Theory, an introductory-level theory text published posthumously in 1974.

(bio from Wikipedia)
---
Karel HUSA
Three Studies for Solo Clarinet
were composed for the 60th Prague Spring International Music Competition in 2008. The three contrasting and virtuoso parts progressively represent three different characteristics of playing: espressivo, legato and staccato.
Karel Husa, winner of the 1993 Grawemeyer Award and the 1969 Pulitzer Prize for Music, is an internationally known composer and conductor. An American citizen since 1959, Husa was born in Prague, Czechoslovakia, on August 7, 1921. After completing studies at the Prague Conservatory and, later, the Academy of Music, he went to Paris where he received diplomas from the Paris National Conservatory and the Ecole normale de musique. In 1954, Husa was appointed to the faculty of Cornell University where he was Kappa Alpha Professor until his retirement in 1992. He was elected Associate Member of the Royal Belgian Academy of Arts and Sciences in 1974 and has received honorary degrees of Doctor of Music from several institutions, including Coe College, the Cleveland Institute of Music, Ithaca College, and Baldwin Wallace College. Among numerous honors, Husa has received a fellowship from the Guggenheim Foundation; awards from the American Academy of Arts and Letters, UNESCO, and the National Endowment for the Arts; Koussevitzky Foundation commissions; the Czech Academy for the Arts and Sciences Prize; the Czech Medal of Merit, First Class, from President Vaclav Havel; and the Lili Boulanger award. Recordings of his music have been issued on CBS Masterworks, Vox, Everest, Louisville, CRI, Orion, Grenadilla, and Phoenix Records, among others.
---
Sebastian CURRIER
Intimations
First performed on a concert of the New York Guild of Composers in February 1989. A one movement work where ideas are hinted at before they are stated outright. The title also refers to the inward, personal nature of the work as a whole. The sections are: Whispered, Fragmentary - Whirling, at Times Frenzied - Remote. It is recorded by clarinetist Nathan Williams on Albany Records.
Sebastian Currier is the 2007 recipient of the prestigious Grawemeyer Award. Heralded as "music with a distinctive voice" by the New York Times and as "lyrical, colorful, firmly rooted in tradition, but absolutely new" by the Washington Post, his music has been performed at major venues worldwide by acclaimed artists and orchestras.
His music has been enthusiastically embraced by violinist Anne-Sophie Mutter, for whom he wrote Aftersong, which she performed extensively in the US and Europe, including Carnegie Hall in New York, Symphony Hall in Boston, the Barbican in London, and the Grosses Festspielhaus in Salzburg. A critic from The Times (UK) said, "If all his pieces are as emotionally charged and ingenious in their use of rethought tonality as this, give me more." His violin concerto, Time Machines, dedicated to Ms. Mutter, was premiered by the New York Philharmonic in June 2011, and called "rapturously beautiful" by the New York Times. Recordings include his violin concerto Time Machines with Anne-Sophie Mutter and the New York Philharmonic on Deutsche Grammophon, Next Atlantis with the Ying Quartet on Naxos, and "On the Verge" from Music from Copland House, featuring his Grawemeyer Award-winning Static, and other chamber works. His "Quartetset/Quiet Time" album, recorded by the Cassatt Quartet, says Anne Midgette for The New York Times, "…distances the present from the past, causing the listener to think about music itself."
He has received many prestigious awards including the Berlin Prize, Rome Prize, a Guggenheim Fellowship, a fellowship from the National Endowment for the Arts, and an Academy Award from the American Academy of Arts and Letters, and has held residencies at the MacDowell and Yaddo colonies. He received a DMA from the Juilliard School; and from 1999-2007 he taught at Columbia University.
---
Carl SCHIMMEL
An Illustrated Ontogeny of the Flower Snark
Composed for David Gresham and John Orfe in 2013, The Flower Snark develops via a series of geometric metamorphoses. No more than a dot in its first life stage, it matures rapidly into one of the more bizarre life forms known to science. While the Flower Snark's name is descriptive of its ornate appearance in the adult phase, it belies the voracious and aggressive nature of the creature. Discovered in 1975 by Rufus Isaacs, the "J5" subspecies is the most studied; the ontogeny of the more primitive "J3" subspecies is illustrated below: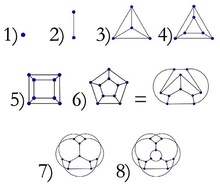 Winner of Columbia University's Joseph Bearns Prize, composer Carl Schimmel has received honors and awards from many organizations, including the MacDowell Colony, Yaddo, the Seoul International Composition Competition, the National Federation of Music Clubs, the New York Youth Symphony First Music Awards, the American Composers Forum, American Music Center, NACWPI, SCI, and ASCAP. His works have been performed in Carnegie Hall's Weill Hall, Merkin Hall, St. Martin-in-the-Fields in London, Severance Hall in Cleveland, the National Arts Centre in Ottawa, and at other venues throughout North America, Europe, and Asia. He has received performances and commissions from the California EAR Unit, the Left Coast Chamber Ensemble, North/South Consonance, saxophonist Taimur Sullivan, bass clarinetist Henri Bok, Line C3 Percussion Ensemble, Cross Sound Music Festival, Quintet Attacca, the Mexico City Woodwind Quintet, and many others.
He received his Ph.D. in Music Composition from Duke University, where he studied with Sydney Hodkinson, Stephen Jaffe, Anthony Kelley, and Scott Lindroth, and he earned a Master's degree in composition from the Yale School of Music, where his teachers included Ezra Laderman, Martin Bresnick, Evan Ziporyn, and Ned Rorem. He was a student at the Aspen Music Festival (2003 Master Class with Christopher Rouse and Poul Ruders, private lessons with George Tsontakis in 1996), and studied at the Cleveland Institute of Music with Jennifer Conner while attending Case Western Reserve University (B.A. Mathematics and Music). He has taught at the Yale School of Music, Duke University, Northern Illinois University, and Grinnell College. He is currently Assistant Professor of Music Composition and Theory at Illinois State University.