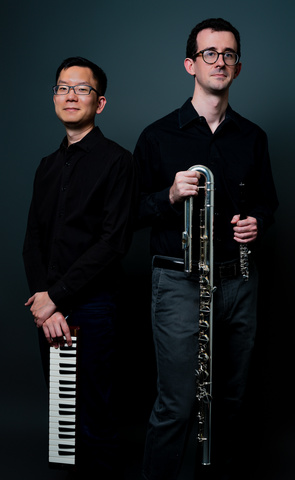 The Center for New Music hosts
Duo Axis
Zach Sheets, flute and Wei-Han Wu, piano
 
Wednesday, October 19, 2022 at 7:30p in the Concert Hall
 
Program
Adrift (2022)* 

Alex STEPHENSON

b. 1990
Alma (2007)

Tania LEÓN

b. 1943
pruning (2021)*

Carolina HEREDIA

b. 1981
My simple measured steps have brought me here (2022)*

Christine BURKE

b. 1991
Axis Mundi (2022)*

Anthony CHEUNG

b. 1982
*Indicates Duo Axis commission
     Carolina Heredia's work
Pruning
was written for Duo Axis and commissioned by the Barlow Endowment for Music Composition at Brigham Young University. Duo Axis projects have been generously supported by the Amphion Foundation, Copland Fund, Ditson Fund, Koussevitzky Foundation, Barlow Endowment, and St. Botolph Club Emerging Artist Award.
As Duo Axis, flutist Zach Sheets and pianist Wei-Han Wu present vibrant performances of music both new and old. Sought after for recitals and residencies across the US, Duo Axis has been featured by a wide range of presenters, including: University of California Davis, University of Chicago, Brown University (Providence, RI), Qubit (NYC) the Knutson Masters Series (Sioux Falls, SD), EQ Concerts (Boston, MA), Æpex Contemporary Performance (Ann Arbor, MI), Houston Flute Club (Houston, TX), Cape Symphony Chamber Series (Cape Cod, MA), Valencia International Performance Academy (Spain), Creative Arts Initiative (Buffalo, NY), University at Buffalo, and more. Other community-based partnerships include teaching at Buffalo String Works, an El Sistema-based program on Buffalo's West side neighborhood, and a lecture recital at Boston Chinatown Neighborhood Center featuring works written for Duo Axis by Tonia Ko and Anthony Cheung, plus interviews with the composers.
In 2021, Duo Axis launched Duo@50, a landmark commissioning project celebrating the 50th anniversary of Copland's Duo for Flute and Piano with four new commissioned works by Anthony Cheung, Carolina Heredia, Christine Burke, and Matthew Ricketts. Duo Axis projects are generously supported by the Amphion Foundation, Ditson Fund, Copland Fund, Koussevitzky Foundation, Barlow Endowment, Lower Manhattan Cultural Council, and more. To watch and listen to this and other recent projects, visit: https://www.duoaxis.com/what
As a Duo, we champion the thrilling potential of authentic duo playing, and the unbridled possibilities of flute and piano collaboration—frequently working closely with composers to create new works and foster a spirit of innovation. We establish long-term partnerships to create vivid and unique works, well-tailored to our artistic vision, while contributing meaningfully to our field's ever-expanding body of exceptional repertoire.
Described as "brilliant" by the Pittsburgh Tribune, pianist Wei-Han Wu has performed in such venues as the Chicago Cultural Center, the Kennedy Center, and Carnegie's Weill Recital Hall. He has been a featured performer at the Tanglewood, Aspen, Castleton, Lake George, and Walla Walla Chamber Music Festivals. Dedicated to the performance and promotion of new music, Mr. Wu is currently pianist for the [Switch~ Ensemble]. He previously served as pianist for the Aspen Contemporary Ensemble, Pittsburgh New Music Ensemble, and the president of OSSIA New Music. A member of Pi Kappa Lambda, he is the recipient of a Distinguished Achievement Award from the Juilliard School, the Felicia Montealegre Fellowship from the Tanglewood Music Center, and the Collaborative Piano Fellowship from Bard College. Mr. Wu holds degrees from Northwestern, University of Michigan, and a double DMA degree in Piano Performance and Collaborative Piano from the Eastman School of Music. Currently a freelance pianist in Washington DC, Mr. Wu is on faculty at Peabody Conservatory and Shenandoah University, and has collaborated with artists from the National Symphony, Washington National Opera, and more.

Zach Sheets enjoys a multifaceted life as a chamber musician, composer, orchestral flutist, and arts administrator. He has performed as guest Principal Flute with the Boston Ballet, Spoleto Festival USA Orchestra; Portland Symphony, Albany Symphony, and Phoenix Chamber Orchestra; and as a guest of the Boston Pops, Boston Pops Esplanade Orchestra, Oklahoma City Philharmonic, and Cabrillo Festival. He was named principal flute of the Cape Symphony Orchestra at 23, and is a founding member of Duo Axis and the [Switch~ Ensemble]. Festival engagements as a soloist or chamber musician include Royaumont (FR), SinusTon (GER), Aldeburgh (UK), Britten-Pears (UK), Klangspuren Schwaz (AUS), Spoleto USA, IRCAM Mani-Feste (FR), June in Buffalo (US), and CulturaUNAM (MEX). Also a dedicated administrator and educator, Sheets is the Senior Director of Major & Institutional Gifts for Community Music Center of Boston, the largest outside provider of music education to the Boston Public Schools. He has spoken about arts policy and funding partnerships state-wide and nationally, including before the Massachusetts Legislature and Mass Cultural Council; at the Chamber Music America National Conference; and the National Guild for Community Arts Education. He holds degrees from Harvard University and the Eastman School of Music.
Program Notes
     Adrift stages a dialogue between what I've called narrative and spatial music—between music, in other words, that seems outwardly communicative and expressive, and music that seems only to curate an ambiance in which outward expression might (or might not) happen. Over a bed of sonorous piano harmony, the flutist and the electronics continually negotiate their place in the texture, drifting between ambient oscillations and far more active textures. Despite the continuous flux underlying the music, much of the piece presents itself as calm, focused, and meditative. 
     The music of composer Alex Stephenson—praised as "masterfully orchestrated" and exhibiting "sonic beauty" (San Diego Union-Tribune)—stems from a deep-rooted lyrical impulse, evoking sonic worlds that feel simultaneously fresh and familiar. Alex's work has been presented and commissioned by festivals including Tanglewood, Royaumont, ISCM World New Music Days, Santa Fe Chamber Music Festival, Breckenridge Music Festival, Composers Conference, and the New York City Electroacoustic Music Festival. Recent and upcoming collaborators include the New Fromm Players, Flux Quartet, Duo Axis, Hausmann Quartet, HOCKET, and the La Jolla Symphony. He currently teaches on the faculty of Illinois State University and is completing a Ph.D. at the University of California San Diego.
---
     Alma was written in 2007. Commissioned through the generosity of the Bay Paul Foundation as part of Meet the Composer's New Music, New Donors Initiative, it was premiered by Marya Martin. 
     "Una flauta toca un crecendo que se va convirtiendo en alegria" /
     "A flute plays a crescendo that starts transforming into joy." --
          ---From "Bailando con mi angel" by Carmen A. Vega Schimmenti, Puerto Rico
      This poem was the spark that ignited the creation of Alma. Ripples of pitches, a web of sonic impulses shimmering in the imagination. In Spanish, "alma" means soul or spirit; invisible forces, like the wind that caresses the chimes outside my window. The opening and closing of the piece evokes the sound of these chimes. The mood of the middle sections is propelled by the cascading of pitches that at times converge and diverge, a myriad of colors in playful conversation of bouncing gestures.
     Tania León, born in Cuba and a vital personality on today's music scene, is a highly regarded composer and conductor recognized for her accomplishments as an educator and advisor to arts organizations. She has been the subject of profiles on ABC, CBS, CNN, PBS, Univision, Telemundo, and independent films. Her works have been performed by the Orquesta Sinfonica de Asturias, Gewandhausorchester, Orpheus Chamber and the NDR orchestras, and more. She has lectured at Harvard University, Visiting Professor at Yale University, and Guest Composer/Conductor at the Hamburg Musikschule in Germany and the Beijing Central Conservatory in China.
---
     Pruning evokes the process of self-directed neuroplasticity, something ancient Eastern cultures have known to be possible for thousands of years, but that Western science has just been able to understand and prove with their own methods. Automated processes in the brain are necessary to deal with the amount of information it receives in from our daily reality, but they are deeply shaped by our own experiences in early life. The pruning of neural connections in adult life allows for redirecting automated processes in the brain towards a more conscious and intentional path. I believe this is the key to evolving into a much more advanced phase of humanity. This work resembles how I feel my meditation practice is expressed poetically in sound and musical gestures. Acknowledging/accepting, forgiving/letting go, and rebuilding, imagining in as much detail as possible, a brighter future. The more vivid that image is, the clearer my present, my actual options, and my very next steps will become.
     Carolina Heredia is a composer of acoustic and electronic Classical New Music, an Intermedia producer, violinist, and educator. Her awards include the 2015 Fromm Music Foundation Commission, 2018 International New Music Competition John Corigliano Grand Prize, the 2019 Lake George Music Composition Competition, and the 2020 Barlow Endowment General Commission. Carolina holds a Doctorate in Music Composition degree and was a Research Fellow for the Institute of Humanities at the University of Michigan. She was a postdoctoral fellow at the University of Missouri School of Music, then Assistant Professor in Music Composition and Associate Director of the Mizzou New Music Initiative. She is currently the Director of Artist Support for American Composers Forum.
---
My simple measured steps have brought me here is a spacious, improvisatory exploration of a sound world. Although unusual for my work, I found myself developing a narrative as I worked on the piece:
You are at the edge of a path in darkness. You begin walking and find that at times, your footsteps cause excitement and activity around you. Unsure of the nature of this activity, you proceed cautiously, pausing frequently to observe the effects of your footsteps. You continue on the path. You continue. You continue.

You sense something in the near distance and you begin to walk more regularly, settling into a comfortable rhythm. The activity coalesces around you like a cloud of dust and silt and you believe, correctly, that you see something in its midst. You see it again. And again, but it barely reveals itself. And again - is it changing?

It evades you as you step towards it, and soon disappears. You stop walking.
     Christine Burke is a composer from Iowa City, IA, whose music has recently been performed by Kamraton Ensemble, Gabi Vanek & Daniel Schreiner, Alkali Collective, Bob Spring, the Walden School Creative Musicians, line upon line, and Will Yager. Upcoming projects include performances with Lex Leto x Christine Burke Ensemble at the Mission Creek Festival, as well as a new work for a.pe.ri.od.ic. Christine earned a Master's Degree from the University of Iowa, where she studied with Nomi Epstein, Josh Levine, and Larry Fritts (composition) and Maurita Murphy Marx and Jorge Montilla Moreno (clarinet). She was previously a student of David Stock (composition) and Jack Howell (clarinet) at Duquesne University. She currently resides in Iowa, where she composes for and performs with a group of friends under the name "The Christine Burke Ensemble".
---
     Axis mundi refers to the point of cosmic contact between Heaven and Earth, a literal or figurative center of the world that connects the celestial with the earthly. It can be symbolized in innumerable ways, from trees, ziggurats, and mountain ranges (real or imagined), to columns and pagodas. My use here of course pays homage to the name of Duo Axis, but also thinks about how the flute and piano might metaphorically serve as conduit and conjuror between worlds. Flutes are the oldest instruments in the world, dating back at least 50000 years, and in many early civilizations were constructed from animal bones for use in religious ceremonies and spiritual worship, serving as an axis mundi through sound. They continue to project an image of mythological purpose and power. The writing in this piece frequently aligns both instruments, with the flute extending the vibrations of the piano, or breathing new life into decaying or denatured resonances. They often intersect as a single unit or sound source, revealing a shadow or a trace, and then as complementary forces that orbit around one another through independent cycles.
     Composer/pianist Anthony Cheung writes music that explores the senses, a wide palette of instrumental play and affect, improvisational traditions, reimagined musical artifacts, and multiple layers of textual meaning. His music has been commissioned and performed by leading groups such as Ensemble Modern, Ensemble Intercontemporain, New York Philharmonic, Cleveland Orchestra, Frankfurt Radio Symphony Orchestra, Ensemble Musikfabrik, Scharoun Ensemble, Orchestre Philharmonique de Radio France, and many others. Honors include a 2016 Guggenheim Fellowship and 2012 Rome Prize. He studied at Harvard and Columbia and has taught at the University of Chicago and Brown University, where he is currently Associate Professor of Music. His large-scale song cycle, "the echoing of tenses," featuring texts by seven Asian-American poets, was premiered at the Ojai Festival in summer 2022.