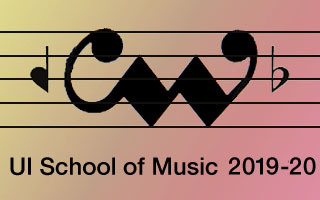 the third concert in Season 54 of UI composers' recent works
adjudicated and chosen by their peers
 
Composers' Workshop III
 - cancelled -
Sunday, March 29, 2020 at 7:30p in the Concert Hall
Afraid                                                                                                                                                                Matt MASON [BIO]
Jichen Zhang, soprano saxophone
Yo yo Su, alto saxophone
Sean Miller, tenor saxophone
Matthew Nicholson, baritone saxophone
Originally written for Saxophone Quartet, Afraid first premiered in an arrangement for solo piano and electronics:
     "Afraid" is an expression of love for the film "Night of the Living Dead" which is considered the originator of zombie film culture. Not only was the film a campy, experimental entry into the horror genre, but it was also full of scathing, yet subtle social commentary on issues of race, gender, and the American Nuclear family. In an effort to mimic the same campy, yet depth-full spirit of the original film, "Afraid" is a blend of humor and introspection. Using dialogue from the film (which fell into the public domain because of a copyright oversight) the fixed media element uses the film's dialogue to create rhythmic drive, somber accompaniment, and anxiety-inducing underscore.
Iowa River: Observations and Encounters                                                                                                         Norah WOLFE 
   I.
  II.
 IV.
  V.
 VI.
VII.
Ligament,
Anika Kildegaard,
soprano
Will Yager
,
double bass
Iowa River: Observations and Encounters is a setting of the composer's texts about her experiences walking along the Iowa River to get to work.
Norah Wolfe is a senior studying vocal performance with Dr. Rachel Joselson and composition with Dr. Jean-François Charles. Ms. Wolfe is a multi-disciplinary artist pursuing vocal performance, composition, and poetry as avenues for expression and experimentation. This semester, she is one of ten members of the University of Iowa's Undergraduate Workshop in Poetry and has recently had two poems published in Mirror Magazine.
Gemini                                                                                                                                                      Mark RHEAUME [BIO]
Teddy Van Winkle,
tenor trombone
Tom Kelley
,
bass trombone
Gemini. (n), 14th century.
     1. Mythology: Castor and Pollux, the Dioscuri, who each spend half of their time dead in the underworld, while the other half dwells on Olympus.
     2. Astrology: The third astrological sign in the zodiac.
     3. Astronomy: A pre-Apollo program, named Gemini for the two-man crew, and famous for the first rendezvous of manned spacecraft in orbit.
     4. Personal: A story about brothers.
Three Sisters                                                                                                                                           Trinton PRATER [BIO]
  I. в москву (To Moscow)
 II. Ирина (Irina)
III.​ Маша (Masha)
IV. Ольга (Olga)
Will Yager
,
double bass
Trinton Prater,
electronics
This piece is a compilation of transitional music written for a University of Iowa production of Anton Chekhov's Three Sisters. The fixed media is built entirely of session recordings of a drum kit played in the punk rock style, the bass responding to these sounds with traditional Russian folk tunes, often getting sucked into the contemporary rage of the tracks.
Imagination's Limit IV - Shallow Grace                                                                                                                Ace WHITE 
Lydia Meikle, cello
Shallow Grace is the fourth piece in Imagination's Limit, a series of pieces exploring astrophysical concepts from a humanist perspective. Beauty is hollow. A void is alone, yet has no flaws due to being void of everything. Perfection and beauty will always leave an empty feeling, like you need something to fill the void left when all the flaws were removed. Note the heavy arpeggiation in the cello, trying to fill in chords without dissonances and without overlap. Beauty always comes at a price, but what hole is left behind?
        Ace White (b. 2001) is a second year student at the University of Iowa, currently majoring in Physics and Music. Their musical journey started in fourth grade with the double bass, and their passion for music blossomed when they began the electric bass in fifth grade. They started arranging music for themself and their ensembles in sixth grade. Their adventures into composition began in eighth grade when they began songwriting. A year later they started composing scores for duets and trios, but their music still retained a more lyrical tone. Three years ago, they started writing music for larger ensembles and began experimenting with more abstract works. Their works tend to be programmatic, feature a heavy bass presence, and showcase dissonance in a variety of contexts. They have studied under Carlos Cotallo-Solares, and are currently studying under Ramin Roshandel.