Mauricio Lasansky's
Nazi Drawings
Sunday, April 9, 2000, 2:00 p.m. at the UI Museum of Art
download program
Program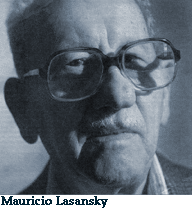 Following a visit to the Lasansky Room in September 1999, several students responded compulsively to the inescapable challenge of the work on display. A further visit, when we were privileged by the Museum authorities to view the entire canon of the Nazi Drawings, made an even more penetrating and disturbing impression. Not only 'thematically' but also technically, Lasansky's work has struck a powerful chord with a number of composers. It has been very interesting to note the varieties of musical medium, form and idiom that have been brought to bear upon the project: one of the first to appear was a piece for tape; various 'chamber ensembles' followed; and a setting for two voices of a text by one of the School of Creative Writing students opened up the perspective even further.
Thus, to a certain extent, Mauricio Lasansky's drawings will speak out loud to us on this afternoon -- though confronted by such work, one cannot fail to be reminded of the limits of the sayable.

Jeremy Dale Roberts
Visiting Professor of Composition
School of Music, University of Iowa
| | |
| --- | --- |
| Wieglied | Jeremy DALE ROBERTS |
Christine Rutledge, viola
| | |
| --- | --- |
| Disquiet Meditation | Michael CASH |
| | |
| --- | --- |
| On Mauricio Lasansky's Nazi Drawing #25 | Erin GEE |
Annette Machetta, clarinet Jane Williams, saxophone
Cora Kuyvenhoven, violoncello
David Gompper, conductor
| | |
| --- | --- |
| Planctus for string quartet | Matthew ERTZ |
Annette Machetta, clarinet
Jen Wochner, viola
Eric Coyne, violoncello
Ching-chu Hu, conductor
Miki Yuasa, violin
James Ellis, violoncello
Anton Hatwich, contrabass
David Gompper, conductor
...und im gleichen Mutter-Raum treibt es und west seine innige Zeit...
(...and in the same mother-space it lives and spends its intimate time...)

Albin JONES
Brian Umlah, trumpet I
Jed Cord, trumpet II
Catharine Jackson, horn I
Steve Schultz, horn II
Matthew Baucum, trombone
Morgan Stine, tuba
David Gompper, conductor
| | |
| --- | --- |
| Catacombs | Vatchara VICHAIKUL |
Rachel Andrews, mezzo-soprano
David Gompper, piano
Notes & Bios
JEREMY DALE ROBERTS
                Wieglied
                Wieglied is the Yiddish word for lullaby.
Jeremy Dale Roberts, previously Head of Composition at the Royal College of Music, London, has been Visiting Professor of Composition in the School of Music since August.
---
MICHAEL CASH
       
Disquiet Meditation
This piece was written quite rapidly after a visit to the University Museum of Art. The composers at Iowa were invited to come to the Museum and see the Nazi Drawings by the artist Lasansky. I found the art rather disturbing of course, but I was more taken by the image of the bishop with bloodstained garments. I'm not sure what this is about, but I know that Catholics, although in much smaller numbers, were also persecuted in the Holocaust. My piece is a response to all of the drawings, but No. 22 especially. I have included, as part of my sound source, parts of choral masses by Beethoven (Crucifixus, Mass in C), Mozart (Gratias, Great Mass in c-minor) and myself (Dies Irae, Requiem). These quotations are masked, but they do much to add to the general uneasiness and disquieted desperation of this music.
   On Nazi Drawing #25 by Mauricio Lasansky -- Upholding dignity, remembering a subtle life force, something small and quiet, compassion, hospitality. When the peels of the fruit sit they give off a smell that is moist and reminiscent and when people die through violence it is hard for those still alive, it is hard for me and I know how small an act of violence can be compressed. The peels are no longer in the sun but they are still warm, still slightly moist, still smelling. When we forget about large acts of violence, do we also forget what a small act of violence is -- so small you might think it was something else? I ate the oranges, although they were not very good, and the peels and the bad slices pile up in a bowl. I'm looking for a title to the piece for the Lasansky concert, just a small question; I've had enough to eat and I've not been tortured by the state and I have said I love you to people who were not going to be killed soon after and I've written a piece for a concert that focuses on the drawings of Mr. Lasansky in response to the Nazi killings. I want some words that mean nothing and are light, not full of weight, and allow many things to pass through them.
Michael Cash is a senior undergraduate composition major at the University of Iowa. He has studied with Dr. Marc Weber, Dr. Donald Martin Jenni, Dr. Lawrence Fritts, and Dr. Michael Eckert. He is currently a research assistant for the Electronic Music Studios.
---
ERIN GEE
       
On Nazi Drawing #25 by Mauricio Lasansky
 

Erin Gee is a graduate student in music composition and currently studies with Professor Jeremy Dale Roberts.
---
MATTHEW ERTZ
       
Planctus
In Planctus, I decided to respond to Lasansky's means of expression rather than the content of his work. I was most impressed with how he created such vigorous and grotesque images using only simple tools (black and red pencil, newspaper, etc.). Planctus is Latin for 'lament.'
Matthew Ertz is an undergraduate music major in trombone performance at the University of Iowa.
---
CHRISTOPHER BRAKEL
       
Theodicy
Theodicy was composed in 1999 as a response to "The Nazi Drawings" by Mauricio Lasansky and to the Holocaust in general. The title is taken from a poem by Czeslaw Milosz, which provided additional inspiration:
    No, it won't do, my sweet theologians.
    Desire will not save the morality of God.
    If he created beings able to choose between good and evil,
    And they chose, and the world lies in iniquity,
    Nevertheless, there is pain, and the undeserved torture of creatures,
    Which would find its explanation only by assuming
    The existence of an archetypal Paradise
    And a pre-human downfall so grave
    That the world of matter received its shape from diabolical power.
Christopher Brakel, a native of Minnesota, studied percussion and composition at the University of Minnesota, where he earned the B.A. in Music. Currently, he is pursuing the M.A. in Music Composition at the University of Iowa. He was a participant in the Czech-American Summer Music Institute in 1998, held in Prague, Czech Republic. His current research interests include Entartete Musik (Degenerate Music) during the Third Reich, and the late Swedish composer, Allan Pettersson (1911-1980).
---
ALEXANDRE LUNSQUI
       
Gregor

Gregor, the bug, woke up that day with strange sensations. After looking at a mirror, he realized he had become a human being. Fifty years and a few genocides later, his prayers were finally attended by some 'divine entities.' Gregor became a peaceful bug again.
Alexandre Lunsqui was born in Sao Paulo, Brazil. He has been active as a composer, arranger and as a performer of improvised music, varying from Jazz to experimentalism.
---
ALBIN JONES
       
...und im gleichen Mutter-Raum treibt es und west seine innige Zeit...
This piece was composed in January and February of 2000. Its title comes from a line of one of Rilke's "Uncollected Poems." The work explores questions concerning the use of texture and the transformation of simultaneous contrasting layers of rhythmic and harmonic activity. The first section -- essentially a 'processional' -- uses a single, continuous series of tones around which the musical form crystallizes. The second is an exercise in high-speed, pointillist 'counterpoint' whose soundness is increasingly eroded by a rather parasitic variety of 'entropy.'
Albin Jones (born 1976, Beallsville, OH) received his BA in Music and Philosophy from Marietta College, Ohio in 1994, and is currently a graduate student in Music Composition at The University of Iowa. His teachers have included Frank Willis, William Buelow, Larry Fritts, and Jeremy Dale Roberts.
---
VATCHARA VICHAIKUL
       
Catacombs
Catacombs is written simply for alto and piano. Following the mood of the first of two texts, I wanted to convey a sense of emptiness and hollowness. The piano provides the impression of the caverns and the small stubborn light of the candle, which provides the only source of focus. The singer serves as a representative for the souls who are unable to find peace.
    Catacombs by Steve Frattali
       A candle flame giving a trembling light
    And all around the small light
    Are caverns of darkness
       This is where we remember the past
    You in the dying
    Who have not died
       Come round our candle
    Near the trembling flame
       Now
    We Remember the dead
    Here in the caverns of darkness
Vatchara Vichaikul "Oak" was born in Chicago IL and is of Thai descent. He received a Bachelor of Science degree in Music Business from Millikin University where he studied composition with David Burdick and Greg A. Steinke. He is currently pursuing his MA in Composition at the University of Iowa where he has studied with David Gompper, Martin Jenni and Jeremy Dale Roberts. He also a co-editor of the SCI Newsletter.
---
MICHAEL ECKERT
       
Tango
Tango was composed between January and March 2000 in Iowa City. The idea for a piece of this character was suggested in part by two Lasansky pictures in the UI Museum, the woman in blue with a small dog, and "Woman with a Lute," as well as by the artist's Argentine origins. Some uses of syncopation in the piece were suggested by typical rhythms in the tangos of the Brazilian composer Ernesto Nazareth.
Michael Eckert has taught music theory, counterpoint, and composition at the University of Iowa School of Music since 1985, and is currently Head of the Composition/Theory Area. He studied composition with John Richard Ronsheim at Antioch College, and with Ralph Shapey at the University of Chicago, receiving the M.A. in music history & theory in 1975 and the Ph.D. in composition in 1977. Before coming to Iowa he taught at Colorado State University, the University of North Carolina at Chapel Hill, Tulane University, and Antioch College. His awards for composition include the Bearns Prize from Columbia University, a Charles E. Ives Scholarship from the National Institute of Arts and Letters, an NEA fellowship, and the Music Teachers National Association Distinguished Composer of the Year Award. In 1986 he received a Fulbright Junior Fellowship to Italy and an NEH Travel to Collections grant for research on the music of Luigi Dallapiccola. Eckert has also done research on fifteenth century music, and from 1993 to 1995 directed the University of Iowa Collegium Musicum.
---