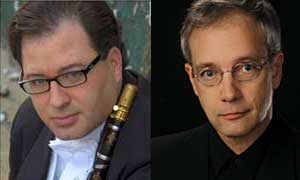 CONCERT VI
Sunday, October 13, 2013, 7:30 p.m.
Riverside Recital Hall (map)
Guest Artist Michael Norsworthy, clarinet
with David Gompper, piano
|| download program ||
Program
Pastoral (1940)
 
Elliott CARTER (1908-2012)
Three American Pieces
 
Lukas FOSS (1922-2009)

Early Song (1944)
Dedication (1944)
Composer's Holiday (1945)

 
 
Nebraska impromptu (2013)
 
Marti EPSTEIN (b. 1959)
SchiZm (1993-4)
 
Derek BERMEL (b. 1967)

Field of Stars
Puppet State

 
 
 
— Intermission —
 
Black Anemones (1980)
 
Joseph SCHWANTNER (b. 1943)
Souvenirs (2001-02)
 
Robert BEASER (b. 1954)

Happy Face
Lily Monroe
Y2K
Spain
Cindy Redux
Ground O

 
 
Performers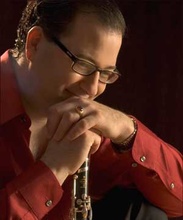 Michael Norsworthy's virtuosity, versatility and musicianship has garnered critical acclaim around the globe. As soloist with numerous orchestras around the USA and abroad, as a captivating recitalist and chamber music performer and as one of the most celebrated champions of the modern repertoire having premiered over 100 new works at such venues as Carnegie Hall, Vienna's Musikverein, Moscow's Tchaikovsky Hall, The Casals Festival and the Aspen Festival, Norsworthy has defied categorization, dazzling critics and audiences alike. He has recorded for Mode, Gasparo, Albany, New World, BMOP/sound, Nonesuch, Canteloupe and Cauchemar records. He is principal clarinet with the Boston Modern Orchestra Project, on the artist faculty at The Boston Conservatory, a Selmer Paris Artist and Artistic Advisor and an artist/clinician for Rico Reeds International. For more info, please visit Michael Norsworthy's website www.michaelnorsworthy.com/.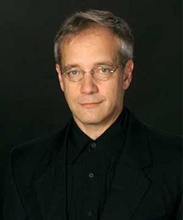 David Gompper has lived and worked professionally as a pianist, a conductor, and a composer in New York, San Diego, London, Nigeria, Michigan, Texas and Iowa. He studied at the Royal College of Music in London with Jeremy Dale Roberts, Humphrey Searle and pianist Phyllis Sellick. After teaching in Nigeria, he received his doctorate at the University of Michigan, taught at the University of Texas, Arlington, and since 1991 has been Professor of Composition and Director of the Center for New Music at the University of Iowa. In 2002-2003 Gompper was in Russia as a Fulbright Scholar, teaching, performing and conducting at the Moscow Conservatory. In 2009 he received an Academy Award from the American Academy of Arts and Letters in New York City.
Gompper's compositions have been performed in such venues as Carnegie, Lincoln Center and Merkin Halls (New York), Wigmore Hall (London), Konzerthaus (Vienna) and the Bolshoi Hall (Moscow). Wolfgang David and the Royal Philharmonic Orchestra recently recorded his Violin Concerto for a Naxos CD. His song cycle The Animals, based on the poetry of Marvin Bell, was released on an Albany disc last June. His Double Concerto, written for Wolfgang David, violin and Timothy Gill, violoncello and Principal of the Royal Philharmonic Orchestra, was premiered last March 2013. This past June he completed a 28' song cycle for soprano and string quartet on texts by Marvin Bell. At the moment he is finishing a work for clarinet and piano as well as a Clarinet Concerto for Michael Norsworthy and BMOP (Boston Music Orchestra Project), Gil Rose, director. He is also completing a Cello Concerto for Timothy Gill for a premiere in April 2014.
Program Notes
Elliott CARTER
Pastoral
was written in 1940 for the oboist and English horn player Josef Marx. Although published—at Henry Cowell's insistence—as a viola piece with alternative parts for clarinet and English horn, Carter composed it for this last instrument and prefers that version. The Pastoral, together with the Elegy, the Frost songs and the Symphony No. 1 represents a brief bucolic phase in Carter's development. These works share a wistful mood. Unlike many of his later pieces, they are not difficult to play, and so make a good, if hardly typical, introduction to Carter for amateur performers.
Carter calls the Pastoral his Walter Piston piece. Its mild manner ('like a conversation in country surroundings') is more characteristic of his Harvard teacher than of himself. Piston's influence on Carter, however, should not be underestimated. Piston encouraged him to study with Nadia Boulanger, and his music, which Carter began to know in the 1920s, forcefully illustrated the strengths of the new classicism. In 1978, for one of the concerts honoring his seventieth birthday, Carter asked that Piston's Three Pieces for flute, clarinet and bassoon of 1923 be played, together with Leo Ornstein's Violin Sonata (1917). The wit, clarity and inventiveness of Piston's music still seemed like a gust of fresh air compared to Ornstein's post-Scriabin haze. The linear counterpoint of the Pastoral and its elegantly restrained use of jazz both derive from Piston. The work opens, however, with a Carterian signature: the rising fifth motif from the Seikilos Song that he also uses in Philoctetes, The Minotaur, and 'Anaphora.'
The Pastoral already indicates some directions that Carter would follow in the Cello Sonata, and even in the Duo of 1974. Carter builds the piece out of contrasted sonorities. The formal plan bypasses classical procedures for an open form inspired by jazz improvisation. The work opens by defining the piano's sonority: a combination of sharp staccato attack and sustained decay sound which colors the piano part throughout. The soloist enters with a pentatonic, lyrical theme, while the piano continues its material. The meter is 5/8, as in The Rose Family, and this rhythmic pattern, which can be a straitjacket, is treated here with flexibility. As the Pastoral develops, syncopated sixteenth-note motion gradually develops out of the opening material. By fig. 106 this new motion turns into a jazzy 'second theme' that has really been present for some time in incomplete form. The two basic elements then alternate, leading to solo cadenzas and an accelerando conclusion. —David Schiff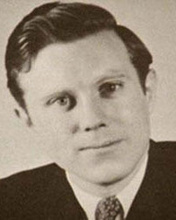 Elliott Cook Carter, Jr. was an American composer who was twice awarded the Pulitzer Prize. He studied with Nadia Boulanger in Paris in the 1930s, then returned to the United States. After an early neoclassical phase, his style shifted to an emphasis on atonal and rhythmic complexity. His compositions are known and performed throughout the world; they include orchestral, chamber music, solo instrumental, and vocal works.
He was extremely productive in his later years, publishing more than 40 works between the ages of 90 and 100, and over 14 more after he turned 100 in 2008. His last work, Epigrams for piano trio, was completed on August 13, 2012.
---
Lukas FOSS
Three American Pieces
While the earliest form, titled Three Pieces, was written for violin and piano, Foss later revised this piece in the mid-1980s, adapting the work to and for the flute. Foss later arranged these pieces for clarinet and piano with the eminent clarinetist Richard Stoltzman. In each of the three movements, Foss weaves lyrical and soaring melodies in the clarinet with chromatic and occasionally dynamically rhythmic passages in the piano. The third movement, "Composer's Holiday," is especially explosive, contrasting an active syncopated rhythmic hoedown at the beginning of the movement with a sweet, light, and virtuosic clarinet melody that takes over by the middle of the piece.
German-born composer Lukas Foss (1922-2009), immigrated with his family to Philadelphia in 1937 where the young Foss began to study at the Curtis Institute of Music. The earliest iteration of this piece was completed in 1944, during a particularly successful period in Foss' life and career; having just received wide acclaim for his cantata The Prairie, he was appointed as the pianist of the Boston Symphony Orchestra the same year and became the youngest ever recipient of the prestigious Guggenheim Fellowship the following year. His compositions during this time mostly reflect a neoclassical style: Foss prioritized both melodic and formal clarity in his works, while continuing to explore a chromatic and occasionally dissonant harmonic sound world. Foss, like Aaron Copland, was also strongly associated with the American Populism movement, helping to establish an American nationalistic sound based on clarity and simplicity designed to represent an inclusive narrative of American collective identity.
---
Marti EPSTEIN
-Nebraska impromptu
was written in 2013 at the request of clarinetist Michael Norsworthy and is a musical reflection of the Nebraska landscape I remember from my childhood. The piece opens with a series of chords; the subsequent sections are developments of each of the specific chords.
Marti Epstein is a composer whose music has been performed by the San Francisco Symphony, The Radio Symphony Orchestra of Frankfurt, the Pro Arte Chamber Orchestra of Boston, Ensemble Modern, and members of the Boston Symphony. She has completed commissions for the Foxborough Musical Association, the Fromm Foundation, The Munich Biennale, the Iowa Brass Quintet, the CORE Ensemble, Pro Arte Chamber Orchestra, Longy School of Music, the Ludovico Ensemble, Guerilla Opera, the Radius Ensemble, and the Callithumpian Consort. In 2005, she was a recipient of a Massachusetts Cultural Council Grant. Marti has been a fellow at the Tanglewood Music Center (1986, 1988), and has been in residence at the MacDowell Colony (1998, 1999). Marti is on the Steering Committee for the Boston Modern Orchestra Project Scoreboard and was Composer-in-Residence for the Radius Ensemble in 2009 and 2010. BSO English horn soloist Robert Sheena and the Boston Conservatory Wind Ensemble under the direction of Eric Hewitt have recorded Bloom, her concerto for English horn and Wind Ensemble. Cellist Rhonda Rider recently premiered so near, so far, a piece Marti wrote for Rhonda's recent residency at the Grand Canyon. Marti's new string quartet, Hidden Flowers was commissioned by the Tanglewood Music Center for the 2012 Festival of Contemporary Music 2012, where it was premiered in August 2012. Marti is Professor of Composition at Berklee College of Music and also teaches composition at Boston Conservatory.
---
Derek BERMEL
SchiZm
Field of Stars is a short musical puzzle in which the meetings of three separate metric cycles (clarinet, piano L.H., piano R.H.) dictate the harmonic and melodic structure of the movement. Puppet State similarly weaves connections between different meters; however, this time the material juxtaposed is a patchwork of fragments in hybrid styles, including a salsa and a klezmer-tango. The music should flow freely and continuously between sections. SchiZm was premiered by Harry Sargous, oboe, and Anton Nel, piano, in Ann Arbor, MI, May 1994, and in the clarinet version by the composer with Christopher Taylor at the piano at Alma College, MI 1995.
Grammy-nominated composer and clarinetist Derek Bermel has been widely hailed for his creativity, theatricality, and virtuosity, and his engagement with other musical cultures has become part of the fabric and force of his compositional language. Recently appointed Artistic Director of the American Composers Orchestra at Carnegie Hall, he is also Director of Copland House's Cultivate, Composer-in-Residence at Mannes College of Music, and just finished a four-year term as Artist-in-Residence at Princeton's Institute for Advanced Study. Bermel has become recognized as a dynamic and unconventional curator of concert series that spotlight the composer as performer and has received commissions from the Pittsburgh, National, Saint Louis, New Jersey and Pacific Symphonies, Los Angeles Philharmonic, Chamber Music Society of Lincoln Center, WNYC Radio, eighth blackbird, the Guarneri and JACK String Quartets, Music from Copland House and Music from China, De Ereprijs (Netherlands), violinist Midori, ASKO/Schoenberg Ensemble and Veenfabriek (Netherlands),among others. His many honors include the Alpert Award in the Arts, Rome Prize, Guggenheim and Fulbright Fellowships, American Music Center's Trailblazer Award, and Academy Award from the American Academy of Arts and Letters; commissions from the Koussevitzky and Fromm Foundations, Meet the Composer, and Cary Trust; and residencies at Yaddo, Tanglewood, Aspen, Banff, Bellagio, Copland House, Sacatar, and Civitella Ranieri.
---
Joseph SCHWANTNER
Black Anemones
Black Anemones by Agueda Pizzaro: "Mother, you watch me sleep / and your life / is a large tapestry / of all the colors..." "...weaving through eyes / the dew of flames / on the web."
Two Poems of Agueda Pizzaro, composed between July and August 1980, is the third of five works written for soprano, Lucy Shelton. The texts are drawn from a bilingual collection of poems entitled Sombraventadora/Shadowwinner. While the poems were originally conceived and written in Spanish, this setting employs the English version translated by the poet's friend, Barbara Stoler Miller. This work has been transcribed for flute or violin with piano and is presented here in Michael Norsworthy's second transcription for clarinet.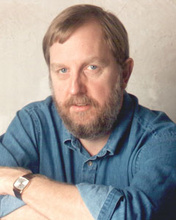 Joseph Schwantner is an independent composer known for his dramatic and unique style and as a gifted orchestral colorist is one of the most prominent American composers today. He received his musical and academic training at the Chicago Conservatory and Northwestern University and previously served on the Juilliard, Eastman and Yale faculties.
Schwantner's compositional career has been marked by many awards, grants, and fellowships, including the Pulitzer Prize in 1979 for his orchestral composition Aftertones of Infinity and several Grammy nominations. Among his many commissions is his Percussion Concerto, which was commissioned for the 150th anniversary season of the New York Philharmonic and is one of the most performed concert works of the past several decades. Christopher Lamb, soloist in the new Naxos recording of Schwantner's music by the Nashville Symphony Orchestra received a 2012 Grammy Award for "Best Classical Instruemtal Solo" with Schwantner's Percussion Concerto.
Schwantner is a member of the American Academy of Arts and Letters
---
Robert BEASER
Souvenirs
comes from more disparate sources (including Mountain Songs itself--Cindy Redux being a piano version of Cindy). Three of the six songs are completely original, two are based on folk tunes, and one is an invented Trope on a Lorca transcription of a Spanish folk song (The Four Mules) --discovered, lost and re-remembered.
The opening Happy Face uses only the white keys of the piano. It was one of the last pieces composed in the cycle (I wrote it upon returning from Rome in July 2002), and is as light as zabaglione. Lily Monroe is based on the eponymous folk song and is treated in a Mountain Song-like fashion: strophic, alternating between light and shadow, with an implied arch form, becoming increasingly schizophrenic and finally collapsing under the weight of its own hubris. I found the tune in the extraordinary Alan Lomax collection "Folk Songs of North America"—one of my bibles. Despite its title, Y2K has nothing to do with the Millennium. It is an original vocalise-- a song without words, dedicated to a friend. I sketched it a few years back, but couldn't find a context for it. When I finally understood how it fit in Souvenirs I was able to finish it. Spain comes from the Federico Garcia Lorca fragment based on a Spanish song "Los Cuatro Muleros". The guitarist Eliot Fisk had given me a copy of it; it sat in my studio for a while and eventually disappeared. I kept trying to remember it, but, as any composer does, I kept re-imagining it instead, until it morphed. The process of re-inventing allowed me to turn it into something rich and strange---and it became the longest of the six movements and the centerpiece of the work. Spain is followed jarringly without warning by Cindy Redux — which is about as far removed from it as Granada is from Apalachicola. I had long wanted to make a transcription of Cindy and had worked on one sporadically over the years between other projects. It fits remarkably well into this collection, even though its serves a completely different structural function. Ground O (the letter O, not zero) was composed in October of 2001. It was simply impossible for anyone living in New York not to have been profoundly affected by the events of the prior month. As we all hobbled around trying to make sense of it all, many of us resorted to the only thing we knew how to do: compose. For the longest time I was uncomfortable referring to it literally, and left the song hanging with temporary working titles. Yet as time worked its magic, I began to more readily accept things for what they were. And so sometime later I accepted the present title, albeit slightly skewed, for what it was as well.
The clarinet and piano version of Souvenirs was premiered by Joaquin Valdepeñas and Anton Nel at the Aspen Music Festival in 2005. Ground O was orchestrated in 2011 for full orchestra with violin obbligato and premiered by Gerard Schwarz and the Seattle Symphony close to the tenth anniversary of 9/11.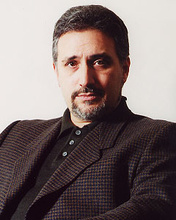 Robert Beaser has become one of the most accomplished creative musicians of his generation. Born in 1954 in Boston, Massachusetts, and educated at Yale, where he studied literature and political philosophy, Beaser has firmly established his own voice as a synthesis of Western tradition and American vernacular, receiving major commissions from organizations such as the New York Philharmonic, the Chicago Symphony, the Baltimore Symphony, Glimmerglass, New York City Opera, PBS Great Performances and the Beijing Modern Music Festival. Cited as an important figure in the "New Tonalists", Beaser has won many awards and honors in including Grammy and EMMY nominations, as well as Guggenheim, Fulbright and Rome Prize Fellowships. His music has been recorded for such labels as ARGO, New World, Albany,EMI Electrola, Innova, Naxos and is published by Schott Music Corporation. He was elected to membership in the American Academy of Arts and Letters in 2005.
Beaser is currently on the faculty of the Juilliard School, where he is Chairman of the Composition Department, and has served as the Artistic Director of the American Composers Orchestra at Carnegie Hall from 2001-2013. His recent article available online in Opinionator section of the New York Times entitled "Reconstructing Rome" chronicles his own personal journey as a composer, with links to samples of his wide ranging musical output. He is currently at work composing a large work for Baritone, Soprano and Wind Ensemble, commissioned by a consortium of 25 Bands across the United States, which will receive its world premier in 2014.