RUSSIA - AMERICA
Music of the XXI Century

Lectures & Concerts
At the Moscow Tchaikovsky Conservatoire
October 30
through
November 2, 2001
|| download program booklet ||
Music by Composers from the
Moscow Tchaikovsky Conservatoire and the
University of Iowa School of Music
Performed jointly by musicians from:
Ensemble Studio New Music
      Vladimir Tarnopolski, artistic director,
      Igor Dronov, conductor
      The Center for New Music Ensemble
      David Gompper, director and conductor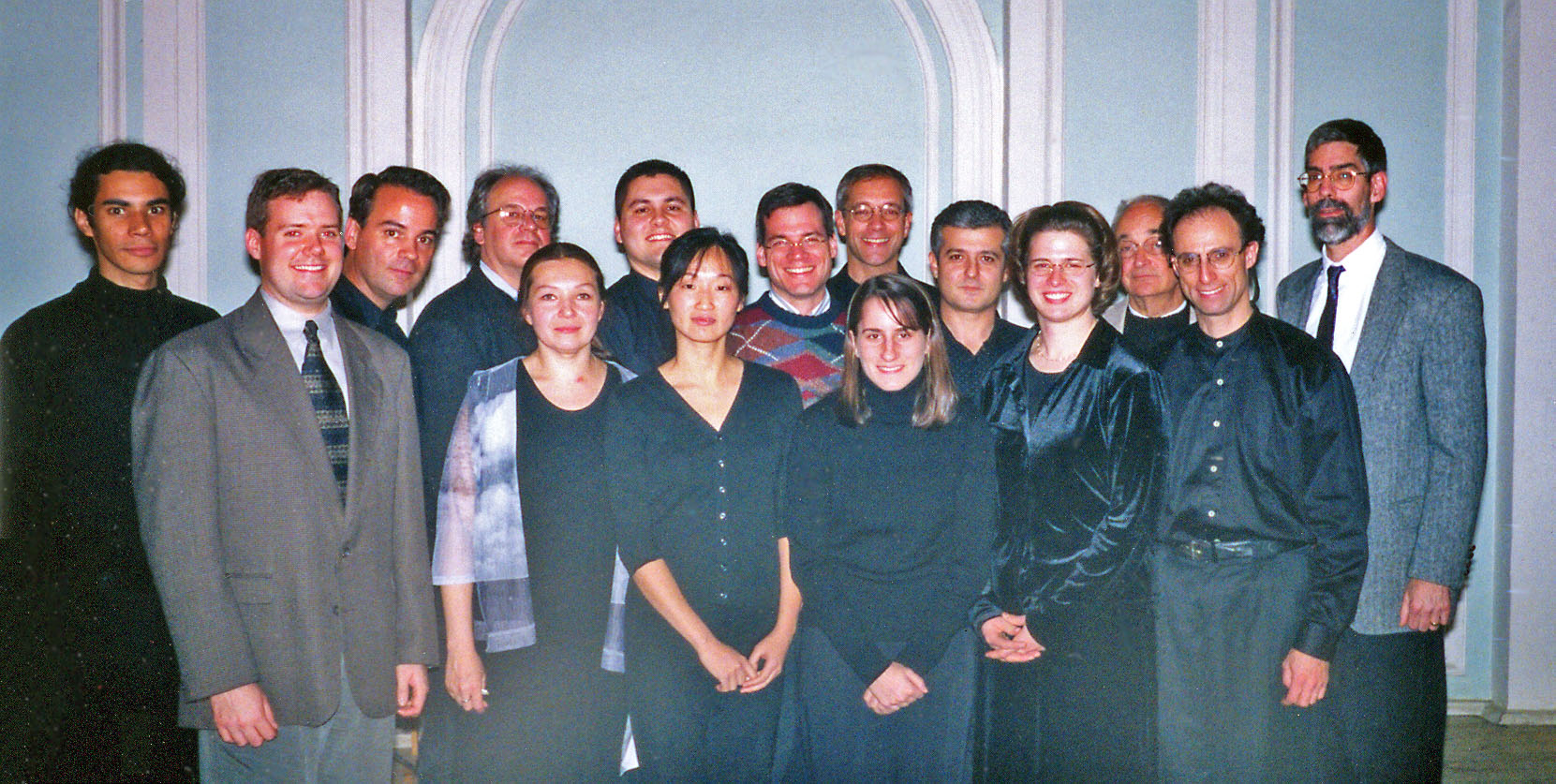 THE CENTER FOR CONTEMPORARY MUSIC
The Center for Contemporary Music was formed in 1993 as an independent department in the Moscow Tchaikovsky Conservatory. The Center unites musicians of all professions whose interests are concentrated in the field of contemporary music. It plays a leading role in Russia in the development of this art, supporting and encouraging composition, performance and research of serious music.
The activities of Center for Contemporary Music include the organizations of an Annual International Festival for Contemporary Music known as Moscow Forum, concerts for Russian and foreign musicians and ensembles, meetings with Russian and foreign composers, workshops and lectures about newest contemporary performing techniques by well-known contemporary performers, musicological conferences, young composers' competitions and performances of pieces by young composers, monthly concerts by the Center's base group Studio New Music, collaboration with musicians, ensembles and contemporary music organizations, promotion of new Russian music at home and abroad and also various publication projects.
THE STUDIO NEW MUSIC ENSEMBLE
The Studio New Music Ensemble, one of the Russia's major contemporary music groups, was founded by composer Vladimir Tarnopolski and conductor Igor Dronov, in 1993. The main aim of ensemble is to integrate Russian music into the contemporary Inter-European musical and cultural developments. The ensemble consists for the most part of graduate students of a special class contemporary ensemble of the post-graduate program of Tchaikovsky Conservatory, Moscow.
The basis of the ensemble's programs is 20th century music. Among the vast repertoire of the Studio special attention is given to the Russian Avant-garde of the 1920's as well as compositions by contemporary composers, written especially for the Studio New Music. Another particular interest is also given to all kinds of collaboration with young composers in competitions, workshops, master classes and various other forms.
Studio New Music regularly presents concerts in some of the most famous concert halls in Moscow, and frequently goes on tours within Russia, in the former Soviet republics and in Europe. During the years of its existence the ensemble gave nearly a hundred concerts, on a monthly basis, each time with new programs; it also took part in numerous international festivals of contemporary music in Russia, Austria, Azerbaijan, Belgium, Czech Republic, France, Finland, Germany, Netherlands and Portugal. It recorded a number pieces for various foundations and radio stations, produced several CDs by Russian and foreign contemporary composers, including series of CD-portraits by most famous Russian contemporary composers on the Belgian label Megadisc.
Studio New Music is the basis ensemble of the Moscow Forum Festival of contemporary music, which is organized by the Center of Contemporary Music of the Tchaikovsky Conservatory.
THE CENTER FOR NEW MUSIC
The Center for New Music (CNM) is a performing organization devoted to 20th century repertoire and is the focus of contemporary composition and performance at the University of Iowa. The Center, like the internationally renowned Writers Workshop, embodies the institution's commitment to the vital role of the creative arts at the frontiers of human experience.
The Center was originally funded by a $100,000 matching grant from the Rockefeller Foundation in 1966. From the start, the Center sparked the composition of new works expressly for the ensemble, and it brought exciting professional realizations of both local and international repertories to the University community as well as to tour audiences throughout the state of Iowa and beyond. The Center functions as a laboratory and performance extension of the School's composition area and as a repertory ensemble for the creation and presentation of new music in general. The Center also serves as the locus of activities for guest composers whose visits range from a few days to entire academic terms.
As the Center enters its 36th year, it remains an advocate of contemporary music performance. The Center's programming reflects the eclectic range of compositional styles currently being written, as well as what is considered classic repertoire from the 20th century. The quality of performance is based on working with a core ensemble, grounded in solid repertoire over an extended period of time. The Center seeks to build new and more diverse audiences through outreach concerts, and to establish a professional reputation through CD recordings as well as through the invitation of guest composers and performers nationally.
Schedule
Tuesday, October 30, 7:00 pm
Concert I
| | |
| --- | --- |
|  Cucumber Music (1969) |  D. Martin Jenni |
|  Movement for five instruments (1991) |  Michael Eckert |
|  Pre-Images, for bassoon and tape (2000) |  Lawrence Fritts |
|  Nuit (1999) |  Dimitri Papageorgiou |
|  Cheating, Lying, Stealing (1993,5) |  David Lang |
|  Alone (2001) |  John Allemeier |
|  Impression-Expression (1990) |  Vladimir Tarnopolski |
|  For Baird: Etudes for Violin and Tape (1994) |  Charles Dodge |
|  Kuta Muela (Old Stick) (2001) |  David Gompper |
Thursday, November 1, 11.00-5.00 pm
A Conference on Contemporary Music from America
Moscow Tchaikovsky Conservatoire, Conference Room
| | |
| --- | --- |
|  11.00 am-12.15 pm | Gregory Barnett: " 'Indianist' Composers, Native American Melodies, and the White Imagination of the Early Twentieth Century" |
|  12.15-13.30 pm |  David Gompper: "Engaging Native American Music in Contemporary Composition" |
|  12.30-3.45 pm |  Lawrence Fritts: "Mappaemundi: A Collaboration in Art, Music, and Mathematics" |
|  3.45-5.00 pm |  Michael Eckert: "The Music of Ralph Shapey" |
Friday, November 2, 7:00 pm
Concert II
 Moments-Memento-Momentum (2000)
 Lewis Spratlan
 Letters without Words (2001)
 Alexey Sioumak
 Dead Elvis (1993)
 Michael Daugherty
 Yellow Pages (1985)
 Michael Torke
Four Images, op. 23 (1972)
I. The Dawn
II. The Noon
III. The Evening Shadows
IV. In the Moonlight
 Roman Ledenev
 The River of Light (1996)
 Charles Wuorinen
Program Notes and Biographies
John M. ALLEMEIER
Alone

This composition is a cadenza without a concerto. The dramatic character of a composition for solo instrument is similar to that of a cadenza, both are dependent on the potential of a single performer. The soloist is responsible for sustaining the intensity and drama of the composition. The music is then an expression of the performer as well as the composer. This idea lead to the formation of gestures that the performer could shape into unique expressions. These gestures were inspired by the viola itself.

The pitch material of Alone is both modal and chromatic. The opening section is slow and lyrical and uses double stops to create counterpoint to the modal melody. The second section begins with pizzacati but then changes to a chromatic sequence with an irregular metric pattern. The section ends with a series of dramatic scale passages interrupted by double stops. This is the true cadenza.
John M. Allemeier (b. 1970) received his Ph.D. in Composition from the University of Iowa, his Master of Music in Composition from Northwestern University and his Bachelor of Music in Performance from Augustana College. At the University of Iowa, Mr. Allemeier received the Henry and Parker Peltzer Fellowship Award for Excellence in Composition. He has studied composition with David K. Gompper, D. Martin Jenni, M. William Karlins and Michael Pisaro. Recently, he participated in the 6th International Composition Course in Cesky Krumlov, Czech Republic.

Mr. Allemeier's music has been performed by the University of Iowa Graduate Chamber Orchestra and Percussion Ensemble, the Oberlin Percussion Group, the Texas Christian University Percussion Ensemble, the University of Illinois Contemporary Chamber Singers, the Nevelson Duo, the Marshall University Symphony Orchestra, and the Kronos Quartet in a reading session. Mr. Allemeier's music has been programmed on national conferences of the Society of Composers and the Society for Electro Acoustic Music in the United States, the 7th Brazilian Symposium on Computer Music, and at regional conferences of the College Music Society and the Society of Composers. His music has been recognized by the Ibla Foundation European International Competition for Composers and by the American Society of Composers, Authors and Publishers with Standard Awards and honorable mention in the ASCAP Foundation/Rudolf Nissim Composers Competition. He has received supporting grants from Marshall University and the University of Iowa Fine Arts Council. Mr. Allemeier's music is published by Carl Fischer Music Publishers, M. Baker Publications and European American Music. He has taught at Marshall University and the University of Iowa and currently lives in Mannheim, Germany.
---
Dead Elvis

No rock and roll personality seems to have inspired as much speculation, adulation, and impersonation as Elvis Presley (1935-77). In Dead Elvis (1993), the bassoon soloist is an Elvis impersonator accompanied by a chamber ensemble. It is more than a coincidence that Dead Elvis is scored for the same instrumentation as Stravinsky's Histoire du Soldat (1918), in which a soldier sells his violin, and his soul, to the devil for a magic book. I offer a new spin on this Faustian scenario: a rock star sells out to Hollywood, Colonel Parker, and Las Vegas for wealth and fame. I use Dies irae—a medieval Latin chant for the Day of Judgment—as the principal musical theme in my composition to pose the question, is Elvis dead or alive beyond the grave of Graceland? In Dead Elvis we hear fast and slow fifties rock and roll ostinati in the double bass, violin, and bongos, while the bassoonist gyrates, double-tongues, and croons his way through variations of Dies irae. Elvis is part of American culture, history, and mythology, for better or for worse. If you want to understand America and all its riddles, sooner or later you will have to deal with (Dead) Elvis.
Michael Daugherty (b. 1954, Cedar Rapids, Iowa) has created a niche in the music world that is uniquely his own, composing concert music inspired by contemporary American popular culture. Daugherty is the son of a dance-band drummer and the oldest of five brothers, all professional musicians. Daugherty grew up playing keyboards in jazz, rock, and funk bands in Iowa. At North Texas State University (1972-76) he continued performing jazz and composed his first orchestral work. In 1976 he moved to New York City, where he studied composition at the Manhattan School of Music and played piano for modern dance companies.

In the following years, Daugherty divided his time between living in Europe and the United States. He was a Fulbright Fellow in Paris, composing computer music at Boulez's IRCAM (1979-80), and at Yale University (1980-82) he studied with composers Earle Brown, Jacob Druckman, Bernard Rands, and Roger Reynolds; during this time he also collaborated with jazz arranger Gil Evans in New York City. Daugherty moved to Amsterdam and pursued further studies with Gyorgy Ligeti in Hamburg, Germany (1982-84).

Upon his return to America, Daugherty performed live synthesizer concerts of his own music with classic silent film, and played jazz piano in lounges and night clubs. He received his doctorate degree in music composition from Yale University in 1986, and came to national attention as a composer when Snap! and Blue like an Orange (1987) won a Kennedy Center Friedheim Award. After teaching music composition several years at the Oberlin Conservatory of Music, Daugherty joined the music composition faculty at the University of Michigan (Ann Arbor) in 1991.
---
For Baird: Etudes for Violin and Tape
Charles Dodge gained recognition early in his career for his orchestral and chamber music. He went on to become one of the first composers to realize the vast potential of the computer for broadening the composer's palette. His Speech Songs, completed in 1972, startled the new music world with its charming and humorous use of synthetic speech and has become a classic of early computer music.

Mr. Dodge graduated from the University of Iowa in 1964 "with high distinction and honors in music." Columbia University awarded him its first Doctorate for music composition, and he subsequently taught in the Columbia Music Department where he initiated the graduate study of computer music. He founded the Center for Computer Music at Brooklyn College of the City University of New York and taught there from 1980 to 1993. He is currently Visiting Professor of Music at Dartmouth College where he teaches in the graduate program in electro-acoustic music.
---
Michael ECKERT
Movement for 5 Instruments

This was composed in July-September 1991. It is about five minutes in duration, and will probably end up as a part of a projected three-movement piece. The emphasis on the interval of a sixth in the opening idea, particularly in the violin, led me to include a direct quotation (albeit slightly rescored) from the beginning of Anton Webern's String Quartet, op. 28 (1938) toward the end of the movement, since the initial two-note sonorities in the Webern are the major and the minor sixth.
Michael Eckert (b. 1950) has taught music theory and composition at the University of Iowa School of Music since 1985, and is currently Head of the Composition/Theory Area. He studied composition with John Richard Ronsheim at Antioch College, and with Ralph Shapey at the University of Chicago, receiving the M.A. in music history & theory in 1975 and the Ph.D. in composition in 1977. Before coming to Iowa he taught at Colorado State University, the University of North Carolina at Chapel Hill, Tulane University, and Antioch College. His awards for composition include the Bearns Prize from Columbia University, a Charles E. Ives Scholarship from the National Institute of Arts and Letters, an NEA fellowship, and the Music Teachers National Association Distinguished Composer of the Year Award. He is also active as a scholar, having published articles on the music of Johnannes Ockeghem and Luigi Dallapiccola as well as editions of Renaissance music, and his research has been supported by the National Endowment for the Humanities and a Fulbright fellowship to Italy.
---
Lawrence FRITTS
Pre-Images

The conceptual notions of "image" and "pre-image" can arise in music in very provocative ways. A common example is formed by the relationship between pitch-class (a class of notes sharing the same note name but not register) and pitch (which is register-specific). Here, a pitch-class is said to be an image of a pitch; conversely, a pitch is a pre-image of a pitch-class. Compositional manipulations that act directly on pitch-classes also act indirectly on their pre-image pitches. This idea is extended in a number of ways in the work, Pre-images. Particularly notable is the dialogue between the digitally-processed image of a recorded bassoon and the live instrumental pre-image. Pre-images was written for Benjamin Coelho in early 2000.
Lawrence Fritts (b. 1952) is director of the Electronic Music Studios and assistant professor of composition and theory. He has composed for a wide variety of electronic and computer media, including concrete tape, instruments and tape, voltage-controlled and MIDI-controlled analog and digital synthesizers, and digitally processed instruments. His recent works for tape and instruments utilize real-time computer sound transformation technology. His music has been performed at festivals and conferences in the U.S. and broadcast in the U.S., Canada, South America and Europe.

His technological research focuses on performance aspects of real-time DSP transformations and spectral analysis/re-synthesis. Other interests include musical applications of mathematical group theory, on which he has presented papers at several conferences and seminars including a recent meeting of the American Mathematical Society. His review of the mathematics of Milton Babbitt's music appears in the spring 1997 issue of Music Theory Spectrum. He received his Ph.D. in composition from the University of Chicago in 1995, where he studied with Shulamit Ran, Ralph Shapey and John Eaton. He previously taught at DePaul University and Columbia College, and has been on the faculty at the University of Iowa since 1994.
---
David GOMPPER
Kuta Muela (Old Stick)

This composition is based on a Yaqui Native American tune of the same name. The form of the original tune inspired the form of the work. The tune's form is as follows: seven drum beats, followed by drums, rattles and an extended flute tune based on three notes (F-sharp, G-sharp, A-sharp), ending with a short stanza of singing based on B-flat. What is so attractive is the beautiful and stunning transition—the flute ceases while the drums and rattles carry on to reveal clear singing in the background.

My work is also in three main sections: an introduction, a series of four variations ending in a cadenza, followed by a third main section. The first two sections is a projection and amplification the opening 7-note drum beats heard in the original tune. The last main section presents, most directly, the second and third sections of the original, directly and intact.

Several elements help to unify the work: the number 7, prime numbers, and a 7-note set that is a combination of the 3-note flute solo plus the 5-note pentachord heard in the singing section. All pitch classes come from this prime set, transformed and altered by combining its transpositions with the complement of the original.
David Gompper (b. 1954), who grew up in New York and San Diego, lived in London (where he studied with Jeremy Dale Roberts, Humphrey Searle and Phyllis Sellick), Nigeria, Michigan, Texas and is currently Professor of Composition at the University of Iowa. His works are performed throughout the U.S. and abroad. He premiered his piano solo piece Hommage à W. A. at the Wigmore Hall in London earlier this month. His new work, Kuta Muela (Old Stick) is based on a Yaqui Indian tune. It was premiered last week in Tempe, Arizona. Future works include a string quartet and a large ensemble work for Studio New Music in Moscow in 2002.
---
D. Martin JENNI
Cucumber Music

A significant attraction at Iowa when I arrived there in 1968 was its vital and excitingly professional Center for New Music. Since the mission of the Center extends to bringing new music to the hinterlands, it occurred to me that I ought to write a "travelling piece," small in its numbers, easily transported and interesting for its performers. The work is Cucumber Music, which was completed in November of 1969.

Although it once ingratiated the work with a rural Iowa audience, the title has no symbolic significance, but was a partly humorous, partly affectionate working title which "stuck." Actually, a second title emerges as the work's dedication—at the inception of eleven plucked A-flats in the piano. This is: Monumentulum pro V. ("a little monument for V[ictoria]"), whose death on November 5 of that year transformed my notions of the work in progress and is commemorated through the ancient technique of soggetto cavato.

The work may be heard as the gradual process of transformation from highly active—and yet essentially static—blocks of isorhythmic events to expansive trajectories of single pitches, and from relative independence among the players to the most intimate levels of mutual shaping characteristic of chamber music, though the catalyst of a central (heterophonic) encounter.
Donald Martin Jenni (b. 1937 Wisconsin) became a student of composition and theory of Leon Stein, DePaul University in Chicago, between the ages 12-15. During this time he also worked as a cantor and organist at St Patrick's Church, Chicago.

His membership to the American Composers Alliance was sponsored by Henry Cowell in 1955, and in 1958 he received a B.Mus degree from DePaul University. Begun in 1959, he continued graduate study at Chicago University in medieval languages and literature. The following year he received a Ford Foundation Young Composer in Residence Award, which he spent in Ann Arbor, Michigan. In 1962 he earned his A.M. at the University of Chicago.

From 1962 to 1964 Jenni was appointed Instructor in music theory at DePaul University, and two years later moved to Stanford University to complete the D.M.A. in 1966. He was appointed Assistant Professor and Head of Theory and Composition at DePaul from 1966-68, and in 1968 moved to Iowa City to be Associate Professor at the School of Music (1968-74).

During the late 70s and early 80s, he founded UI chant group, The Cantores (1978); participated in the International Composers' Workshop, Burgas, Bulgaria (1979); served as the Music Director, Compagnie de Danse Jo Lechay, Montreal during his sabbatical leave (1981). Since his retirement from the University of Iowa in 1999 until 2001, he served as Choirmaster at the Benedictine Monastery of Christ in the Desert in northern New Mexico. He was recently made Secretary of the International Finance Assurance Corporation, an organization that promotes various educational, scientific, literary and charitable programs in both developing and developed countries.
---
Lying, Stealing, Cheating

A couple of years ago, I started thinking about how so often when classical composers write a piece of music, they are trying to tell you something that they are proud of and like about themselves. Here's this big gushing melody, see how emotional I am. Or, here's this abstract hard-to-figure-out piece, see how complicated I am, see my really big brain. I am more noble, more sensitive, I am so happy. The composer really believes he or she is exemplary in this or that area. It's interesting, but it's not very humble. So I thought: What would it be like if composers based pieces on what they thought was wrong with them? Like, here's a piece that shows you how miserable I am. Or, here's a piece that shows you what a liar I am, what a cheater I am. I wanted to make a piece that was about something disreputable. It's a hard line to cross. You have to work against all your training. You are not taught to find the dirty seams in music. You are not taught to be low-down, clumsy, sly and underhanded. In Cheating, Lying, Stealing, although phrased in a comic way, I am trying to look at something dark. There is a swagger, but it is not trustworthy. In fact, the instruction on the score for how to play it says: Ominous funk.
"There is no name yet for this kind of music" writes Mark Swed about David Lang, the provocative American composer. Co-Founder of New York's legendary new music festival, Bang on a Can, Lang is one of the most interesting crop of young Americans. His distinct sound fuses the tradition of classical music with urban aggressiveness, where melodies are accompanied by noise and subtle harmonies are pulled apart by pounding rhythms.

Commissioned by such organizations as the Boston Symphony Orchestra, Cleveland Orchestra, St. Paul Chamber Orchestra, the BBC Singers, the American Composers Orchestra and the Santa Fe Opera, David Lang's works are showing up with regularity around the world: at the New York Philharmonic, the San Francisco Symphony, the Los Angeles Philharmonic; at the Tanglewood, the Aspen Music Festival, the Almeida, Holland, Berlin and Huddersfield festivals; the Munich Biennale; in the choreography of Twyla Tharp; in theater productions in New York, San Francisco and London; and at Lincoln Center, the Kennedy Center and the South Bank Centre. Along with fellow Bang on a Can composers Michael Gordon and Julia Wolfe, Lang was commissioned by the Settembre Musica Festival in Turin, Italy to create a new comic-book opera, The Carbon Copy Building, in collaboration with comic-strip artist Ben Katchor. The revolutionary new opera premiered in Turin, Italy on 9 September 1999.

David Lang's awards include the Rome Prize, the BMW Music-Theater Prize (Munich), a Kennedy Center/Friedheim Award, the Revson Fellowship with the New York Philharmonic, and grants from the Guggenheim Foundation, the New York Foundation for the Arts, and the National Endowment for the Arts.

Born in Los Angeles in 1957, Lang holds degrees from Stanford University and the University of Iowa, receiving his doctorate from the Yale School of Music in 1989. He has studied with Jacob Druckman, Hans Werner Henze, and Martin Bresnick.
---
Four Images, Op. 23

Four musical images presents four psychological moods capturing the different times of the day: morning, noon, evening, and night. This piece was composed specially for the Chamber Ensemble of Budapest (Andras Mihaly, director).

The four sections are titled:
1. The Dawn.
2. The Noon. 3. The Evening Shadows.
4. In the Moonlight.
Roman Ledeniov (b. 1930) writes beautiful, highly lyrical music without any overt exhibition or willingness to attract its audience. He used to compose in the New Viennese style, but beginning around 1972 he returned to a more traditional Russian style, using Russian folk and quasi 19th-century neo-romantic music within a minimalistic texture. He has simplified his musical language and uses clear melodies, diatonic scales, strong rhythms, the technique of "simple details" in order to create a natural mood and logical clarity in his compositions. The majority of his works are symphonic, choral, vocal and chamber.

Ledeniov is the Secretary of the All-Russian Union of Composers, the People's Artist of Russia, is a Laureate of the Russian State Prize, and is currently a Professor of Composition at the Moscow Tchaikovsky Conservatory of Music. His music has been widely performed throughout the world.
---
Dimitri PAPAGEORGIOU
Nuit

Nuit was composed as a musical diary, without any pre-compositional plan, in a period between April and October 1999.Since I work primarily with abstractions (colors), I had to wait until these abstractions assumed the role of an object, and then I assembled the form. The title is derived from the French word for the night — since I was working on this piece almost exclusively at night. It is also a reference to Nuit the goddess of the "ever unknown" who bends over Hadit (the ever known, the winged globe):
      Above, the gemmed azure is
      The naked splendour of Nuit;
      She bends in ecstasy to kiss
      The secret ardours of Hadit.
and also:
Now, therefore, I am known to ye by my name Nuit, and to him by a secret name which I will give him when at last he knoweth me. Since I am Infinite Space, and the Infinite Stars thereof, do ye also thus. Bind nothing! Let there be no difference made among you between any one thing & any other thing; for thereby there cometh hurt.
Aleister Crowley, The Book of Law

Nuit was premiered in January 2000 at the California Institute of the Arts.
 
Dimitri Papageorgiou was born in Thessaloniki, Greece. He holds a degree in composition from the University of Music and Dramatic at Graz, where he studied with A. Dobrowolski , who introduced him to the techniques of New Music, and H. M. Pressl who taught him aleatoric counterpoint and introduced him to the work of Hauer. He graduated in 1991 with special distinction and received the "Doris Wolf Prize" of the Ministry of Culture for outstanding academic and artistic achievement.

In 1991, Papageorgiou returned to Greece where he has taught composition and music theory until 1998. In 1998, he was awarded an Iowa Fellowship to attend the University of Iowa and decided to leave his teaching position in Greece and move to the United States. In Iowa, he studied composition with Martin Jenni, Jeremy Dale Roberts and, currently, David Gompper.

Papageorgiou's creative output includes works for chamber, choral and orchestral music. He also composed music for the theater in 1990 when he was commissioned by the Austrian National Radio and the Forum Stadtpark Graz to write music for the theater play "Mein Schrank riecht nach Tier," by W. Grond and L. Cejpec. His music has been performed in several public concerts in Austria, Greece and the United States. Several of his works have been recorded and broadcasted by the Austrian National Radio. In 1997, Undr II for orchestra was recorded for the Third Program of the Greek National Radio. In 1998, Papageorgiou was invited by the Center for New Music to Iowa City to take part in the Festival of Contemporary Greek Composers. He has already been active in the Midwest Composers Symposium, where his compositions Tasten for piano and Kylang for contrabass and tape were performed in 1998 and 1999 respectively.
---
Letters without Words

Letters without Words was written specially for Gaudeamus Music Week 2001 (Amsterdam). This composition consists of seven "letters". In this context the letters are not something literary, narrative or programmed. Each part has its own individual aura, conveying a certain range of feelings and emotions of someone writing intimately. Parts settle down, then drift over each other when previous part seems to smoothly disappear, to become less important. Letters without words has one additional part, which is broken up and inserted into the others parts of the circle. Although each "letter" is different, they are united by the permanent existence of this additional eighth "invisible" letter, performed by all ensemble members.

This composition is an attempt to create an atmosphere of feelings, which changes in a number of letters written by a non-existent author.
Alexey Sioumak (b. 1976) studied at the State Gnesins Music College (Moscow) from 1993 to 1996 on the clarinet. In 1993 he entered composition program at the Moscow State Tchaikovsky Conservatory, and is now in his fourth year studying with professor Alexander Tchaikovsky.

In 1999 he received a Diploma at the First Russian Young Composers Competition, and this year won 2nd Prize at the First. His works are regularly performed at the leading Russian Festivals of contemporary music such as Moscow Forum, Moscow Autumn by different contemporary music groups and soloists such as Studio New Music Ensemble (Russia), Michael Marang (Netherlands), Andrey Medvedev and Olga Tchernisheva (Russia).
---
Moments - Memento - Momentum

Moments - Memento - Momentum was composed for violinist Veronica Macchia Kadlubkiewicz during the summer and fall of 2000 and joins my Night Music and Concertino for Violin and Chamber Ensemble as works written especially for her.

"Moments" attempts to render musically those times when ideas visit and vanish, not turning into anything sustained or "argued out," not cohering into anything architecturally substantial—existing, really, for their own sake. Some of these moments, however, make their way into more fully realized structures in the second and third movements.

"Memento" recalls a late summer day with my son Daniel at the summit of Mount Adams in Western Massachusetts, as clouds at different levels cast their mixed shadows on the forested terrain below.

"Momentum" is about just that: how a force, once put into enough motion, and for long enough time, will resist attempts to stop or impede it. The movement formally spells out some of the implications of the very first moment from "Moments."
Lewis Spratlan (b. 1940 Florida) studied composition with Mel Powell, Yehudi Wyner, and Gunther Schuller at Yale and continued his work with Mr. Schuller as a Fellow at Tanglewood in 1966, where he also participated in seminars with Roger Sessions and George Rochberg. He returned to Tanglewood the following summer as a member of the conducting faculty. He taught at Pennsylvania State University from 1967-70, where he established the electronic studio and founded the Pennsylvania State Improvisation Ensemble. In the fall of 1970 he joined the faculty of Amherst College, where he is now Professor of Music.

In October, 1989, Mr. Spratlan toured widely in Russia and Armenia as a guest of the Soviet Composers' Union. Toccapsody, for solo piano, and Apollo and Daphne Variations were premiered on this tour and Penelope's Knees was presented in Moscow's Rakhmaninov Hall under Emin Khatchatourian.

His works are recorded on the Opus One and Gasparo labels. Vocalise with Duck will be released by CRI in 2002 and Sequitur will release an "All-Spratlan" CD in 2003.
---
Impression-Expression
Vladimir Tarnopolski (b. 1955) was born in Ukraine and studied composition at the Moscow Chaikovskii Conservatory with Nikolai Sidelnikov and Edison Denisov. He is a frequent guest in many Western contemporary music festivals, such as: The World Music Days of the ISCM, The Berliner Festwochen, The Münchener Biennale, Wien Modern, Holland Festival, Frankfurter Musikfest, Almeida Festival, Huddersfield Contemporary Music Festival, Hommage aux Russes Paris, The Schleswig-Holstein Musikfest, Tage für Neue Musik Zürich, Make Music Together (Boston U.S.A.), The San Diego Arts Festival, Aktive Musik Dortmund, Rencontres Musicales d'Evian, Warsaw Autumn and many others. Numerous famous Russian conductors, such as Gennady Rozhdestviensky, Mstislaw Rostropovich and Alexander Lazarev have conducted his works. His music has been performed by such ensembles as Symphonieorchester des Bayerischen Rundfunks, Ensemble Modern, Schönberg Ensemble, Ensemble Reshershe, Ensemble of Soloists of the Bolshoi Theatre. His stage works were premiered in Russia, Germany, France, Netherlands.

Tarnopolski was one of the initiators in 1989 of ACM, the Association Contemporary Music in Moscow and is also founder and artistic director of the Center Contemporary Music in Moscow as well as the Studio New Music Ensemble, which had performed many works by the Russian Avant-garde composers. In 1994 Tarnopolski had founded also Moscow Forum, a new annual International Festival of Contemporary Music in Moscow, the main focus of which is the integration of contemporary Russian and East-European contemporary music with Western European contemporary music.

Since 1992 Tarnopolski is the professor of composition at Moscow Conservatory. In addition he has taught numerous composition seminars in Germany, Austria, Netherlands, Switzerland and other countries.

Tarnopolski's musical compositions had been awarded many prizes including the Dmitri Shostakovich Prize (Russia 1991) and the Paul Hindemith Prize (Plön 1991).
---
Yellow Pages

"If one believes that appropriation....is not a viable aesthetic, then one must conclude that shopping in the pawnshop of tonality will yield musical pages that are yellowed and old. Yet if one believes in the possibility of ahistoricism and further is not bothered by notions of accessibility and the 'allographic', then the music could be compared to the yellow pages, published for A.T.&T., as that book finds a place in every home. And paging through the categories of telephone numbers inside, one notices that, alphabetically, they change slowly: 'Automobile Wrecking', 'Aviation Consultants', and 'Awnings and Canopies'. This gradual transition is reflected in the handling of a slow transpositional process in the piece. Finally, the key of G major, around which the piece is based, is the color of yellow, or at least a darkish burnt yellow."
The music of Michael Torke has been called " some of the most optimistic, joyful and thoroughly uplifting music to appear in recent years" (Gramophone, August 1996). Hailed as a "vitally inventive composer" (Financial Times of London, February 25,1995) and "a master orchestrator whose shimmering timbral pallete makes him the Ravel of his generation" (New York Times, June 30, 1996), Michael Torke has created a substantial body of works in virtually every genre, each with a characteristic personal stamp that combines restless rhythmic energy with ravishingly beautiful melodies.

With two of his most widely-performed works, Ecstatic Orange and The Yellow Pages (both written in 1985 while Torke was a composition student at Yale), Torke practically defined post-minimalism, a music which utilizes the repetitive structures of a previous generation to incorporate musical techniques from both the classical tradition and the contemporary pop world. From these initial kinetic scores, Torke's music has developed toward larger, more expansive forms allowing for greater textural variation and longer, sweeping themes. Over the past decade, Torke's vibrant music has strongly appealed to choreographers including: Ulyssee's Dove (Alvin Ailey), James Kudelka (San Francisco Ballet), Jiri Killian (Netherlands Dance Theatre), Glen Tetley and Peter Martins (New York Ballet), who has choreographed seven of Torke's compositions to date (four of which were NYCB commissions). Many of these works can be heard on the five Decca/Argo CD's devoted to his music.
---
The River of Light

The River of Light (which I completed in 1996) is the third of a trinity of ballets composed for the New York City Ballet for choreography by Peter Martins, the head of the company. Like the earlier two, the work contains a network of references and allusions to the DIVINE COMEDY of Dante, in the present case, the Paradiso. I describe the relation of the score to its poetic stimulus the way I have because the music is in no sense narrative, indeed hardly even referential at all. Rather, the exterior structure of the piece is reflective of aspects of Dante's cosmology, and on a more mundane level of his versification technique. And of course it is suffused with my response to the extraordinary beauties of the poem itself, and what it means to convey. - Charles Wuorinen
Charles Wuorinen (b. 1938) is one of the world's leading composers. His many honors include a MacArthur Foundation Fellowship and the Pulitzer Prize (the youngest composer to receive the award). His compositions encompass every form and medium, including works for orchestra, chamber ensemble, soloists, ballet, and stage. Recent works include The Mission of Virgil, The Great Procession, and The River of Light (for the New York City Ballet), Piano Quintet (for Ursula Oppens and the Arditti Quartet), Percussion Quartet, and Sonata for Guitar and piano. Wuorinen has been described as a "maximalist," writing music luxuriant with events, lyrical and expressive, strikingly dramatic. His works are characterized by powerful harmonies and elegant craftsmanship, offering at once a link to the music of the past and a vision of a rich musical future. Both as composer and performer (conductor and pianist) Wuorinen has worked with some of the finest performers of the current time and his works reflect the great virtuosity of his collaborators. He is Professor of Music at Rutgers University and a member of the American Academy of Arts and Letters and the American Academy of Arts and Sciences.
Lecturer & Performers
Gregory Barnett, lecturer, is an assistant professor of musicology at the University of Iowa. He received the Ph.D. degree from Princeton University in 1997. A recipient of the Fulbright II-E and AMS 50 Fellowships, his research interests include instrumental music of the Baroque era, the history of music theory, and American music. He has given papers at various national and international musical societies and conferences, among these: the American Musicological Society, the Society for Music Theory, the Society for American Music, the Biennial Conference on Baroque Music, and the Society for Seventeenth-Century Music. He has also published articles in the Journal of the American Musicological Society, the Quaderni della Rivista Italiana di Musicologia, and the Journal of the American Musical Instrument Society. He is currently completing a book on late seventeenth-century Italian instrumental music to be published by the University of California Press.
---
Joan Blazich (b. 1978) is a native of North Carolina who began studying clarinet at the age of 11. She attended the University of North Carolina at Chapel Hill, where she served as principal clarinet for the wind ensemble and symphony orchestra. She has attended and performed at the Cours International de Musique in Morges, Switzerland, and has been a member of the North Carolina Wind Symphony. Ms. Blazich is currently pursuing a Master of Arts and is a performance associate with the Center for New Music at the University of Iowa and studies with Maurita Murphy Mead and Larry Maxey.
---
David Evenchick is a graduate of the Victoria (Canada) Conservatory, the University of Cincinnati College Conservatory of Music, and Western Illinois University. His primary teachers have included James Hunter, Zara Nelsova, Tanya Carey and Charles Wendt. David is a Certified Cello Teacher Trainer for the Suzuki Association of the Americas, and has been in demand as a guest clinician to teach at Suzuki Method based schools and institutes. Currently he is Head of the Cello Department at the Preucil School of Music in Iowa City, and is enrolled in the doctoral program at the University of Iowa, where he is studying with Anthony Arnone.
---
Jeffrey Lyman, Associate Professor of Bassoon at Arizona State University, is known throughout the double reed world for his unique programming and dynamic recitals. As a soloist and orchestral player he has appeared often on the international festival circuit, most notably at the Moscow Autumn Festival, Le Festival d'Ainay-le-Vieil (Berry, France), the Festival dei Due Mondi (Spoleto, Italy), the Academie Européene d'Été de Musique (Tournon-sur-Rhone, France), the Colorado Music Festival, Vermont Mozart Festival and the Festival de Musique de Saint Barthélemy. He has held positions with orchestras across the US, including those of Savannah, Grand Rapids, the Opera Company of Philadelphia and the Michigan Opera Theater.
Dr. Lyman is well known as an advocate of both new and early music, and has many publications and commissions to his credit. These include a chamber concerto by the Russian Yuri Kasparov, a setting of the cowboy tune Goodbye, Old Paint by John Steinmetz, and a work for bassoon, chamber ensemble and electronics based upon Yaqui Indian music by David Gompper. With oboist Martin Schuring he hosted the 1998 conference of the International Double Reed Society, and was associate editor for the IDRS publications. Lyman appears on Summit, Le Chant du Monde, New World, Brasswell and Koch International recordings.
---
Ismael Reyes, is a graduate student of Tadeu Coelho from University of Iowa. He was born in Carupano, Venezuela and began studying the flute with professors Elvis Villarroel and Enver Cuervos. Later on he was admitted at the "Simon Bolivar National Conservatory", being his flute teachers Victor Rojas and Glenn Egner. He performed with the National Flute Orchestra of Venezuela at the 25th and 27th National Flute Association Annual Conventions in Chicago and Atlanta, respectively. He has also presented many recitals and has appeared as soloist with the National Flute Orchestra, Caracas Youth Orchestra, National Philharmonic Orchestra and "Gran Mariscal de Ayacucho" Orchestra. In July 2000, he won the second prize at the "First Latin-American Flute Contest" in Caracas.
---
Timothy Shaw is a graduate of the University of Southern Mississippi with a Bachelor's degree in percussion performance and is currently working on a Master's degree in percussion performance at the University of Iowa. In addition to performing with the Center for New Music, Mr. Shaw is a Visiting Artist in percussion and Assistant Director of Steel Bands at Cornell College in Mount Vernon, Iowa. Under Mr. Shaw's direction these steel bands recently toured Europe, performing in many venues, including Carnival in Nice, France.
---
Charletta Taylor is currently a doctoral candidate in Viola Performance and Pedagogy at the University of Iowa. She is studying with Christine Rutledge and serves as the viola studio teaching assistant and as a performing assistant with the Center for New Music. Charletta received her Bachelor of Music from Northwestern University in Evanston, IL, where she studied with Peter Slowik. She studied with Michelle LaCourse at the University of Massachusetts in Amherst, MA for her Master of Music in Viola Performance.
---
Yun-Pai Hsu (b. 1971, Kaohsiung, Taiwan) is currently a Doctorate student in piano performance at the University of Cincinnati and a Master of Art student in Music theory at the University of Iowa. She received her Bachelor of Music degree in piano performance from the Eastman school of music. Ms. Hsu has received many music awards and performed as guest soloist with various community orchestras both in the United States and her native country, New Zealand.