Guest pianist
Patricia von Blumröder
Performing works by UI alumni
Clapp Recital Hall
Sunday, February 11, 2007
8:00 p.m.
Guest Performer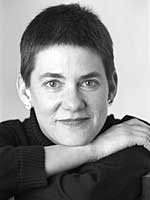 Patricia von Blumröder, born in Oakland, California, studied piano at the University of Idaho, the University of Iowa and the Staatliche Hochschule für Musik in Freiburg, Germany. Concerts, radio broadcasts and television appearances in Europe and America have given her a reputation as an artist who does not confine herself to the traditional piano literature, but has a keen interest in the new music of the twentieth and twenty-first century. Her contemporary repertoire ranges from the piano music of the New Viennese School (Arnold Schoenberg, Anton Webern, Alban Berg) by way of the French modern music (Claude Debussy, Olivier Messiaen) to the key works in the post-war serial and experimental music (Karlheinz Stockhausen, Pierre Boulez, Luciano Berio, John Cage).
In 2005 she premiered David Gompper's "Inside Cage" which was performed together with Cage's "Sonatas & Interludes" at the music festival "AVANCE" in Mainz, Germany. This season she will performing the 80 minute piano piece "Bergwelten" composed by David Morrow for the Verena Weiss dance company in Lucern, Switzerland. She has been acclaimed in performances of Stockhausen's KLAVIERSTÜCKE, Messiaen's Catalogue d'oiseaux, the piano works of Boulez, and Cage's Sonatas & Interludes; she has performed these and other compositions as a guest artist at music festivals in Paris, Lille, Leipzig, Hamburg, Salzburg, Fribourg and Zagreb, at the Alte Oper in Frankfurt am Main and at the Berliner Festwochen.
Program
Memory Pieces (1992-1997)

cage (in memory of John Cage)
cello (in memory of Anna Cholakian)
grind (in memory of Jacob Druckman)

 
David LANG (1956-)
Fantasy & Toccata (1997)
 
Richard HERVIG (1917-)
Intervals (1967)
 
D. Martin JENNI (1937 - 2006)
Tango (2000)
 
Michael ECKERT (1950-)
Meditation (1999)
 
David GOMPPER (1954-)
 
Intermission
 
Oggetti - Omaggio a Morandi (2003)
 
Jeremy Dale ROBERTS (1934-)
Notes & Bios
DAVID LANG
Memory Pieces (1992-1997)

I was friends with all the dedicatees of the enclosed set of pieces -- some were closer friends than others -- and I have very personal memories of my dealings with them that I don't want to fade. Each of these little pieces highlights some aspect of my relationship with each friend. I hope this will help me hold on top these memories just a little while longer.

There are a few ways to approach these pieces. In one respect they are inventions, each an intellectual and philosophical exploration of one disticnct, mechanical way to make music. They are also little etudes, as each one highlights a different technical concern, such as overlapping arpeggios (spartan arcs), polyrythmic counterpoint (wed) or strange cross-hands (cello). The way I choose to look at them is as laboratories for larger works, If I can incorporate the music or ideas or the techniques of these little pieces into other works then I am in some way keeping something of my friendship alive.
Works of David Lang have been included in performances by such organizations as the Next Wave Festival at the Brooklyn Academy of Music, the Santa Fe Opera, the New York Philharmonic, the San Francisco Symphony, The Cleveland Orchestra, and the Kronos Quartet among others. Upcoming works include a collaboration with visual artist Mark Dion and Ridge Theater Company on an opera, entitled Anatomy Theater, and an opera with Paul Hiller and Theater of Voices that will premiere in Carnegie Hall in the fall of 2007.

Lang is co-founder and co-artistic director of New York's legendary music festival, Bang on a Can, and Composer-in-Residence at the American Conservatory Theater in San Francisco. Born in Los Angeles, Lang holds degrees from Stanford University and the University of Iowa, receiving his doctorate from the Yale School of Music in 1989. He has studied with Jacob Druckman, Hans Werner Henze and Martin Bresnick. His work is recorded on the Sony Classical, BMG, Point, Chandos, Argo/Decca, CRI and Cantaloupe labels.
---
RICHARD HERVIG
Fantasy and Toccata

The work Fantasy and Toccata was originally a Toccata, written for the composer's 80th birthday concert at Merkin Hall, New York City, in 1997. The movement entitled "Fantasy" was added in 1998.
Richard Hervig, (b. Story City, IA, 24 Nov 1917) American composer and educator, studied English at Augustana College, Sioux Falls, South Dakota (BA 1939) and after teaching for a time in the public schools, studied composition with Clapp at the University of Iowa (MA 1942, PhD 1947). He joined the faculty there in 1955 and became the founding director of the Center for New Music in 1966. Upon his retirement in 1988, he was appointed to a post at the Julliard School. His pupils have included Charles Dodge and William Hibbard, among others. He has received commissions from the National Music Council, the National Federation of Music Clubs and numerous performers.

Hervig's compositions, most of which are instrumental and tonal, show a disciplined approach to standard forms and an exploration of timbral possibilities.
---
DONALD MARTIN JENNI
Intervals

I made Intervals as a teaching piece for Viola Haas, a colleague of mine at DePaul at whose house Kate Lukas and I often made music. Haas was particularly keen on developing the ear of her piano students. Intervals invites them to listen to emerging sonorities; its tempo (to quote an instructory note) is, as the moment of occurrence and the duration of sound-events and of the intervals of silence, indicated relatively by intervals of space on the page. There is considerable exploration of pedal-enhanced sonorities. The whole is surely influenced by my study of Stockhausen's Klavierstuecke at the time.]
Donald Martin Jenni (1937-2006), was a professor of composition at the University of Iowa from 1968 until his retirement in 1999. He took a Bachelor's degree in music at DePaul University and a Master's in Humanities (medieval studies) at the University of Chicago. He completed his doctorate (music composition) at Stanford University in 1966, returning to Chicago in the position of Assistant Professor of music theory, history, and composition at DePaul, where he remained until invited to join the faculty of The University of Iowa At Iowa, Jenni composed many compositions for performance by the school's Center for New Music as well as other performing groups.
---
MICHAEL ECKERT
Tango

Tango was written as an occasional piece for a CNM concert on April 9, 2000 called "The Nazi Drawings Project" which David arranged at the UI Museum of Art in honor of Mauricio Lasansky who was a longtime art professor here and very well known as a printmaker, etc. The first performance was by Lucia Barrenechea, who was a graduate student in piano at the time and is now living in Brazil. My notes from that program are: Tango was composed between January and March 2000 in Iowa City. The idea for a piece of this character was suggested in part by two Lasansky pictures in the UI Museum, the woman in blue with a small dog, and "Woman with a Lute," as well as by the artist's Argentine origins. Some uses of syncopation in the piece were suggested by typical rhythms in the tangos of the Brazilian composer Ernesto Nazareth."
Michael Eckert (b. 1950) is Associate Professor of Theory and Composition at the University of Iowa School of Music. He studied composition with J. R. Ronsheim at Antioch College, and with Ralph Shapey at the University of Chicago. His awards for composition include the Bearns Prize from Columbia University, a Charles E. Ives Scholarship from the National Institute of Arts and Letters, a National Endowment for the Arts fellowship in composition, and the Music Teachers National Association Distinguished Composer of the Year Award.
---
DAVID GOMPPER
Meditation

The penultimate chord found in the theme to Messiaen's Vingt Regard serves as the harmonic and motivic basis for my Meditation, my "21st Regard." It is the only sonority that is "outside" of Messiaen's closed harmonic system, and the only one that comes as a complete surprise as its preparation to the final chord. My own "vision" was composed as a homage to this great French composer of the 20th century.

The work was commissioned by, and is dedicated to Trinity Episcopal Church in Iowa City, where it was premiered on September 26, 1999 by the composer. It was extensively revised in 2006.
David Gompper (b. 1954) is Professor of Composition and Director of the Center for New Music at the University of Iowa. In addition to his extensive professional activities throughout the United States, Gompper has lived and worked as a composer, teacher, conductor and pianist in England, Nigeria, and most recently Russia, as a Fulbright Scholar at the Moscow Conservatory in 2002-2003. His compositions have been premiered in major venues throughout the United States and Europe, and he has recorded on the Albany, Capstone, and Centaur labels.
---
JEREMY DALE ROBERTS
Oggetti--Omaggio a Morandi (2003)

This collection of short pieces was begun some years ago, and should perhaps be regarded as a work in progress, or repository, to which other items will almost certainly be added in time. This matches the life-work of the Italian artist Giorgio Morandi - 'the man who painted jugs' - who first turned his attention to the austere, modest forms of still-life around 1918, and who continued to remain constantly and unswervingly absorbed in his vision even in the last months of his life in 1964.

His subject is the classic paraphernalia, the domestic lumber found in the still-lifes of the Dutch and French masters of the 17th and 18th centuries, and developed in the paintings of Cezanne, Braque and many other later artists. Flowers and fruits, however, engaged him less than receptacles; and he soon assembled around himself a family or community of bottles, phials, jugs, to which he remained tenaciously loyal throughout a long and productive career. Some of these articles (oggettie) are vision and powers of organization. Indeed, these works could be described as 'transcendental', in so far as such modest material objects could be invested on the one hand with an almost architectural grandeur - (some of the large etchings take on the aspects of nocturnal street-scenes) - and yet elsewhere could be dissolved in ambiguity - a kind of timeless evanescence. The technique is always under review; the vision alert and devoted: the things remain luminous/resonant. Are we talking of obsession or love? (Some of Morandi's still-lifes are posed like group-photographs; there is something almost anthropomorphic in the appearance and attitude of some of his jugs...)

It is a hermetic, withdrawn world -- the dusty, rather decrepit house he shared with his two spinster sisters. And if the door were suddenly to burst open -- Italian Futurism, the Art of Noise, Fascism, Fellini.

These pieces may be performed either in the sequence published, or, if preferred, other selections may be drawn.

Throughout--depending upon the acoustics, the condition of the piano and of course mood--unmeasured pauses should be as long as is felt appropriate: still but charged. Appreciate and consider the silences, 'taste' the resonances.

Oggetti-omaggio a Morandi were first performed by Hiroaki Takenouchi at a Park Lane Group concert in January 2004.
Jeremy Dale Roberts (b. 1934, Gloucestershire, England), who recently retired as Head of Composition at the Royal College of Music, London, was a Visiting Professor of Composition at the University of Iowa for the 1999 - 2000 academic year.

He studied with William Alwyn and Priaulx Rainier at the Royal Academy of Music, London. His compositions have been performed worldwide at the Edinburgh and Aldeburgh Festivals, the Venice Biennale, the Diorama de Geneve, and the festivals of Avignon and Paris.

They include the Cello Concerto Deathwatch written for Rohan de Saram; Tombeau for Stephen Kovacevich; Croquis for string trio, written for members of the Arditti Quartet (BBC commission); In the Same Space, nine poems of Constantin Cavafy, written for Stephen Varcoe; Lines of Life, lyric episodes for ensemble, written for Lontano (BBC commission); and Casidas y Sonetos - del amor oscuro, for solo guitar (Arts Council commission) for Charles Ramirez.

Recent work includes: Stelae, a large-scale piece for gamelan; Nightpiece for soprano and two bass viols; a collection of pieces for organ; and a few tangos.